Interview: Marijuana, Beowulf, and Faustian Pacts. Welcome to 'Grendel, KY'
Aug 31, 2020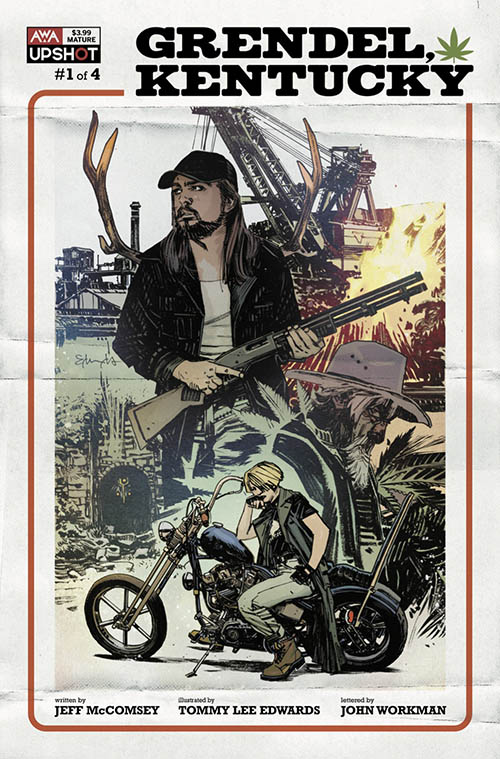 "Artists, Writers, & Artisans." That's what the initials of up and coming comics publisher A.W.A. stands for. One look at their line up of titles and you'll notice an assemblage of craftsmen and craftswomen creating bold, out-of-the-ordinary, original material for a very particular type of comic book reader.
In the following interview, PREVIEWSworld introduces you to two of those artisans. You already know the names Jeff McComsey (Mother Russia, FUBAR) and Tommy Lee Edwards (Batman Eternal, Tales from the Umbrella Academy), but when you combined these creators together on a modern retelling of Beowulf...you're got something that truly feels artisinal.
Keep reading.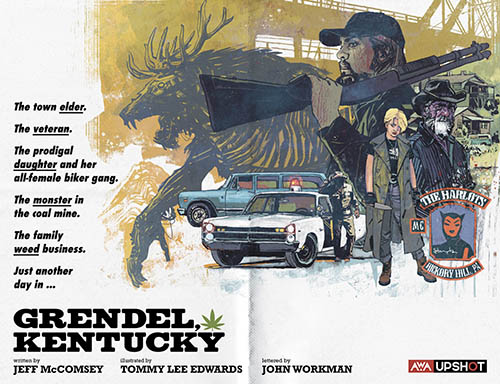 PREVIEWSworld: Catch us up to speed. What is the setting for Grendel, Kentucky?
Jeff McComsey: Grendel Kentucky takes place in 1971 and focuses on the town of Grendel, a marijuana farming community in the heart of coal country.
Tommy Lee Edwards: Luckily, I enjoy drawing farms, forests, old towns, hunting lodges, biker bars, and scary old coal mines, because we spend a lot of time in there.
PREVIEWSworld: Does this have roots in Beowulf? Tell us more about that. What inspired this book?
Jeff: Absolutely. Beowulf is our story framework. I remember reading somewhere that when the monster Grendel first attacks King Hrothgar's shield hall in Beowulf. It's the prosperity of Hrothgar's kingdom that provoked the monster. He was jealous that they had it so sweet, while he lived in a swamp. I think it was that that led me to this idea of a quiet little fiefdom in Kentucky where a town had found a way to stay out of the coal mines that consumed all their neighbors.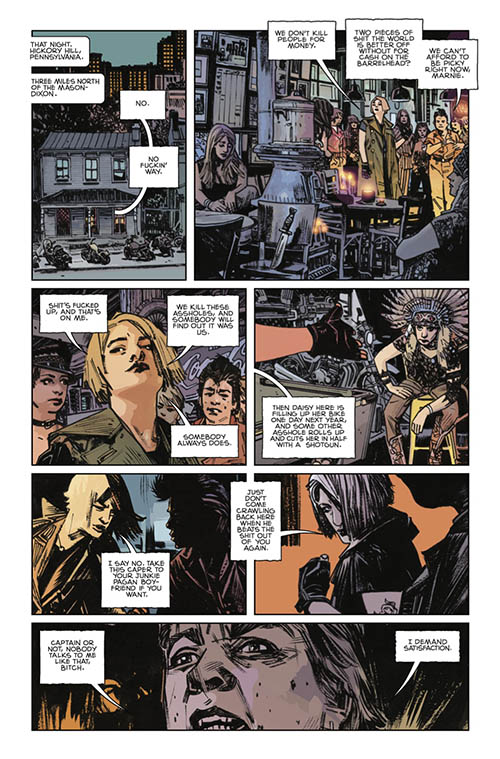 PREVIEWSworld: Tell us about Denny and Marnie. Why do we follow them through this story?
Jeff: Denny and Marnie are essentially brother and sister. Marnie leaves Grendel as a teen and Denny, the younger who stays behind to work the family business.
When our story begins, Marnie must return to Grendel and confront what drove her away years ago.
PREVIEWSworld: For Jeff: Jeff, you typically write and draw. What was it like working with Tommy Lee?
Jeff: The short answer is…it's been a real treat. Tommy's pages render the town into something that feels very lived in and accurate for 1971 Kentucky. Tommy has a love of the vehicles of the era and it comes through big time in the pages. It is a very pretty book about monsters and motorcycles.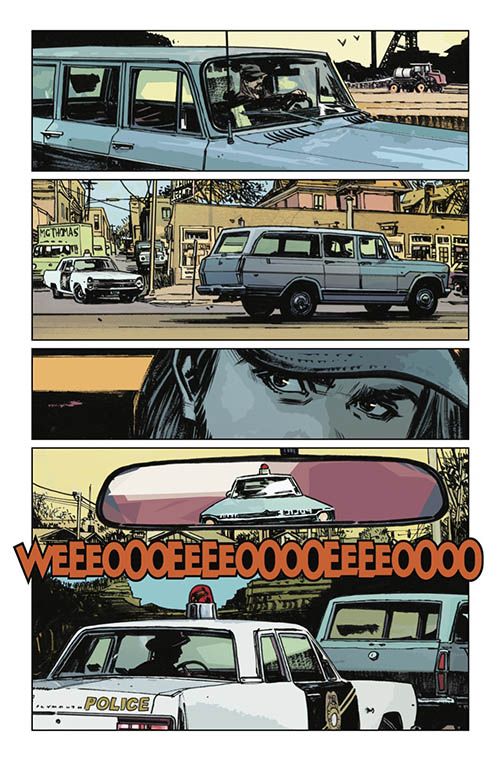 PREVIEWSworld: For Tommy: How did you go about depicting Grendel, Kentucky?
Tommy: I spend a lot of time researching at the beginning of a project. Once I got a handle on the Grendel, Kentucky story and characters, I tried to learn about weed farms and coal mining while gathering reference for the time period, clothing, architecture, landscape, motorcycles, and all that. I "cast" each character with a specific vehicle, and shot reference for each one through the garage I work at on the weekends. So, there's a lot of prep work. I also watched 1970s biker movies and read old issues of CREEPY and EERIE. It's all crap I'm doing anyway, so the book was a perfect fit for me.
PREVIEWSworld: What's the creative process like between you two?
Jeff: I like to work from outlines that I would share with Tommy so he could see the broad strokes of where we're going. Then once scripts were approved I'd forward those to Tommy for suggestions. We lock in dialogue so that the script with Tommy's roughs can be sent to our intrepid letterer, John Workman. He works up those letters while Tommy does the art. I am a process junkie, so I love watching the work come in in its various stages.
Tommy: It's a rare treat for me to work with a writer who draws and approaches the story with such a strong visual mindset. Jeff lets the illustrations do the heavy lifting, and fully utilizes the comic book medium's unique tools to elevate the storytelling.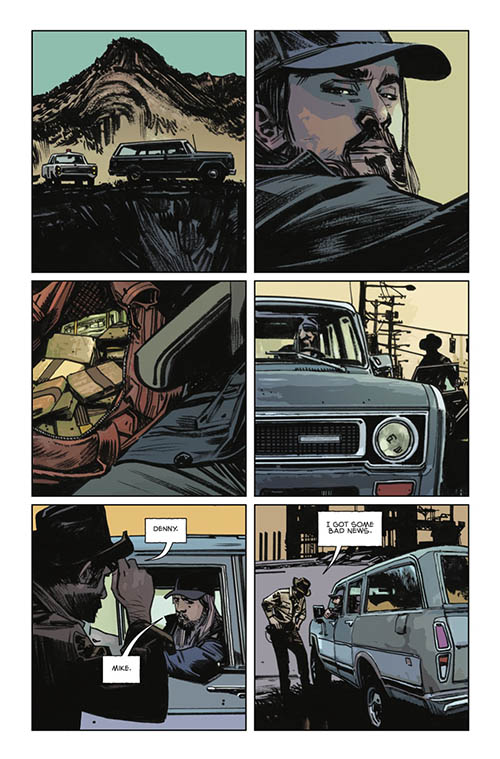 PREVIEWSworld: Looking forward, what can readers expect from Grendel, Kentucky?
Jeff: Grendel, Kentucky is about a bunch of badass outlaw lady bikers fighting monsters in Kentucky coal country. Lots of murder, monsters, mayhem and motorcycles. In between all that we have a story about a prodigal daughter who returns home after a decade on her own to settle some family hash.
Tommy: I enjoy "branding" my projects by coming up with a cohesive vibe that immediately lets the audience know what they're in for. My pal Chris Ferguson came up with a great logo design for Grendel, Kentucky. He and I were inspired by genre posters and magazine design from the early 1970s for the covers and interior graphics. Even the lettering approach John Workman and I settled on is a throwback to some vintage hot-rod comics. The reader should be transported to 1971 in an authentic, but hopefully extremely unique way.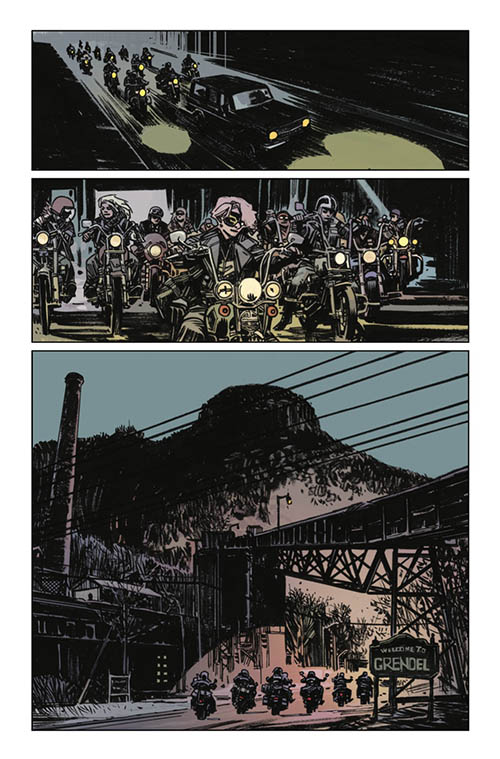 PREVIEWSworld: In terms of audience, who is the book for?
Jeff: I would think anyone who is a Tommy Lee Edwards fan is going to love this, or folks that dig any of the books Axel has edited in the past. I feel like Grendel totally fits in with Preacher, Hellblazer, 100 Bullets and The Punisher/Fury Max books. We aimed for Grindhouse and I think we hit it.
Tommy: This book is for readers who like old Warren Magazines, EC horror comics, monster movies, biker flicks, and weird adventure stories about normal people having to fight their greatest fears (and maybe a monster or two).
Grendel, KY (JUN201567) is available September 2, 2020 at your local comic shop.
For more from Artisans, Writers, & Artists, keep an eye on PREVIEWSworld.com's Twitter, Facebook, YouTube, or Instagram.