LaGuardia Receives 2020 Hugo Award on the Heels of Recent Eisner Win
Aug 06, 2020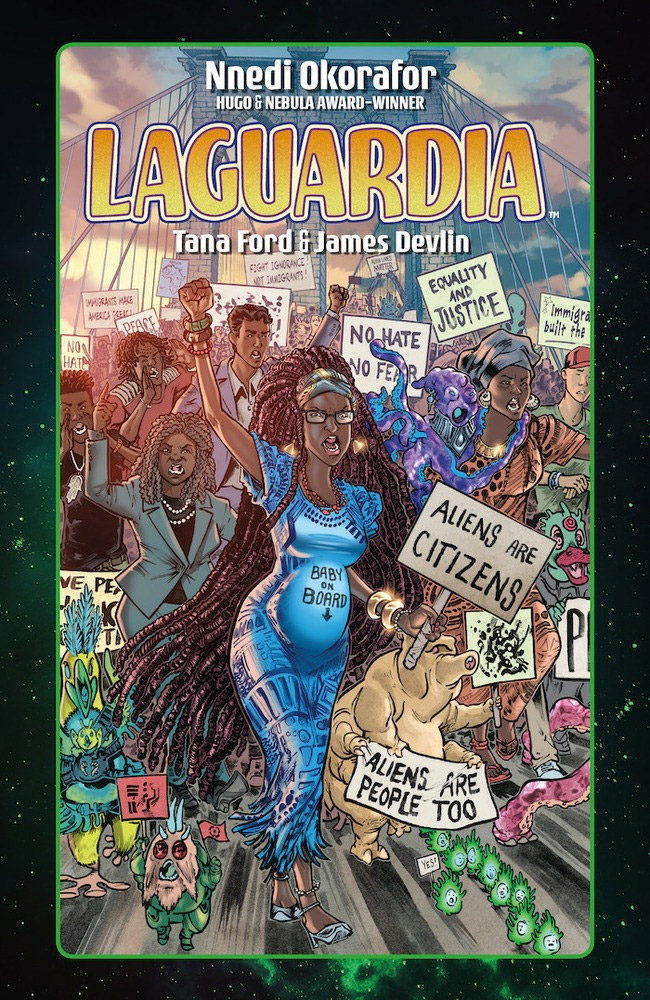 Just a week after its Eisner win for Best Graphic Reprint, LaGuardia, from esteemed creative team Nnedi Okorafor, Tana Ford, James Devlin and Sal Cipriano took home the HUGO Award for Best Graphic Story or Comic.
LaGuardia takes place in an alternate world where aliens have integrated with society, and pregnant Nigerian- American doctor Future Nwafor Chukwuebuka, has just smuggled an illegal alien plant named Letme Live through LaGuardia International and Interstellar Airport … and that's not the only thing she's hiding.
"LaGuardia is a narrative about immigration, identity, belonging, love, birth, rebirth, so so much. And it's about aliens. I'd been growing the story for about six years in my head. It was a joy to work on. And everyone on the LaGuardia team brought a powerful energy to this and I think this really comes through. What a time and such an honor for this story to win both a Hugo and an Eisner Award," said author Nnedi Okorafor.
"Illustrating LaGuardia was an absolute joy for me. Nnedi's seemingly limitless imagination and her ability to blend the fantastical with the real world is unparalleled," Tana Ford continued, "I hope our readers can feel my joy translated to the page as I draw out this universe for them. I want our world to be alien enough that it is exciting while also feeling familiar and maybe even possible. Jimmy did a brilliant job on colors and Sal gave voice to all our myriad cast of unlikely characters. This was a team effort! I could not be more proud of the work we made together. What an honor to have LaGuardia be both a Hugo and an Eisner Award winning book."
"What a thrill and honor to receive an Eisner and Hugo Award for LaGuardia!" said Karen Berger, LaGuardia editor. "This unique blend of immigrant fiction and Africanfuturism is daring and defiant; political and playful; bursting with the coolest aliens around and chock full of hope and humanity. I salute Nnedi and Tana and the entire creative team. We done good!"
LaGuardia is available now at your local comic shop for $19.99.