Toy Talk: Hero Collector Development Manager Richard Jackson
Mar 21, 2020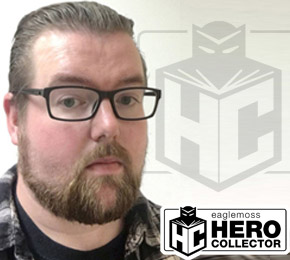 Toys, Statues and other collectibles don't just magically appear on store shelves. A lot of work goes into the concept, design, sculpting and final production of these items, and many of the people who work behind-the-scenes with companies like Diamond Select, DC Collectibles and Gentle Giant, among others, remain mostly unknown to their appreciative audience: the final consumer.

With Toy Talk, we hope to introduce you to the artisans behind some of your favorite collectibles, and to let them enjoy their well-deserved moment in the spotlight!
This month, we talk with Hero Collector's Development Manager, Richard Jackson about how he got into the industry and a bit about the process of making great collectibles at Hero Collector.
**********
PREVIEWSworld: How did you get involved in the toys & collectibles industry?

Richard Jackson: I've been an avid comic collector since I was about 14, and while studying microbiology at university, I worked part-time at my local comic shop – the now closed comix-shop in Maidenhead. Working in the comic shop, I basically read everything!
So when a comic researcher job came up at Eaglemoss, I went for it. From there, I essentially decided to choose comics and collectibles over molecules and microbes and began to work on designing figurines and editing magazines for what is now the Hero Collector division of Eaglemoss.
PREVIEWSworld: Can you describe some of the things you do at Hero Collector?
Richard Jackson: The great thing about working on collectibles at Hero Collector is how varied the job can be. I get to work from initial concept to final production of an item, and this can be anything from a 3" figurine to a 12" statue; a die-cast Batmobile to an Alien spaceship; or simply a reference magazine like the Marvel Fact Files.
What this means practically is that I get to create the basic design of a collectible – choosing the property, character, pose – then work with licensors to get approval before sending this design concept to a team of artists to sculpt. I get to work with extremely talented sculptors to realize the model we want to make, which for my part means a lot of Photoshop work to give direction to the artist, creating paint guides for the models, and checking the final product. In addition to the work on the collectibles, I also get to write and edit the magazines that come with a lot of our figurines.
PREVIEWSworld: What's your process for developing/designing products for Hero Collector?
Richard Jackson: Everything starts with research. Everyone who works on the collectibles at Hero Collector is a fan of at least one of our licenses, so we pull our knowledge together alongside the research to make something we would actually want to own. We have access to an amazing number of official images, but we also have a huge library of comics, TV shows and movies in the office, and use this resource to choose which characters/ships to make and what poses they should be in.
When it comes to static posed figurines, my aim is to capture the essence of the character or moment. For WWE we look at important and memorable moments in the wrestler's history, for Marvel Movie Figurines we go through the movies to recreate a cool look or moment from film, and for comic book properties we do a combination of memorable pose with classic look/costume.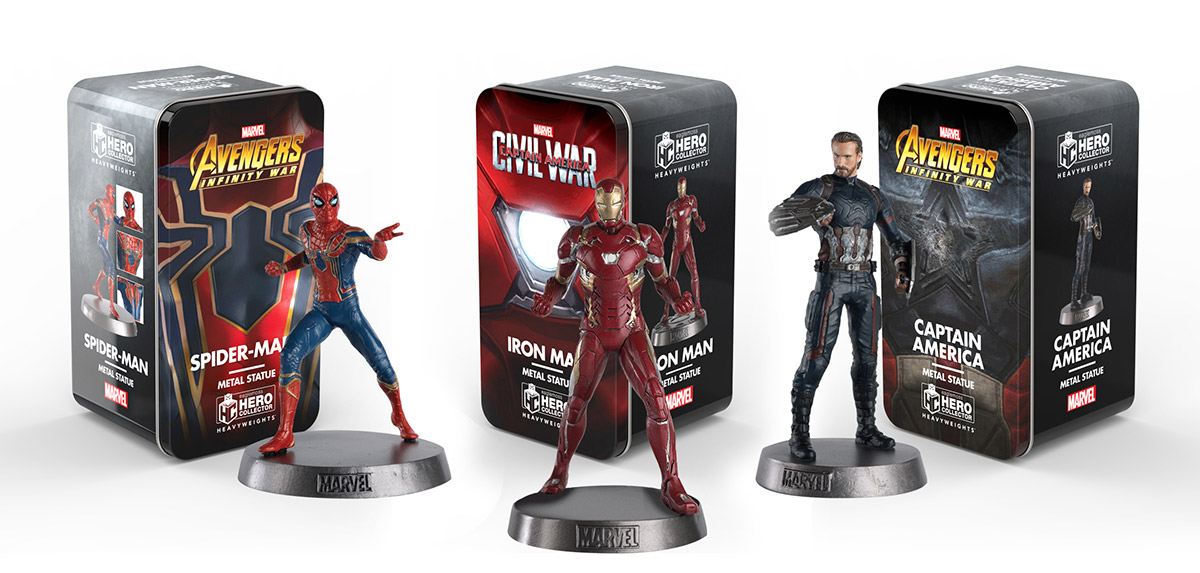 PREVIEWSworld: Hero Collector's new Marvel Heavyweights line of hand-painted solid metal statues looks amazing! Can you share any details that led to its creation or things that collectors can look forward to with this line?
Richard Jackson: Hero Collector has been looking at getting back into metal figurines for a number of years now. Some of our most popular past collections (Classic Marvel Figurines and Lord of the Rings Figurines) were made from metal, and while the move to polyresin and plastic figurines has allowed us to make our collectibles bigger and more detailed, we've always wanted to bring back the surprise of picking-up a 5" model that has some weight to it.
There's just something about the heft of a metal figurine that makes it feel good, it's that classic Jurassic Park line "Is it Heavy? Then it's expensive!". So, with that in mind, we've been working with our sculptors and manufacturers to come up with a new metal alloy that retains detail, holds paint well and feels substantial. We chose Marvel Movies as the right property to begin the Heavyweights line not only for its huge popularity, but because it gives us the chance to show the detail and complexity we can achieve – it's also cool to have an all-metal Iron Man figurine.
PREVIEWSworld: What are some of your favorite projects you've worked on at Hero Collector?
Richard Jackson: Alien, Aliens and Predator are three of my favorite movies, so without a doubt my favorite thing to have worked on is the Alien and Predator Figurine Collection! I also love the Dark Horse Aliens comics, so one of my favorite models we made for this collection was the "Jeri" Synthetic Xenomorph from Aliens Stronghold. We also got to be a little creative with a model of Carter Burke from Aliens and decided to make a between-the-scenes model of him for the collection. There's the scene in Aliens where Ripley and Newt get locked in a room with two Facehuggers, and you never get to see how the creatures got into the room… but in the film we know Burke released them to try and smuggle a xenomorph back for the company. So we captured that unseen moment in the sculpt by having Burke carrying one of the tubes with a Facehugger in it!

One of my other favorite projects was also my first at Hero Collector – the Classic Marvel Figurine Collection. This collection went to over 200 figurines, which meant that I could choose a few of my favorite characters to make into models. The characters I'm particularly pleased we made are Blink, Son of Satan, and Union Jack.
| | |
| --- | --- |
| | |
PREVIEWSworld: What other future Hero Collector collectibles can we expect in 2020?
Richard Jackson: Aside from the Heavyweights line, we're going to be looking at more Marvel Cinematic Universe collectibles with potential lines of scaled props and artefacts. We're also looking to launch Rick and Morty figurines, although due to our licensing agreement this will Initially only available in Europe.
Star Trek Starship models are one of the best collections we make, so with the new Star Trek: Picard show and the eventual return of Discovery for Season 3, I know the team are going to be working hard to get out new ships. And then, we have a few new licenses lined up for both figurine and ships/vehicle collections, but I can't reveal much more at the moment. Watch the Hero Collector section in PREVIEWS!
---
Items Available to Order Now at Your Local Comic Shop: