Dark Horse Comics Announces 3rd Printing of BANG! #1
Mar 02, 2020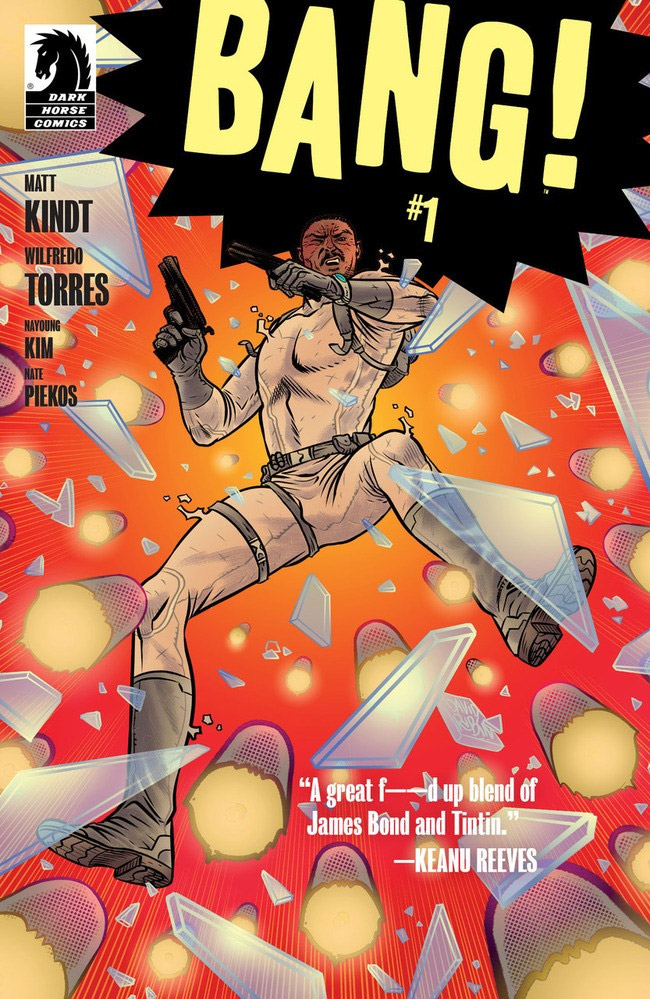 The debut issue of the hit comic book series BANG! by writer Matt Kindt (Mind MGMT), artist Wilfredo Torres (Jupiter's Circle), colorist Nayoung Kim and letterer Nate Piekos is going back to press for a third printing, featuring an all new cover by acclaimed artist David Rubín (Ether). The first printing of BANG! issue 1 sold out ahead of publication, following widespread press attention and endorsements from Keanu Reeves and some of the comic book industry's most respected writers and artists. Following the sell out of the second printing, a third printing of BANG! will go on sale from Dark Horse Comics on April 1, 2020.
"We've been blown away by the response to BANG!" said co-creator and artist Wilfredo Torres. "David Rubín is one of the most dynamic comic book artists working today and it's awesome to see his take on Secret Agent Thomas Cord."
In addition to the third printing, Dark Horse has announced a BANG! convention exclusive cover that will debut at Emerald City Comic Con 2020, March 12-15 in Seattle, WA. The BANG! convention exclusive cover will have a limited run of 500 copies and will be available at the Dark Horse Comics booth #2208, while supplies last. The BANG! convention exclusive comes with a blank cover and retails for $10. For an additional $15, co-creator Matt Kindt will sketch on the cover. No covers will be pre-sketched.
"I was at ComicsPro meeting with some of the greatest comic book retailers in the world the week that BANG! Issue 1 went on sale," said co-creator and writer Matt Kindt. "I sat at the round table and I mostly listened. Retailers are the key. I can put the best possible book out there, but if there isn't a retailer carrying it, handing it to a reader, or talking about it and hand-selling it…it doesn't matter. BANG! selling out the day of release was a huge team effort. Everyone at Dark Horse and on down the line to the local comic shop and readers. Every once in a while I find myself working on a book like this - and you can feel it - like lightning in a bottle. Great artist in Wilfredo paired with just the right kind of crazy idea...and...bang! Second printings are exciting. Third printings? Insane."
Orders close for the third printing cover on March 9th, 2020. It will be released by Dark Horse Comics on April 1, 2020.
Here's what people are saying about BANG!:

"A great #$%^ed up blend of James Bond and Tintin."—Keanu Reeves

"What Knives Out did for whodunits Bang! does for 007-style spy adventures by flipping sexist and culturally condescending tropes on their head."—DEADLINE HOLLYWOOD

"Highly entertaining …. a very thrilling statement of intent from the creative team - written with a droll self-awareness by Kindt and rendered with a keen cinematic flair by Wilfred Torres and Nayoung Kim."—NEWSARAMA

"I will literally read anything by Matt Kindt or Wilfredo Torres. Put them together and it's magic. Skip dinner and buy this book."—Mark Millar

"Every fan of action movies, super-spy stories, or sci-fi adventures has their favorite hero. But what if those fictional heroes came to realize they were exactly that?"—SCREENRANT

"A top secret agent, an elderly crime fiction writer who also solves crimes, members of a sprawling terrorist organization, and a drug-fueled action hero find themselves inexplicably linked to a sci-fi author whose novels could hold the key to saving all of reality…or destroying it."—io9

"One of the most compelling new mysteries to appear on comic book store shelves in quite some time." — COMICBOOK.COM

"In case the title doesn't offer enough of a hint, Matt Kindt and Wilfredo Torres' Bang! is a short, sharp shock aimed directly at the spy genre that's relied for years on tropes and ideas popularized by James Bond more than half a century ago. Starting with a pre-credit sequence filled with derring-do, the first issue of the series quickly transitions into something more akin to Philip K. Dick writing The Prisoner with a hefty dose of Being John Malkovich in there, as well. It's a dizzying brew, and one that will thrill all those Bond fans who've dreamt of reasons why Sean Connery, Roger Moore and Daniel Craig can all be Bond at the same time. Get ready for the strangest spy game out there."—THE HOLLYWOOD REPORTER

"I #$%^ing love this comic! it's literally everything I want out of one of my favorite creators!! Congrats to the entire team. This is how you make comics!!"—Brian Michael Bendis

"Action-packed and mysterious…. like watching a John Wick fight scene on LSD."—MONKEYS FIGHTING ROBOTS

"BANG is a fun, twisty spy thriller with a great meta-twist."—Jay Faerber

"Matt Kindt has demonstrated his skill at trippy genre storytelling in past work like Ether and Mind MGMT, while Wilfredo Torres' dynamic art is perfectly suited for both spy action and meta-fictive revelations…. Fascinating."—ENTERTAINMENT WEEKLY

"The art… is fantastic…. There are some vibrant and colorful panels in here that are so fun they make me almost want to be a spy. Almost."—COMIC BOOKCASE

"I love Matt Kindt and I love Wilfredo Torres, so it's no surprise that I loved BANG! It's like the weirdo, mind-bending James Bond story I didn't know I wanted."—Jeff Lemire

"One of the sharpest comics you're likely to find on the shelves this year. Witty, fast-paced, intelligent, and gorgeous."—COMIC WATCH

"A twisting, turning maze of action and intrigue."—FANGIRL NATION

"Torres has an art style that radiates retro cool, and his work in BANG! shows a clear affinity for old-school James Bond films as he composes a dynamic action scene with a surprise ending."—AV CLUB

"There's a requisite dry-witted and devil-may-care playboy spy cad, a femme fatale, a shadowy global criminal cabal, a seemingly benign McGuffin, and exotic locales…. with Kindt, readers couldn't be in better hands."—MULTIVERSITY

"Matt Kindt is one of those writers who manages to melt the minds of readers time and time again."—SYFY WIRE

"An innovative genre-bender rooted heavily in pulp fiction….with stellar art from Torres."— COMICWATCH

"With Kindt, it is never safe to judge a book by its cover, or even 24 pages… Well-paced, well-executed, and very interesting."—COMICS THE GATHERING

"Thanks to Kindt and Torres we finally have our Idris Elba – James Bond, and it's exactly as cool as you imagined."—Jeff Parker

"BANG! is how you capture someone's attention."—FANBASE PRESS

"Matt Kindt is a brilliant writer."—GRAPHIC POLICY

"Imagine James Bond being abducted by David Lynch and forced into a maze that shifts with every step forward. The ground is unsteady. The walls of reality move. This is the world of Bang!, a spy thriller expertly conducted by Kindt and Torres, a mystery box that truly starts off with a... Well. You know." —Van Jensen

"Brilliant…. Bang! is an explosive bullet to the head that leaves you reeling and desperate for more…. Strap in, hold on tight and get ready to be shaken not stirred because nothing in Bang! is what it seems, or appears, to be…"—MASS MOVEMENT

"I've been waiting for my first new series to get really excited about in 2020, and I think BANG! may well be the one. Next month can't come quickly enough."—BIG COMIC PAGE

"Utterly fantastic!"—READING WITH A FLIGHT RING

"Irresistible."—WMQ COMICS

"Unique and delightful.….Simply put, this is the best spy story I have seen in a very long time."—BRAZEN BULL