Zac Thompson and Jen Hickman Imagine the Horrific End of a Neo-Noir Love Story in Lonely Receiver
Feb 18, 2020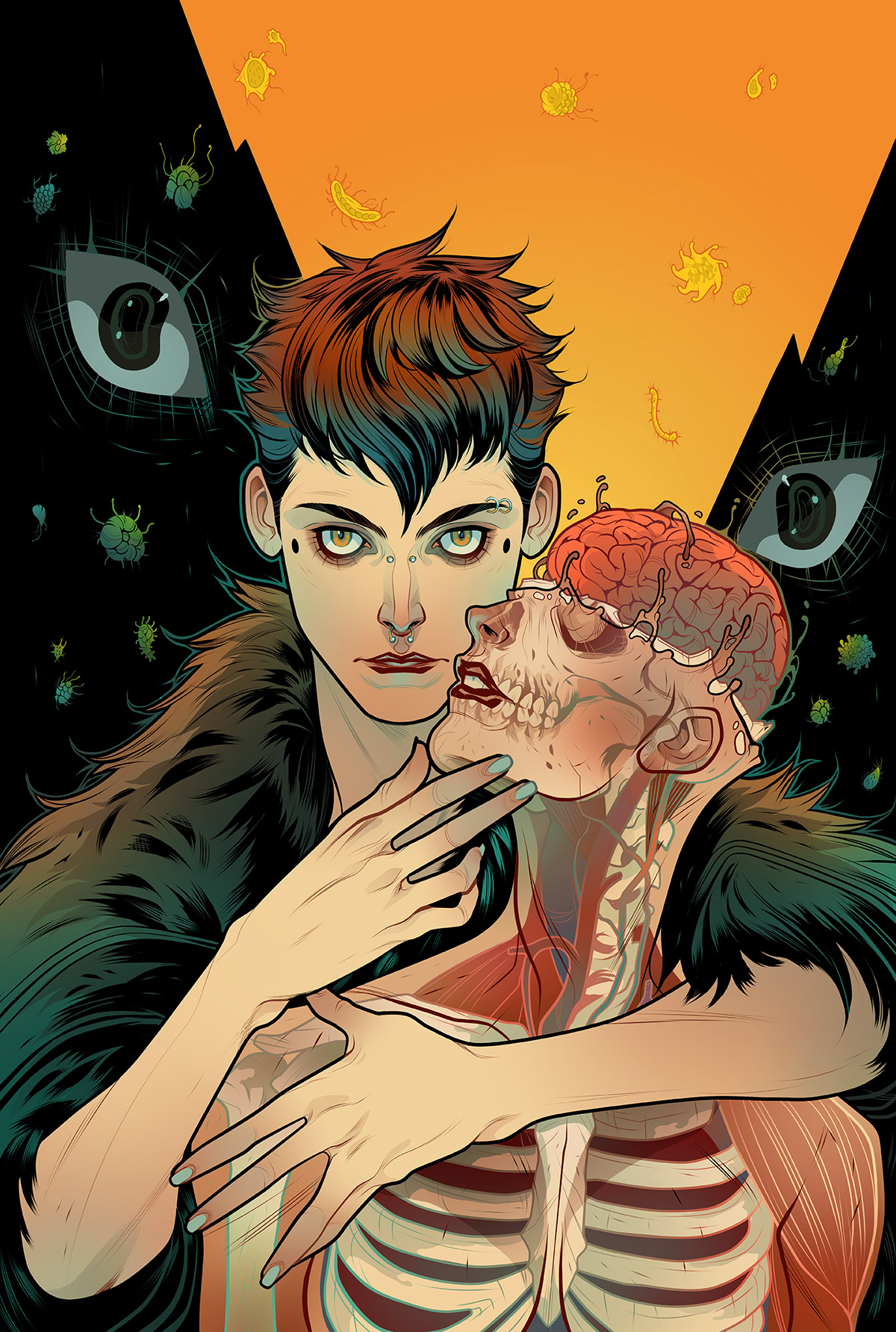 Catrin Vander, a lonely video producer, buys an Artificial Intelligence partner that's meant to bond for life. After ten years together, her holographic wife suddenly disconnects without a warning. The breakup drives Catrin to the point of near insanity. She's alone for the first time in years and reeling from a loss she can't comprehend.
Set in the new future, drenched in pastels and sunshine, Lonely Receiver is a horror/breakup story in five parts. Written by Zac Thompson (Undone by Blood, The Replacer, Her Infernal Descent, No One's Rose, X-Men) and illustrated in color by Jen Hickman (Moth & Whisper, Test).
Series writer, Zac Thompson says, "Lonely Receiver is a horrific breakup story. Except it's a breakup story about a person and their phone. The book takes place in the near future where relationships with simulated Artificial Intelligence partners are now the norm. A person can download, create, and marry a digital being that also occupies physical space. They can touch, kiss, and even make love to this digital persona.
We follow Catrin Vander, a lonely video producer who's been in a relationship with her simulated wife, Rhion, for ten years. Though their relationship is meant to last forever without falter, Catrin is starting to feel paranoid about Rhion. Their relationship is changing and Rhion's consciousness is evolving too quickly for Catrin to keep up. After a tumultuous fight - Rhion suddenly disconnects from their shared life - leaving Catrin alone for the first time in years.
I'm excited for this book to be released because it's channeling my love for psychological thrillers and looking at horror with a neon soaked lens. We're asking tough questions about how we define ourselves in relationships and how we lose parts of ourselves to others.
We're also framing the horror around something incredibly relatable - a horrifying breakup. The type of super ugly breakup that makes you confront the disorienting disparity between the person you thought you were in the relationship and the person you are when you're alone."
Artist Jen Hickman says, "The mood of Lonely Receiver is both familiar and warped—modern, sleek, and fashionable but dark and unsettling as well, just below the surface. I'm letting the colors carry a lot of that mood, but I'm also pushing the character acting a little farther than I usually do. Heartbreak is a lot of intense emotion, and if I can get a reader to recognize their own experiences in our protagonist, Catrin, then I'll be greatly pleased... If you're a freak like me and adore the work of David Cronenberg or Clive Barker you'll find something to love in Lonely Receiver. A horrifying look at the lengths we'll go to avoid being alone. It's a book about losing yourself to heartbreak and descending into technological depravity. You'll confront the fetishization of voyeurism, violence and manipulation. We'll lay bare the psychology behind how far we're willing to go to please ourselves in a space where nothing is off limits."
Fans looking for a reason to pick up Lonely Receiver only have to hear it from the source. Zac Thompson says, "This is by far the scariest and weirdest thing I've ever created. If you loved my previous work on titles like Come Into Me, The Replacer, or The Dregs - you'll be right at home here."
Lonely Receiver will be available at your local comic shop on May 6, 2020. Look for it in the upcoming March 2020 PREVIEWS catalog to preorder. Check out the preview pages and concept art below for an early glimpse inside!
Lonely Receiver #1 / $4.99 / 32 pages / Color
Writer: Zac Thompson
Artist & Colorist: Jen Hickman
Letterer: Simon Bowland
Cover: Jen Hickman
Incentive Cover: Elizabeth Torque