Toy Talk: Weta Workshop CEO & Creative Director Richard Taylor
Jan 19, 2020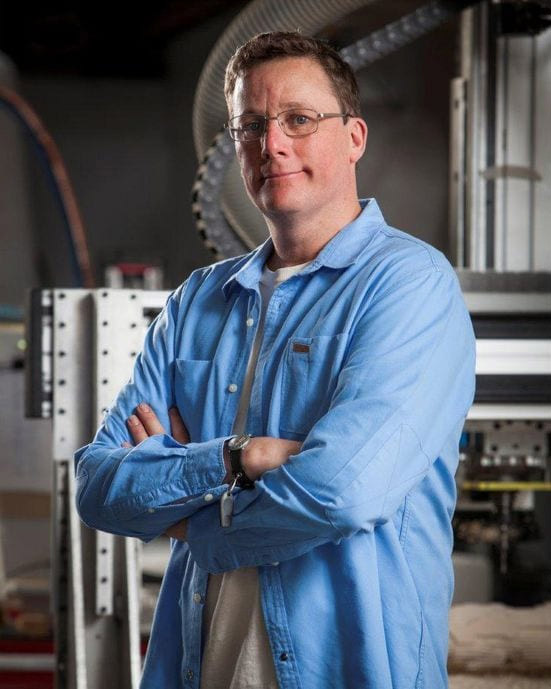 Toys, Statues and other collectibles don't just magically appear on store shelves. A lot of work goes into the concept, design, sculpting and final production of these items, and many of the people who work behind-the-scenes with companies like Diamond Select, DC Collectibles and Gentle Giant, among others, remain mostly unknown to their appreciative audience: the final consumer.

With Toy Talk, we hope to introduce you to the artisans behind some of your favorite collectibles, and to let them enjoy their well-deserved moment in the spotlight!

This month, we welcome Weta Workshop CEO & Creative Director, Richard Taylor to talk a bit about his history with Weta Workshop and the collectibles they are bringing to your local comic shop.
**********
PREVIEWSworld: With Weta Workshop's humble beginnings as a New Zealand special effects house to its legendary work on films like LORD OF THE RINGS, AVATAR, and THOR: RAGNOROK you must be extremely proud of where the company is today. What would you consider to be the core creative values that have built such a legacy for Weta Workshop?

Richard Taylor: I am indeed very proud of the extraordinary team that have gathered around us and focused on our creative pursuits from within our small Workshop in Wellington, NZ. We respect and understand that we have been given an opportunity to share some small part of our country's creative mark on the world stage and we don't take that responsibility lightly. At the heart of our company is a love of making. We keep handmade skills and crafts at the forefront of our work and feel incredibly privileged to share the products of these labours with our audiences, whether it be in film, television, location-based experiences or collectibles.

The core of our creative values is very simple: love of oneself, love of what we do, love of who we do it with, and love of who we do it for. If you don't have a 'love' for the process, the journey and the outcome, it is likely the audience aren't going to love it either. So, it's imperative to us that the passion, enthusiasm and tenacity that our team bring to their work projects flows through to our audience, in the hope they will also love the results of our creative endeavors!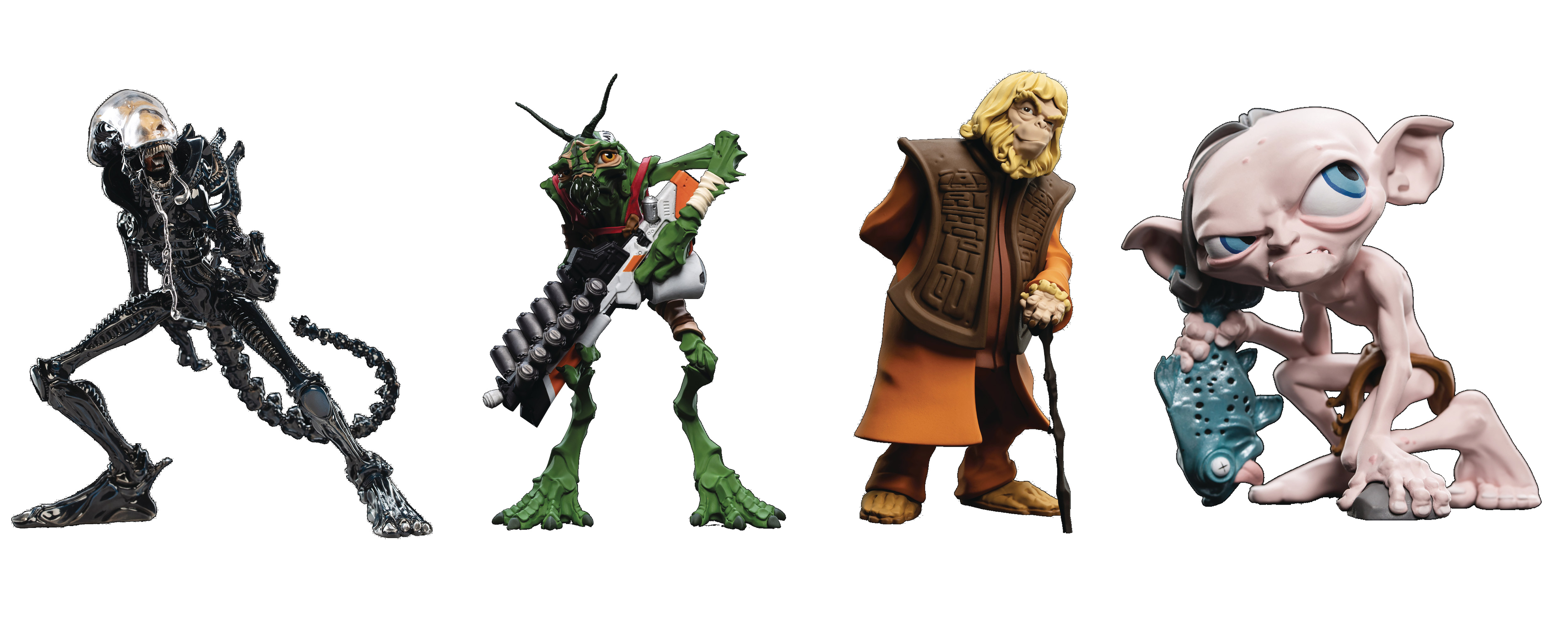 PREVIEWSworld: Given Weta Workshop's success working in Film and TV, what was the impetus behind creating collectibles for consumers?

Richard Taylor: I'm a huge fan of collectibles — or as they used to be known, 'garage kits.' Before the pre-painted collectibles of today existed, people like myself would buy model kits of various types — famous characters, monsters, and creatures from historical films and other creations —sold in unassembled raw castings in simple boxes with a glued label on the lid. Enthusiasts around the world would predominantly sculpt and cast these models in their garages (hence the name), and then sell them to people like myself. I have purchased over 200 garage kits over the past 35 years, which I enthusiastically glue together and paint. These now adorn the small office I share with five of my colleagues, including my wife Tania.

Many years ago, I made my own garage kit based on a character from Peter Jackson's Meet the Feebles (1989). However, I never had a chance to develop this hobby into a business opportunity until The Lord of the Rings. We were incredibly fortunate to purchase a license to make 1:6th scale figurative collectibles from the motion picture trilogy. This line continues today, alongside our ever-growing range of collectibles from other iconic franchises. It's certainly not an easy business to find commercial success in, but it is a wonderful offshoot from our service work — predominantly in the screen industry — as it gives our team a chance to connect with fans and stay immersed in the worlds that we love, beyond the process of making physical effects for films or TV shows.

PREVIEWSworld: What do you feel sets Weta Workshop's collectibles apart from others?

Richard Taylor: There are a number of incredible companies working in this business around the world. What we have tried to instigate as our primary point of difference is an absolute authenticity to the original character and the world that character exists in. We try very hard to make our sculptures feel like they exist plausibly within the world; right down to a character's physical condition, specific expressions, type of injuries, whether they are muddied, bloodied, or their clothes are worn. We try immensely hard to give our collectors the sense that they are looking at a captured moment from the film, TV show or game that they love so much.

That said, we have also diversified and developed our own unique collectibles lines: Mini Epics, Micro Epics and Figures of Fandom. From super-stylized figures to faithfully rendered models, our collectibles are complete with the trademark characteristics of the creature, character or machine we're bringing to life. It's been wonderful to receive feedback from enthusiastic fans and see their collections expand with these new pieces we are making.


PREVIEWSworld: As Creative Director for Weta Workshop, what is your role in the process of creating the collectibles?

Richard Taylor: My role is very much part of the pipeline here at the Workshop. I share feedback and final approval on the large number of designs we create. Following this, I collaborate with a dedicated group of artists on creative input, art direction and sculpting notes on various collectible pieces. I love this part of my role, as the opportunity to work with our sculptors on fine art statues is immensely rewarding. We set out to connect people to the spirit of each sculpture.
I try to bring my experience to the storytelling of the piece: the pose, the posture, the intent, the journey and ultimately the soul that we are trying to communicate through each sculpture… all very tricky things to capture in an inanimate object! I also play a part in paint approvals and will often request subtle additions before completion. The entire process is very much a collective endeavor for a small group of my colleagues at the Workshop, as I believe that peer review serves to enhance the final piece.

PREVIEWSworld: What is your favorite aspect of creating affordable high-quality collectibles with lines like Mini Epics, Micro Epics, and Figures of Fandom?

Richard Taylor: We produce our high-end collectibles in relatively small numbers, often varying between 600 to 1,000 pieces of any one character. These collectibles are often highly sought-after, extremely limited and therefore add a sense of value to collectors over and above the artistic merits of the sculpture. Several people have shared their disappointment that they couldn't secure one of our Limited Edition pieces, which is unfortunate of course.
So, it's great to increase accessibility and widen our range with the introduction of Figures of Fandom, Micro Epics and Mini Epics. These 'Open Edition' collectibles aren't restricted to a specific number of reproductions. They also have the added benefit of giving our talented artists the opportunity to share their unique design aesthetic through different creative approaches. Mini Epics in particular have allowed two Weta Workshop artists to develop their own specific art style through these ultra-expressive figures.
PREVIEWSworld: Do you have any dream licenses you would love to work with for future collectibles from Weta Workshop?

Richard Taylor: Having been immersed in the world of licensed product for near on 20 years, I am most enthused to see us develop original IP's for collectables here at the Workshop. To invent and then create characters from our own worlds, and produce these in the form of either unpainted, unassembled garage kits or pre-painted collectibles, is an exciting thought. We have a great creative talent in the Workshop, many who possess their own creative ideas. I dearly hope we can find a way to realise the team's creative endeavors through collectibles that we love so much!