Memorable Comics of the Decade
Jan 05, 2020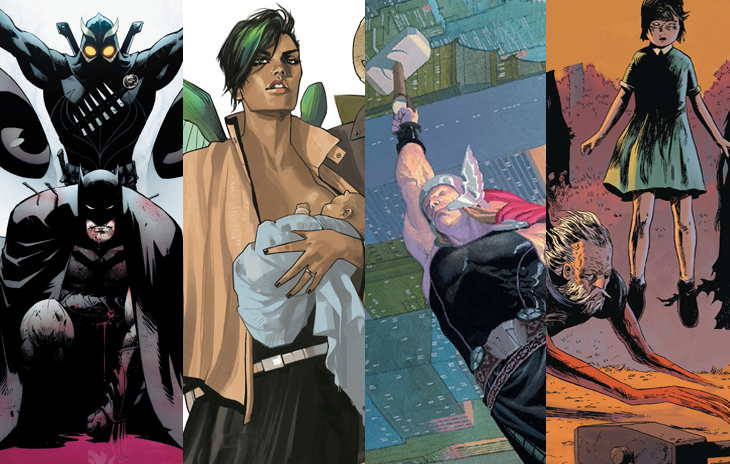 With the 2010s officially in the books, we've decided it was time to take a look back at the comics that left the biggest impact on readers and the comic industry between 2010 and 2019. We're not saying these are the books that defined the decade or the best comics of the decade (although they are all great reads). Instead we decided to to shine a spotlight on the comics that will be remembered for the risks they took and the paradigms they changed in the 2010s.
Whether it was through sales or critical acclaim, these comics shaped where the industry is today and where it will be decades from now as they go on to influence cinematic universes, streaming series, video games, and more in the coming years. However, even as those adaptations take over the worldwide cultural zeitgeist, these books are proof that the comic book industry can still provide a place for creators to take risks and innovate within a visual storytelling medium. The creative spark lives on in the world of comics and this past decade is proof that it's not slowing down.
Thor: God of Thunder (2013)
Written by Jason Aaron
Art by Esad Ribić, Ron Garney, Jackson Butch Guice
Following the release of The Avengers in 2012, public interest in Marvel comics and the characters that appeared in the film was white hot. Fans new and old were clamoring for back-to-basics ongoing series that starred the characters they saw team up for the first time on the big screen and Marvel delivered with their Marvel NOW! initiative that kicked off in 2013.
Writer Jason Aaron and artist Esad Ribić captured lighting in a bottle their grounded take on the God of Thunder, winning over fans and critics alike with tight storytelling and striking artwork with each issue. The series ended at issue 25 and continued as Thor when the creative team made the daring decision to introduce Jane Foster as the Goddess of Thunder. In an interview with Vulture, Jason Aaron said the idea to change Thor's identity "grew out of the idea of the previous Thor becoming unworthy," and "opened the door for someone else to pick up the hammer and carry it around in his place." This decision reignited interest in the Thor comics and continues to influence the the title to this day.

The legacy of the Jason Aaron's Thor will live on in the next phase of the Marvel Cinematic Universe as it's been announced that Natalie Portman's Jane Foster will pick up Mjölnir in the fourth Thor film, Thor: Love and Thunder, which is currently scheduled for release November 21, 2021.
What to Read:
MARVEL COMICS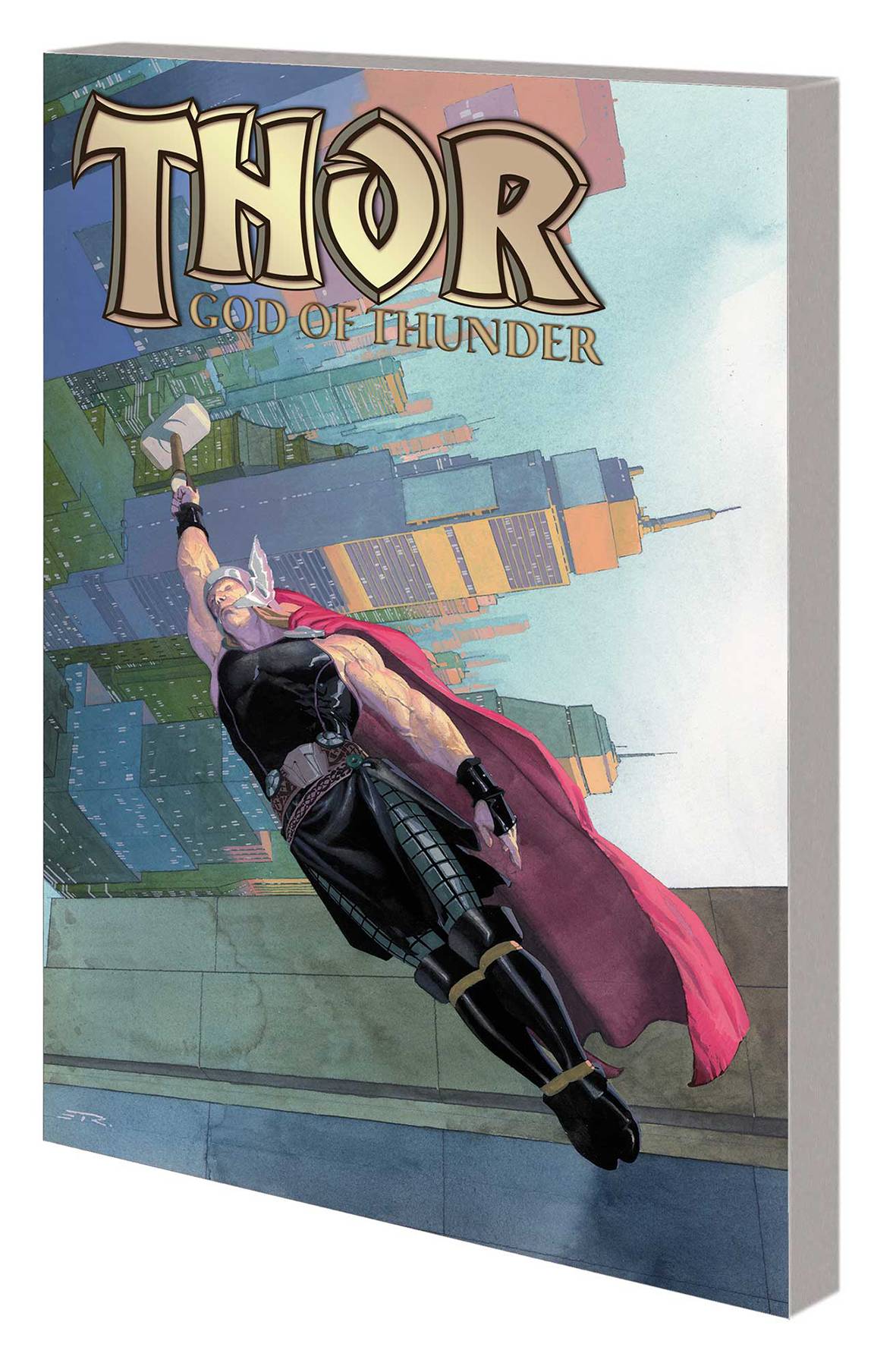 (W) Jason Aaron (A) Butch Guice, More (A/CA) Esad Ribic
A trail of blood consumes Thor's past, present and future! Throughout the ages, gods are vanishing - and Thor must unravel the gruesome mystery of Gorr the God Butcher! In the distant past, Thor discovers a cave that echoes with the cries of tortured gods. In the present, Thor follows the bloody wake of murdered gods across the depths of space. And millennia from now, the last god-king of Asgard makes his final stand. All three time-bending Thors must unite - but will it all be for naught if the massive Godbomb is triggered? Elsewhere, Malekith the Accursed makes his return! As the former lord of the Dark Elves begins a bloody rampage, Thor must find a new league of allies to aid him! And back on Midgard, what's going on with Dr. Jane Foster? Collecting THOR: GOD OF THUNDER #1-18.
Rated T+
In Shops: Apr 24, 2019
SRP: $39.99
MARVEL PREVIEWS Page #143
Batman (2011)
Written by Scott Snyder
Art by Greg Capullo
When DC rebooted their continuity in 2011 with The New 52, fans were eager to see how Batman would make the transition post Flashpoint. Turns out writer Scott Snyder and artist Greg Capullo knew exactly what to do to revitalize one of DC's most popular characters. They introduced a new threat to Gotham, a secret society that has been pulling the strings known as "The Court of Owls." This first arc in Batman's New 52 continuity was an engrossing page turning mystery that helped shape Batman's lore for years to come.
It all eventually led to one of the most gruesome and terrifying Batman storylines with "Death of the Family," and inspired the DC animated feature in Batman vs. Robin. There are rumors that the next Batman video game will feature The Court of Owls, but this has yet to be confirmed. It's fair to say the influence of "The Court of Owls" will continue to follow Batman for years to come.
What to Read:


Saga (2012)
Written by Brian K. Vaughan
Art by Fiona Staples
The 2000s saw epic ongoing comics for mature readers like The Walking Dead, Fables, and Y the Last Man rise to prominence as the readership aged and creatives in the industry wanted to push the medium forward. That trend continued and flourished into the 2010s with one of the most critically acclaimed comics of all time, Saga.
Brian K. Vaughan and Fiona Staples' sci-fi epic weaves a tale only a comic can. A story of love and war that starts small and escalates with each issue. The gripping story of Alana and Marko trying to escape the horrors of war as they raise their child turns into a sprawling space opera as it pushes the boundaries of what one would expect from a comic. Saga's influence on dialog, social representation, narrative design, and character development will be felt in the industry many years after it comes to a conclusion.

What to Read:
Black Hammer (2016)
Written by Jeff Lemire
Art by Dean Ormston
Jeff Lemire and Dean Ormston's Black Hammer aimed to comment on the concept of superheroes with an original story that follows six superheroes trapped in a sort of twilight purgatory that takes the form of a town known as Rockwood. After many attempts to bring this comic to life it eventually found a home at Dark Horse in 2016 and went on to be a major critical and commercial success. Audiences responded well to the series' unique world and it's bleak take on the concept of superheroes in the comic medium.
The series made enough of a splash in the industry that DC's Justice League crossed over with the Black Hammer universe in the Black Hammer/Justice League: Hammer of Justice five issue miniseries. The world of Black Hammer will move beyond comics in the future. Legendary Entertainment acquired the rights to the series to create a shared universe between television and film properties. It's reported that Jeff Lemire will retain a fair amount of creative control in the development of these projects.
What to Read:
Teenage Mutant Ninja Turtles (2011)
Written by Kevin Eastman, Tom Waltz, and Bobby Curnow
Art by Kevin Eastman, Dan Duncan, Andy Kuhn, Ben Bates, Mateus Santolouco, Sophie Campbell, Cory Smith, Ken Garing, Michael Dialynas, Dave Wachter, Damian Couceiro, Chris Johnson, and Brahm Revel
The Teenage Mutant Ninja Turtles is a timeless brand that has managed to reboot and revitalize itself many times in the 36 years it has been around. The series started as a gritty black and white comic series that was initially a parody of some of the trends in comics at the time and eventually grew into a massively popular media brand that spans from movie to toys. The heart of the Teenage Mutant Ninja Turtles will always be Kevin Eastman and Peter Laird's comic series, and after going on hiatus in 1995, the series eventually found a home at IDW Publishing.
This currently ongoing series went on to become its own unique take on the turtles that fans have supported since it started in August of 2011. Turtles co-creator, Kevin Eastman, returned to write the series with Tom Waltz and recently hit a major milestone with their 100th issue in December of 2019. The success of the TMNT brand along with gripping storylines will remain a execellent example of how modern comics can revitalize a legacy series while still taking risks with such a major media property.
What to Read:
One Punch Man (2012)
Written by ONE
Art by Yusuke Murata
Even though One Punch Man started as a web comic in 2009, it wasn't until 2012 that the hero Saitama was reimagined by legendary manga artist Yusuke Murata for an official manga adaptation. Known for its quirky sense of humor and smart writing, One Punch Man follows a hero living in a monster-ridden city who can defeat anything with just one punch. The series is widely recognized as a wonderful starting point for novice manga readers and continues to release new volumes to this day.
In 2015, One Punch Man was adapted into an anime by the animation studio Madhouse, and won over audiences with its crisp animation and tight comedic timing. Forever cementing Saitama's bald head as one of the most iconic characters found in manga.
What to Read:
---
Honorable Mentions -

Still looking for more great titles from the last ten years? Here are a few choice titles from the last decade we think you should check out!