Interview: Jay Sandlin Goes 'Over The Ropes' And Into Comic Shops
Dec 03, 2019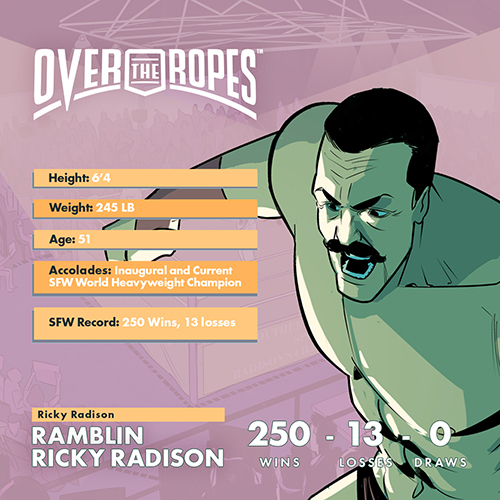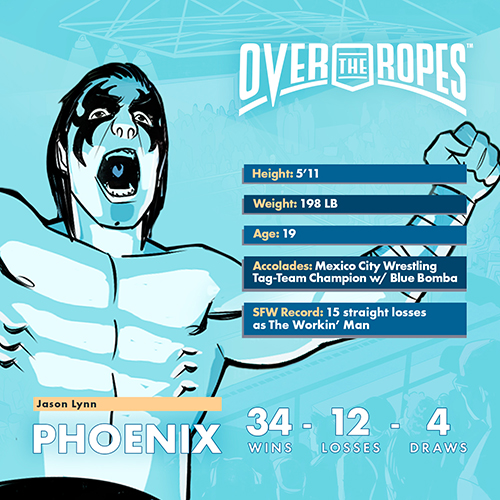 by Troy-Jeffrey Allen
The "attitude" era. The nWo. The Rock. The Monday Night Wars, ECW. Stone Cold Steve Austin.
Did that grab your attention? If so, then we've got something perfect for you. It's a comic series called Over the Ropes, and the creative team of writer Jay Sandlin and artist Antonello Cosentino are here to fully embody what is (arguably) pro wrestling's greatest era.
Know your role. Shut your mouth. And listen up. We're stepping over the ropes and into the squared circle on this one...
****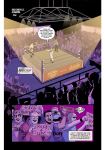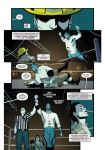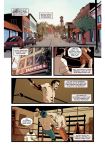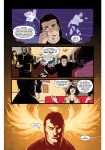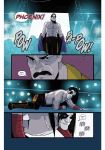 Click to View

PREVIEWSworld: How did Over the Ropes come about as a project?
Jay Sandlin: When Mad Cave hired me in Sept 2018, they already knew they wanted an underdog wrestling story as a 5-issue comic book mini-series. During the interview process, editor Chris Fernandez let it slip they had me in mind for the wrestling book because they noticed from my social media (@JaySandlin_WHN) I talked a lot about wrestling and clearly knew a great deal about the history of it. This was quite the understatement, as my best friends call me the "human wrestling encyclopedia" when we get together every month to watch PPVs. So, the moral of the story here is, don't let anyone say you're wasting time by talking wrestling online. In my case, I got hired for a dream project!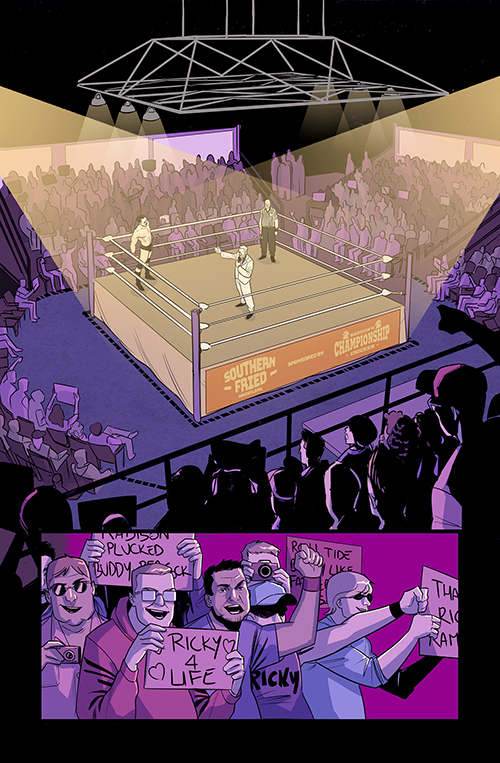 PREVIEWSworld: What made you focus your story during the 1990s?
Jay Sandlin: Mad Cave gave me amazing freedom in writing the story, so I decided to pick an era I related to most in terms of my pro-wrestling fandom. Originally, I thought about the 70s and 80s because I wanted to write a story about a smaller wrestling promotion during the territory days. I soon realized, however, most current fans can't relate to a time period that far back and the 90's were truly wrestling's golden age.
Historically, the 90's represented the death of the local territory system with the rise of cable TV putting wrestling on national and international stages. Once I decided to set the events in a southern territory in 1992, the rest flowed like blood from Ric Flair's forehead.
PREVIEWSworld: Tell us about Jason Lynn. Why do we follow them through this story, specifically?
Jay Sandlin: Every good wrestling story needs a strong babyface, a character the audience roots for no matter how many country whoopins' they take. Jason Lynn, aka the Phoenix, is a jobber, a wrestler hired to lose to other wrestlers. Despite his obvious skill in the ring, he's constantly overlooked in favor of the promoter's spoiled son, Billy Radison. Much like Rocky Balboa, Jason ends up with a shot at the title, but with strings attached that he can't tolerate.
Everyone can relate to having a job they don't like or a boss they hate, Jason is no different. Unlike the rest of us, he gets to live out his fantasy of sticking it to his boss, an action that comes back to bite him in his spandex-clad ass later, believe me!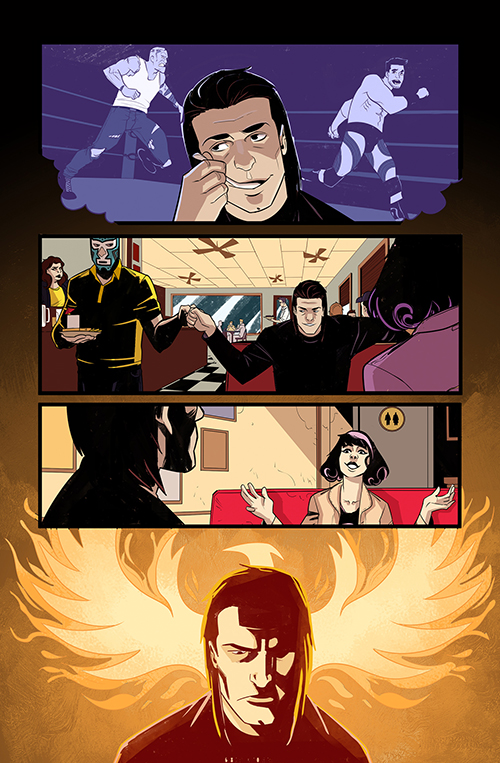 PREVIEWSworld: What is Southern Fried Wrestling? Is it based on an actual promotion in the South?
Jay Sandlin: SFW stands for Southern Fried Wrestling, a local promotion based out of the fictional town of Radisonville, AL. In the fictional world of OTR, it's founder is 'Ramblin' Ricky Radison, one of the two biggest stars of the 70s and 80s territory wrestling, known for his classic series of matches with the world champion, Buddy Peacock.
When Ricky's career wound down, he moved back to Alabama and lent his name and likeness to a series of fried chicken restaurants, "Radison's Championship Chicken". With his chicken money, Ricky privately bankrolled SFW to compete with his old rival, Buddy Peacock and the biggest wrestling promotion in the world, the AWF on the national stage.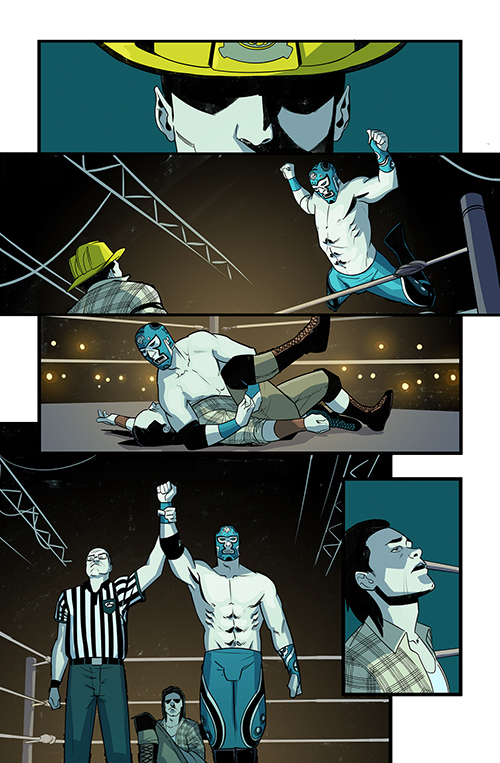 SFW is largely fictional, but it's similar to promotions from the 90's like Smoky Mountain Wrestling or Georgia Championship Wrestling in the Southern territory days. It's also similar to WCW during the years it was owned by the Crocket family before it hit it big on Ted Turner's superstations, TBS and TNT.
PREVIEWSworld: What was it like working with Antonello Cosentino? What's the creative process like between you two?
Jay Sandlin: Antonello is a super-talented guy, but the process between us was handled entirely by editors, so we didn't work together directly. We did all the work in google docs, so when new artwork came in, I sent my thoughts/notes directly to Chris. Chris was always receptive to my opinion of the art and he decided what notes to pass on to Antonello.
Between the three of us, we came up with the final product, working in a creative team, much like how wrestling is made.
PREVIEWSworld: Looking forward, what can readers expect from Over the Ropes?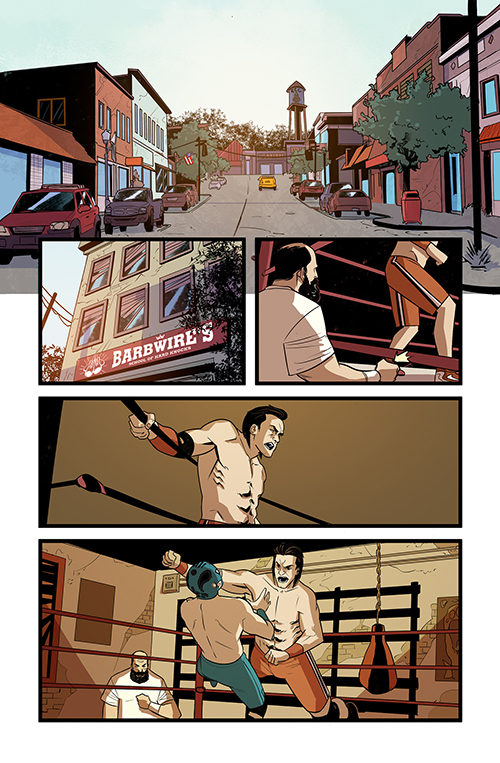 Jay Sandlin: Expect pain, lots of pain! (Insert Ted DiBiase laugh)
This is wrestling, so there will be swerves, betrayals, heel turns, and plenty of drama in and out of the ring. Most of it experienced by Jason Lynn as he continues to piss off the establishment like he's Stone Cold Steve Austin flipping the bird to Vince McMahon in the 90's. Every wrestler needs a gimmick and every gimmick requires a catchphrase. No matter how hard things get for Jason, he lives by his catch-phrase: I. Will. Rise.
PREVIEWSworld: What is so captivating about wrestling?
Jay Sandlin: Wrestling is story-telling and human beings have told stories since we first stood upright. My favorite wrestling comes from characters larger than life, guys like the Ultimate Warrior, Sting, the Road Warriors, and Demolition all served as a blueprint to create Jason Lynn, the Phoenix. Other lucha characters, like Rey Mysterio, captivated me with their breakneck tactics and daredevil style, which perfectly translates to comic books. You can see their legacy reflected in Jason's best friend, Blue Bomba, a Mexican wrestler who eats, sleeps, and even showers in his lucha mask.
When I began this project, I decided to write the kind of wrestling story I always wanted to read. I can only hope others like my wrestling story as well, but if you're not down with that, well, I've got two words for ya…
MAD CAVE STUDIOS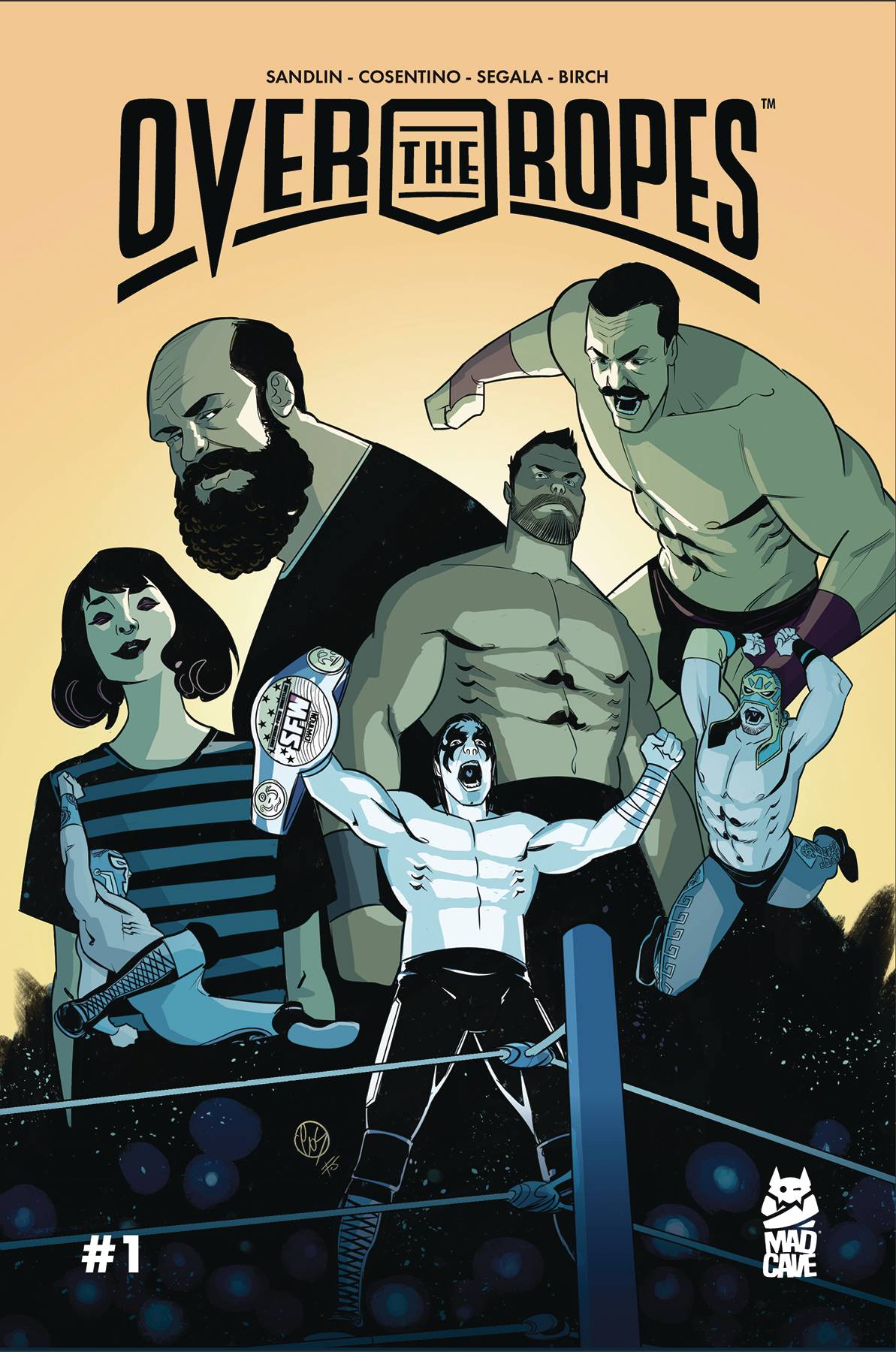 (W) Jay Sandlin (A/CA) Antonello Cosentino
Step Over the Ropes and into 1990s wrestling. Set in a fictional world, Over the Ropes dives into sports entertainment's biggest era. A young high-flyer named Jason Lynn goes off-script in a match to win the world title and sets the southern territory on fire as the face-painted wrestler, Phoenix. Jason's battles between the ropes are only outperformed by his struggles outside the ring. First dates. Crooked promoters. Cage matches. Factions and families. No matter what problems smack him with a steel chair, Jason lives by his catchphrase: I. Will. Rise.
In Shops: Dec 04, 2019
SRP: $3.99
PREVIEWS Page #328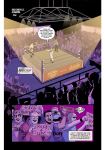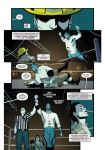 Click to View

****
Troy-Jeffrey Allen is the producer and co-host of PREVIEWSworld Weekly. His comics work includes BAMN, Fight of the Century, the Harvey Award-nominated District Comics, and the Ringo Awards-nominated Magic Bullet.