Warren Ellis' James Bond Coming Back to Comic Shops
Nov 21, 2019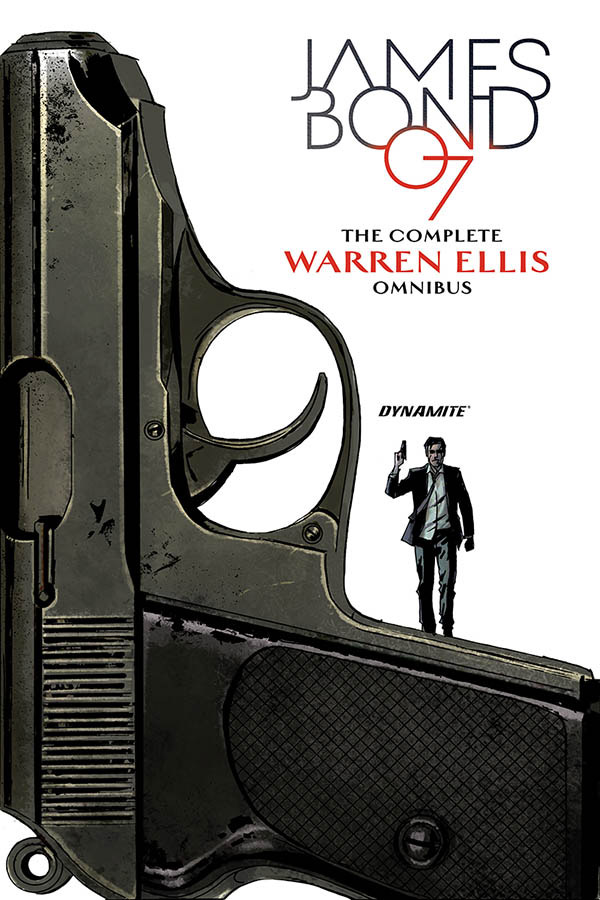 Dynamite announces two special reprints of Warren Ellis' iconic James Bond comics for release in February.
Collecting all of Ellis' espionage epic together in one oversized hardcover volume is the James Bond: The Complete Warren Ellis Omnibus. Included inside are the 12 issues that kicked off Bond's epic return to comic books in 2015, by one of the greatest writers of the medium and instant star South African artist Jason Masters. In addition to the critically acclaimed VARGR and Eidolon story arcs, every single cover is included, from the likes of Dominic Reardon, Joe Jusko, Ben Oliver, Jock, Glenn Fabry, Francesco Francavilla, Dan Panosian, Robert Hack and more.
For fans who have never picked up a James Bond comic and want a taste test, or veterans who'd like to revisit that joyful feeling of reading the authentic Fleming-inspired spy tales for the first time, Dynamite is also releasing a Dynamite Dollar Edition of the original first issue. Advertising within the issue will direct fans who can't get enough to check out the omnibus volume and further Bond case files, such as the current series by writers Vita Ayala, Danny Lore and artist Eric Gapstur.
This globetrotting adventure takes Bond from his native Britain to Helsinki, Berlin, Los Angeles and further. Ostensibly tasked with breaking up a drug-trafficking operation, the entire scheme unravels with unexpected variables galore. Can Bond break through the political mist and accomplish his mission, let alone survive?
Warren Ellis, alongside his collaborators, is credited with nearly singlehandedly revolutionizing the mainstream American comic book through his influential and acclaimed creations of The Authority and Planetary at the turn of the century. Across comics, prose, video games and television, as in his role as writer and executive producer of Castlevania, practically everything Ellis touches is sure to impress. Jason Masters' slick style fits the 007 world of tailored suits, pretty people and shadowy hallways to a tee. Fans can follow his inimitable lines on other titles like Batman Incorporated and Captain America.
Ellis shared, "It was my honour to become the first Official Continuation graphic novelist for the Ian Fleming Estate, and my pleasure to see my wonderful partners at Dynamite Comics collect Jason Masters' world-class work in this new edition."
"Warren and Jason were outstanding on the series. It still stands as one of the highest watermarks of my career," said Nick Barrucci, Dynamite CEO and Publisher. "As a certain monumental film approaches in the spring, we felt it was the perfect opportunity to put together a perfect package for collectors and expose a whole new audience to this classic work."
The JAMES BOND: THE COMPLETE WARREN ELLIS OMNIBUS and the JAMES BOND #1 DYNAMITE DOLLAR EDITION will be solicited in Diamond Comic Distributors' December 2019 Previews catalog, the premier source of merchandise for the comic book specialty market, and slated for release in February 2020. Comic book fans are encouraged to preorder copies with their local comic book retailer.