Start Here: Five New Comics for November 20th
Nov 18, 2019
Overwhelmed with new releases? Need something new to read? This week's releases are packed with new series to dive into! Here are five brand-new series with fresh jumping on points coming to stores on Wednesday. Just start here.
Every week, PREVIEWSworld collects five titles with new number ones or fresh story arcs perfect for readers looking to get into a new series. These new releases are available to purchase at your local comic shop and feature comics from any genre or publisher.
This week: Deadpool takes on the King of Monsters, He-Men from different dimensions team up to find a young Skeletor, comics become reality for a young fan in Olympia, teens develop a taste for blood in Heartbeat, and Rai embarks on a thrilling new quest!
These all-new series are ready for new readers to enjoy - all you have to do is Start Here. Deadpool #1 (SEP190835)
Deadpool's newest mercenary job has him going after the King of Monsters, who has claimed a new kingdom for his monstrous subjects...on Staten Island! But you know what they say, when you come at the king, you better not miss!
The Merc with a Mouth finds himself neck deep in political intrigue, monster law, and a monster hunter out for blood! It's like The Crown but with even more swords and monsters! Can Deadpool's smooth charisma and deft diplomacy allow him to keep his head, or will he be royally screwed?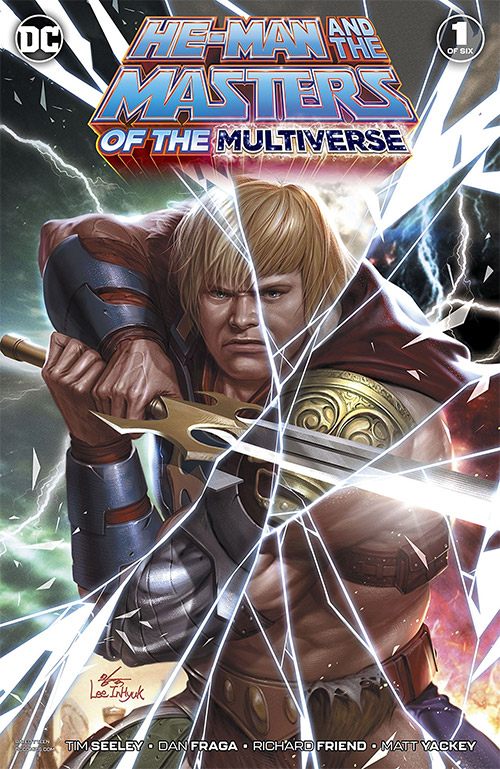 He-Man and the Masters of the Multiverse #1 (SEP190454)
The scourge of Anti-Eternia is unleashed on the Multiverse! Blazing a trail across the dimensions, he's devastating each version of Eternia and stealing its power. Now it's up to a ragtag team of surviving He-Men to recruit the one man in existence who might save them: Prince Keldor, the man who would be Skeletor! This all-new miniseries features the most iconic eras and beloved takes on the Masters of the Universe! Olympia #1 (SEP190047)
Elon is a latchkey kid who spends his days alone reading comic books-until his favorite superhero, Olympian, comes crashing off the page and into reality! But as he nurses his wounded and delirious hero back to health, he discovers Olympian isn't the only thing that came through... something evil followed him.
A comedic yet heartfelt love letter to the comics medium, Olympia is also a meditation on hope and loss, conceived by Curt Pires (Wyrd) and his father, Tony Pires, while Tony was undergoing treatment for cancer. Heartbeat #1 (SEP191265)
Eva, a high school outcast, finds herself witness to a horrible secret: the most popular boy in school enjoys the taste of blood and will kill to get his hands on it. Horrified and intrigued, Eva lets herself be pulled into Donatien 's macabre world.
He offers the escape she has been looking for but how much is Eva willing to betray her moral code in order to find something that gives her life meaning? And will she or Donatien ever find redemption?
Maria Llovet (Faithless) presents a dark, violent, decadent, disturbing story, in which life and death, blood, and love are inextricably intertwined. Rai #1 (SEP192063)
Welcome to the 41st century: New worlds, new characters, new adventures.
Valiant's critically celebrated cyborg ronin, Rai, embarks on a thrilling quest to save the future.
Multiple New York Times bestselling and award-winning writer Dan Abnett (Guardians of the Galaxy) joins forces with breathtaking artist Juan José Ryp (X-O Manowar) to begin the essential sci-fi series of the next two thousand years!
"It's got a blend of action, sci-fi, a little horror and a lot of character. I think it's a very distinctive book that has its own special feel." - Dan Abnet