Once & Future #3 Gets a Second Printing with New Cover Art
Oct 21, 2019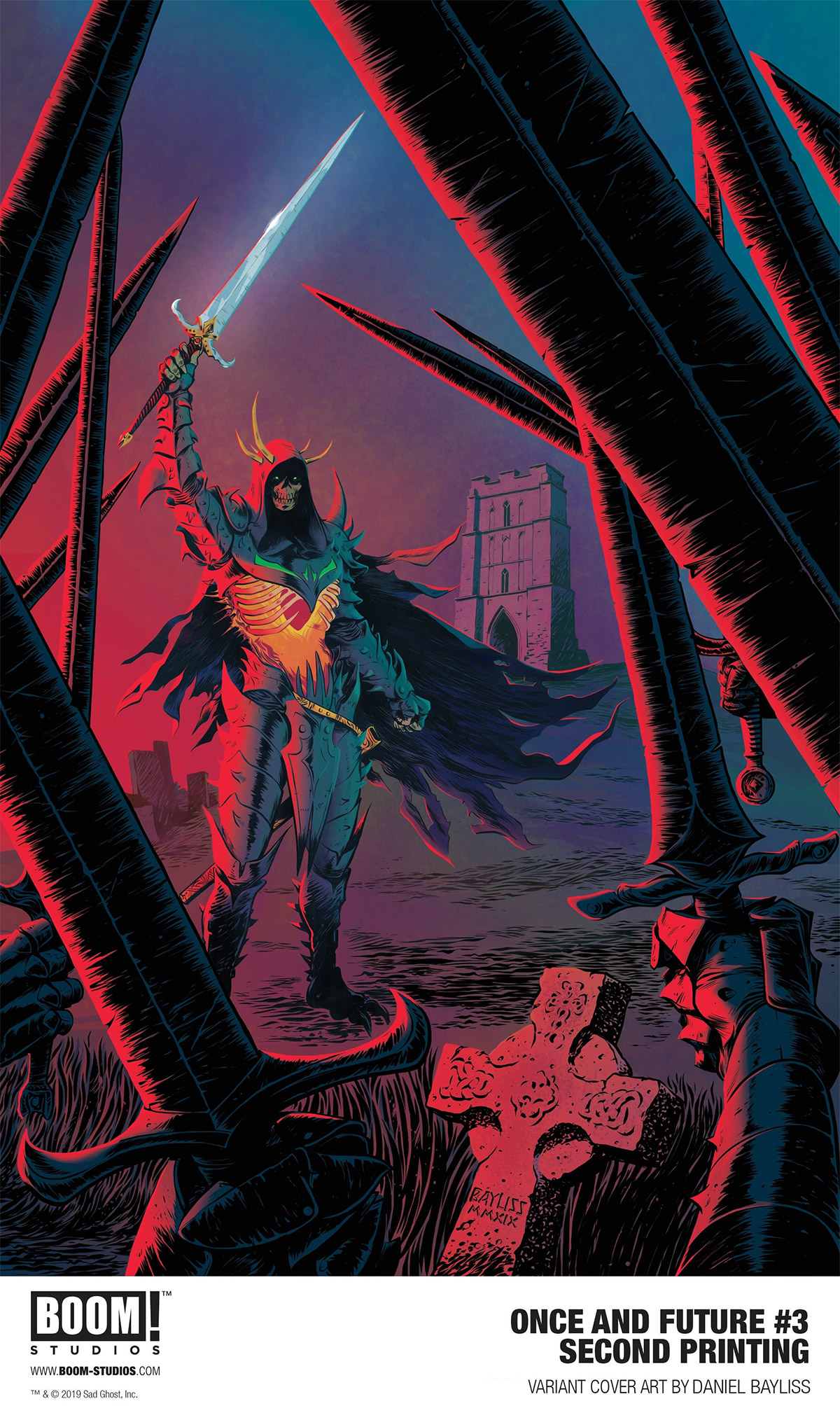 BOOM! Studios announced today that ONCE & FUTURE #3, from New York Times bestselling writer Kieron Gillen (The Wicked + The Divine, Die), Russ Manning Award-winning artist Dan Mora (Buffy The Vampire Slayer, Klaus), and acclaimed colorist Tamra Bonvillain (Doom Patrol), has sold out at the distributor level, just days after going on-sale in comic shops.
Due to overwhelming support from retailers and fans alike, BOOM! Studios is proud to announce the ONCE & FUTURE #3 SECOND PRINTING VARIANT, featuring an all-new cover by acclaimed artist Daniel Bayliss (WWE), arriving in stores on November 20, 2019.
The newest issue of the highly acclaimed and hotly anticipated new original series, ONCE & FUTURE #3 follows retired monster hunter Bridgette McGuire and her unsuspecting grandson Duncan as they prepare for battle against a rising evil that plans to take over their country to bring it back to its former glory.
Duncan and his Gran were too late to stop the Nationalists, and now the ancient King is awake, looking to take power over his land once again and unite it under his rule—spelling disaster for Britain. The only way to stop him now is to track down the legendary grail! But with Arthur's army growing they're running out of time and resources, and what does Duncan's disastrous first date, Rose, have to do with any of this?!
"The growing phenomenon of ONCE & FUTURE's success is a testament to the readers' passion for the series, as well as a direct result of the incredible retailer support for this breakout hit," said Filip Sablik, President, Sales and Marketing, BOOM! Studios. "Each new issue is an absolute must-read to add to the top of the pile, so we're truly excited to announce a second printing of the latest installment so new readers and series subscribers alike can discover the thrilling action, adventure, and mysteries that Kieron, Dan, and Tamra have in store for us!"
The multiple printings of ONCE & FUTURE #1 (JUL198620) and ONCE & FUTURE #2 (AUG198094) along with print copies of ONCE & FUTURE #3 (AUG191392) featuring cover art by artist Dan Mora are available for sale now at your local comic shop.
For continuing news on ONCE & FUTURE and more from BOOM!, stay tuned to www.boom-studios.com and follow @boomstudios on Twitter.