Exclusive: September 2019's Top 25 Best-Selling Toys
Oct 20, 2019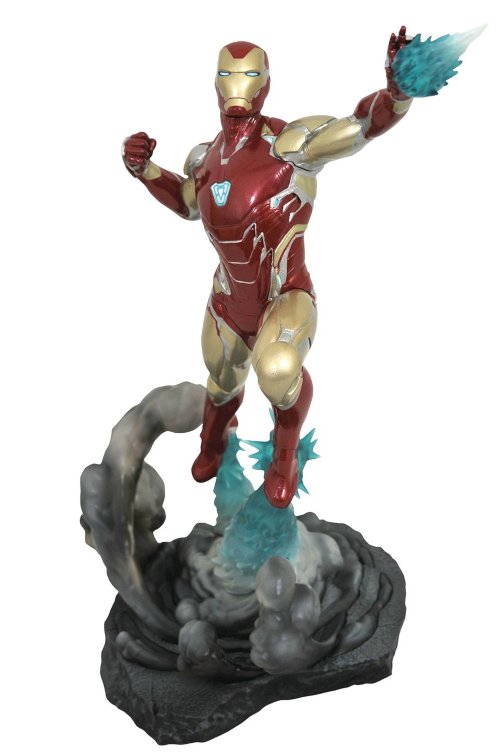 Based on the Marvel Cinematic Universe, Diamond Select Toys' Marvel Gallery: Avengers Endgame: Iron Man Mk. LXXXV PVC Statue was the best-selling toy of September.
Diamond Select Toys had three products in the top ten, inclduing the Marvel Select: Captain Marvel (Movie) Action Figure at #5 and the John Wick Select Action Figure, based on the Keanu Reeves film franchise, at #10.
Mattel's DC Multiverse 6-Inch Action Figures (Lobo Wave) ranked #2.
Based on the Netflix television series, Mezco's One:12 Collective: Marvel: The Punisher Action Figure ranked #3.
DC Collectibles had three products in the top ten: the Batman Black and White by Marc Silvestri Statue ranked #4, the Dark Nights Metal: Batman the Devastator Statue ranked #7, and the DC Essentials: Red Hood Action Figure ranked #8.
Also in the top ten, Kotobukiya's Batman Returns: Catwoman Bishoujo Statue ranked #6 and Funko's PREVIEWS exclusive POP! Marvel: Spider-Punk Vinyl Figure ranked #9.
TOP 25 TOYS
Based on Total Retail Dollar Sales of Products Invoiced in September 2019
RANK
DESCRIPTION
ITEM
CODE
VENDOR
1
MARVEL GALLERY AVENGERS 4 IRON MAN MK85 PVC FIG
FEB198521
DIAMOND SELECT TOYS LLC
2
DC MULTIVERSE 6IN AF ASST - LOBO WAVE
NOV188888
MATTEL TOYS
3
ONE-12 COLLECTIVE MARVEL NETFLIX PUNISHER AF
MAR188817
MEZCO TOYS
4
BATMAN BLACK AND WHITE BY MARC SILVESTRI STATUE
FEB190627
DC COLLECTIBLES
5
MARVEL SELECT CAPTAIN MARVEL MOVIE AF
JAN192554
DIAMOND SELECT TOYS LLC
6
DC COMICS CATWOMAN RETURNS BISHOUJO STATUE
JAN198158
KOTO INC.
7
DARK KNIGHTS METAL BATMAN THE DEVASTATOR STATUE
FEB190623
DC COLLECTIBLES
8
DC ESSENTIALS RED HOOD ACTION FIGURE
FEB190631
DC COLLECTIBLES
9
POP MARVEL SPIDER-PUNK PX VINYL FIGURE
SEP188215
FUNKO
10
JOHN WICK SELECT AF
SEP182329
DIAMOND SELECT TOYS LLC
11
MARVEL GALLERY THANOS COMIC PVC FIGURE
MAY192386
DIAMOND SELECT TOYS LLC
12
MARVEL GALLERY AVENGERS 4 TRACKSUIT HULK DLX PVC FIG
FEB198523
DIAMOND SELECT TOYS LLC
13
MARVEL GALLERY AVENGERS 3 HULKBUSTER DLX PVC FIG
JAN192549
DIAMOND SELECT TOYS LLC
14
GI JOE A REAL AMERICAN HERO SCARLETT BISHOUJO STATUE
JAN198529
KOTO INC.
15
ONE-12 COLLECTIVE DC JOKER CLOWN PRINCE OF CRIME EDITION AF
APR188799
MEZCO TOYS
16
MARVEL SELECT SANDMAN AF
MAR192448
DIAMOND SELECT TOYS LLC
17
MARVEL CAPTAIN AMERICA ARTFX PREMIER STATUE
JAN198530
KOTO INC.
18
DC BOMBSHELLS BATGIRL & SUPERGIRL CELEBRATION STATUE
FEB190626
DC COLLECTIBLES
19
DC GALLERY JOKER COMIC PVC FIGURE
MAY192387
DIAMOND SELECT TOYS LLC
20
BATMAN SUPER POWERS MAQUETTE
SEP182377
TWEETERHEAD
21
BATMAN BLACK & WHITE MINI PVC FIGURE 7 PACK SET 3
FEB190628
DC COLLECTIBLES
22
MARVEL LEGENDS GEAR ENDGAME POWER GAUNTLET
JAN199285
HASBRO TOY GROUP
23
POP DC HEROES RED DEATH PX VINYL FIGURE
JUN192566
FUNKO
24
BATMAN ANIMATED SERIES BATCYCLE & AF SET
JAN190709
DC COLLECTIBLES
25
MARVEL GALLERY CARNAGE COMIC PVC FIGURE
JAN192550
DIAMOND SELECT TOYS LLC
This information may not be reproduced in any format without the express permission of Diamond Comic Distributors.
How does Diamond calculate the charts? It all starts at the comic book shop.
Data for Diamond's sales charts — which includes the monthly market shares and all top product charts — are compiled by Diamond Comic Distributors from sales made to thousands of comic book specialty shops located in North America and around the world. Additional sales made to online merchants and other specialty stores may be included as well.
Unit and dollar market shares are calculated based upon orders for comic books, graphic novels, and magazines invoiced and shipped to Diamond customers during any given month, which comprises pre-orders, advance reorders, and reorders, minus any copies that are distributed free of cost.