New James Bond Series Begins in High Stakes World of Art Forgery
Oct 13, 2019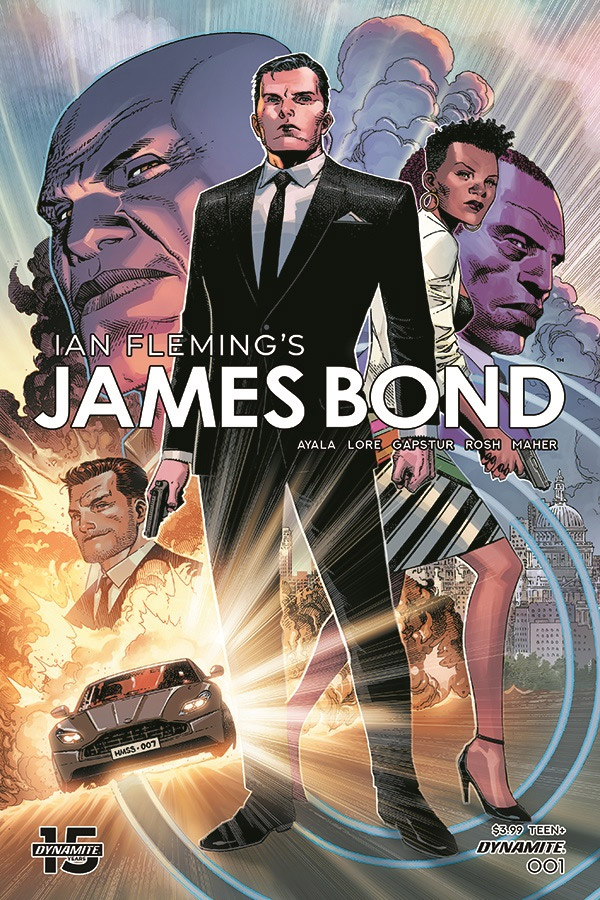 A new ongoing series for James Bond starts this December!

Writing partners Vita Ayala and Danny Lore assemble their squad to craft an initial arc dealing with the high stakes world of art forgery. Fan-favorite Eric Gapstur returns on art following contributions to Greg Pak's James Bond 007 series. Colorist Roshan Kurichiyanil and letterer Ariana Maher round out the enlisted agents, returning from their service with previous Bond books as well for visual continuity.

PREVIEWSworld talked with the creative team about James Bond #1 (OCT191221) from Dynamite!

********

PREVIEWSworld: Who's your James Bond?
Vita Ayala, Writer: To me, there are two Bonds. The assassin, and the man. The assassin is calculating, incredibly good at his job, cold. The man is vulnerable, funny, and charming. They both inhabit the same being. I think what makes James most interesting to me is the way that he uses both to navigate the world. None of it is a lie – just, compartmentalized. He is also just the coolest, most suave man you'll ever meet. I think that comes with being able to seamlessly adjust to whoever he is engaging. He is incredibly intelligent, but I think that is filtered through an impatience that gets him into trouble (though, in the end, Bond always gets his man). The danger and mystery mixed with the charm are too much to resist...
PREVIEWSworld: What's your angle into the spy world?
Danny Lore, Writer: In the same way that Bond is this iconic walking contradiction, my favorite two things about spy stories are also polar opposites. On one hand, a good spy story is held up by the weight of conspiracy-- of the feeling that there's another, bigger, more important rung on the ladder that the characters can get to. On the other hand, how awesome is it when you get to revel in the tense, tiny details? A quick exchange of a data stick, the close up of the dial on a locked box and the small puff of breath as an assassin readies themselves. Those are my two main angles when I'm getting into the genre, and hopefully we'll get to do quite a bit of both in our run!
PREVIEWSworld: What's unique about drawing a world of spies?
Eric Gapstur, Artist: It's a world dripping with shadows, so it's a fun opportunity to push the chiaroscuro on the page that doesn't typically present itself in more bright and flashy superhero stories.
PREVIEWSworld: What's your approach to coloring a world of espionage?
Roshan Kurichiyanil, Colorist: With James Bond, I got the opportunity to work with an amazing crew! So, my main job was to NOT mess up all the good stuff they had already sent me, but to try and evoke a feeling of mystery, anticipation and intensity associated with the world of espionage, through colors and values. I see color as a crucial storytelling tool. My process starts with reading the script thoroughly to understand the tone and mood for each important sequence in the arc to get a feel of what the writer and artist are trying to emphasis. Once I have a clear idea , I'll work out a rough color key for the entire arc to see what kind of colors help tell the story better, while planning the lighting based on cues from the inks. For this project, I decided on a style with a lot of texture brushes and slight rendering to retain a grungy feel even when the colors would travel to the bright and saturated side of the palette; setting an intriguing world for all sorts of exciting stunts.
PREVIEWSworld: Before this new series starts, you'll have twelve issues of Bond under your belt! How does one letter a Bond story?
Ariana Maher, Letterer: Bond stories are a thrill to letter. I get to use a crisp, clean lettering style for the dialogue, but once the action gets brutal, I can make the sound effects reflect that with rough brush strokes and heavy impacts. I keep a style library just to store all of the different types of sound effects I've used or created for James Bond 007 to both help keep me consistent and inspire me to try new things throughout the dozen issues I've worked on the series. I hope to carry my bag of tricks with me to future Bond stories as well. I've teamed up with Rosh and Eric on earlier James Bond 007 story arcs, so I know how much fun I will have lettering over their artwork once again with the upcoming James Bond. I'm so excited for the wild spy adventures Danny and Vita have in mind for our team.