Writer Ethan Sacks Talks Kiss Zombies
Sep 21, 2019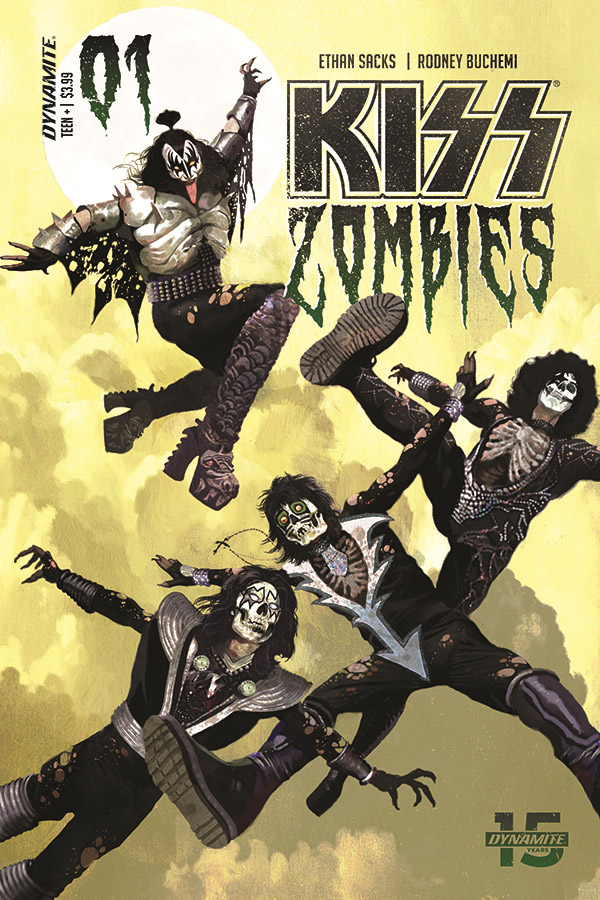 Ethan Sacks (Old Man Hawkeye, Old Man Quill) continues the Kiss comics cannon with Kiss Zombies this November!
The series takes place decades after a zombie invasion has made humans an endangered species and the city of New Detroit is now under siege. The leaders of the world have banned music, so as to not attract zombies, and now it's up to a group of teenagers who've set out on a dangerous trip to find the band Kiss and take back rock and roll for the people!
Fans looking for a bit of insight into the new series, check out the interview below to see what writer Ethan Sacks has to say about his new take on Kiss comics.
************
PREVIEWS: Ethan, this is your first comic book work away from Marvel. What drew you to mark that occasion with KISS and Dynamite? Are there any other Dynamite characters that you'd love to possibly take a stab at down the line?
Ethan Sacks: It wasn't a tough sell: My editor at Dynamite, Kevin Ketner, had me at "KISS Zombies." The band is one of my all-time favorites, from seeing them on television in "KISS Meets the Phantom of the Park" as a five year old, to seeing them in concert with and without makeup, to getting the chance to interview Gene Simmons and Paul Stanley as a professional journalist And dangling the supernatural element in front of this Romero nerd is like luring a zombie with fresh brain meat
For years I've been a reader of Dynamite titles, but well before that I have been a Bruce Lee fan. So a Green Hornet book, perhaps one that examines the legacy with a new person behind the mask, would be a dream. God, there are so many others, including Battlestar Galactica and Doc Savage. Also, how cool would it be to examine the world of Game of Thrones in comic book format?
Taking a stab would be literal and figurative in that case! But the biggest wish list item? A James Bond spinoff that I have in my head. God, this is so hard to narrow down!
PREVIEWS: We put on our detective caps, did some digging and found that you wrote a retrospective piece on KISS for their 40th anniversary. What does the band mean to you?
Ethan Sacks: Quite simply this band not only rocks aurally, but they rock visually and that's stuck with me throughout my life. They look the part of larger-than-life heroes and I would put their aesthetic up against the super-powered men and women across the shelf at the comic store. Having had the privilege of speaking to Gene and Paul about the band's legacy and again being in the press scrum during their induction into the Rock and Roll Hall of Fame a few years ago, I just feel these guys are a major part of the soundtrack of my life.
PREVIEWS: You've described this series as Land of the Dead meets A Quiet Place meets Seven Samurai PLUS even Footloose! That sounds like a pretty awesome smoothie even before bringing in the greatest rock band of all time - can you delve into some of these influences for the fans?
Ethan Sacks: I wanted to explore what life would be like decades into a zombie apocalypse, hence the channeling of Romero's Land of the Dead. Now, imagine if these zombies that outnumber the human survivors by a factor of 100 or 1,000 were drawn to sound... well then, music would be outlawed. Then, I figured if KISS suddenly entered this landscape after being cryogenically frozen since the early days of the plague, they would shout their defiance out loud!
PREVIEWS: How has it been working with the rest of the creative team on this project? It sounds like readers can expect to see a good amount of two awesome visuals - flesh eating zombies and KISS rocking out!
Ethan Sacks: I'm a huge fan of Rodney Buchemi's work. He's perfect for this book: He can nail the likenesses of the real characters and also make the sweeping post-apocaylptic awfulness look both beautiful and chilling. Can't wait to get started!
************