Jean St. Jean Talks Sculpting DST's Sandman Select Action Figure
Nov 14, 2019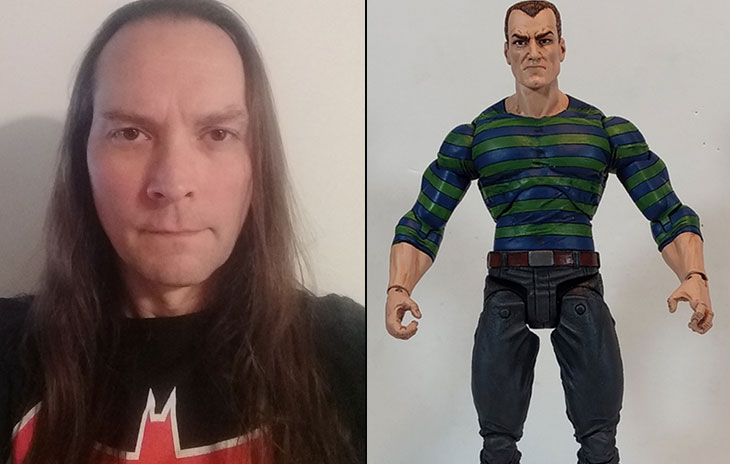 Jean St. Jean is one of the most prolific sculptors for Diamond Select Toys, he has worked on products ranging from busts, PVC figures, action figures, and more.
In March's PREVIEWS catalog, Jean took some time to talk about one of his latest products, DST's Marvel Select Sandman action figure (MAR192448). Sandman will be shifting his way into your local comic shop on September 18th, 2019!
Check out the interview below to see behind-the-scenes photos and learn about the process that went into the creation of Sandman.
---
PREVIEWSworld: What's your origin story? How did you get involved in the toy industry?
Jean St. Jean: I started as a musician and kind of fell into sculpting. The first Burton Batman film re-ignited my interest in Batman and comics in general. Initially, I started tooling around with custom work on Super Powers figures and Megos until I found a job at a small upstate NY toy sculpting studio doing mostly preschool toys and dolls. I worked there as a mold maker and apprentice sculptor. Every night I went home and put into practice everything I learned that day, studying anatomy and drapery and building a portfolio. Five years later, I joined McFarlane Toys. About a year in they realized the other sculptors were coming to me for guidance rather than the art director, so I was promoted to Sculpting Supervisor.

In 2004, I left McFarlane and forged Jean St. Jean Studios, L.L.C., offering sculpting, painting and prototyping. Chuck Terciera of DST was the first person to contact me after I started freelancing. Since that first contact, I've worked on Diamonds Select's Stargate and Battlestar Galactica toy lines, Batman 1966 figural busts, Marvel statues and action figures, Universal Monsters and Munsters action figures and Sin City toys, among others! I've also contributed to product lines for World of Warcraft (DC Direct/Blizzard), Thundercats, Texas Chainsaw Massacre and Nightmare on Elm Street, Bugs Bunny (Mezco Toyz), Flash Gordon, Big Lebowski (Biff!Bang! Pow!). Creatureplica, is my first foray into an original toy line, partnered up with Jeffrey Beyers, Nick Epley and Craig Deere of Pana, Illinois and focuses on folkloric monsters such as the Yeti, Sasquatch and the Mothman. Currently I'm focused on Diamond Select's DC /Marvel Gallery and Premier statue lines.
PW: Take us through your process… How does the product go from paper to a finished model?
JSJ: Initially, I become familiar with the character; pick up some graphic novels or collections, mine the internet for reference pics and take a look at what other product has been done for the property. This helps me to set an interpretation of the character as to how the art work translates into three dimensions. Then I print out the concept art to scale and use that to size out the rough figure work. I study all the aspects of the character's anatomy, costuming and environment and find photographic reference to enhance all those compositional elements with realistic textures and proportions.

I disassemble the figure and base into basically, a keyed model kit, then do all the final clean up and detailing. At that point, it's submitted to Diamond, and then the licensor for approvals on the sculpt. Once over that hurdle, I put together a paint guide for my painter and we finish a paint master which is also submitted. After final approval a tooling master (unpainted copy) and a painted copy are sent to the factory for production.
PW: From Select Action Figures to Statues and PVC Figures, you've sculpted nearly everything imaginable for DST… How does your process differ from product to product?
JSJ: The main differences in approach are dictated by product category and production material. For an action figure, I sculpt a very rough proportional figure, and then I focus on building the armature parts for the articulation points. From there I install all the joints in the rough figure, then move on to detailing.

PVC statues are similar in that the same tolerances for production apply. We can get thinner walls and more delicate parts on a PVC injection molded figure than a resin statue. For a resin statue I have to be more mindful of delicate parts not being too thin so as to avoid breakage in production, and parts like capes have to be thicker in general also for strength and material flow in the molds. Concept art doesn't always take these things into consideration, so I have to interpret the art with an eye towards the type of product we are making.
PW: What was your process for the Marvel Select Sandman action figure? Any challenges?
JSJ: I approached Sandman similar to my Venom and Carnage sculpts in that he also has "swappable" accessory parts. All the alternate arms/hand sand effects have to attach to certain joints in exactly the same way so aesthetically you're limited to working around that play feature.

So, once I roughed out the basic proportions I had to decide how all the accessory limbs would attach and which aspects of the art would or wouldn't translate into 3D. The challenge with Sandman, is he's pretty much a regular looking guy, so in order to make him feel imposing, the sand effects have to be cool and over the top and I also made him a bit bigger so he could be seen as in mid-transformation scale-wise.
PW: You've seemed to work with every character/franchise/brand/license under the sun… Do you have a favorite?
JSJ: I have a soft spot for Batman; I started watching the '66 show the year it came on, when I was one-year old and it left an indelible impression. When Chuck told me about getting the license I wanted as much of the line as humanly possible. At this point I've done 24 pieces for the line, mostly busts, a few banks and a couple statues.
Universal Monsters was also a big bucket list project and a property I grew up on. I did all of that line except for the first few and it was a blast.
PW: Do you have a favorite product you've worked on?
JSJ: I think my favorite project was the Marvel Milestones Tomb of Dracula statue. Easily my favorite comics growing up with Gene Colan, one of my favorite artists. I harassed Chuck about TOD until he struck a deal with me. If I sculpted a really cool Spidey for him, I could do Dracula. So, I sculpted a Milestones Spider-man to go with a Carnage I designed and sculpted for the line and I was off to the races designing and sculpting Dracula. I met Gene Colan at NYCC one year and sent him a copy of the statue which he really liked. That was an awesome feeling.
DIAMOND SELECT TOYS LLC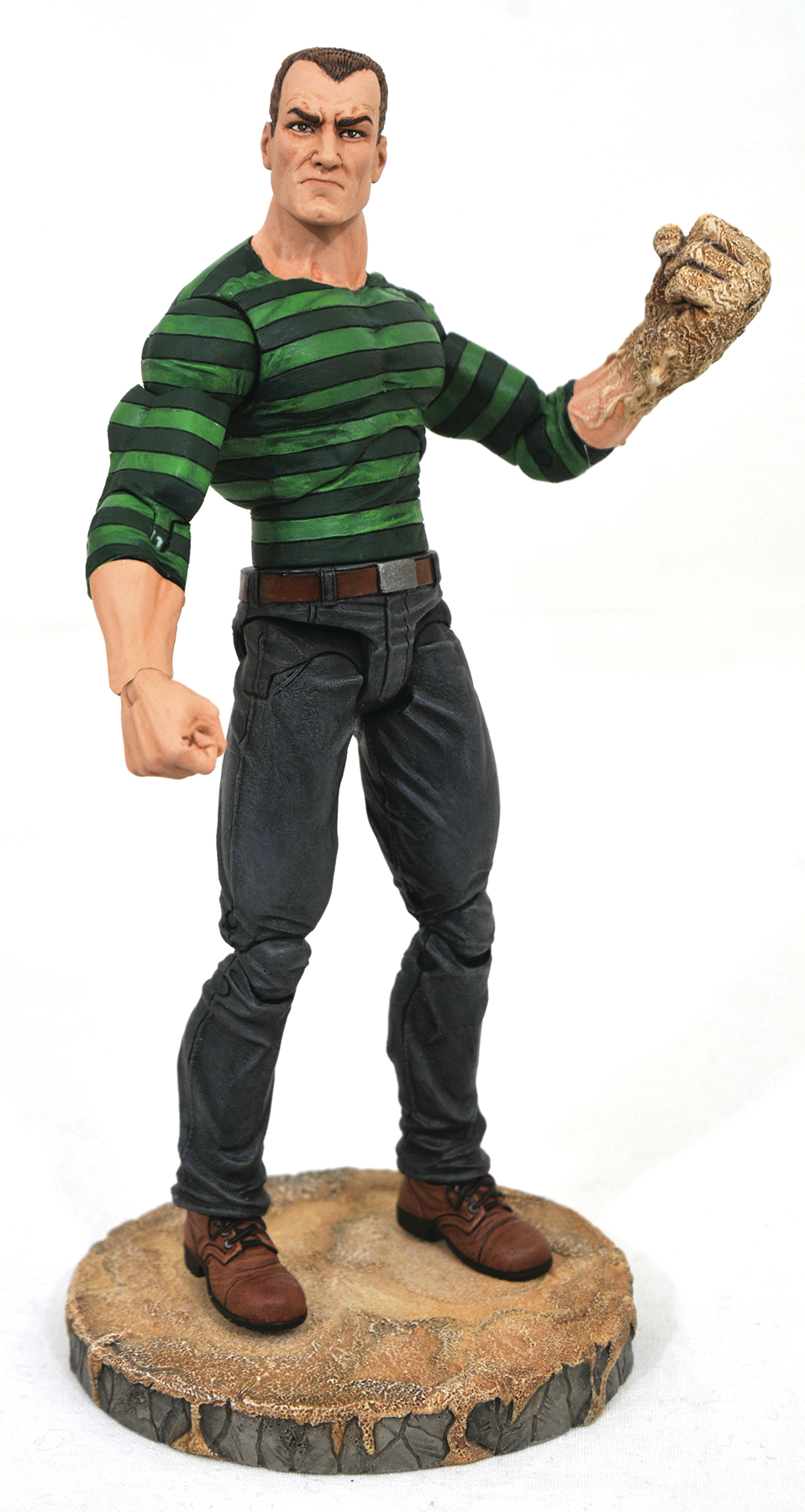 A Diamond Select Toys release! Time for lights-out! The Sandman is coming, and he's got the sand to take on Spider-Man -- and all of the heroes in your Marvel Select collection! Wearing his classic striped shirt, Flint Marko features legs that can change to a tower of sand, and interchangeable sand fist, claw, and spiked mace pieces! Measuring approximately 7 inches tall, he comes packaged in display-ready Select packaging. Designed by Eamon O'Donoghue, and hand-sculpted by Jean St. Jean!
In Shops: Sep 18, 2019
SRP: $29.99
PREVIEWS Page #1021