Sneak PREVIEWS: Ink Culture Meets Urban Fantasy in Image Comics' Marked
Jul 26, 2019
The August edition of Diamond Comic Distributors' monthly PREVIEWS catalog arrives in comic shops and digitally on Wednesday, July 31st and features comic books, graphic novels, toys, and other pop culture merchandise scheduled to go on sale beginning October 2019.
You can get a look at the catalog now on the PREVIEWSworld website by checking out the site's sections that spotlight the Gems of the Month as well as the full catalog sections for Comics; Graphic Novels; Books; Magazines; Trading Cards; Apparel; Toys, Statues, and Models; Collectibles; and Games.
Front Cover:
Image Comics'
The Marked #1
AUG190025
Back Cover:
BOOM! Studios'
Buffy the Vampire Slayer: Hellmouth #1
AUG191366
ON OUR FRONT COVER: Tattoos summon magical powers in David Hine and Brian Haberlin's new Image Comics urban fantasy, The Marked.
ON OUR BACK COVER: Buffy and Angel meet for the first time as Sunnydale and the world are threatened in BOOM! Studios' Buffy the Vampire Slayer; Hellmouth, the relaunched Buffy event.
ON OUR ORDER FORM COVER: The first chapter of Humanoids' super-hero universe is collected in Ignited Volume 1, behind a John Cassaday cover.
Gems of the Month: August's PREVIEWS Gems of the Month include:
· BOOM! Studios' Buffy the Vampire Slayer: Hellmouth #1
· Dark Horse Comics' Count Crowley: Reluctant Midnight Monster Hunter #1 and The Mask: I Pledge Allegiance to The Mask #1
· DC Entertainment's Basketful of Heads #1 and The Joker/Harley: Criminal Sanity #1
· Dynamite Entertainment's Vengeance of Vampirella #1
· IDW Publishing's Cobra Kai: The Karate Kid Saga Continues #1 and Star Wars Adventures: Return of Vader's Castle #1
· Image Comics' The Marked Book One and Nomen Omen #1
· Marvel Comics' Ghost Rider #1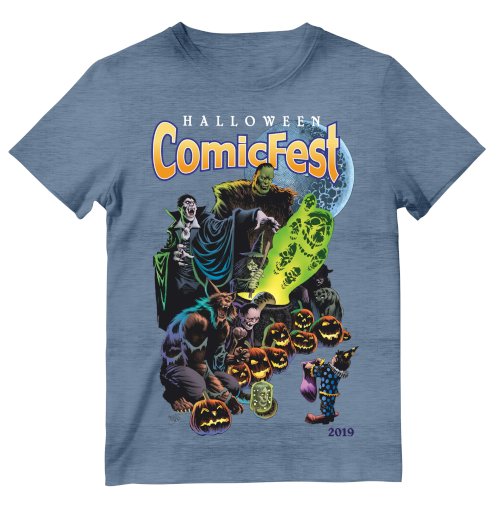 Halloween ComicFest: Acclaimed artist Kelley Jones (Batman, Swamp Thing) provides a suitably spooky image of Dracula, the Frankenstein Monster, and the Wolfman on this year's Halloween ComicFest Commemorative T-Shirt.
Toy Talk: On the catalog's flip side, PREVIEWS talks to Richard Forge, a sculptor for Diamond Select Toys, about traditional and digital sculping, his process on DST's upcoming Avatar: The Last Airbender figures, and what he enjoys most about creating toys
Indie Edge: PREVIEWS talks to writer Dean Motter about his work on Dark Horse Comics' Mister X, recent projects like Ahoy Comics' Edgar Allan Poe's Snifter of Terror (AUG191509), and the books he's enjoying today.
Editor's Note: In this month's Editor's Note, PREVIEWS editor Marty Grosser talks about thirty-one years of working on the catalog and looking ahead to Halloween.
Plus: The monthly Bestsellers Charts, and so much more!
All this awaits you in the August edition of PREVIEWS, which goes on sale at your local comic shop or specialty store on Wednesday, July 31st in print at your local comic shop or specialty store at its regular cover price of just $3.99 or digitally at PREVIEWSworld.com/digital!