Raffaele Forte's Got It Covered: The Art of 'Soulfire'
Jun 23, 2019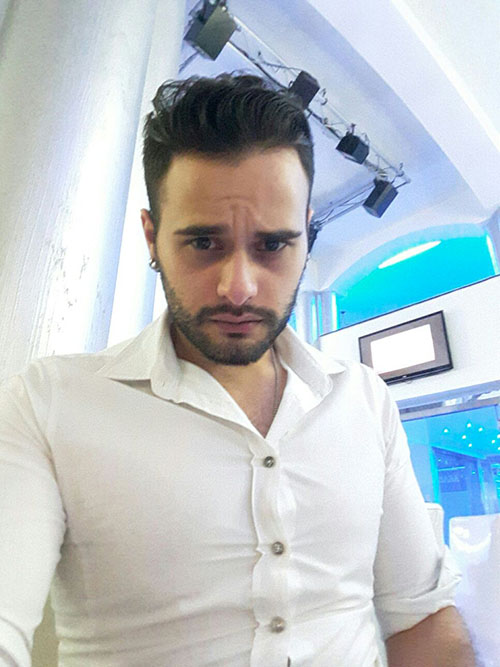 by Troy-Jeffrey Allen
Since 2003, Soulfire has enchanted Aspen Comics readers with jubilant tales of magic on a massive scale. For that reason, an epic fantasy the size of Soulfire demands an assortment of colorful characters, and the cover to Soulfire #1 (Vol. 8) needed an artist up to such a task!
"I was very happy when Aspen approached me about the newest volume of Soulfire," artist Raffaele Forte says about how he ended up taking over art duties on the latest Soulfire series. "I presented my portfolio at the 2018 New York Comic Con to [Aspen President] Frank Mastromauro, who really enjoyed my work, and requested some design tests of other characters from the Aspen universe."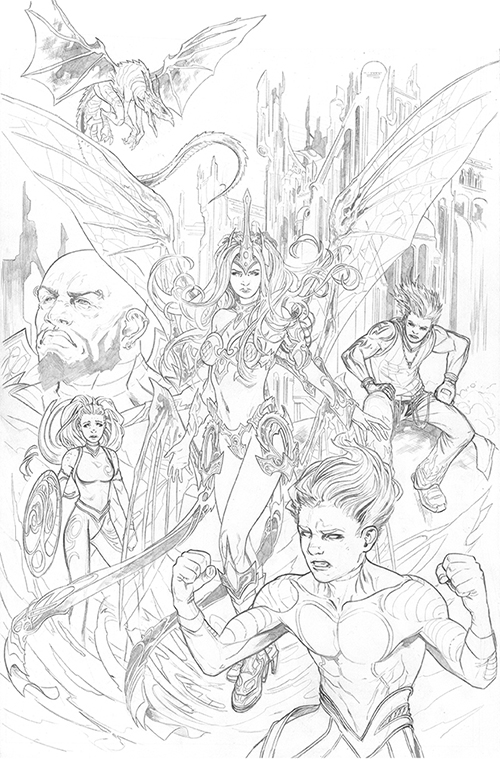 One look at Forte's cover to Soulfire #1 (Vol. 8) proves that his character work is standout. Not only does each player "pop," but, individually, they brim with personality. "The biggest challenge was to give the right importance to all the protagonists of Soulfire," Raffaele explains. "We decided to put Grace in the center because obviously, she is the true heart of Soulfire. I also tried to make Grace very majestic and self-confident, with wings open -- almost as if she was going to embrace all the other characters on the scene."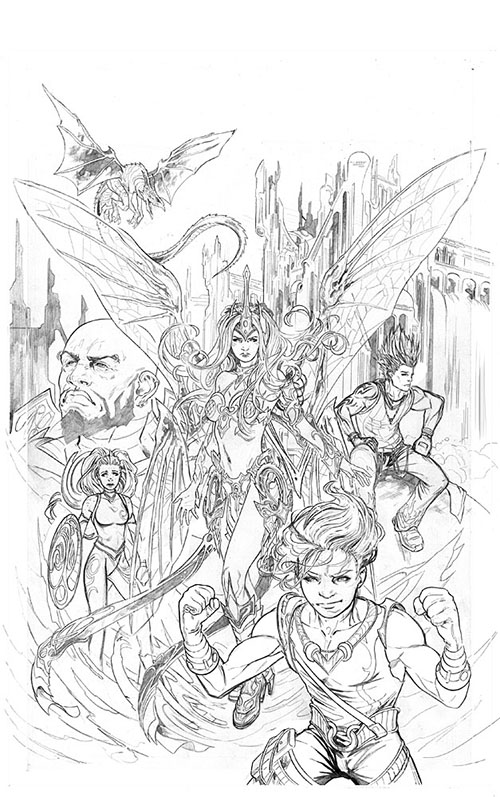 That "embrace" isn't just for aesthetic. Grace (center), PJ (far right of Grace), Malikai (bottom right), Sonia (lower left), Benoist (left), and the dragon named Dandelion (top left) have all gone the distance over the course of Soulfire's eight volumes. A fact that was not lost on Raffaele. Their positioning on the issue 1 cover is deliberately meant to emphasize their bond.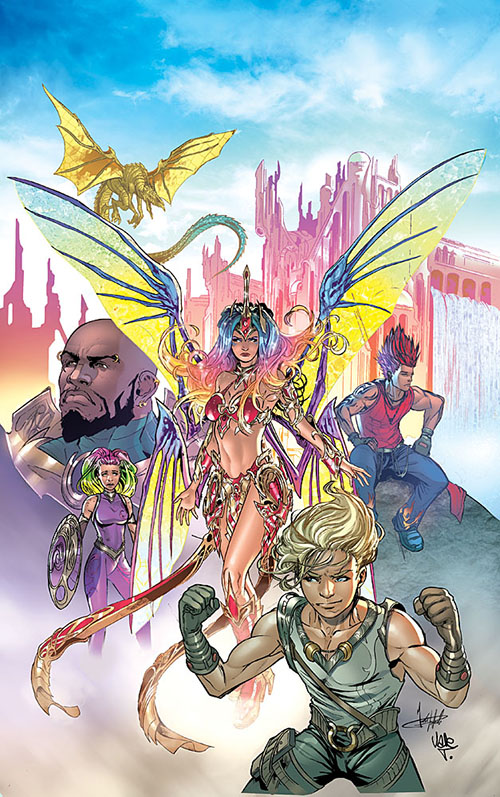 "I almost always work in the old traditional way," Forte says, explaining his process. "I did some layout tests and consulted with my editors, who gave me many suggestions on the scene. After which, I had cleaned everything with the definitive pencils on an A3 sheet, the common one of the original pages for comics. The materials I use are very oily graphite pencils for the layouts that give me more fluidity. In the final pencils, I always use Micromine, or hard graphite pencils that give me the feeling of almost sculpting the drawing."

Finally, Forte's pencils head on over to colorist Valentina Taddeo to create a variegated effect that is bound to leap off shelves.
You can reward Raffaele and Valentina's efforts by picking up Soulfire #1 (Vol. 8) from your local comic shop on June 26th.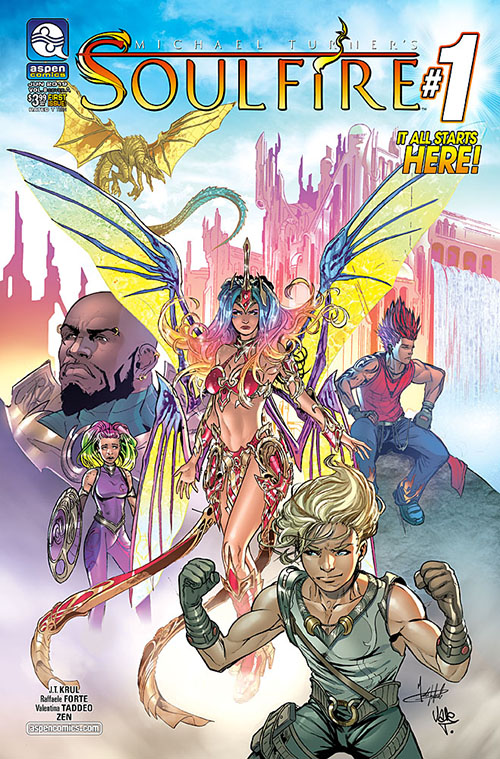 About Soulfire #1 (Vol. 8) story:
Soulfire is back with its biggest story-and greatest challenge to its heroes ever! Grace and Malikai have fought together to bring magic back to a world of technology, but now Grace is convinced that there is only room for one all-powerful source of energy. Magic. New battle lines are drawn. New enemies. New Allies. Fighting for the very future of the world itself. Behold The Battle of the Light!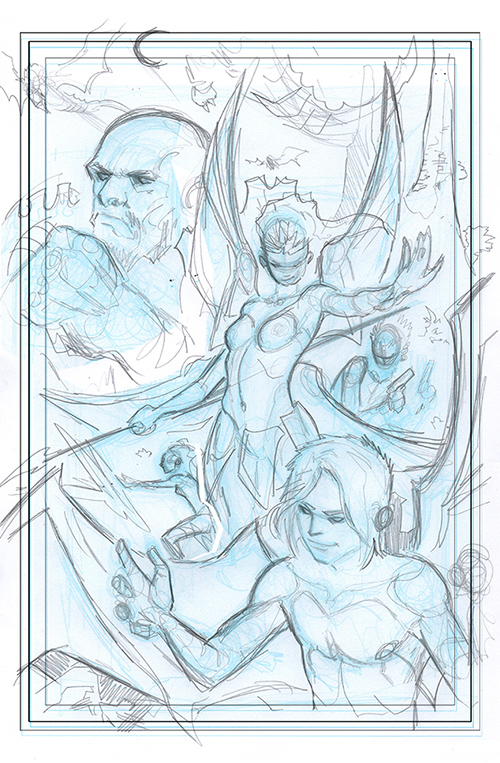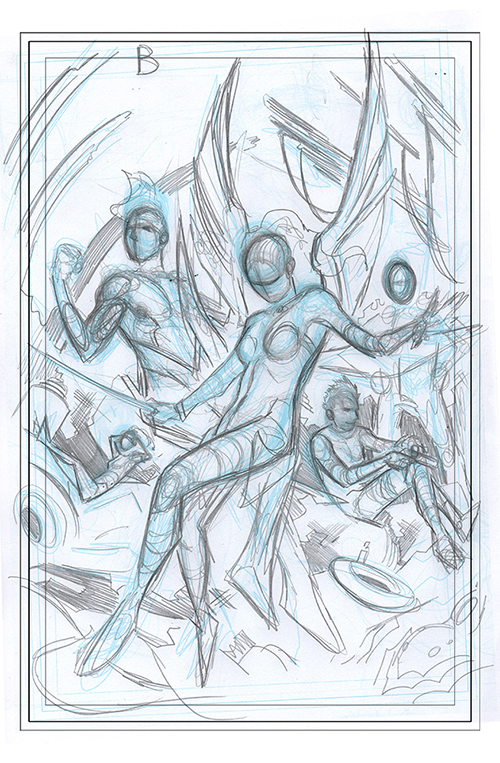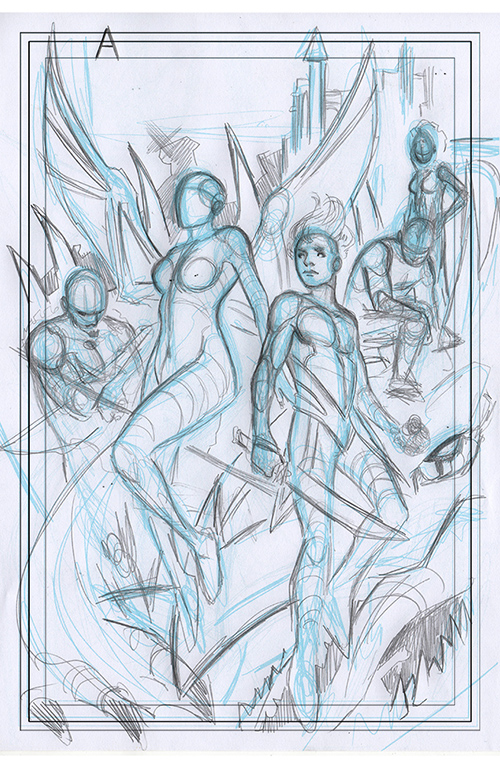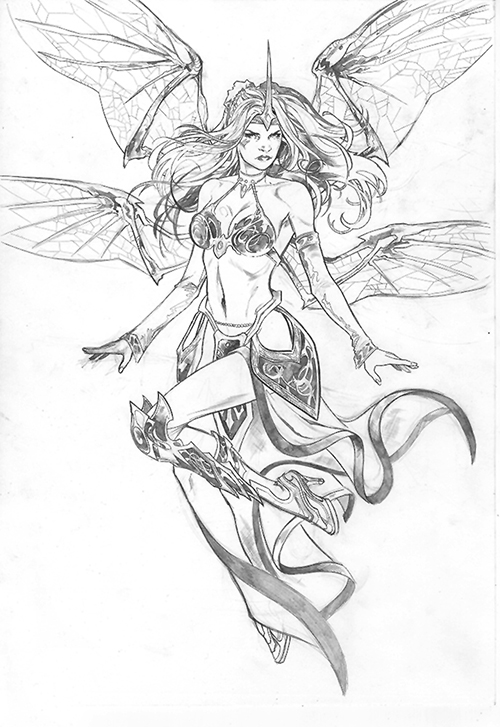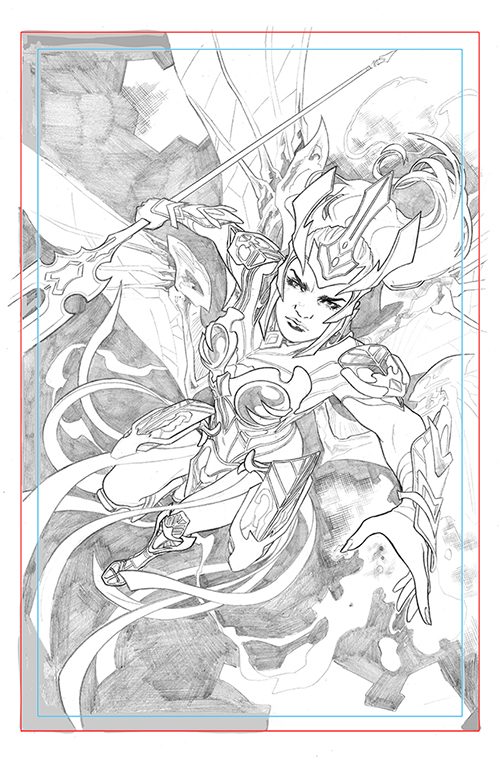 Soulfire #1 (APR191436) is available at your local comic shop on June 26th!
****
Troy-Jeffrey Allen is the producer and co-host of PREVIEWSworld Weekly. His comics work includes BAMN, Fight of the Century, the Harvey Award-nominated District Comics, and the Ringo Awards-nominated Magic Bullet.