PREVIEWS Exclusive Spider-Man and Magneto Egg Attack Action Figures Coming To Comic Shops
Jun 20, 2019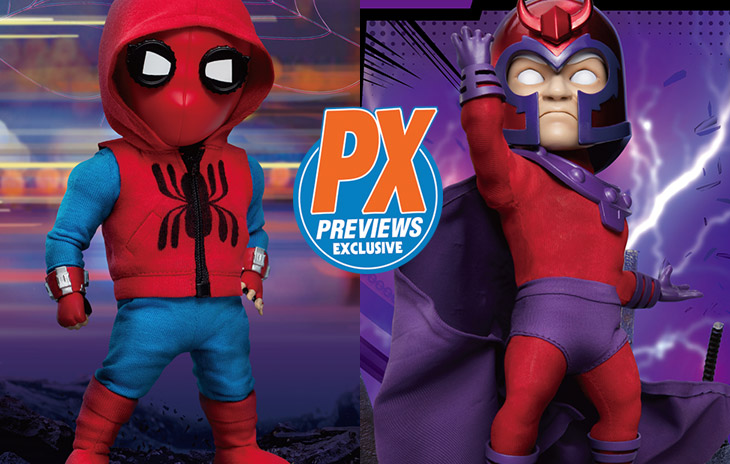 Two generations of Marvel Comics multimedia favorites — inspired by a contemporary cinematic hero and a classic animated villain — are now available as PREVIEWS Exclusive Beast Kingdom Egg Attack Action Figures!

Preorder the Spider-Man: Homecoming Spider-Man Homeade Suit Figure and regular and deluxe versions of the X-Men Magneto Figure now at your local comic shop! See photos and details below!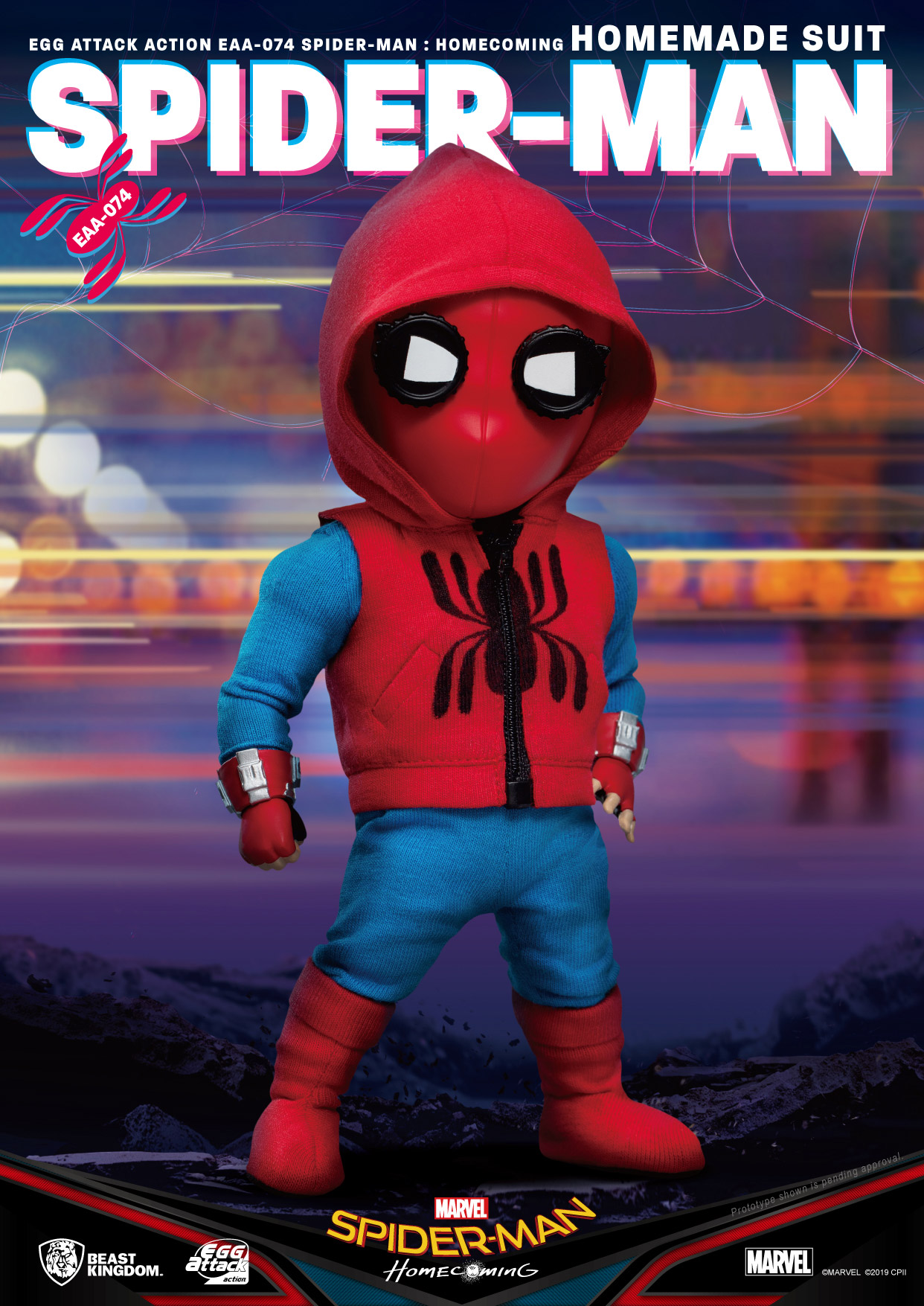 EAA-074 SPIDER-MAN: HOMECOMING SPIDER-MAN HOMEMADE SUIT (MAY198499, $80)
In Spider-Man: Homecoming, Peter Parker goes back to basics and is reminded that even without his advanced spider suit, he is still a hero! Wearing his homemade suit, he still manages to save the day and defeat the conniving Vulture!

Beast Kingdom revisits the Egg Attack Action series with the latest cloth-clad 6-inch action figure: EAA-074 Spider-Man: Homecoming Homemade suit! With a focus on detailed tailoring, this suit is the ultimate homage to Peter Parker's very own ingenuity. Featuring 28 points of articulation and measuring about 6.5" tall, this action figure features not only 3 pairs of magnetic replacement eyes and 4 pairs of replaceable hands, but also a fully tailored suit with elasticity in the pants and t-shirt. Real fabric with real zippers is sure to turn heads for any collector's desk! Spidey also includes four varying lengths of webbing effects and a Homecoming branded base for easy display!

Make sure to take home this extraordinarily, ordinary hero, and show Tony Stark and the rest of the world, that this Spider-Man is ready to save the day in any situation!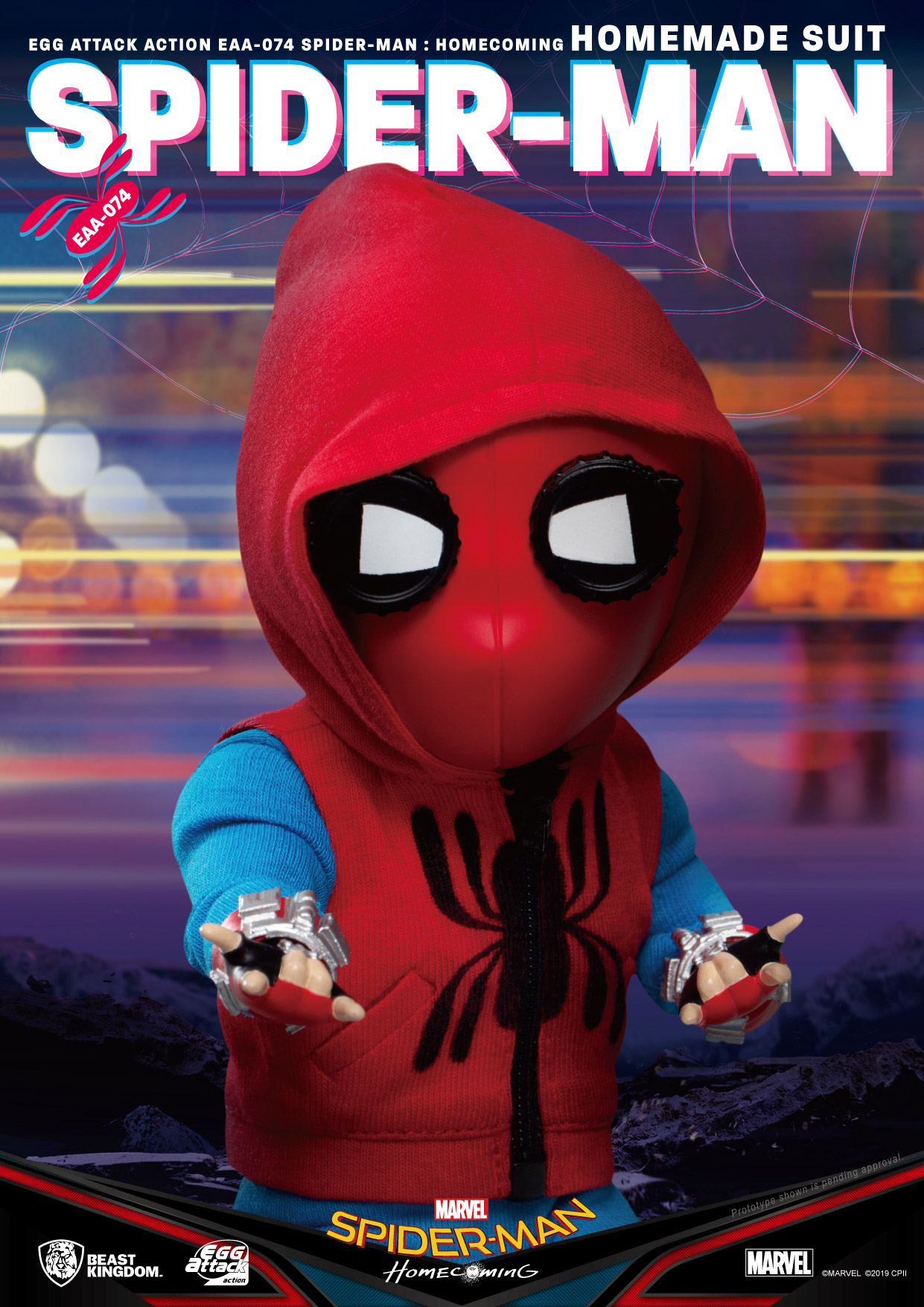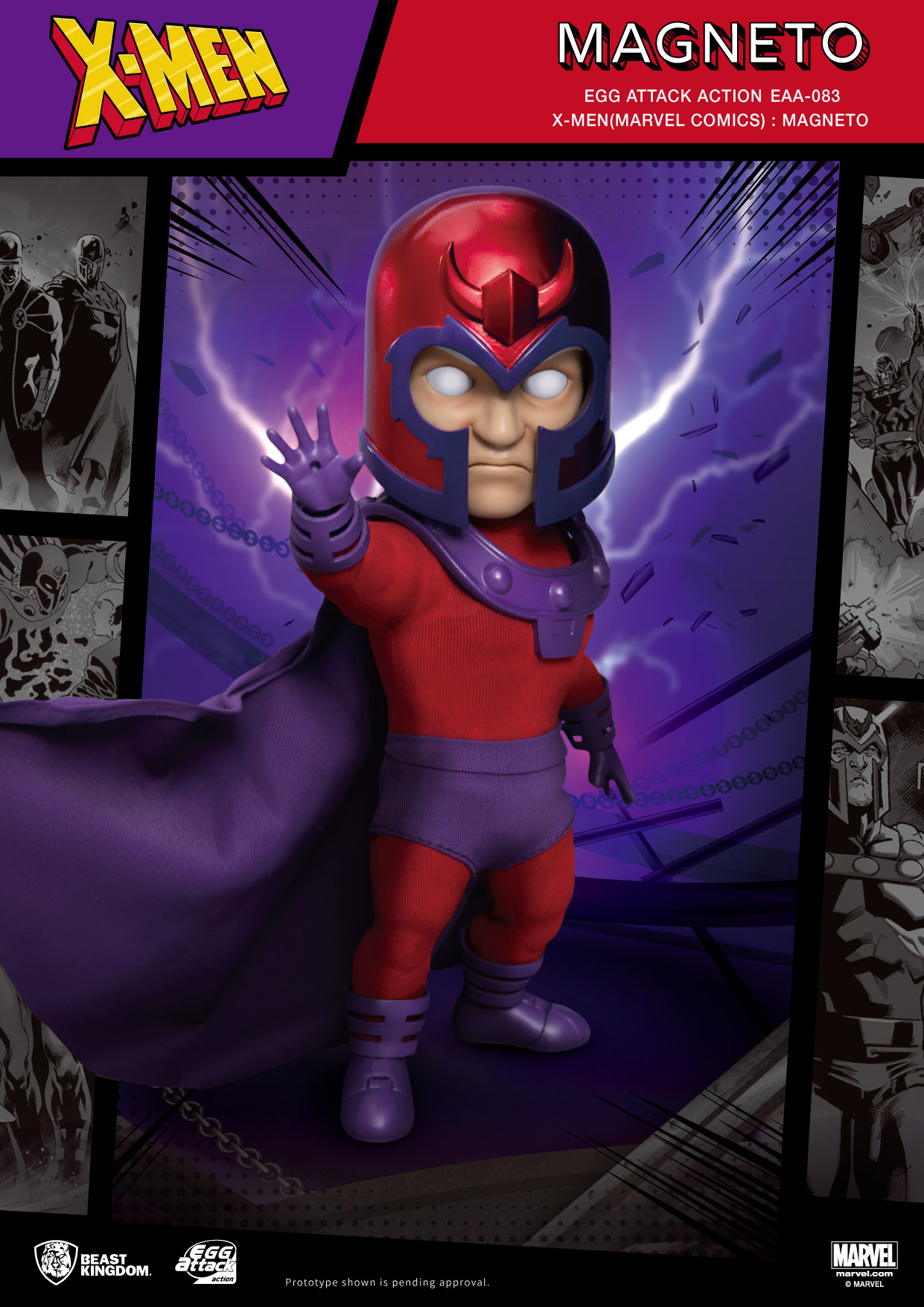 EAA-083 REGULAR EDITION (MAY198500, $80)
The Marvel Animated series from the 90's introduced fans to some of the most iconic character designs of all time, and now, following the release of the popular Egg Attack Action Wolverine and Cyclops comes arguably their most infamous foe: Magneto!

This highly articulated 6" figure includes a magnetic helmet to protect Magneto from Professor X's brainwave manipulation. With a focus on detail, the helmet has high grading paint-work using metallic like effects along with an impressive cloth costume that includes a cloak with adjustable built-in wiring, for the ultimate in possibility! Magneto even comes with effect accessories that include magnets built in for authentic magnetic action! Also included are two replacement faces, three pairs of replacement hands, and one X-Men branded platform stand, perfect for any collector! Make sure you add Magneto himself to your X-Men scenes to stage your ultimate 90's mutant battle today!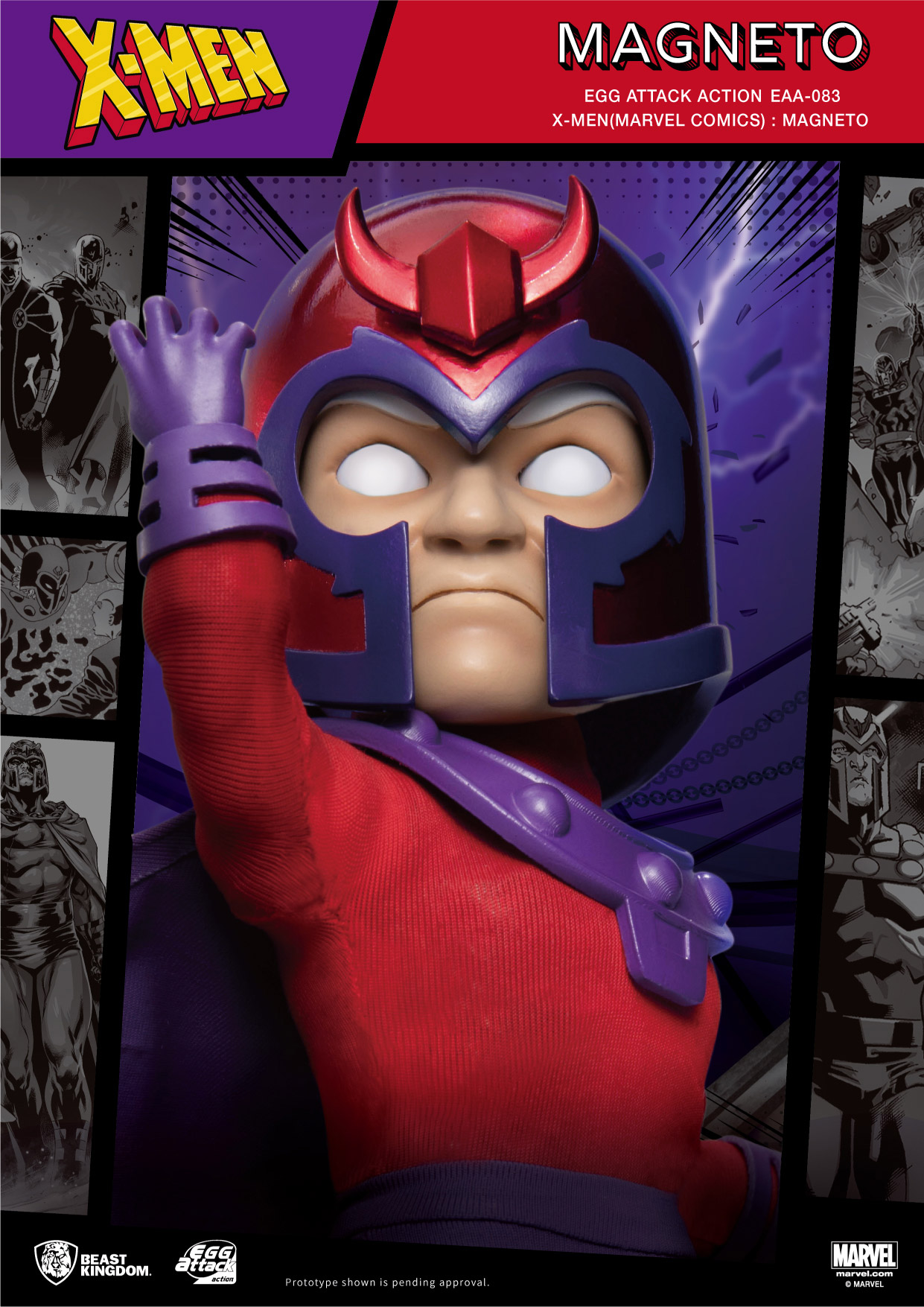 ---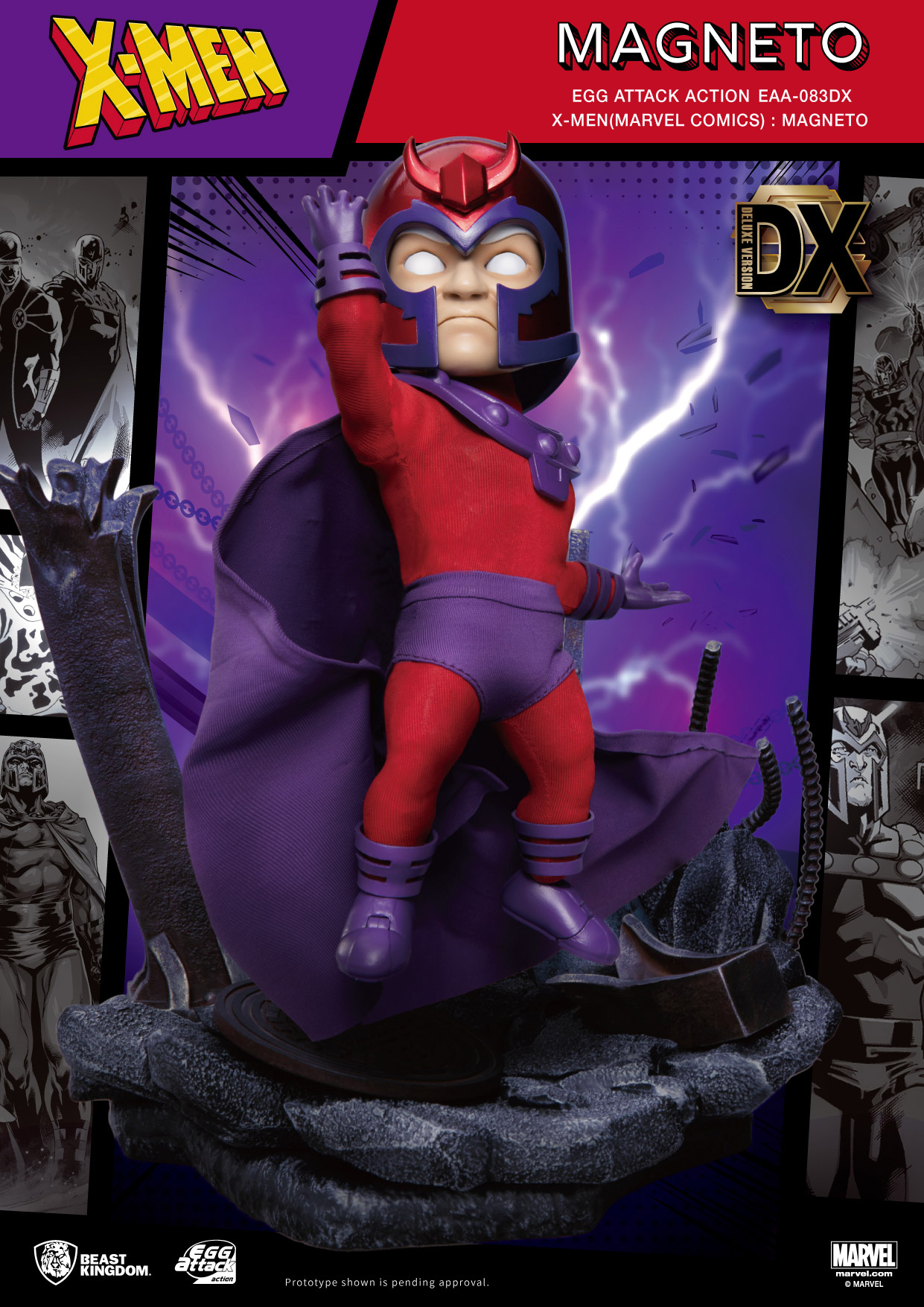 EAA-083D DELUXE EDITION (MAY198501, $100)
This Special Deluxe EAA-083DX X-MEN Magneto includes two replacement Erik Lehnsherr expression faces (standard expression and angry expression), two replacement expressions for his helmeted head, three pairs of replacement hands, a pair of magnetic Shock Wave special effect accessory discs, a branded base, and a large sculpted gravel ruin scene for ultimate atmosphere! Make sure you add Magneto himself to your X-Men scenes to stage your ultimate 90's mutant battle today!