New Pussycats Demands You 'Eat Death, Or Get Naked'
Jun 19, 2019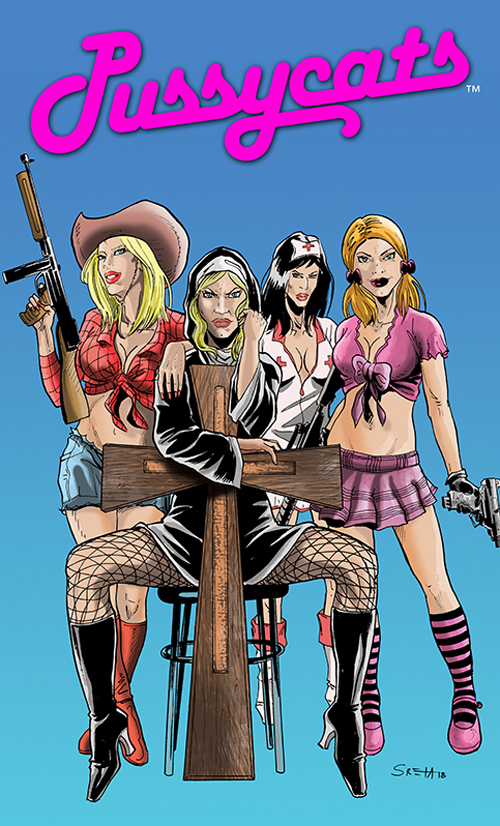 In the July 2019 issue of the PREVIEWS catalog is E-Comix's Pussycats: Eat Death, Or Get Naked #1, the first issue of a 4-issue series that opens the Pussycats universe to wide variety of new dynamic characters.
The black-and-white series has delved before into themes of crime noir, erotica, horror, and sci-fi, but with Eat Death, Or Get Naked #1 strange highways are no longer under construction. This is due in part to the series' off-color title. "There's a reason for it, trust me," states series creator/writer Vince Brusio. "It ties directly into how things go sideways in the story, and now a whole universe is open to the Pussycats. This is our Crisis On Infinite Earths.
"Believe it or not, I've been holding back," he says. "Everything to this point has been building a premise. The U.S. government was involved in recruiting Russian scientists after the Cold War, but both camps were simultaneously involved in the UFO phenomenon. That secret is now leaking, and U.S. Congressman are trying to kill Mother Superior because of her previous involvement in Area 51. But the nun and her Pussycats don't die easily, so the ladies have escaped to space to in order to stay one step ahead of a bullet. But now that they're in space, things go cosmic."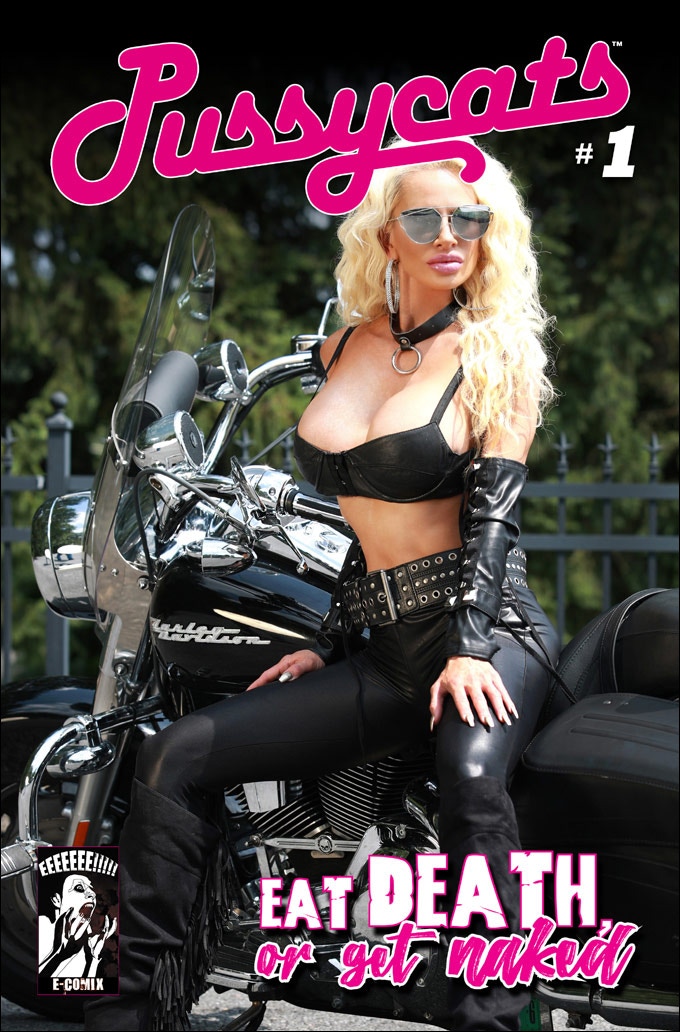 The 2019 series which first rolls out in comic shops September 4 will feature the return of interior artist Ivica Sretenovic. Playboy Playmate Kristy Ann returns as the cover model for "Powerhouse Pam," plus renowned author and body painter Jen Seidel will be the "Nurse Nancy" cover model, Aerial Performance Coach and Dance Fitness Instructor Robin Miller will model as "Mother Superior," Makeup Artist & Model Tori Duke will pose as Cowgirl Cathy, and PUSH Agency Promotional Model Sarah Shellhorn will debut as Schoolgirl Suzie.
"We'll be at this year's Monster-Mania Con in Hunt Valley October 4-6, where we'll unveil prints of virgin artwork that are the covers for our 2020 series," Brusio adds. "It's back to zombie action that we started in The End Of Everything, only this time its mixed with chaos at an open air death metal show. Think Troma movies on ecstasy at a Cannibal Corpse concert. I'm having too much fun with this stuff."
Fans are encouraged to visit Pussycatscomics.com for more information