The End of the World As We Know It in Buffy #8
Jun 17, 2019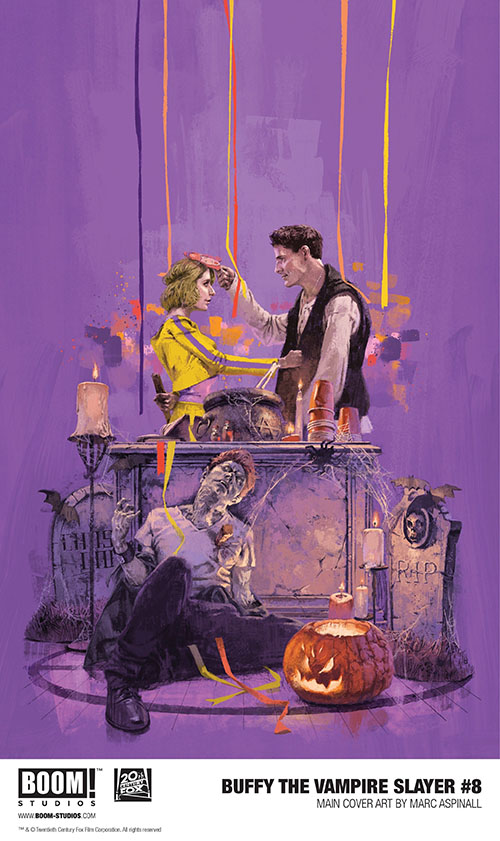 BOOM! Studios today, in partnership with 20th Century Fox Consumer Products, unveiled three BUFFY THE VAMPIRE SLAYER #8 covers by Mondo illustrator Marc Aspinall, and artists Kevin Wada (She-Hulk) and Becca Carey (Bitch Planet). This game-changing issue of the acclaimed series will debut in stores September 4, 2019.

While the Slayer and the rest of the Scooby Gang were fighting to save Xander's soul, the Mistress Drusilla and her lieutenant Spike were busy searching for a way to open the gates of the Hellmouth so they could flood Sunnydale, then eventually the world, with demons and hell on Earth. And they're close. Can Buffy stop them in time to save the world from utter destruction?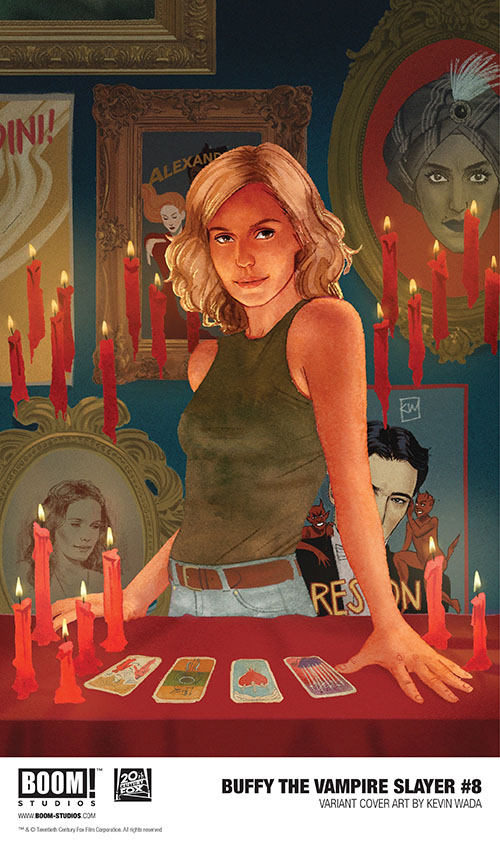 High school is hell, as Eisner Award-nominated writer Jordie Bellaire (Redlands) and acclaimed artist David López (Captain Marvel), along with series creator and story consultant Joss Whedon (the visionary writer/director behind Firefly, Marvel's The Avengers, and more), reimagine the groundbreaking pop culture phenomenon for a new generation of comic book fans.

Buffy the Vampire Slayer premiered on the WB Network on March 10th, 1997. The Emmy- and Golden Globe-nominated series, which ran for seven seasons from 1997–2003, stars Sarah Michelle Gellar as Buffy Summers. Chosen to battle vampires, demons and other forces of darkness, Buffy is aided by a Watcher who guides and teaches her as she surrounds herself with a circle of friends called the "Scooby Gang."

BUFFY THE VAMPIRE SLAYER #8 features three main covers. Buffy and Angel meet at a Halloween party on Mondo illustrator Marc Aspinall's cover. Fan favorite artist Kevin Wada's cover features Anya, the proprietor of Sunnydale's hottest underground magic shop. And artist Becca Carey pays tribute to the season two episode, "Halloween."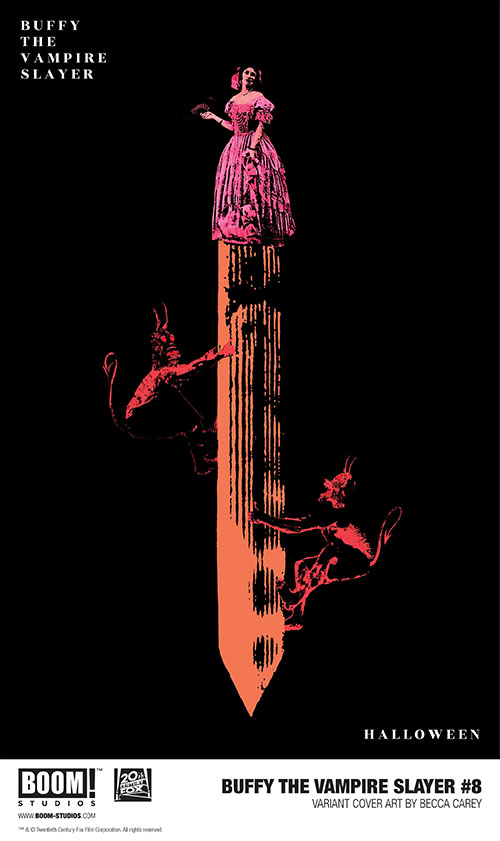 Print copies of BUFFY THE VAMPIRE SLAYER #8 will be available for sale on September 4, 2019 exclusively at local comic book shops (use comicshoplocator.com to find the nearest one).
You can find out more about BUFFY THE VAMPIRE SLAYER by keeping an eye on PREVIEWSworld.com's Twitter, Facebook, YouTube, or Instagram.