Kotobukiya Introduces New "Devil May Cry 5" Statues
Apr 22, 2019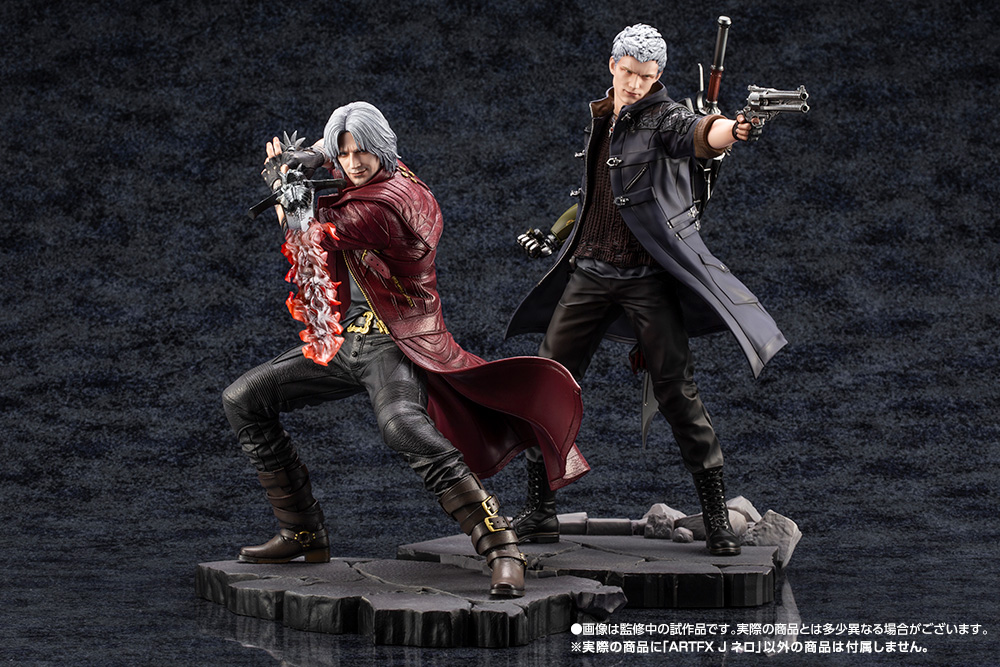 Kotobukiya has introduced the latest installments in their stylish Devil May Cry series as Dante and Nero are joining their line of ARTFX J 1/8 scale statues.
Dante appears as if he has jumped straight from the game, holding his signature blade Rebellion at the ready, an aloof expression on his face. Each detail of the character's appearance has been carefully recreated, from the leather texture on his coat and trousers to the metal buttons and fasteners on his costume. Rebellion is also faithfully recreated down to the intricate details of the skeleton on the hilt, which has a different design on the top and bottom; just one example of why this piece cannot be fully appreciated from one single angle. The blade of the sword is wreathed in delicately crafted flames that look like they will start flickering at any moment.
Nero's character is perfectly captured as aims his signature double-barreled pistol Blue Rose, a provocative look on his face. The statue is expertly crafted to showcase every realistic detail, from the metal buckles on his outfit to the folded sleeves of his coat. Nero'ssignature weapons, Blue Rose and Red Queen are also faithfully recreated, and Nero's Devil Breaker arm, a new addition to the franchise in the 5th installment, is also on display, crafted with the same level of care and detail as the rest of the statue! In addition to Gerbera, which is attached to his arm, Overture and Punch Line are also shown hanging from Nero's waist. Although the latter two are covered by his coat, the Devil Breakers are all extremely detailed and accurate to the game!
The Dante (MAR198422) and Nero (MAR198423) statues are now available to pre-order at comic shops and are expected to arrive November 27, 2019.