Netho Diaz Has Got It Covered: G.I. Joe's New Snake Eyes
Apr 19, 2019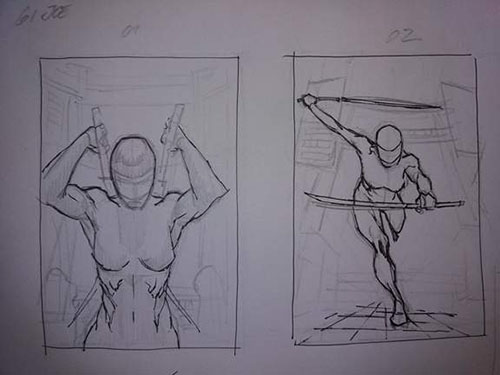 by Troy-Jeffrey Allen
Artist Netho Diaz has accomplished what many artists wish they could. He landed a job on a monster franchise and then created an image that immediately resonated with that franchise's loyal fanbase. "I was looking for an iconic cover," Netho explains. "One that would be remembered as 'the Dawn cover.' Every time someone mentioned her, they would remember this shot."
The franchise is Hasbro's G.I. Joe, a 55-year pop culture staple. The memorable shot that Netho created graced the cover of G.I. Joe: A Real American Hero #246 (below). The subject: a new heroine by the name of Dawn Moreno A.K.A Snake Eyes, an alternate take on G.I. Joe's popular ninja commando of the same name.
Not surprisingly, working on a series such as G.I. Joe means more than one cook in the kitchen. In Dawn's case, that meant Larry Hama, current writer of the comic and a long-time architect of G.I. Joe. Hama planted the seed for her debut. "We had Larry's sketch of Dawn," Netho begins. "[Editor Tom Waltz] said that I could change a few details if I wanted. [The main thing he asked for was] for Dawn to have an Arashikage [symbol] behind her."
From there, Netho had the freedom to let his creative juices bleed out onto the page. "I came up with the idea to show her more angry and in the rain. I didn't want to do some 'sun shot,' Diaz describes. "[That was] too colorful. Snake Eyes was dead and the drama [needed to be] there. I had to show that."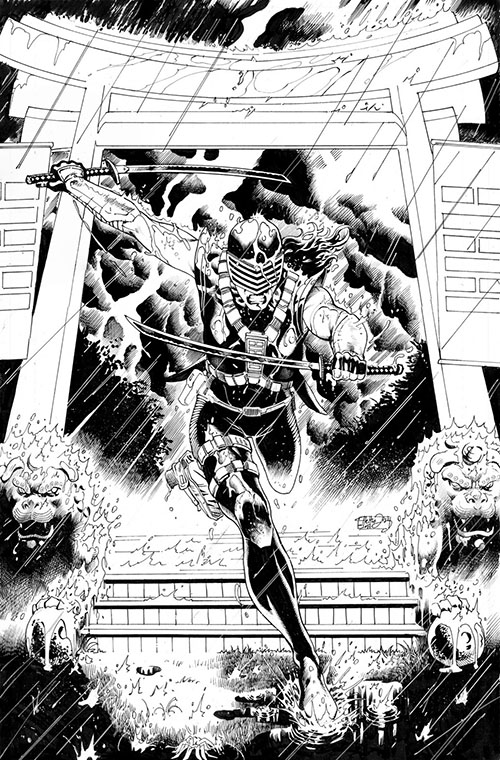 Then came the weaponry! An important element that any Joe fan will tell you helps define these characters. "I gave her 2 swords and an 'X' breast symbol. Which would make the Arashikage symbol more prominent this time," Netho continues. "Here in Brazil, there are no G.I. Joe comics, so I have to look for references online all the time. Especially with guns. Larry is very specific on which gun characters have been using."
After creating a few layouts, the editors approved Netho's take. But the toughest critics ended up being the kindest: G.I. Joe fans. "The best are the fans. They've given me a lot of support on this new part of my career," Diaz begins to conclude. I'm very thankful for the opportunity [to be part of] this important take on G.I. Joe."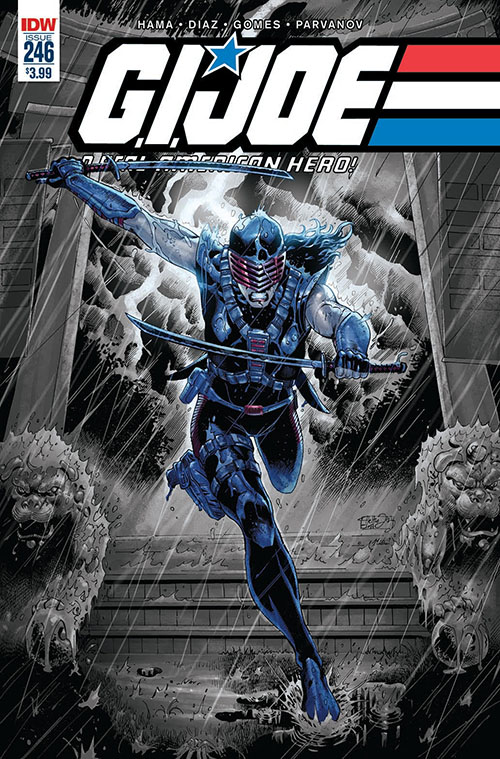 About G.I. Joe: Real American Hero's Dawn of Arashikage story:
"DAWN OF THE ARASHIKAGE" story arc! While opposing forces-both good and evil-battle to control the young ninja, Dawn Moreno, she fights her own personal war within her fragile mind... one that will change the pages of G.I. JOE: A REAL AMERICAN HERO forever! It's the dawning of a new age, where old meets new, bloody past collides with an even bloodier present... and an ALL-NEW SNAKE-EYES RISES FROM THE ASHES!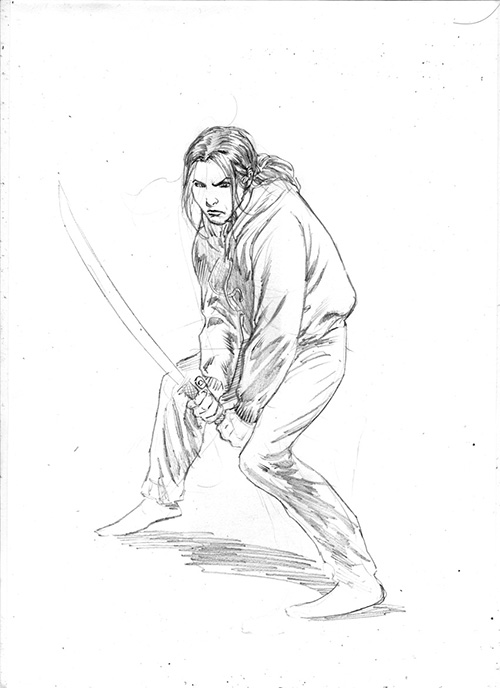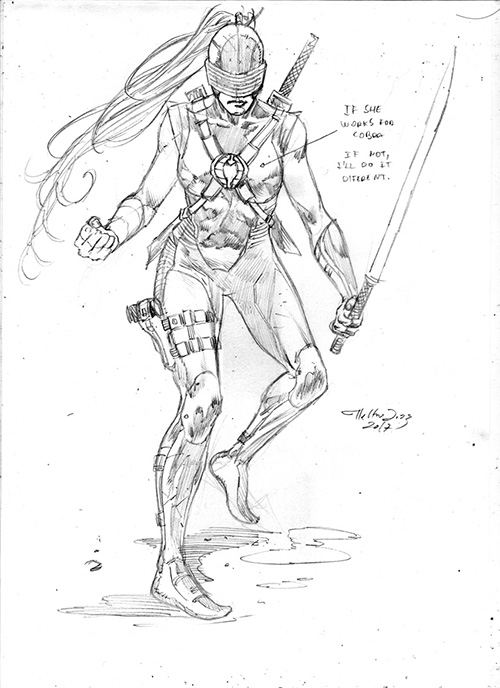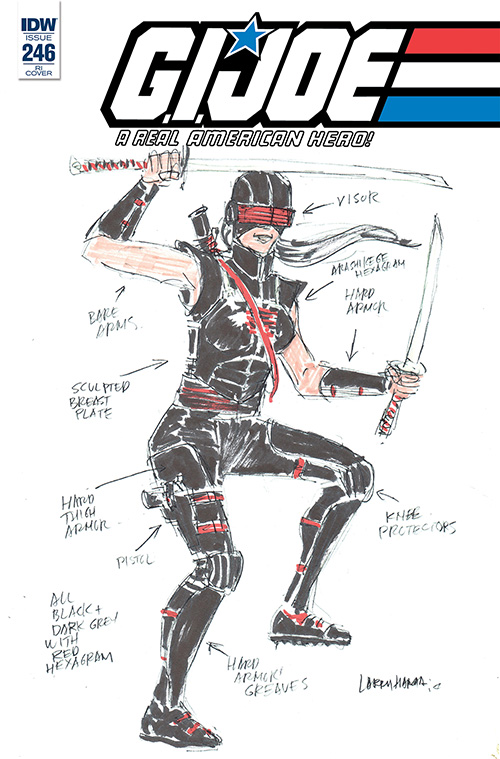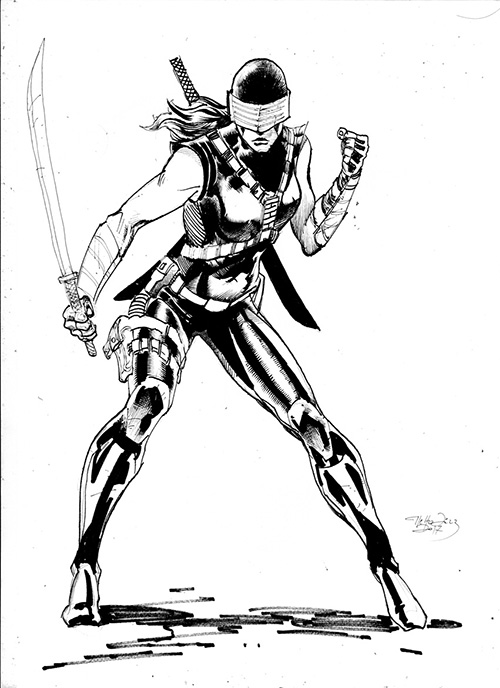 G.I. Joe: Real American Hero Vol. 20 (APR180372), featuring the "Dawn of the Arashikage" story arc, is available at your local comic shop now.
****
Troy-Jeffrey Allen is the producer and co-host of PREVIEWSworld Weekly. His comics work includes BAMN, Fight of the Century, the Harvey Award-nominated District Comics, and the Ringo Awards-nominated Magic Bullet.