George Takei Revisits His Haunting Childhood in 'They Called Us Enemy'
Mar 10, 2019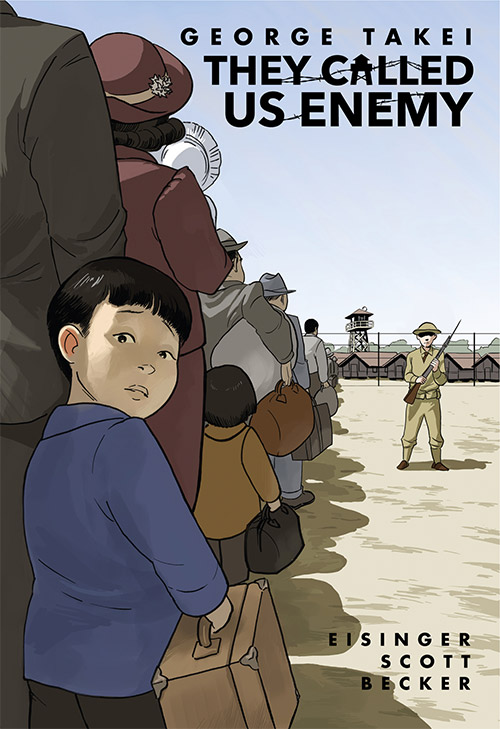 George Takei is probably best known for his role as Lt. Hikaru Sulu on the classic 1960s science fiction TV series, Star Trek and its many feature film sequel. Since then, he has gone on to become an iconic pop culture figure, advocating for LGBTQ rights and cultivating his trademark exclamation of "Oh, My" into a meme-worthy catchphrase for the ages.
But what many people don't know, is that during the second World War, Takei and his family (as well as thousands of other Japanese-Americans) were stripped of their civil rights and sent to internment camps following the surprise bombing of Pearl Harbor by the Japanese.
IDW Publishing has teamed up with Takei to tell his story in the upcoming graphic novel, They Called Us Enemy (MAR190630). George was kind enough to take the time to speak with us about this important new graphic novel, that tells the true story of the dark time for our country as they dealt with their sudden and unexpected entry into World War II in the worst possible way imaginable… giving in to anger, fear and racism and destroying the lives of thousands of American citizens and their families without due process.
************
PREVIEWSworld: George, what can you tell us about your decision to tell your story in a graphic novel?
George Takei: It's been my mission in life to raise the awareness of my childhood imprisonment — with no charges, no trial, and no due process — to other Americans, because I'm always shocked to learn how unknown this is. People I consider well-informed, when I tell them about my child imprisonment, they are shocked. And so, it's been my mission in life to raise the awareness of the subject of imprisonment of innocent citizens.
I wrote my autobiography, To The Stars, which deals with my childhood, but I think it's important that the story be known by young people because they are going to be the leaders of tomorrow. And the best way to reach them is via the medium that they are attached to, and that's graphic novels. I remember when I was a kid that I loved picture books. Putting the story into a graphic novel will make it accessible to young people who are curious and want to know more about the world they live in. And who knows, maybe their parents and grandparents are Star Trek fans, so we sort of combine those audiences and educate them with this story.
PREVIEWSworld: What does They Called Us Enemy mean to you, and the ability to tell this story right now to American readers?
George Takei: The title, They Called Us Enemy, is certainly a grabber, but it is also factually true. All Japanese-Americans, after the bombing of Pearl Harbor, were categorized as "Enemy Aliens", simply because we're of Japanese ancestry. It is also a phrase that is crazy, because we're Americans. My grandparents were the ones that immigrated to this country. My mother was born in Sacramento, California. My father was a San Franciscan. My siblings and I were born in Los Angeles. We're Americans. But simply because we look like this they called us the enemy. We were at war with Japan, yes. But we are Americans, and it's this history of racism, and hysteria, and simplistic thinking that characterized us as the enemy.
PREVIEWSworld: Can you tell us about the fateful morning that began your family's removal from Los Angeles?
George Takei: My parents got me up very early one morning, together with my brother that was a year younger, and my baby sister, an infant, and they dressed us hurriedly. We were kind of groggy with sleep, and my parents told my brother and me to wait in the living room while they did some last minute packing back in the bedroom. We were standing by the front window, gazing out, and suddenly we saw two soldiers marching up our driveway carrying rifles with shiny bayonets on them. They stomped up the porch and began pounding on the door. It was a horrific, terrifying sound that seemed to tremble and resonate through the house My father answered the door at gun point and we were ordered out of our home. My father gave my brother and me little packages to carry, he had the two heavy suitcases, and we followed him out into the driveway and stood there waiting for our mother to come out. When she finally came out she had our baby sister in one arm and a heavy duffle bag in the other… and tears were streaming down her cheeks. It was a terrifying morning that I will never be able to forget.
PREVIEWSworld: Why is it so important now to make sure your story is passed on to a new generation?
George Takei: What happened in the past is so easily forgotten. There are so many people that have never heard of the internment of Japanese-Americans. And some people who have heard of it only have a sketchy understanding of that. It is a vital part of American history. Because our democracy, as glorious as it is, is also very fragile. It is as fallible as people are. Ours is a people's government, a people's democracy. President Abraham Lincoln said "A government of the people, by the people and for the people…" They sound like noble words, but people can make horrible mistakes. Our democracy depends on people who hold dear the ideals of American democracy.
That means we have an important responsibility as the people. We the people. And some people… some powerful people, can make terrible mistakes.
PREVIEWSworld: Who do you want to read this book?
George Takei: I'm an octogenarian, and to me, everyone under the age of 65 are "youngsters." So, I want youngsters, people who are going to be taking over our country, to be aware of this dark chapter of American history. So that's the group the graphic novel is aimed at.
We live in a society with many different people, and we're all Americans. That's what makes America interesting… we're not all the same.
PREVIEWSworld: What do you want people to take away with them after reading the book?
George Takei: I hope the young people that read this book understand the importance of their being active participants in the process of our democracy. Our democracy is great, but it depends on us as a people to make the ideals of this country true. I want people that read this book realize that prejudice is not what makes this country great, in fact, it makes it horrible. We have to be better than that. And we can.