360° + Unboxing: PREVIEWS Exclusive Xenomorph and Neomorph from Hiya Toys
Feb 26, 2019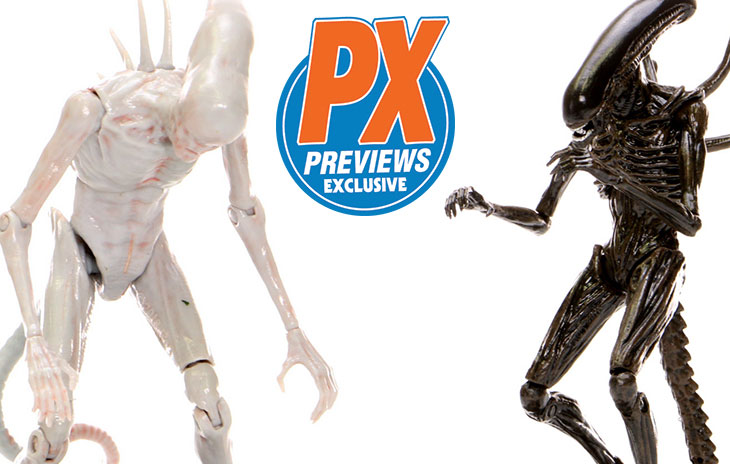 Available at comic shops February 27 are Hiya Toys' PREVIEWS Exclusive 1/18 scale Xenomorph and Neomorph figures fro Alien: Covenant!
Take a 360° look at the figures below!
ALIEN COVENANT XENOMORPH PX 1/18 SCALE FIGURE (MAR188729)
Bound for a remote planet on the far side of the galaxy, members of the colony ship Covenant discover what they think to be an uncharted paradise. While there, they meet David, the synthetic survivor of the doomed Prometheus expedition. The mysterious world soon turns dark and dangerous when a hostile alien life-form forces the crew into a deadly fight for survival. This fully articulated Xenomorph from Alien: Covenant stands 4" tall and comes with a display stand, foulr sets of hands and two replacable heads!
ALIEN COVENANT NEOMORPH PX 1/18 SCALE FIGURE (MAR188728)
The product of extra-terrestrial spores infecting a human host, the Neomorph is the first shocking sign of alien life for the crew of the Covenant. After violently emerging from its host, the creature grows quickly until it stands on two legs. Its fleshy skin and pale color is starkly different from most other variants of the Xenomorph, but its aggression is terrifyingly familiar. This fully articulated Neomorph from Alien: Covenant stands 4" tall and comes with a display stand, 4 exchangable Hands, and 2 Heads.