Oni Press Announces Mind-Blowing Plans for "Rick and Morty #50"
Feb 21, 2019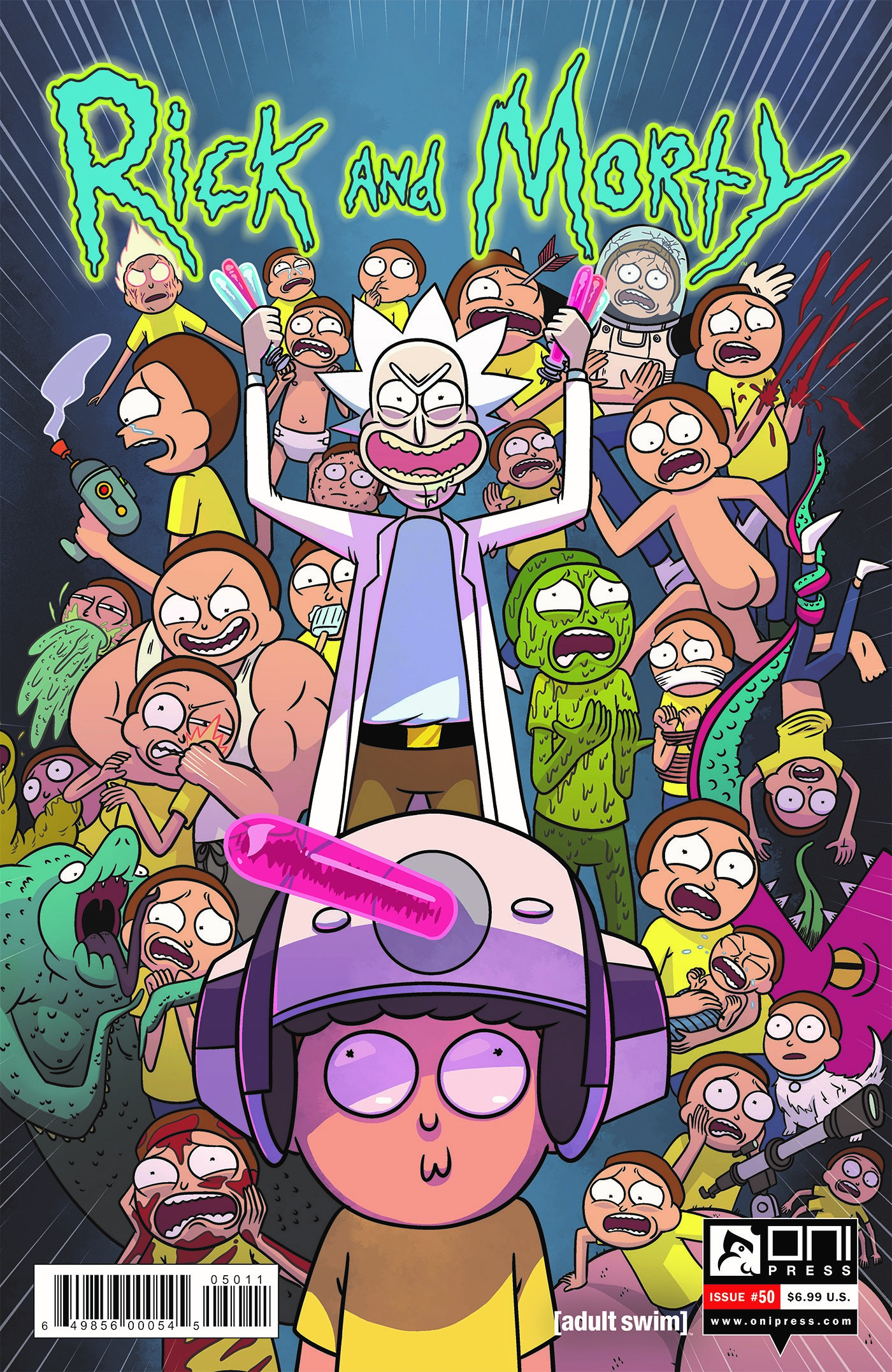 Rick and Morty™ comics creators Kyle Starks, Marc Ellerby, Andrew MacLean, Tini Howard, Jarrett Williams, Sarah Graley, Josh Trujillo, Rii Abrego, Benjamin Dewey, and Sarah Stern return for a special 50th issue of the Oni Press comic. Based on Adult Swim's Emmy-Award winning series, this very special issue is filled with lots of memories... memories Morty would rather forget! Join us as we celebrate this milestone with a super oversized MORTY'S MINDBLOWERS issue with an introduction from Justin Roiland, the co-creator of Rick and Morty™ and the voice of Rick Sanchez!
Rick and Morty™ #50 celebrates the lineage of the first 49 Oni Press issues in this radical 48-page comic with 40 pages of story, all wrapped up in three covers with the first by Marc Ellerby and Sarah Stern, then two connecting covers by comic artist Matt Horak (Spider Man, Deadpool, Punisher).

"In a world of reboots, it is a remarkable achievement to hit 50 issues of a series, so let's celebrate!" said Oni Press Editor in Chief Sarah Gaydos. "We wanted to make sure our retailers and readers had a way to join the fun, and this insane mashup story is in honor of them and their support."
And to add to the fun, Oni is also throwing in limited reprints of the first original five issues written by Zac Gorman, illustrated by CJ Cannon, and colored by Ryan Hill, will have additional reprints with five new connecting covers by Marc Ellerby and Sarah Stern.