BOOM! Studios Announces "Lumberjanes: Somewhere That's Green" One-Shot
Feb 21, 2019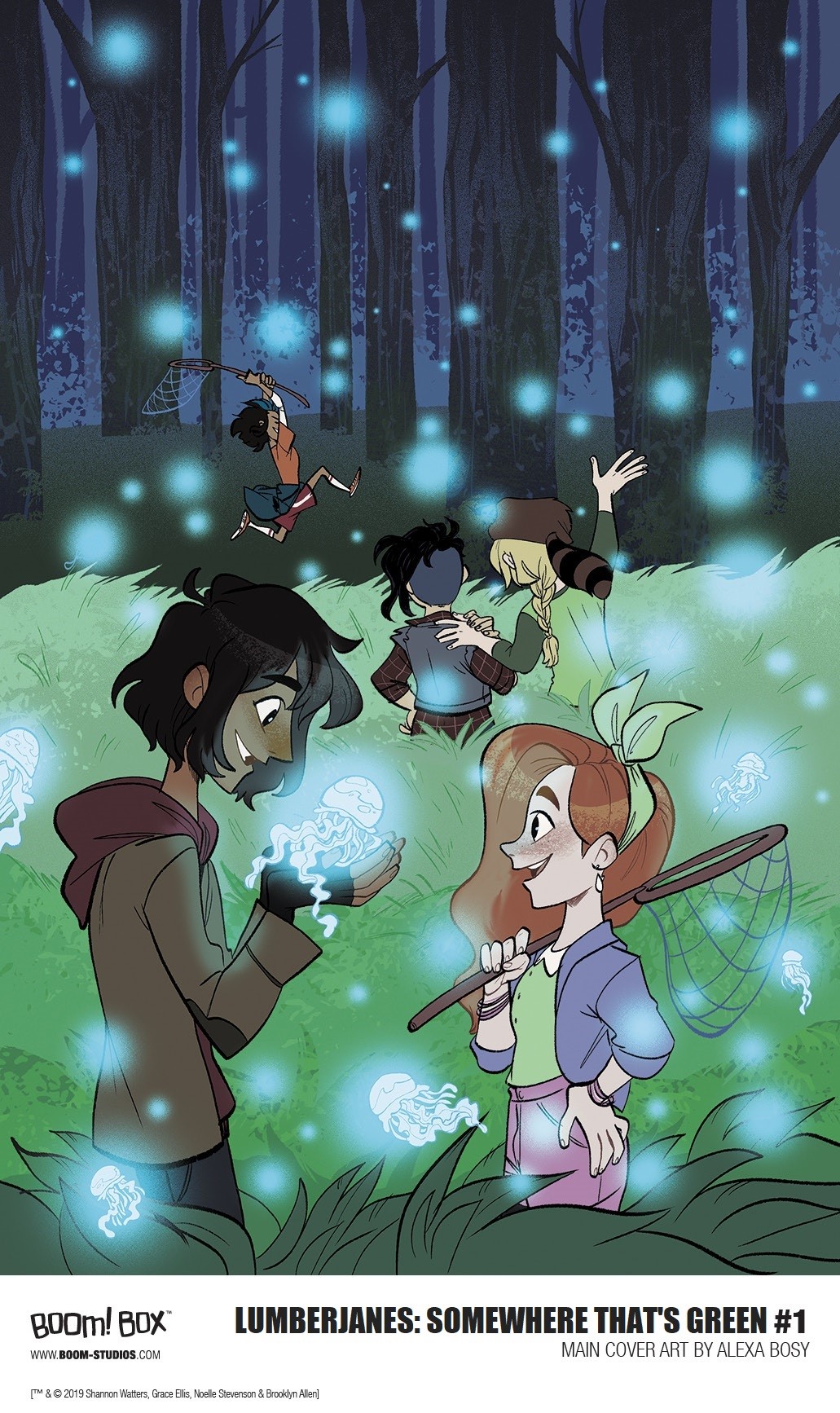 BOOM! Studios today announced LUMBERJANES: SOMEWHERE THAT'S GREEN #1, an oversized one-shot comic book about the power of friendship, by New York Times best-selling author Seanan McGuire (Spider-Gwen: Ghost-Spider) and artist Alexa Bosy, with an additional story by cartoonist Mariana Costa (Peritale), available in stores May 2019.

From Seanan McGuire and Alexa Bosy comes a magical tale about a rainy day at Miss Qiunzella Thiskwin Penniquiqul Thistle Crumpet's Camp for Hardcore Lady-Types, when the 'Janes succumb to cabin fever and set out into the storm on a quest to reunite what look like lost kittens with their mother, and instead stumble upon a mysterious and fiercely guarded secret garden in the middle of the forest. Discover a new corner of the Lumberjanes universe you've never seen before, a green haven full of magical and wondrous plants that would be the perfect place for the Lumberjanes to earn their Cryptobotany badges...but only if the creatures they find there let them leave.

In Mariana Costas' short story, the Yetis are back! Only this time, they need help from Jo and the rest of the Lumberjanes when a storm knocks out the power to their treehouse and plunges the entire Camp into darkness. It'll take brains, guts, and the power of teamwork to fix this problem, but the Lumberjanes have yet to meet a challenge they can't handle together.

Launched in 2014 under BOOM! Studios' YA-focused BOOM! Box imprint by series co-creators Shannon Watters, Grace Ellis, Brooklyn Allen, and Noelle Stevenson, Lumberjanes was originally solicited as a limited series, but the overwhelming response from fans transformed it into an ongoing series that has become a New York Times best-seller, earned numerous nominations for prestigious awards including the GLAAD Media Award and the Eisner Award (which it has won twice), and has even crossed over with heroes from the DC Comics Universe (in Lumberjanes/Gotham Academy). The Lumberjanes have expanded to middle-grade novels at Abrams Books, a diverse array of merchandise from pins to patches, and a feature film in development at 20th Century Fox.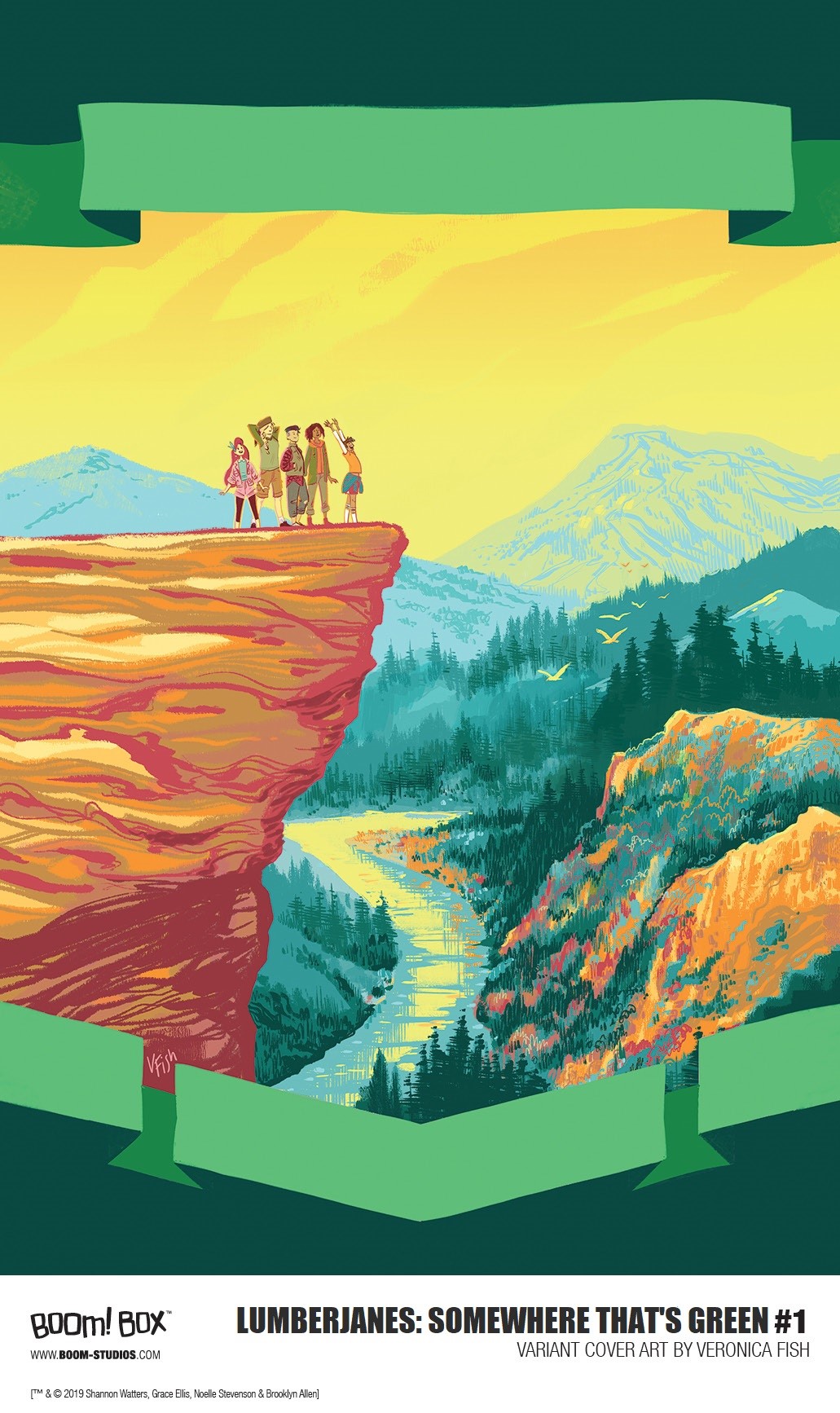 LUMBERJANES: SOMEWHERE THAT'S GREEN #1 features a main cover by artist Alexa Bosy and a variant cover by artist Veronica Fish (Sabrina the Teenage Witch).

"The Lumberjanes are fearless and ready for everything, which means they're willing to tackle any adventure and right every wrong with the power of friendship, but it's hard to be heroic or a good friend when you're bored, stuck indoors, and quickly reaching your boiling point." said Jeanine Schaefer, Executive Editor, BOOM! Studios. "This special reminds us that cultivating friendships is hard work that's not only built out of the big moments but also the small, where kindness, patience, and a willingness to listen can be just as important as the heroic, last minute saves."

LUMBERJANES: SOMEWHERE THAT'S GREEN #1 is the latest release from BOOM! Studios' award-winning BOOM! Box imprint, home to groundbreaking original series such as Giant Days by John Allison, Lissa Treiman, and Max Sarin; Smooth Criminals by Kirsten 'Kiwi' Smith, Kurt Lustgarten, and Leisha Riddell; Fence by C.S. Pacat and Johanna The Mad; and The Avant-Guards by Carly Usdin and Noah Hayes.

Print copies of LUMBERJANES: SOMEWHERE THAT'S GREEN #1 will be available May 29, 2019 at local comic book shops (use comicshoplocator.com to find the nearest one)