13 Image Comics On YALSA's 2019 'Great Graphic Novels For Teens'
Jan 28, 2019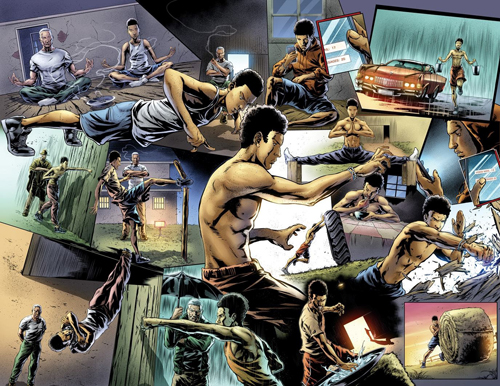 Son of Shaolin by Jay Longino & Caanan White
The Young Adult Library Services Association named thirteen Image titles on their list of "great graphic novels" for teens in 2019.
Founded on October 6, 1876 during the Centennial Exposition in Philadelphia, the mission of The American Library Association is "to provide leadership for the development, promotion and improvement of library and information services and the profession of librarianship in order to enhance learning and ensure access to information for all." The ALA is the oldest and largest library association in the world.
The list includes the following thirteen releases: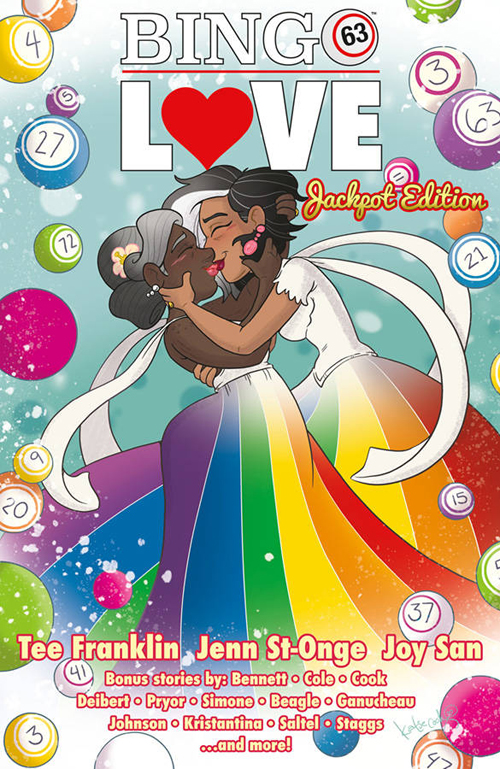 Bingo Love, Vol. 1 by Tee Franklin
AUG180109
When Hazel Johnson and Mari McCray met at church bingo in 1963, it was love at first sight. Forced apart by their families and society, Hazel and Mari both married young men and had families. Decades later, now in their mid-'60s, Hazel and Mari reunite again at a church bingo hall. Realizing their love for each other is still alive, what these grandmothers do next takes absolute strength and courage.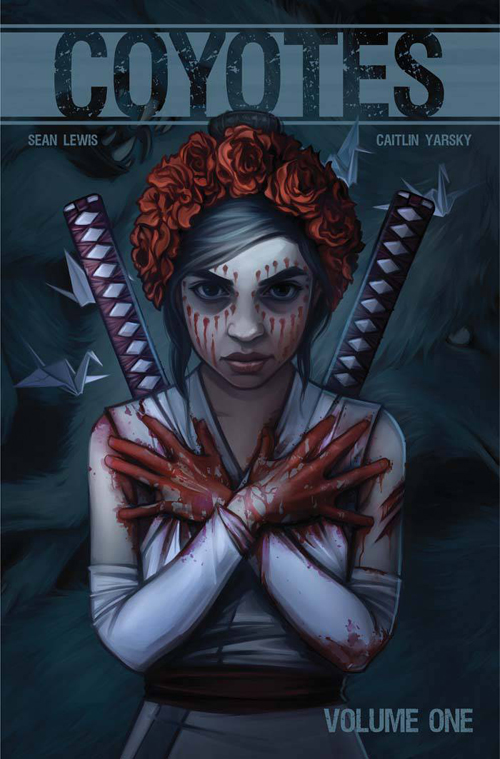 Coyotes, Vol. 1 by Sean Lewis & Caitlin Yarsky
Women are going missing in the City of Lost Girls, a border town in the desert. Officer Frank Coffey is trying to get to the bottom of this when he meets Red, a 13-year-old girl with a katana blade and a mission: murder the Werewolves stalking the border and picking women off one by one. When it's discovered that the Wolves are the men of these villages, both Red and Officer Coffey are thrown together in a thriller of mythic proportions with the lives of their friends and loved ones in the balance.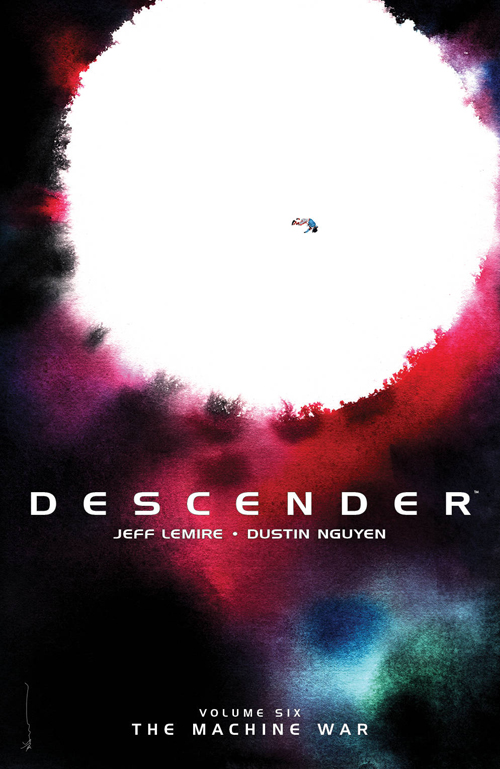 Descender, Vol. 5: Rise of the Robots by Jeff Lemire & Dustin Nguyen
The first major DESCENDER event is here. This is what it has all been building to. The Robot Resistance rises up and tightens its iron grip in the universe as the origins of the Harvesters are finally revealed and the galaxy is thrown into all-out war! A new chapter of the sci-fi epic begins here by superstar creators JEFF LEMIRE and DUSTIN NGUYEN.
Descender, Vol. 6: The Machine War by Jeff Lemire & Dustin Nguyen
The climactic chapter of DESCENDER is here! All the various factions who have been hunting Tim-21 finally converge around the ocean planet Mata, just as the robots launch their galaxy-wide revolution... But nothing can prepare the young android Tim-or the readers-for what happens next. The DESCENDER saga comes to a startling climax and sets the stage for the next mind-bending adventure.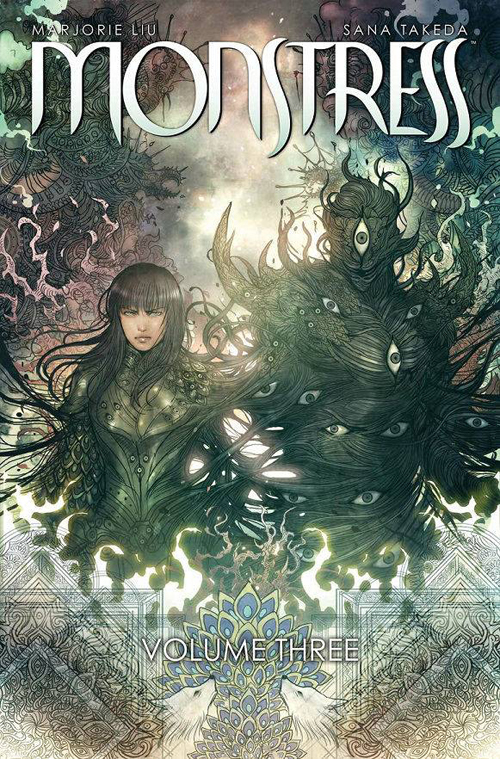 Monstress, Vol. 3 by Marjorie Liu & Sana Takeda
JUL180261
A Hugo and British Fantasy Award-winning series-and current Eisner Award nominee for Best Continuing Series, and Best Publication for Teens, with Marjorie Liu nominated for Best Writer and Sana Takeda nominated for Best Painter and Best Cover Artist!

Maika has spent most of her life learning how to fight, but how will she fare when the only way to save her life... is to make friends?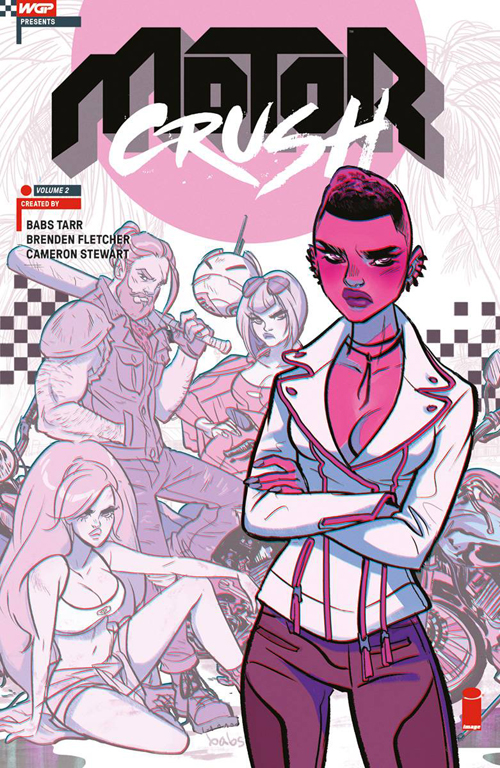 Motor Crush, Vol. 2 by Brenden Fletcher, Cameron Stewart & Babs Tarr
The acclaimed sci-fi action-adventure series MOTOR CRUSH is back for another heat! Two years have passed in Nova Honda, the racing capital of the world, and for Domino Swift, everything has turned upside down. How does she fit in a world without Crush?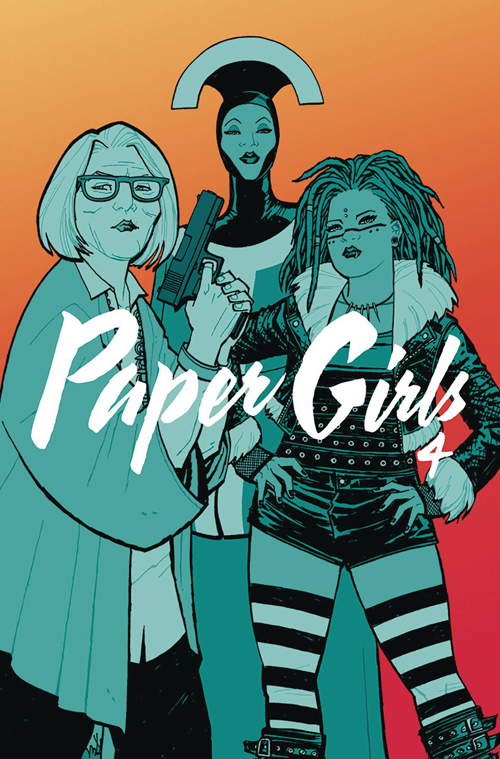 Paper Girls, Vol. 4 by Brian K. Vaughan & Cliff Chiang
The mind-bending, time-warping adventure from BRIAN K. VAUGHAN & CLIFF CHIANG continues as intrepid newspaper deliverer Tiffany is launched from the prehistoric past into the year 2000! In this harrowing version of our past, Y2K was even more of a cataclysm than experts feared, and the only person who can save the future is a 12-year-old girl from 1988.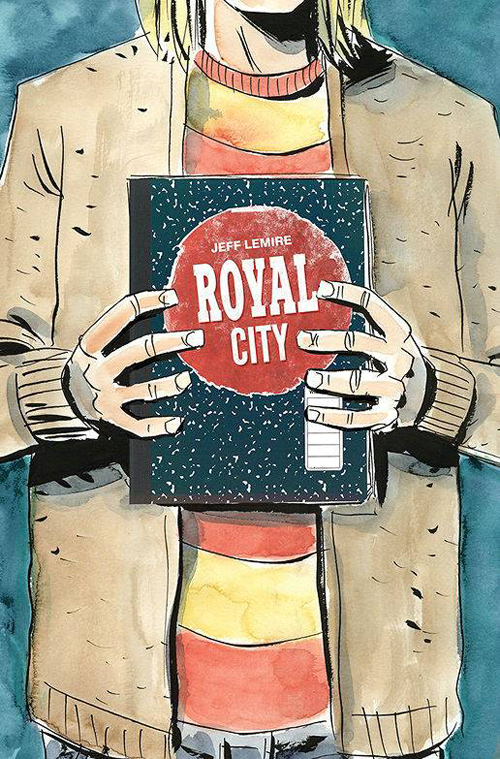 Royal City, Vol. 2: Sonic Youth by Jeff Lemire
A new chapter of superstar creator JEFF LEMIRE's critically acclaimed new series is here. In this second installment of bestselling author JEFF LEMIRE's (DESCENDER, PLUTONA, Sweet Tooth) ambitious new series, we travel back to the year 1993 and follow the then teenaged Pike siblings and see the last week of Tommy Pike's life unfold. The mysteries of his death and all the sins that now plague the Pike family are brought to light in this heartbreaking new storyline.
Royal City, Vol. 3: We All Float On by Jeff Lemire
When a new member of the family arrives in the fading industrial town of Royal City looking for answers, the past and present all come together, and the Pike family must face the truths about their youngest brother's death decades earlier.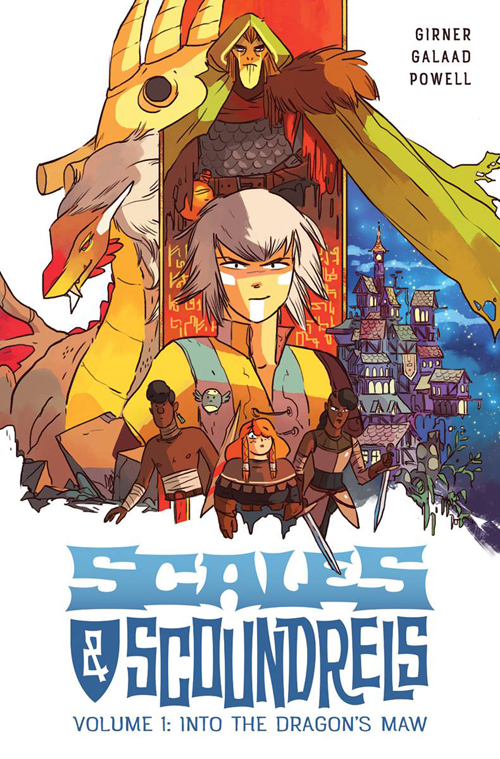 Scales & Scoundrels, Vol. 1: Into the Dragon's Maw by Sebastian Girner & Galaad
NOV170682
It's hard to make an honest living in a land brimming with magic and mystery, and treasure hunter Luvander is tired of being a penniless adventurer. Ever in search of gold and glory, she sets off for a fabled dungeon, "the Dragon's Maw," an ancient labyrinth at the bottom of which slumber endless wealth...or certain doom!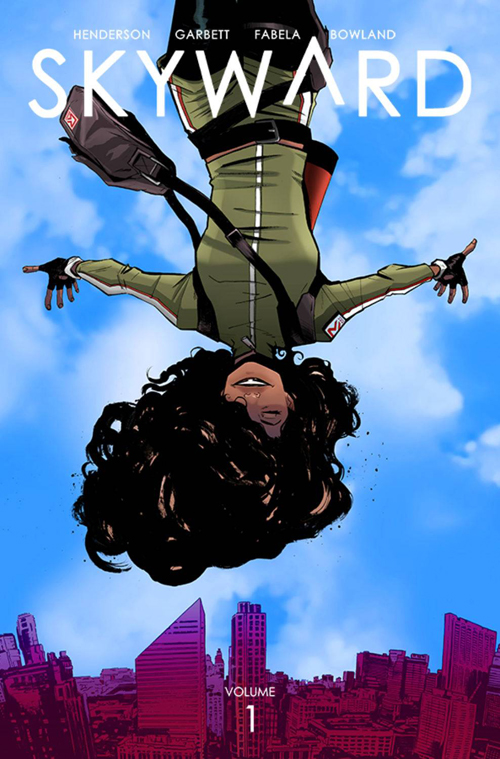 Skyward, Vol. 1: My Low-G Life by Joe Henderson & Lee Garbett
One day, gravity on Earth suddenly became a fraction of what it is now. Twenty years later, humanity has adapted to its new low-gravity reality. And to Willa Fowler, who was born just after G-day, it's pretty awesome. You can fly through the air! I mean, sure, you can also die if you jump too high. So you just don't jump too high. And maybe don't get mixed up in your dad's secret plan to bring gravity back that could get you killed...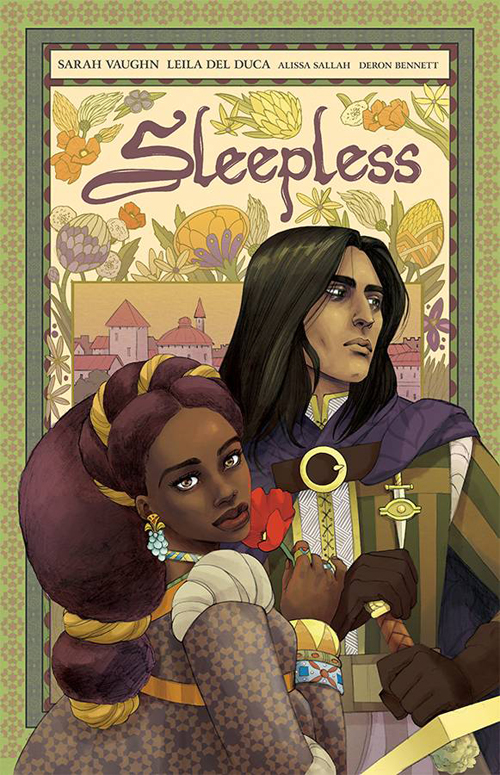 Sleepless, Vol. 1 by Leila del Duca & Sarah Vaughn
MAY180073
Lady "Poppy" Pyppenia is guarded by the Sleepless Knight Cyrenic but becomes endangered when an assassin threatens her life in the new king's reign. As Poppy and Cyrenic try to discover who wants her dead, they must navigate the dangerous waters of life at court and of their growing feelings for one another.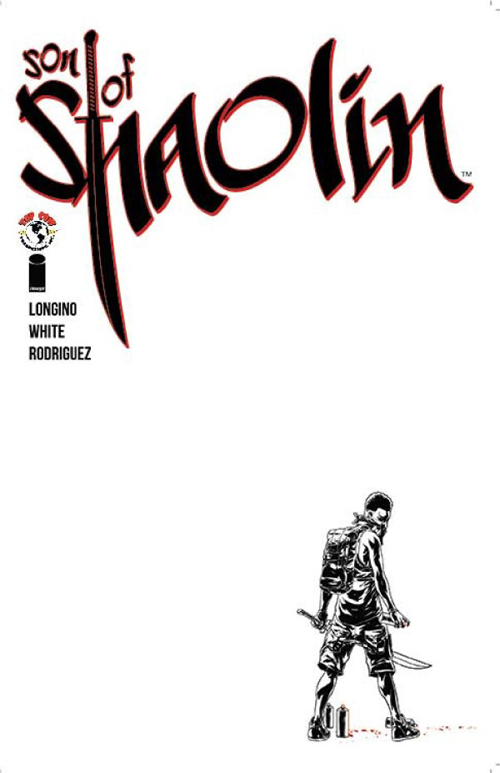 Son of Shaolin by Jay Longino & Caanan White
A kung-fu epic set in the back alleys and subway tunnels of Harlem, New York. Kyrie, an aspiring street artist who is struggling to make ends meet, learns that he is the last living descendant of a secret sect of ancient Shaolin elders. Confused and unsure of where to turn, he finds a father figure in the mysterious Master Fong. Fong trains Kyrie in martial arts in anticipation of an attack from Red Fist, a relentless killer who has already murdered the rest of Kyrie's bloodline. Introduction by AISHA TYLER. Film rights recently sold to Sony / Columbia Pictures with DWAYNE "THE ROCK" JOHNSON attached to produce.
To read the full list of titles, click here.