Titanic Tomes: King-Sized Kollections
Dec 02, 2018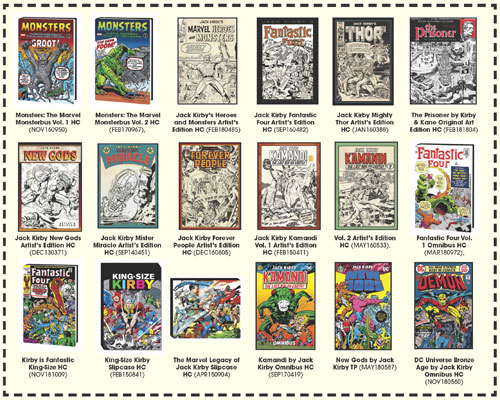 Click on the image to see it at full size!
by Marty Grosser
One of the earliest of my comic book memories was from mid-1971, when I received Marvel's Creatures on the Loose! #11, featuring the alien statue monster, Moomba. Being a nine-year-old kid raised on Godzilla movies, Lost in Space, and Universal Monsters model kits, I thought this comic book was the greatest thing I had ever seen and read. And there were more like it!
I would soon learn that the man behind the look of Marvel's giant monsters — beings with ludicrous names like Grottu, Googam, Spragg, Orrgo, Manoo and Fin Fang Foom — was a soft-spoken man from Brooklyn New York named Jack Kirby. Sorry! Jack "KING" Kirby. And he truly earned that royal nickname! Over his decades-spanning career, Jack Kirby drew over 20,000 pages of art and over 1,300 covers!
This month, as we celebrate our TITANIC TOMES theme, I thought it would be appropriate to showcase the larger-than-life works of the King in the next best thing to their original format: great big books!
**********
WHERE MONSTERS PROWL TO DWELL ON THE LOOSE
A great place to start with Jack Kirby is with his monster story collaborations with Stan "The Man" Lee. For the ultimate Marvel Monster collections, you can't go wrong with Monsters: The Marvel Monsterbus Vol. 1 HC (NOV160950) and Monsters: The Marvel Monsterbus Vol. 2 HC (FEB170967), each loaded with dozens of stories of giant monsters bent on conquest and destruction, and the mild-mannered nerds and scientists who defeated them with nothing but their intellects!
And to see the classic Lee/Kirby monster tales in all their pre-publication B&W glory, be sure to check out Jack Kirby's Heroes and Monsters Artist's Edition HC (FEB180485) published by IDW Publishing, with the cooperation of Marvel Comics. Kirby and many of his contemporaries worked on BIG art boards back in the fabulous '50s and swingin' '60s, and this oversized Artist's Edition hardcover presents the original artwork as it was created. And speaking of Artist's Editions…
THIS ARTIST, THIS EDITION
Because Jack Kirby was such a trailblazer in the comics field, as well as a role model for those who came after him, many creators have emulated the King's style and used his great works as reference and inspiration for their own works.
A few years ago, as if in response to this very reason, IDW Publishing introduced the concept and format for their "Artist's Edition" series of hardcovers. These oversized (really BIG!) books reproduce Kirby's artwork from the actual original pages, and showcase his work from the classic Marvel Era in the Jack Kirby Fantastic Four Artist's Edition HC (SEP160482) and Jack Kirby Mighty Thor Artist's Edition HC (JAN160388); unseen work in The Prisoner by Kirby & Kane Original Art Edition HC (FEB181804); and his "Fourth World" tour de force in the Jack Kirby New Gods Artist's Edition HC (DEC130371), Jack Kirby Mister Miracle Artist's Edition HC (SEP140451), and the Jack Kirby Forever People Artist's Edition HC (DEC160605).
There's also my personal favorite Kirby works from his '70s-era tenure at DC Comics, the post-apocalyptic adventure epic KAMANDI, collected in the Jack Kirby Kamandi Vol. 1 Artist's Edition HC (FEB150411) and Vol. 2 Artist's Edition HC (MAY160533). This is classic Kirby at his unleashed best!
KIRBY BY THE POUND
Finally, for those of you who want a LOT of Kirby in one volume, for a fraction of the price you might pay for the originals (a route that leads to Pricey Town!), both Marvel and DC have collected some of the King's best works in massive omnibus editions!
From Marvel Comics, there's the Fantastic Four Vol. 1 Omnibus HC (MAR180972), collecting FF #1-30 & Annual #1; the Kirby is Fantastic King-Size HC (NOV181009) reprinting FF #4, #12, #25-26, #52-53, #66-67, #84-87 & Annual #6; the King-Size Kirby Slipcase HC (FEB150841), a massive, 13" x 20" slipcase volume reprinting 816 pages of Kirby comics from the Golden Age to the '70s; and The Marvel Legacy of Jack Kirby Slipcase HC (APR150904), a tribute to Jack Kirby featuring essays and articles about Kirby's lasting impact on the House of Ideas.
Over at DC Comics, you can bolster your Kirby library with these great volumes: the Kamandi by Jack Kirby Omnibus HC (SEP170419) collecting issues #1-40; the New Gods by Jack Kirby TP (MAY180587), collecting issues #1-11, plus the 48-page story "Even Gods Must Die" from 1984 and the original 1985 graphic novel, The Hunger Dogs; and the DC Universe Bronze Age by Jack Kirby Omnibus HC (NOV180560) collecting all of Kirby's non-Fourth World series and singles issues, including complete runs of The Demon #1-16, The Sandman #1-6, OMAC #1-8, and even the In the Days of the Mob and Spirit World graphic novels! THAT'S a lot of Kirby!
*****************
Without the contributions of Jack "King" Kirby, many of the characters, even the very genres in which they appear, would be startlingly different today. If I have moved even one reader to seek out the works of Jack Kirby, then my work here was worth it. Heck, it was worth it just to put it all down here. LONG LIVE THE KING! LONG MAY HE REIGN!
~Marty