Comics To Read Before They Are On TV
Sep 30, 2018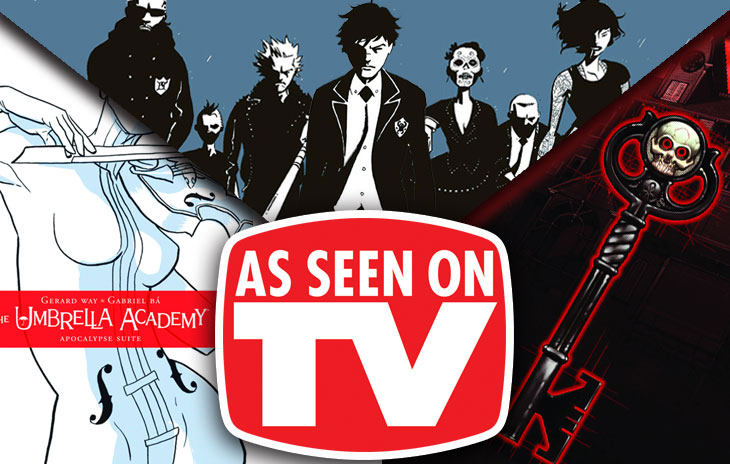 Don't sit down to watch the new comic book shows on television before first doing your homework! Read about the collected comics books that can prep you with all the background you need before streaming the latest blockbusters!

As we celebrate As Seen On TV Month in the October PREVIEWS, here are five shows coming soon to the small screen based on comics you can read now!
Deadly Class, Vol. 1: Reagan Youth (MR)
MAY140626
Tinseltown finally got their hooks into Rick Remender's assassin school thriller, Deadly Class, and it's now being adapted into a Russo Brothers TV series for SYFY debuting in 2019. Taking place in the middle of late 80s counter culture, Deadly Class is a coming of age story in which a disillusioned teenager is recruited into a high school for assassins. Before you sit down to binge watch the series, check out Volume 1: Reagan Youth to get in on the ground floor of who's who, and take advantage of a special introductory price!
The Boys, Vol. 1: The Name of the Game (MR)
DEC078191
A long time ago, Garth Ennis and co-creator Darick Robertson gave us a book from DC's Wildstorm called The Boys, which was anti-superhero in nature. Much like the hero dystopia one can see in Watchmen, such are sordid stories you can find in Ennis and Robertson's The Boys, in which heroes are typically corrupted by their celebrity status, and it's often difficult to calibrate the value of a "hero." The Amazon Prime TV series is spearheaded by Seth Rogen and Evan Goldberg, the duo behind AMC's "Preacher," and Ennis and Robertson are shown to have some writing credit for the series. But you should first check out the first volume of the trade paperback from Dynamite Entertainment (which picked the series up from Wildstorm), and learn more about a certain CIA squad that's tasked with keeping superheroes in line…by any means necessary.
Locke & Key, Vol. 1: Welcome To Lovecraft
JUN090991
A lot has been written about the conga line that has formed to bring Joe Hill and Gabriel Rodríguez's Locke & Key to television. At first, it was reported that Hulu had picked up the series. Then those rumors were dashed into "fake news" when the real winner emerged in the form of Netflix. Now, according to Variety, the horror/fantasy series from IDW Publishing will soon bring viewers the story that revolves around three siblings who, after the gruesome murder of their father, move to a house that has magical keys which give them abilities. Hold off on watching the 10-episode first season and instead brush up on continuity by checking out the first volume of the series, Welcome To Lovecraft, which has gone on to be nominated for an Eisner!
The Umbrella Academy, Vol. 1: Apocalypse Suite
SEP108136
Also an upcoming TV series for Netflix, The Umbrella Academy is the brainchild of rocker Gerard Way, illustrated by artist Gabriel Bá. The show is reported to adopt the first story arc of the series, and viewers will be introduced to Sir Reginald Hargreeves (aka The Monocle), an extraterrestrial who is disguised as a wealthy entrepreneur. Hargreeves exists in a world where John F. Kennedy was never assassinated, and in this alternate reality Hargreeves trains seven super-powered children so that they can save the world. While Gerard Way will serve as co-executive producer for the show, you first want to read what he wrote in the first volume of the series, which has since been collected in trade paperback from Dark Horse Comics. Do your homework first and catch up on the first six-issue series! Then you can stream until your heart's content.
Chilling Adventures of Sabrina, Vol. 1 (MR)
MAY161133
Billed as a drama/horror/fantasy show, Chilling Adventures of Sabrina is based on the Archie comic book character that's been around longer than some of the parents you'll find at the comic shop. Set to debut October 26 with a ten-episode first season on Netflix, Chilling Adventures of Sabrina will seem familar to those already watching The CW's Riverdale. Both are dark, moody, scary, and make for very compelling TV! Sabrina the character, however, has been long torn between her witch family and human friends. Need to get up to speed? Writer Roberto Aguirre Sacasa details the many head games for the cute blonde witch in what you can now enjoy as the first volume of a trade paperback from Archie Comics. Get the first five issues of the series here, then take that knowledge and use it for tricks and trivia!