Bring On The Bad Guys: Hela, Borg, & Thanos
Sep 13, 2018
Egads! Another molotov cocktail that's served as a kids drink. Say it isn't so! Say we don't have to suffer the bad guys again! Yes, sad for all of those within hearing range... you will submit! Your lethal injection of mean is back with this month's rendition of "Bring on the Bad Guys," and once again we show that we don't discriminate because of race, sex, color, or creed. If you're rotten, you qualify. And there are many ways to qualify. It might be that you enjoy kicking cats. It might be that you eat people. Or...maybe it's because you're one of Satan's soldiers. In any event, we flip through the PREVIEWS catalog each month to see who needs to be called out as a deviant, and then we explain why these people … or things … or whatever they are … shouldn't be helped if you see them bleeding in the middle of the street.

Let us begin.
Crimson Lotus #1

Before she became Lobster Johnson's greatest adversary, she worked in a coffee shop, serving finger sandwiches with espressos. Wait. That can't be right, you say. How could someone so deadly who would later be the Lobster guy's greatest pain in the rear be found in a coffee shop? Well, 'cause we're kidding, of course. But that's the point. Do you really want to know the extent to which when the Crimson Lotus exacts her revenge it comes with terrifying international effects? Check out Crimson Lotus #1 (SEP180262) from Dark Horse Comics and find out for yourself!
One-12 Collective Marvel Thor Ragnarok Hela Action Figure

Ever wonder what it sounds like when the Gods have had too much to drink? What would they laugh about over their 45th flagon of ale? Check out the One-12 Collective Marvel Thor Ragnarok Hela Action Figure (MAY189820) and you'll get a clue why they call Hela "Ol' Coathanger" behind her back. Hey, you could hang over a dozen capes on that thing, too! But don't let Hela hear you. With 30 points of articulation, two head portraits with hand paintied-authentic detailing, and eight interchangeable hands, she'll put you in the ground long before you can hand her your hat to hang. Look for Hela in the September issue of the PREVIEWS catalog!
Marvel Milestones Avengers 3 Thanos Statue

If ever there was a poster child for anger management classes, it would be the mad god whose wrinkled chin is also proof that men need makeup, too. Yes, he's fearsome. Yes, he got the Infinity Gauntlet in the Avengers 3 movie, and made the good guys turn into sawdust at the end. But that's the point. He gets the power cosmic, and what does he do with it? Give himself a facial? No. He wipes out people that could better serve him as entertainment. Still love him, though? Of course you do. So preorder this 20" sculpture that's limited to only 1,000 copies. They'll dissapear faster than the Marvel heroes in Avengers 3. Look for the Marvel Milestones Avengers 3 Thanos Statue (SEP182339) in the September PREVIEWS!
Star Trek Select Borg Action Figure

If you want to know how important it is to brush your teeth at night, here's the proof. Neglect your oral cavity, and all your teeth fall out. That's why the Star Trek Select Borg Action Figure (SEP182332) never smiles. How much fun can it be to have a mouth full of cavities. It's why a Borg is always so grumpy. All that bacteria then ravages their body. Makes them get the gout. Not pretty. But this Borg is special because he comes with multiple interchangeable parts, including human and Klingon heads, various eyepieces, different tool arms and a removable vest. This one at least brushed once a week. Check out this 7-inch, fully poseable action figure in the Diamond Select section of the September PREVIEWS!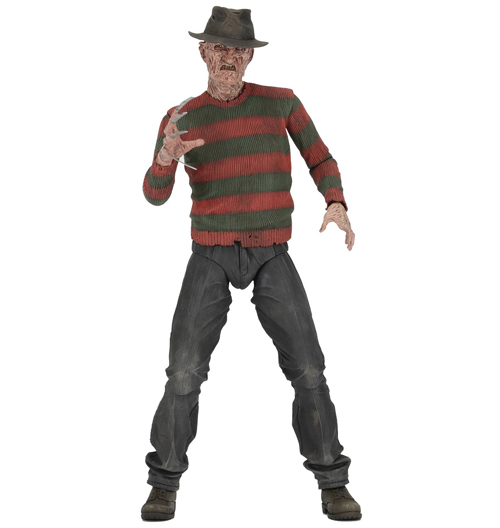 A Nightmare On Elm Street II Ultimate Freddy 7-Inch Action Figure
Here he is, the self-proclaimed Prom King himself. Mr. Warmth. A big hit a children's parties, too. Really. Just keep him away from the balloons, though, because those Ginsu knives that he calls his hands don't go well with latext party favors. Ah, who are we kidding. You know that A Nightmare On Elm Street II Ultimate Freddy 7-Inch Action Figure (SEP182449) best serves to scare your kids straight, right? Want to show little Jimmy or Janie why they shouldn't play with daddy's lighter? Take a look at this face that only a mother could love. Freddy doesn't get a lot of invitations in the mail, but he does have three interchangeable heads, 2 dogs, gloved hand, monster hand, and a removable hat, so look for him in the September PREVIEWS comic shop catalog!
Once again we've done our job for the month, showing you our list of unforgivable irredeemables! Go out and pick up a copy of the August PREVIEWS, and let us know your favorite villains, and who YOU want to pit against each other in a fight to the death. Hit us up on Facebook or Twitter, and let us know about your favorite bad guys.
See you next time, fellow degenerates!