Collector's Corner: Interview with Joe Gardner
Sep 10, 2018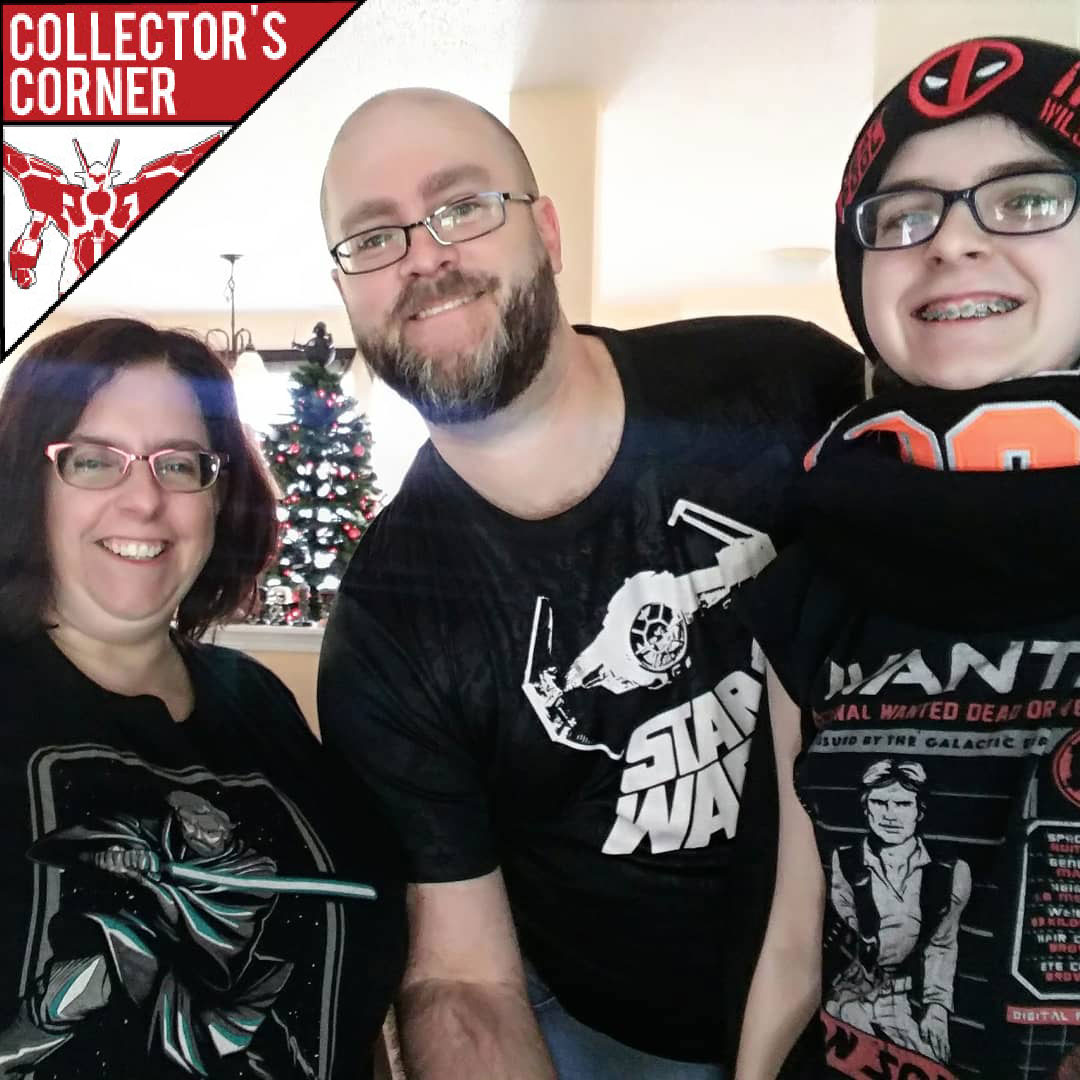 PREVIEWSworld ToyChest proudly introduces Collector's Corner! Here, we'll highlight anyone and everyone with a love of toys and collectibles. Whether it's a hardcore collector with no room on their display case or a veteran sculptor who makes a living in the industry, we'll talk to anyone who lives and breathes toys!
This week, we talk to Joe Gardner, a toy collector and blogger.
Joe talks about his massive collection spanning from Funko Pop! to action figures and more.
---
TELL US ABOUT YOURSELF:
My name is Joe, my wife is Tina, and our daughter is Madison. And then there's our dog, Luke. Yes, named for that Luke. Together we collect a LOT of geeky things. There are many geek out moments in our household. With all this, I write a blog called Out of the Package. This started a little over a year ago on the Comic Book Underground website. With that page now deactivated, I've moved over to my own domain. I share my adventures in hunting and collecting the things that interest myself and my family. And in my research, I have discovered toys and collectibles that I wasn't aware of before. Before the blog, my collections consisted of mostly Funko POPs and the occasional Marvel Legend. The collection is still mostly POPs, but I've added so much more to my shelves. And it all comes out of the box. Hence the name Out of the Package.
WHEN DID YOU START COLLECTING?
I've always collected something. My mom says I've had a comic in my hands since I was able to hold them on my own. I probably have a thousand comics currently in the house. And I've probably let go of way more than that. At one point in my childhood, I had a collection of keychains that was around five feet long, when all connected.
Born in 74, and growing up in the 80s, I had the original Star Wars, G.I. Joe, Transformers, He-Man, Teenage Mutant Ninja Turtles, Thundercats, and all the other great 80s toys. And I collected them all! Sadly, I no longer have any of them. But I'm trying to replace a few of those.
WHAT SPURRED YOUR INTEREST IN COLLECTING?
I have a bit of an addictive personality. So, anything that catches my fancy is likely to be collected. Most of what I collect is comic or fandom related. And so much of my interest comes from seeing these characters I love made in three-dimensional form. And some of it stems from my refusal to grow up.
WHAT SPECIFIC LINES/FRANCHISES DO YOU COLLECT?
Goodness, there's so many. This section might get lengthy.
We all love Star Wars, the MCU, the DCEU, and Invader Zim.
As I mentioned, we all collect the Funko POPs. At last count, we have 225 throughout the house. We have some of their other products, too, such as the Dorbz, Mystery Minis, and various plushes. Here is a video showcasing my portion of our POP collection:
;
As for myself, specific lines I like to collect are; Mezco One:12 Collective, Marvel Legends, Star Wars Black Series, Quantum Mechanix Q-figs, Kotobukiya ArtFX figures, and DC Direct. While I don't really collect them anymore, I still have a sizable collection of MiniMates from early in the line.
Specific franchise I collect are Aquaman (I have an Aquaman Shrine!), X-Men (especially 90s era), Star Wars, Deadpool, Green Lantern (Guy Gardner, in particular), Spider-Man, Saga, Game of Thrones, and Hellboy. The Turtles are starting to creep back into what I'm collecting, as well. My Star Wars interests lately have been the Bounty Hunters (I'm a Dengar nerd), the Rebels, and the Solo movie.
For my wife, Tina, she likes the small, weird characters. Yoda, Ewoks, Mogwai, Alf, Snarf, porgs…I think you get the picture. She also collects Game of Thrones, Bob Ross, and anything Christmas. But by far, Yoda is her go to character. She even has a Yoda themed Christmas tree in her office year-round. And Wonder Woman. Especially the old Linda Carter series, but she also loves the current portrayal by Gal Gadot.
Madison is a HUGE Harley Quinn fan. Her bathroom is all Harley. I'm pretty sure she's in love with Sebastian Stan/Winter Soldier. She goes after anything Nightmare Before Christmas, and has the Diamond Select PVC Sally statue. Madison has many Legos and is a fan of the Architecture series. And even though she was born in '02, she is a big fan of the 90s Nicktoons. And World of Warcraft. Anything WoW.
DO YOU HAVE ANY FAVORITE PIECES?
Goodness, this will be like choosing my favorite child.
My Weapon X POP. This was the first exclusive that I intently hunted for and found! I managed to snag a few more since, but he was my first.
My Mezco One:12 Deadpool. My first of this line and probably still my favorite. But they are all very nice.
Vash the Stampede from the old McFarlane Anime line. From my favorite anime series, Trigun. Possibly the only anime series I've watched in its entirety.
All the Aquaman pieces! And Black Manta!
And the MiniMates. Mentioning them has reminded me of how much I love those little buggers. I have my Green Lanterns on display, but I'll have to get the rest of them back out.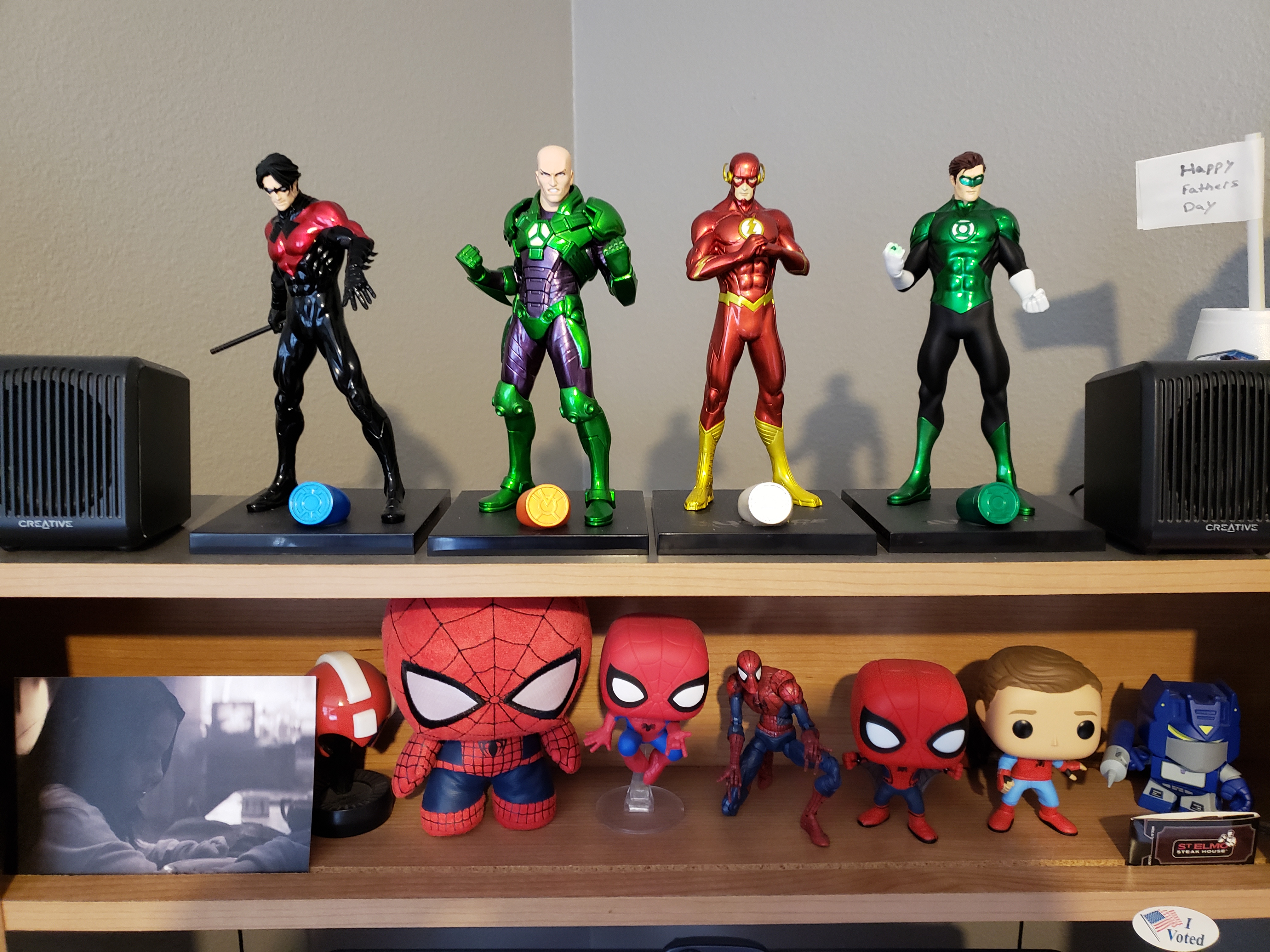 WHAT IS YOUR HOLY GRAIL COLLECTIBLE?
I've always wanted a replica lightsaber. Luke's green saber, to be exact.
I have my eye on a few of the Sideshow/Hot Toys sixth scale figures. Especially Dengar.
But to be perfectly honest, I'd reacquire all my old G.I. Joe toys. As they were when I had them. All the accessories, still in pretty good shape, and ready to play with. With a few additions, of course. Like the USS Flagg aircraft carrier. And the Terrordome. And the Space Shuttle Defiant. I'd have all of it, really.
WHAT IS YOUR ADVICE TO FELLOW TOY COLLECTORS?
Collect what you love. You'll find more happiness and satisfaction in collecting something you love. If you collect with the hopes of making an investment, you're more likely to be disappointed than satisfied.
And always free your toys from their boxes!!
WHERE CAN PEOPLE FIND YOU ONLINE?
The best place to find me is OutOfThePackage.com, but I'm all over social media. My twitter handle is @OutOfThePackage. Instagram is @outofthepackage. And you can find me on Facebook at facebook.com/OutOfThePackageCBU/. I have a lot of fun on all of those. I started a YouTube channel, too, but the video above is the only thing on there. So far.