Collector's Corner: Interview with Lights, Camera, Barstool Host Jeff Lowe
Jul 23, 2018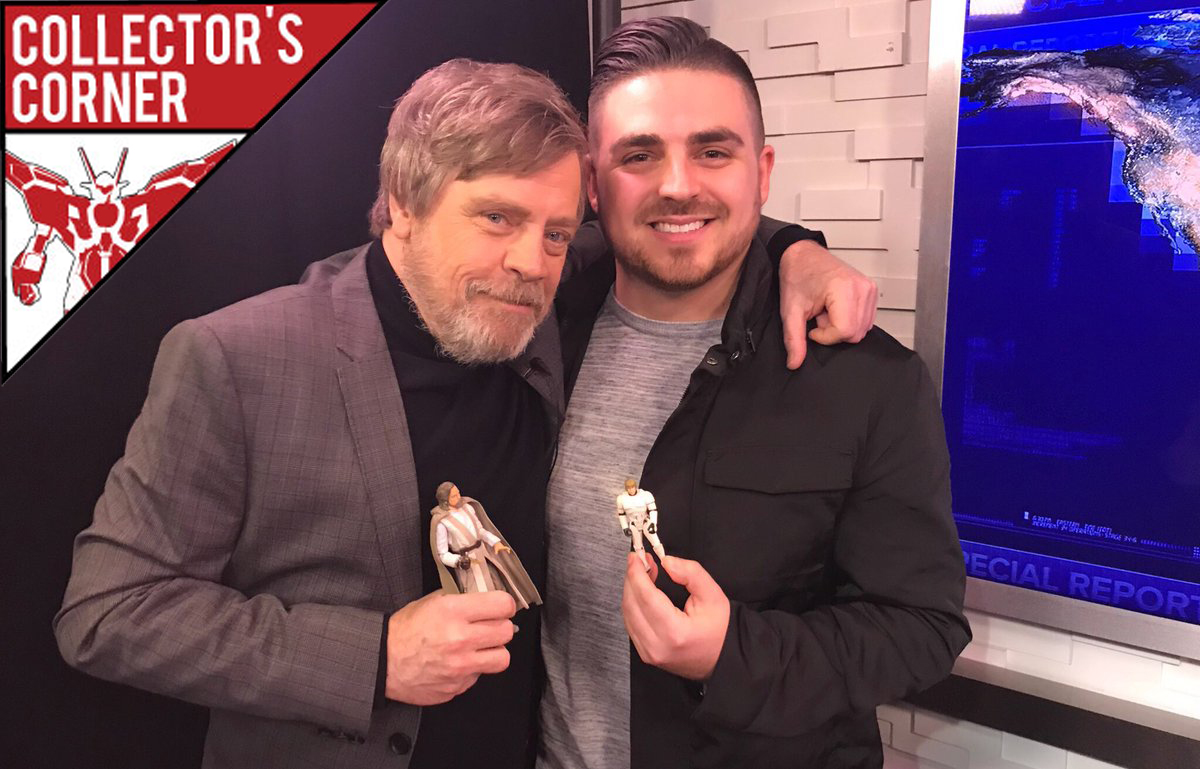 PREVIEWSworld ToyChest proudly introduces Collector's Corner! Here, we'll highlight anyone and everyone with a love of toys and collectibles. Whether it's a hardcore collector with no room on their display case or a veteran sculptor who makes a living in the industry, we'll talk to anyone who lives and breathes toys!
This week,we talk to Jeff Lowe, the host of the Lights, Camera, Barstool podcast, about his Star Wars toy collection.
Learn about Jeff's favorite collections and how he even impressed Mark Hamill with one of his figures.
---
TELL US ABOUT YOURSELF:
I am a host, personality, writer and producer at Barstool Sports, where I am helping grow the company's new movie brand called Lights, Camera, Barstool. I initially started with just the podcast, known as Lights, Camera, Barstool back then, in August of 2017. In December of the same year, I left my full-time job as a social media producer for Good Morning America, where I was lucky enough to win two Emmy Awards, to pursue my dream of building a movie media brand. After a few months of building the brand stronger, we were picked up by Barstool Sports this past May.
I originally hail from Austin, Texas and have a degree in broadcast journalism from Penn State. My love for Star Wars started back in 1997 when the original trilogy was re-released in theaters.
WHEN DID YOU START COLLECTING? WHAT SPURRED YOUR INTEREST?
I wouldn't say I started seriously collecting Star Wars merchandise until around mid-2015, but I have had many of my toys since 1997. I've always had an interest in building out a collection and showcasing them, but knew I needed to wait until I had a full-time job and space in an apartment before I started buying more merchandise. Once I started buying older merchandise and toys, the ball got rolling and now I am, very clearly, addicted.
DO YOU HAVE A FAVORITE FIGURE OR PIECE FROM YOUR COLLECTION?
I refuse to just pick one! First, I need to pick my Stormtrooper Luke from the 1990's The Power of the Force line. It was my first Star Wars action figure and Mark Hamill even held it when I met him at Good Morning America (video is in one of the questions below). We chatted about Luke toys (all my own) for a while, which was a dream come true. He's an amazing, amazing man.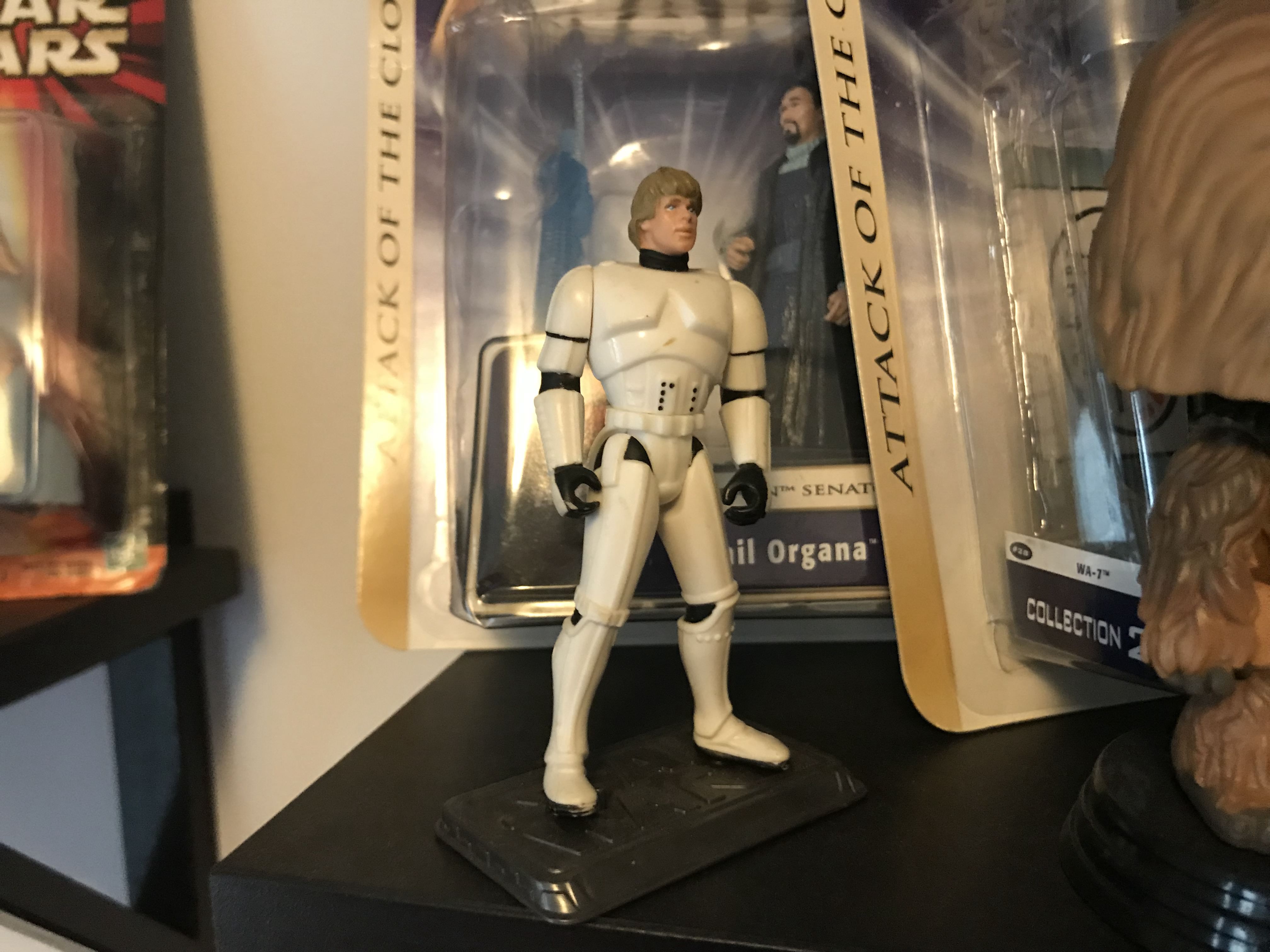 Second, I will pick my Grand Admiral Thrawn figure from the Expanded Universe line. I am not a huge Expanded Universe guy, but I loved the Timothy Zahn Thrawn trilogy as a kid and always wanted this action figure. It was one of the first purchases I made when I started to grow my collection.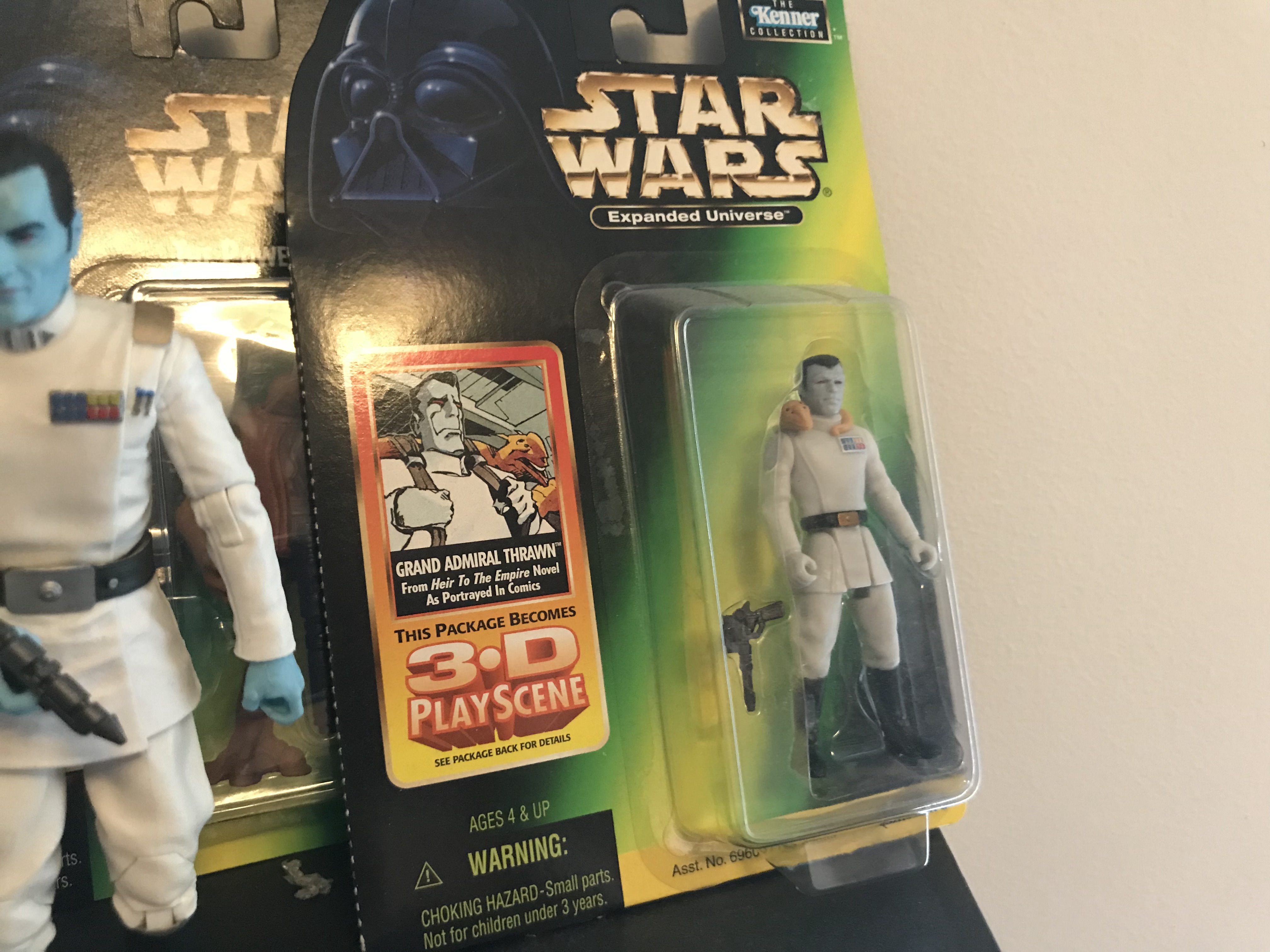 Lastly, I have to pick my only boxed original Kenner Star Wars action figure. I bought Princess Leia at Star Wars Celebration Orlando in 2017 and it is the centerpiece in my collection. It isn't from the first line, but I like this one more because it has the awesome "FREE BOBA FETT" card back that advertises the infamous rocket firing back pack.
DO YOU COLLECT ANY TOYS FROM SPECIFIC LINES, FRANCHISES OR MOVIES?
Just Star Wars, really. I still have Beanie Babies and Pokémon cards in a bin somewhere.
WHAT'S THE WEIRDEST STAR WARS TOY YOU OWN?
The weirdest toy I own is probably Dark Empire Luke Skywalker from the Expanded Universe line. He has a red lightsaber and is evil and when I showed Mark Hamill he was stunned. His reaction is at the 1:11 mark in this video.
WHICH MOVIE CHARACTER DO YOU WISH YOU OWNED AN ACTION FIGURE OF?
Blue Snaggletooth, with those awesome silver boots, is the Star Wars toy I want the most. It has been on my watchlist on eBay for a very, very long time.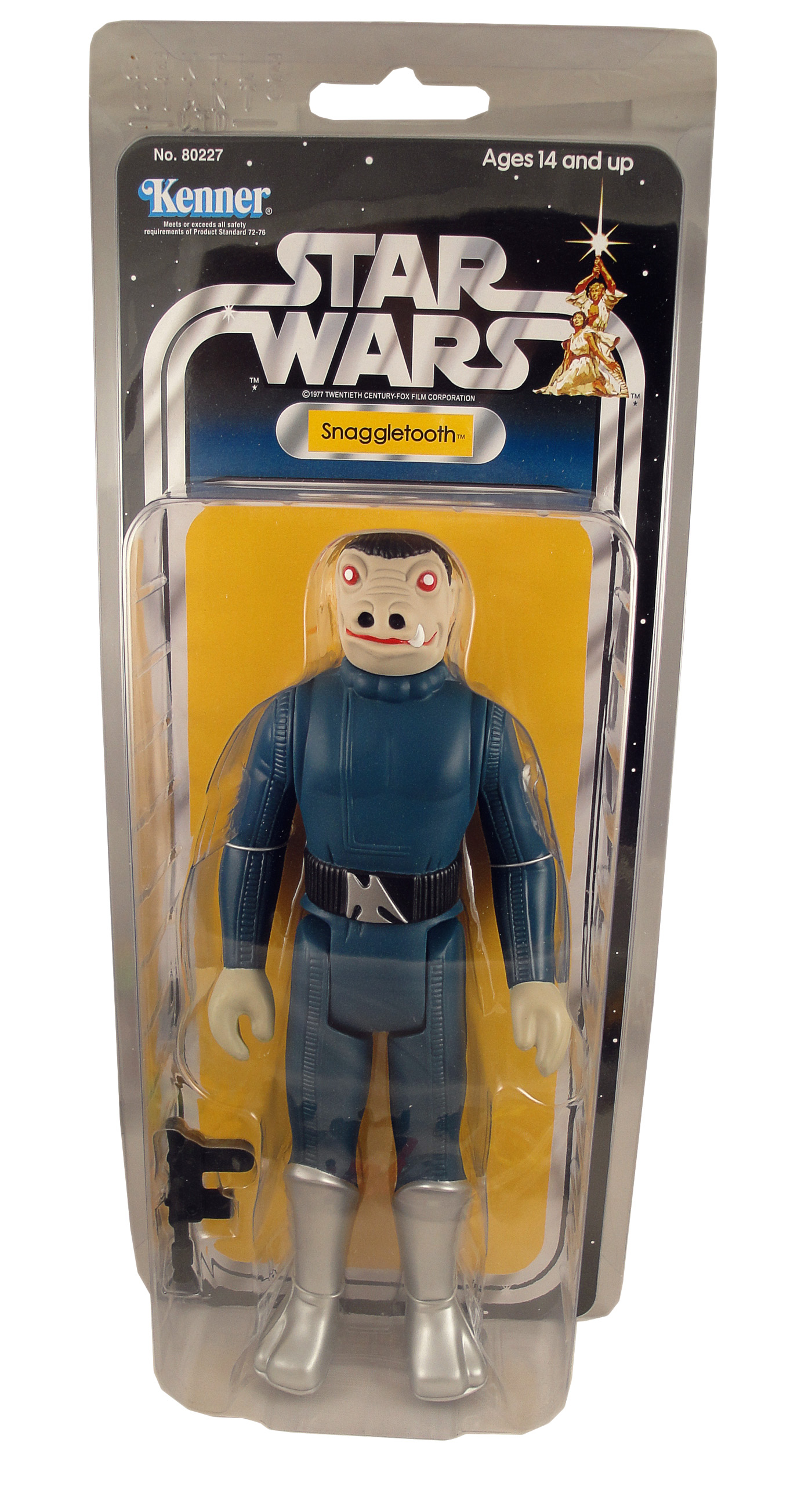 HOW CAN PEOPLE FIND YOU AND LIGHTS, CAMERA, BARSTOOL ONLINE?
You can follow us on social media at @LightsCameraPod on Twitter, @LightsCameraBarstool on Instagram and r/LightsCameraPodcast on Reddit. Our podcast can be found on iTunes, Spotify and more, and the link for iTunes is here: https://itunes.apple.com/us/podcast/lights-camera-barstool/id1279516571?mt=2. All of our movie reviews and content can be found at https://www.barstoolsports.com/shows/lights-camera-barstool.