Hake's Auction #224 Now Open For Bidding
Jun 19, 2018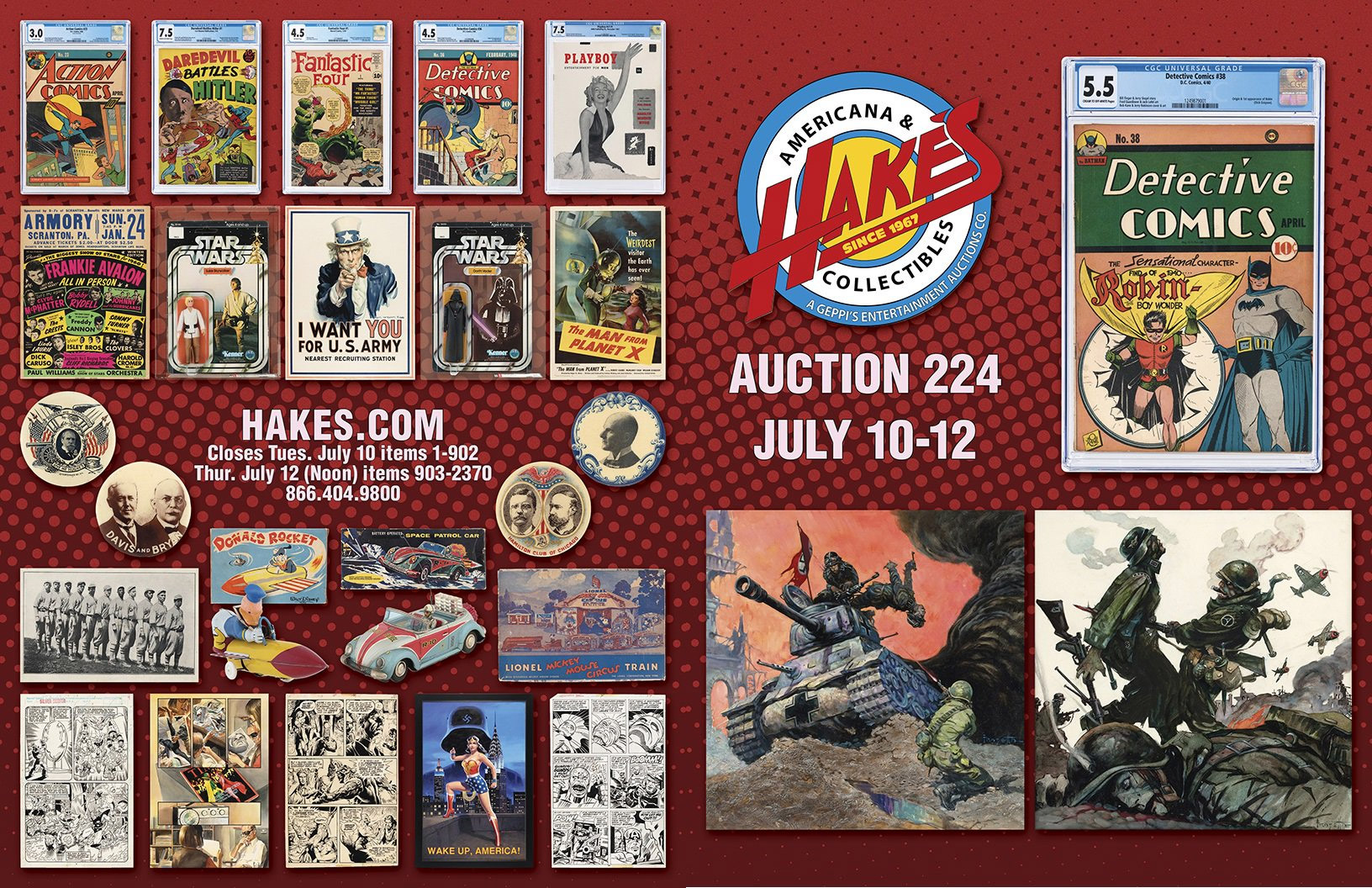 Comprising a total of 2,370 lots, Hake's Americana & Collectibles Auction #224 is online and opening for bidding now. Collectors will have plenty of time to peruse the thousands of items before it closes on Tuesday through Thursday, July 10-12.
The second auction of their 51st year contains over 100 pieces of original art, composed of covers, interior pages, daily and Sunday strips, specialty art, and more. Noteworthy original art pieces are Frank Frazetta cover art for Blazing Combat #2 and #4, Ron Lim Silver Surfer #36 page art with Avengers/Infinity Gauntlet images, Alex Ross Marvels page art featuring Black Panther and Spider-Man, and Greg Hildebrandt Wonder Woman "Wake Up, America" painting.
There's also 1,300 comic books from Golden to Modern Age books, with 450 CGC-certified examples. Highlights are Detective Comics #38 CGC 5.5 (first appearance of Robin), Daredevil Battles Hitler #1 CGC 7.5 (with Hitler on the cover), and Fantastic Four #1 (first Fantastic Four).
The third round from the Star Wars Collection of Russell Branton will be offered as part of Auction #224. Among the 70 Star Wars collectibles are key pieces like the Luke Skywalker double-telescoping figure 12-back-C AFA 80, Darth Vader figure 12-back-A AFA 95, and Power of the Force Anakin Skywalker carded Kenner prototype from the 1985 Toy Fair.
Disney toys such as the Lionel Mickey Mouse Circus Train boxed set and Donald Duck rare Donald Rocket boxed friction toy will be sold. There's a wide variety of movie posters from silent film to modern offerings which include The Man from Planet X one-sheet and Forbidden Planet lobby card set. Concert posters for "The Biggest Show of Stars for 1960," a double bill for Sam Cooke and Bobby Blue Bland, and Zappa "Mothers of Invention" from 1966 are also part of the auction.
Political and historical memorabilia highlights are the John Adams portrait cuff buttons pair circa 1796, "Lincoln & Hamlin! Andrew & Goodrich!" 1860 Dorchester Boston coattail broadside, and "Give me" Hughes" 1916 portrait button. A 1913 Goldsmith's All-Nations Baseball Club postcard featuring Hall of Famer Jose Mendez and Negro League star John Donaldson and a classic World War I Uncle Sam "I Want You for U.S. Army" linen-backed recruitment poster will also cross the auction block.
All of the items from political to pop culture, sports to science fiction, comics to cartoons can be viewed now at hakes.com.