Collector's Corner: Interview with Rick Eubanks
Jun 18, 2018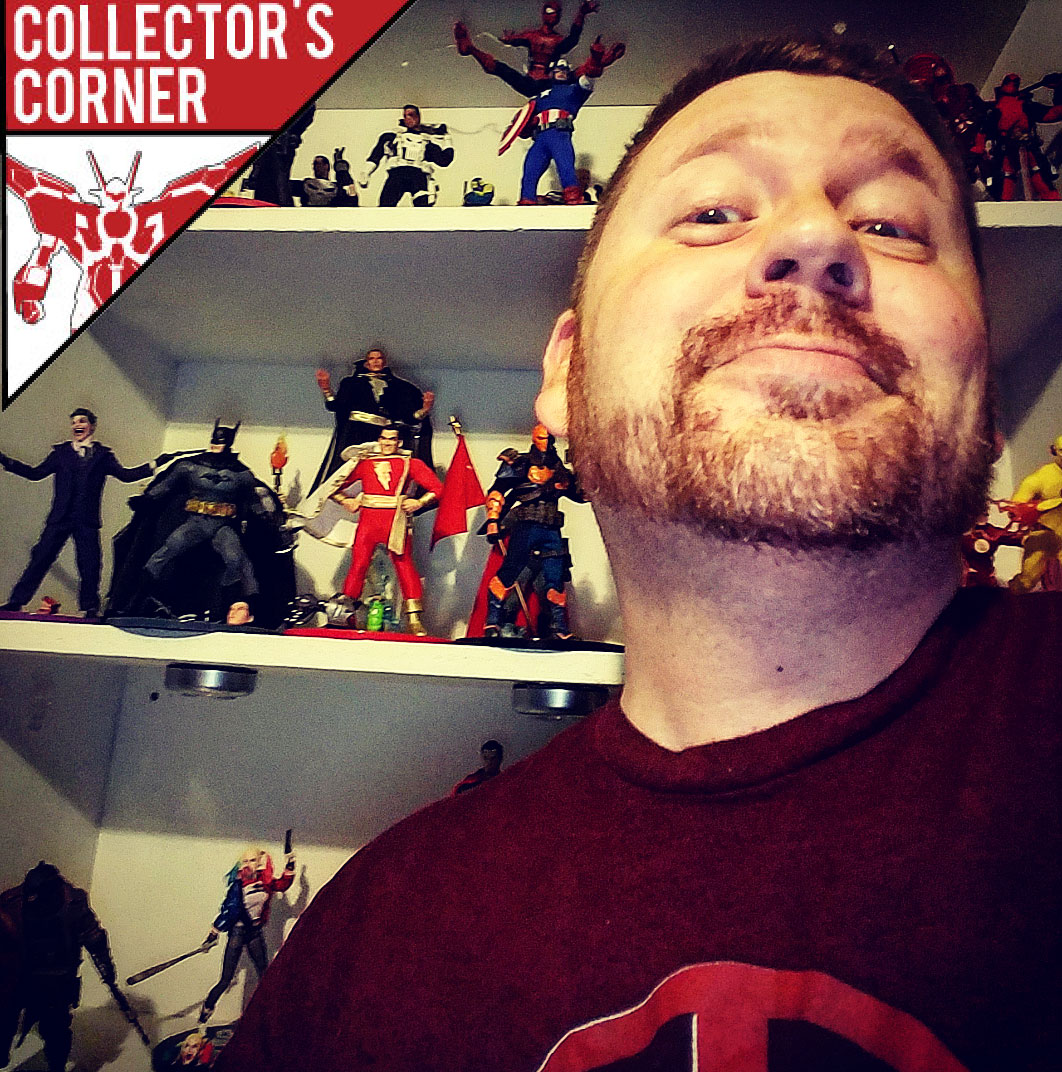 PREVIEWSworld ToyChest proudly introduces Collector's Corner! Here, we'll highlight anyone and everyone with a love of toys and collectibles. Whether it's a hardcore collector with no room on their display case or a veteran sculptor who makes a living in the industry, we'll talk to anyone who lives and breathes toys!
This week, we talk to Rick Eubanks, a toy collector and YouTuber.
Rick talks about his collection, the inspiration behind his channel and his advice for fellow toy collectors.
---
PROVIDE US WITH A BIO ABOUT YOURSELF:

Hi! I'm Rick Eubanks, a collector from Northeast Ohio (Go Tribe!). I have been collecting action figures for over 25 years (really dating myself here), with no intentions of slowing down! I currently run the YouTube channel, "Rick's Nerd Life!!". I had originally intended for that to be a comedy channel, but quickly made the realization that I am not very funny, so I turned it into a channel to talk about my love of toys! Some of my old "comedic attempts" are on the channel. We all have our sins. Aside from that, I have been married for 8 years to a saint of a woman, who tolerates my spending habits, and have 2 dogs, 4 cats, and a partridge in a pear tree.
WHEN DID YOU START COLLECTING?

I've always had a love of toys, but the first time I can really recall considering myself a collector was around the age of 8 or 9. I began to notice that I didn't treat my toys the same way other kids my age did. Other kids would bury their toys, take them to the sandbox, you'd see them in the bathroom because they'd play with them in the tub, blow them up, throw them to be forgotten in boxes (I think I'm describing Sid from Toy Story). However, I was always the kid that posed my figures, put them on a shelf, and admired them as art. And you can look at my toys, BUT DON'T TOUCH THEM! I was kind of a little jerk, looking back now...
WHAT SPURRED YOU INTEREST IN TOY COLLECTING?

Well, first, let me just say that I have awesome, amazing parents that never denied me anything, really. There were boundaries, but there was nothing I ever went without. I rarely "wanted". My Mom would always give me incentives to be a better, more creative, or daring person. So, good grades? Mom would take me and my sister Children's Palace (remember that place?) to get a Ninja Turtle figure. Hit a homerun in little league? You can go to Wal-Mart and get that Super Mario Bros the Movie toy (why?). My mom even made a bet with me to ride a specific roller coaster that I was terrified of at our local amusement park, Geauga Lake, to buy me a toy. She had already bought it beforehand (unbeknownst to me), knowing I would be coaxed into riding it, no matter what. Just little things like that serve as terrific memories. I mean, I am super traumatized from riding the Mirage, and I super embarrassed myself by screaming like a howler monkey, pretty sure I peed myself, too-- but, hey, I got the Turtle figure! Man, age 25 was rough. I kid.

So, I always had super supportive parents that nurtured my tendency to collect. But somewhere along the way, I just realized that while I had other friends outgrowing toys, my collecting habits were only ramping up. I'm a completist. So, if I have a favorite comic, or movie, TV show, video game, etc., I need little knick knacks to accompany that. That just progressed naturally into collecting as an adult. My nerd cave is like a museum at this point. But I'm all about nostalgia. If it reminds me of simpler times, I need it!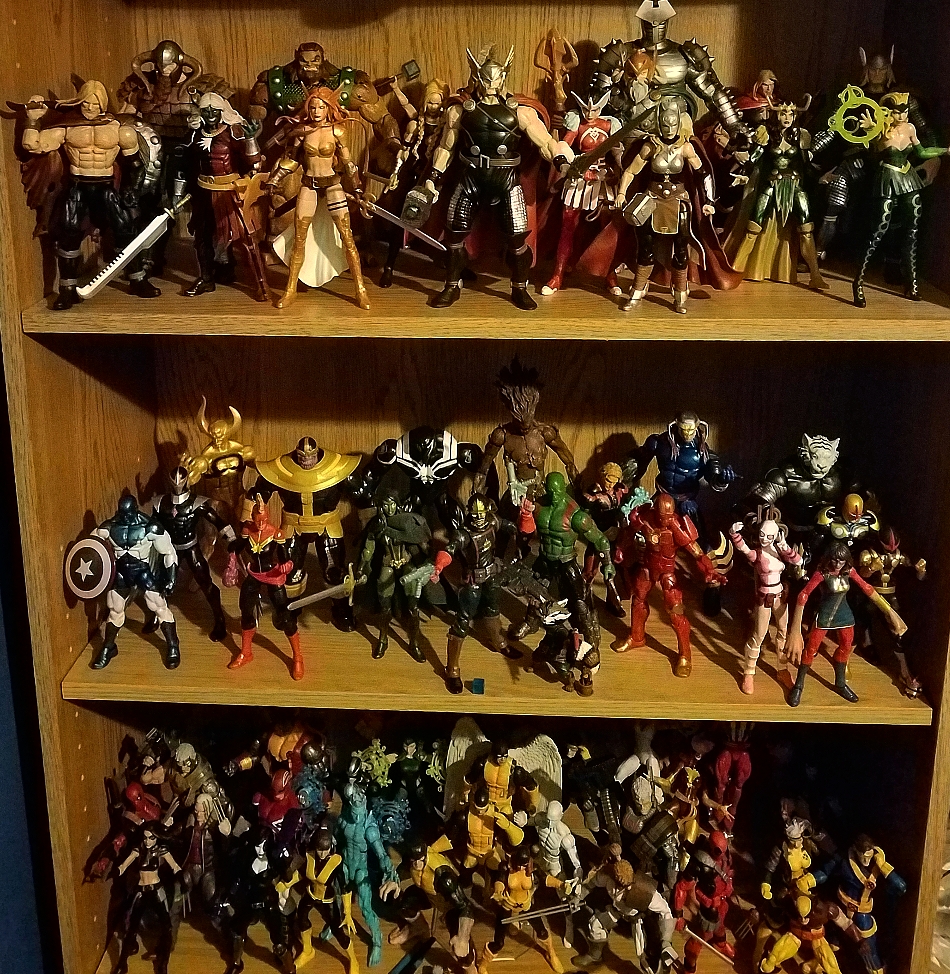 DO YOU COLLECT ANY SPECIFIC LINES OR FRANCHISES?

I am a HUGE fan of Mezco's One:12 Collective line. Save a few figures I didn't get to save precious space, I have every figure in that line. I'm also loving what Storm Collectibles is doing with Street Fighter/Mortal Kombat/Tekken/Injustice. They've quickly risen the ranks. NECA has my heart with their 80's/90's, Ninja Turtles, and Crash Bandicoot stuff. Boss Fight has tapped into every part of my childhood with their Bucky O' Hare stuff. Same goes for DC Collectibles' Batman Animated line. And, of course, how could we ever forget the steadfast, reliable Marvel Legends? What Jesse Falcon and Damon Nee, and now Dwight Stall and Ryan Ting have done and are doing for the line is just…*chef's kiss*.
WHAT ARE YOUR FAVORITE PIECES?
Ahh, that's like picking my favorite child! I have too many. I'll pare it down to 5, in no particular order:
1) The Ghostbusters diorama from Diamond Select. Huge, beautiful, and inexpensive!
2) The NECA SDCC Exclusive Fred Wolf styled Ninja Turtles set (although that might soon be replaced with the upcoming 7 inch scale 1990 movie versions).
3) The DC Collectibles Arkham Asylum Killer Croc. Wanted the guy the day I played the first game in 2009.
4) Cheating here, but every release in the One:12 Collective line. Every single one. You hear me? Every. Single. One.
5) My Storm Collectibles Mortal Kombat Shao Khan with throne. Of course I have him pointing at other Kombatants to let them know that they suck!
WHAT IS YOUR 'HOLY GRAIL' COLLECTIBLE?
Are we talking if I had my own company, or something that already exists?
If it's something that already exists, I would definitely be down for the life sized NECA Deadpool figure. I am a huge Deadpool fan! However, money aside, I have zero space for that guy! Plus, I don't like the idea of walking into a dark room, and scaring the bejeebies out of myself with some strange figure waiting to stab me in the corner because I forgot I owned it.

If I ran my own company, I would put them into bankruptcy to finally have a Reno 911 toyline! That is my holiest of Holy Grails. That is my favorite show of all time (what's up, Chris Tallman??), and I would love to see figures of all of my favorite characters from the show!

I'd also like to see an Indiana Jones, 6 inch scaled, Black series by Hasbro. Reading me here, Hasbro?? That's possibly more feasible than Reno 911. Possibly.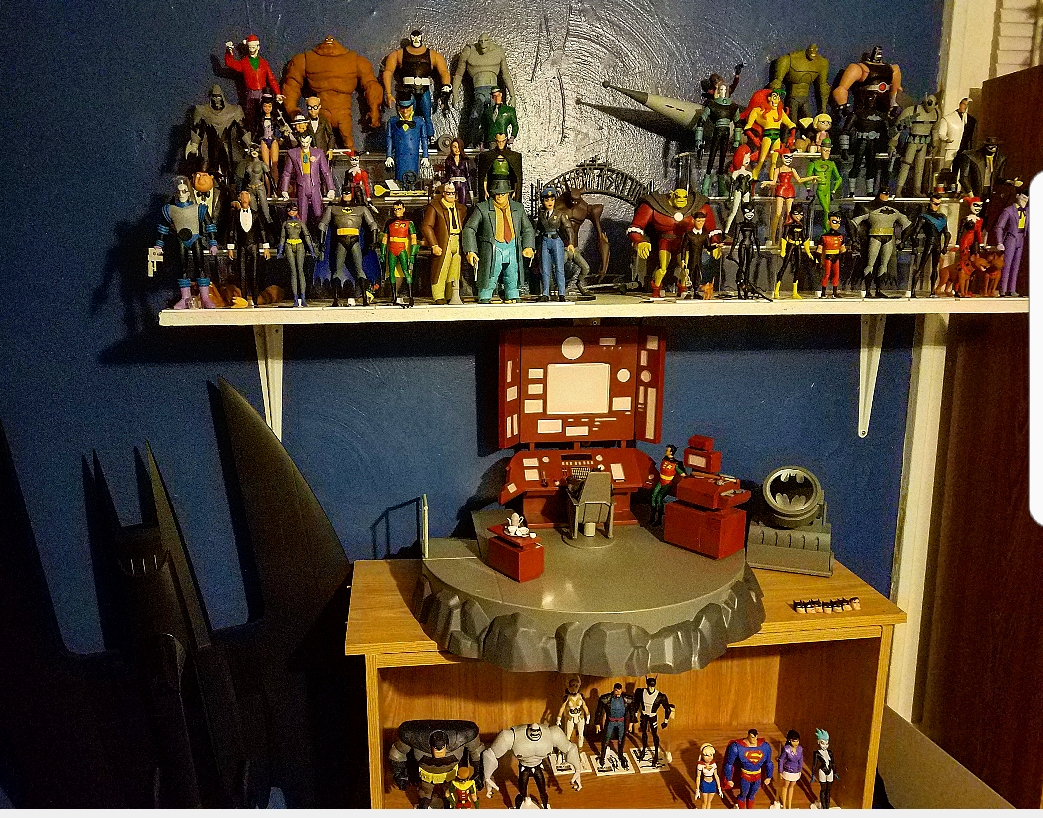 WHAT IS THE INSPIRATION BEHIND YOUR YOUTUBE CHANNEL?
Honestly, guys like Pixel Dan, and Glenn Webb (Rest in Peace). No names, but some of the other guys aren't my cup of tea, but I still respect what they do. I see what they're doing, or they've done, and I want to expound upon that. I'll never be half the reviewer those guys are, so I don't try to be.

So, with that realization, I try to run my things a little differently. I do some reviews, but if there's one thing throughout the years of being a collector, in this day and age of technology, is that I've made friends on the toy industry. And with that, comes the occasional tasty morsel of rumors, gossip, and news. Whereas most of the other YouTube guys do reviews pretty solely, I wanted my stuff to be a little different, and I provide something I always wanted as a collector: more of a mainline to those running my toylines. So, without being a complete jerk and doing my best to not tick any friends off-- giving away secrets that aren't mine to give-- when possible, I provide insight into some of these companies' decisions, or some rumors I've heard in the biz. I call that feature "Action Figure Musings".

I actually have managed to crack a few exclusive "breaking news", like Storm Collectibles doing Injustice, a few things about DC Collectibles, etc. It took some time to earn the reputation of that as a trusted voice, but I think I've gotten to a point now that people know I'm never going to put out false information. And again, walking the fine line of not sharing things I'm not supposed to. I want to be the TMZ of toy news...minus the obnoxiousness. With that, I'm at about 1,000 subscribers now, and I've got the greatest, most loyal subscribers out there, I feel! They keep me going with this!

That also being said, I am working on a few more exciting exclusive news reveals coming up, AND will actually have my very first exclusive, first look review of an action figure line coming out this summer to a VERY popular cartoon (a-woo-ooo, hint hint)!
WHAT ADVICE WOULD YOU GIVE TO TOY COLLECTORS?

1) It is okay, even perfectly acceptable, to like both DC and Marvel. I promise you. Nothing happens if you do. The world won't crack open. You just find that there's more characters out there for you to care about.
2) Enjoy the hobby. That's what it's here for: to enjoy. I never understand the need for constant negativity on message boards (and you know which message boards you are). If this stresses you out, maybe it's time to find a new hobby. It's fun, and we truly live in the golden age of action figure collecting! So, lighten up, have some dip, and enjoy this!
3) Patience. Never, EVER overspend on toys. You're only feeding the pockets of the scalper, not the companies. Most things will be readily available at normal price. So what if you don't get it right away, or you're not the first to get it? You'll likely get it eventually. However, pay attention to the market. Pay attention to the buzz from other collectors. Pay attention to pre-order dates. Certain items will be very popular, become increasingly harder to find, and even more expensive later on. So, if it looks like it's going to be a popular item, that brings me to my final piece of advice:
4) Pre-order. Look, I know most of us like to wait for the best deals, but that doesn't keep toylines alive. I see people complain about the business set-up of companies like DC Collectibles, for example. How toy lines don't get past a certain point, or get cancelled, "I waited until the price dropped", so on and so forth. For certain companies, that won't keep the lights on! If you see something you want, you need, PRE-ORDER IT! And if you want a line to thrive and survive, PRE-ORDER IT! That's the only way to keep this hobby going, especially outside of the mass market.
HOW CAN PEOPLE FIND YOU ONLINE?
Oh, I'm not online. I don't even have a computer...

See? I told you I'm not very funny.
I'm just starting an Instagram page @ricksnerdlife, and of course, my YouTube channel, again, is Rick's Nerd Life!! (but with the exclamations! For excitement!!). I've thought about a Twitter account, but clearly, I'm long-winded, and there's only so many characters on the Tweeters.