Bring On The Bad Guys: Terminator, Hatchet, & A Clockwork Orange
Jun 12, 2018
Egads! Another molotov cocktail that's served as a kids drink. Say it isn't so! Say we don't have to suffer the bad guys again! Yes, sad for all of those within hearing range... you will submit! Your lethal injection of mean is back with this month's rendition of "Bring on the Bad Guys," and once again we show that we don't discriminate because of race, sex, color, or creed. If you're rotten, you qualify. And there are many ways to qualify. It might be that you enjoy kicking cats. It might be that you eat people. Or...maybe it's because you're one of Satan's soldiers. In any event, we flip through the PREVIEWS catalog each month to see who needs to be called out as a deviant, and then we explain why these people … or things … or whatever they are … shouldn't be helped if you see them bleeding in the middle of the street.

Let us begin.
The Terminator: Sector War #1

Everyone who's a Terminator fan knows the story of Sarah Carter. She was the first target of the T800. The woman who held the key to the future. All the T800 had to do was put a bullet in her head to keep her from giving birth, and the machines would no longer be under the threat of having their warranties expire. Yet, things weren't as simple as you were led to believe from the first movie. It turns out there was more than one Terminator sent back in time in 1984 to stop humanity's uprising. Sarah Carter wasn't the only one in the crosshairs. The other target was a woman by the name of NYPD Officer Lucy Castro, and in The Terminator: Sector War #1 (JUN180316) writer Brian Wood delves into the world of Terminator to show how Castro faces off against the relentless T800 with unlikely allies to see her through to dawn. Look for it in the Dark Horse Comics section of the June PREVIEWS catalog!
TMNT: Bebop & Rocksteady Hit The Road #1

Bebop and Rocksteady are probably the two most easily identifiable Teenage Mutant Ninja Turtles villains besides Shredder and Krang. The dimwitted duo are known to fight and mostly fail against the Ninja Turtles for almost thirty years. They've been honored as toys, characters in the 1987 animated series, and later in comics...which brings us to the TMNT: Bebop & Rocksteady Hit The Road #1 (JUN180606) from IDW Publishing. The gun toting rhino and warthog are going gonzo in this new comic series from writer/artist team Ben Bates and Dustin Weaver. They're literally road tripping back to NYC, but a crazy old enemy is bent on derailing their trip before it can begin! Want to see an atom bomb detonate from a safe distance? Check out this new comic series that you'll find in the Premier Comics section of the June PREVIEWS catalog!
Adam Green's Hatchet Volume 1 TP

The best guests to a cookout are those who don't bite off more than they can chew. Nothing worse than a barbecue that goes sideways because the cook gets ticked off. How would you feel if some ignorant squatter loads up his plate full of food that you slaved over to cook, only to see half of that food get chucked into a trash can because the freeloader decided he'd had enough to eat? Want to know how that looks? Similar sentiment can be seen on the face of Victory Crowley, who returns to terrorize comics in a brand new series that's collected in Adam Green's Hatchet Volume 1 TP (JUN181379). Just look at that ugly mug on the cover. Think it speaks to how he's fed up with people encroaching upon his safe space? Filled with over-the-top gore, classic movie monster horror, and a boatload of black humor, this trade collects the first four issues of Hatchet (#0-3). Look for it from American Mythology in the June PREVIEWS!
Venom: First Host #1

There's no place like home. Heard that one before? That's what Dorothy says in The Wizard of Oz, when she clicks her heels together, closes her eyes, and waits for her ruby red slippers to whisk her away so that she's back home safe in Kansas. Turns out that kind of sentiment is shared by more people than just Dorothy if you look hard enough. And if you're willing to turn over the heaviest rock, you'll see that yearning also applies to our favoirite black-hearted symbiote in Venom: First Host #1 (JUN180823) from Marvel Comics. In this new series, reunited writer/artist team of Mike Costa and Mark Bagley create a tale in which cosmic catastrophe can only be avoided if Eddie Brock and the symbiote can trust one another long enough to save the galaxy. It is an alliance of convenience. There is no good will in their synergy, which is why the FIRST HOST may prove to be Venom's undoing! Look for Venom: First Host #1 in the June issue of Marvel PREVIEWS!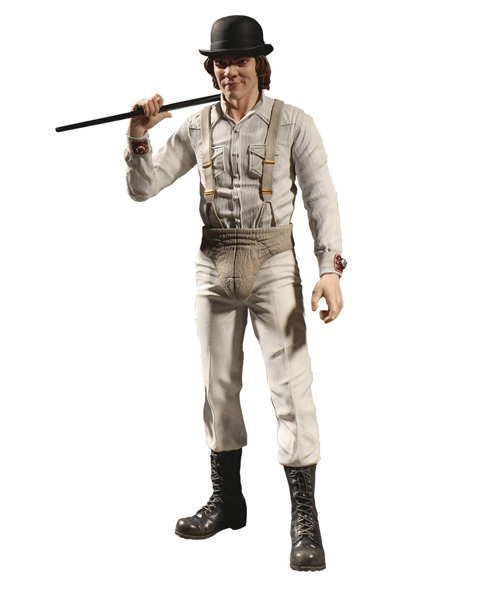 A Clockwork Orange Alex DeLarge 12-Inch Vinyl Figure

The archetypal anarchist whose brand of revolution is increasingly being seen as some sort of template for world domination! Are multinational sociopaths finally getting around to voting on the genius of this derby deviant? Or is it that what goes around comes around? The fact is that when presented with A Clockwork Orange Alex DeLarge 12-Inch Figure (FEB188858), you may be incensed to wreak havoc on the local population. Actor Malcolm McDowell's portrayal of a naughty and not nice ruffian has long survived after the theater run for Stanley Kubrick's classic movie. This figure captures the malevolent Alex in all his deadly glory, complete with a removable masquerade mask and cane with a removable top, revealing a hidden knife. No detail is left out, from his suspenders and codpiece, to his iconic eyeball cufflinks. Look for this cinematic collectible in the Toys/Statues/Models section of the June PREVIEWS catalog!
And once again we've done our job for the month, showing you our list of unforgivable irredeemables! Go out and pick up a copy of the June PREVIEWS, and let us know your favorite villains, and who YOU want to pit against each other in a fight to the death. Hit us up on Facebook or Twitter, and let us know about your favorite bad guys.
See you next time, fellow degenerates!