Dynamite's Project Superpowers Returns With A 10¢ Debut
May 24, 2018

Dynamite Entertainment has announced their biggest launch of the year: Project Superpowers #0 (MAY181006) at the special introductory price of $0.10 cents. The series will feature an all-star line-up of cover artists, and the super-low price is in celebration of the 10th anniversary of the titles original debut in 2008. Heading up the new series is the fan-favorite creative team of writer Rob Williams (Suicide Squad, Harley Quinn) and artist Sergio Davila (Injustice, Superman). This special #0 issue hits comic shops this July, and is the perfect read-in for new readers.
An all new threat faces the Earth, while the team faces turmoil from within and must overcome all obstacles to prove their worth and value in a world that desperately needs its heroes. The Black Terror, The Death-Defying'Devil, Sampson, Masquerade, Green Lama, Scarab and more are all here as the adventure begins again.
Dynamite talks to Project Superpowers writer Rob Williams about exploring the world of Golden Age heroes, the characters he loves to write, and how this title sets up a new chapter for this world of heroes.
**********************************
Dynamite: Project Superpowers is a unique property, pulling in a variety of Golden Age heroes originally published by different publishers. How familiar were you with these heroes before getting involved in the project? What made you want to do it?
Rob Williams: To be honest, not enormously familiar, so a quick bout of research was the order of the day. I was aware of the Alex Ross - Krueger mini a few years back, and the Warren Ellis take. There's a bunch of fun to be had detailing a relatively new shared superhero universe. And I like the guys at Dynamite. So that appealed.
Dynamite: What can you tell us about your take on these characters and the themes of the upcoming series? Are we focused on a team of heroes or on a world full of heroes?
Rob Williams: The cast in the Ross-Krueger series was vast, so I wanted to streamline them a bit. I've spent the last couple of years writing a team book for DC and I know how easy it is to lose the important character focus if it's an army of characters. So it was a case of choosing the team members that I thought I could have some fun with. And then it's really trying to make them feel contemporary and 2018. As you say, their origins are Golden Age. Their history is WW2 which makes them kind of Justice Society-esque in their DNA. I wanted to ask questions about the validity of superheroes in a non-binary world, where good and evil is a lot more fragmented than it was in the '40s. But most of all, it has to be exciting and a fun read.
Dynamite: There are a lot of characters you can use in this series, which ones did you focus on and why? And what about the threats they're facing? Are we doing to see any of the classic villains?
Rob Williams: In our new #0 you'll see we're introducing the new world via The Devil (Death Defying) and Green Lama. We'll flash back to introduce new readers to the team's World War 2 origins and how they were brought to the present via imprisonment in pandora's box. And then it's introducing a brand new threat. One not so rooted in their history. The main players, which include The Scarab, Masquarede, Black Terror, are going to have to form a new incarnation of the team. And The Spirit Of the American Flag is hovering, watching, judging… A new host is going to be taken.
Dynamite: There have been a couple different approaches to this title, from the original run by Jim Krueger and Alex Ross, to Warren Elli's Black Cross run to Ryan Brown's Hero Killer. They have seemed to have different tones and style. Does your series play off any of the previous ones or are you building something new? Did the previous series influence you in anyway?
Rob Williams: I'm going for classic superheroics with a contemporary feel. Treat it like we've just been given a Project Superpowers movie with a budget that would cripple a South American nation. This is a story with a definite start-middle-end.
Dynamite: Does your approach to writing change any when you're dealing with a group of heroes rather than working on a solo character? How does writing a script for Project Superheroes differ from Suicide Squad and how is it similar?
Rob Williams: They're both team books and what isn't talked about enough is how hard team books are to write. How the bigger the cast gets, the harder it is to create emotion for the reader. Those classic runs we all love on Uncanny X-Men, Justice League International etc - that's some alchemy. I do think writing a solo character's book is easier. We know who the lead is. With a team book you have seven leads, and the moment you put the focus on one or two, you're ignoring the others.
Dynamite: There is a nostalgic appeal to these characters, but for many people they may have never seen them. In a sentence or two, why should someone who knows nothing about these characters want to pick up Superpowers #0?
Rob Williams: Because if we do it right - and we're working on it - it'll remind you just how much fun superhero comics can be, and why they became so popular in the first place.
Check out an early look at some interior art for Project Superpowers #0 (MAY181006) and preorder the issue and Project Superpowers #1 (JUN181001) now at your local comic shop!
---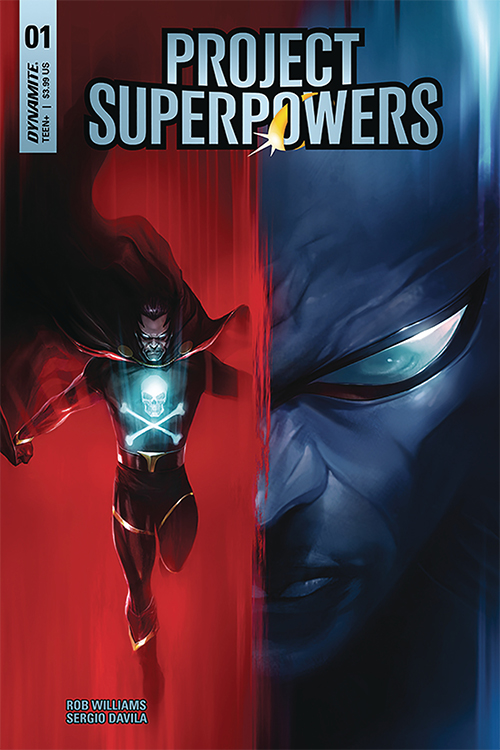 Project Superpowers #1 (JUN181001)