DC Collectibles May PREVIEWS Roundup
May 13, 2018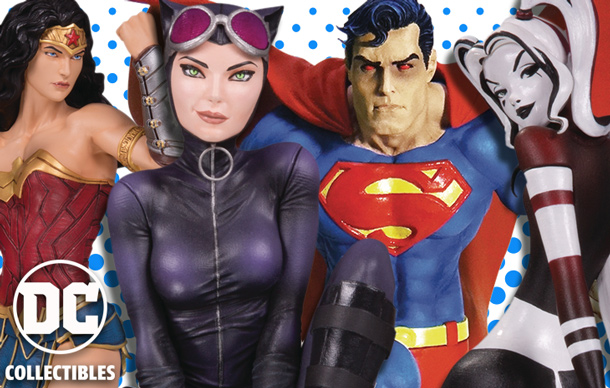 DC Collectibles is offering tons of new statues, as well as new additions to the Doomsday Clock action figure line, in the May PREVIEWS catalog.
Check out everything they're soliciting below and be sure to pre-order at your local comic shop!
DC ARTIST ALLEY CATWOMAN SHO MURASE PVC FIG (MAY180602, $40.00), DC ARTIST ALLEY CATWOMAN SHO MURASE HOLIDAY PVC FIG (MAY180603, $40.00), DC ARTISTS ALLEY HARLEY SHO MURASE PVC FIG (MAY180604, $40.00), DC ARTISTS ALLEY HARLEY SHO MURASE HOLIDAY PVC FIG (MAY180605, $40.00), DC ARTISTS ALLEY POISON IVY SHO MURASE PVC FIG (MAY180606, $40.00), DC ARTISTS ALLEY POISON IVY SHO MURASE HOLIDAY PVC FIG (MAY180607, $40.00)
DC Collectibles invites you to walk Artists Alley, where Harley Quinn, Catwoman and Poison Ivy have never looked so cool. Inspired by the comic convention experience, DC ARTISTS ALLEY is an artist-focused limited-edition vinyl figure line that merges indie design with the most iconic characters in the DC Universe. Sho Murase is half Japanese and half Korean. She grew up in Europe and has been living in San Francisco, California for the past 10-plus years. This mix of cultures is reflected in her work, merging Asian, manga and Western art influences with a personal, dark twist. Sho has been working for advertising/animation/entertainment industries, making style guides, pitch packages and design work. In her spare time, she works on her personal art. Her artwork has been exhibited at the German Film Museum in Frankfurt and the Louisiana Modern Art Museum in Denmark, among other places.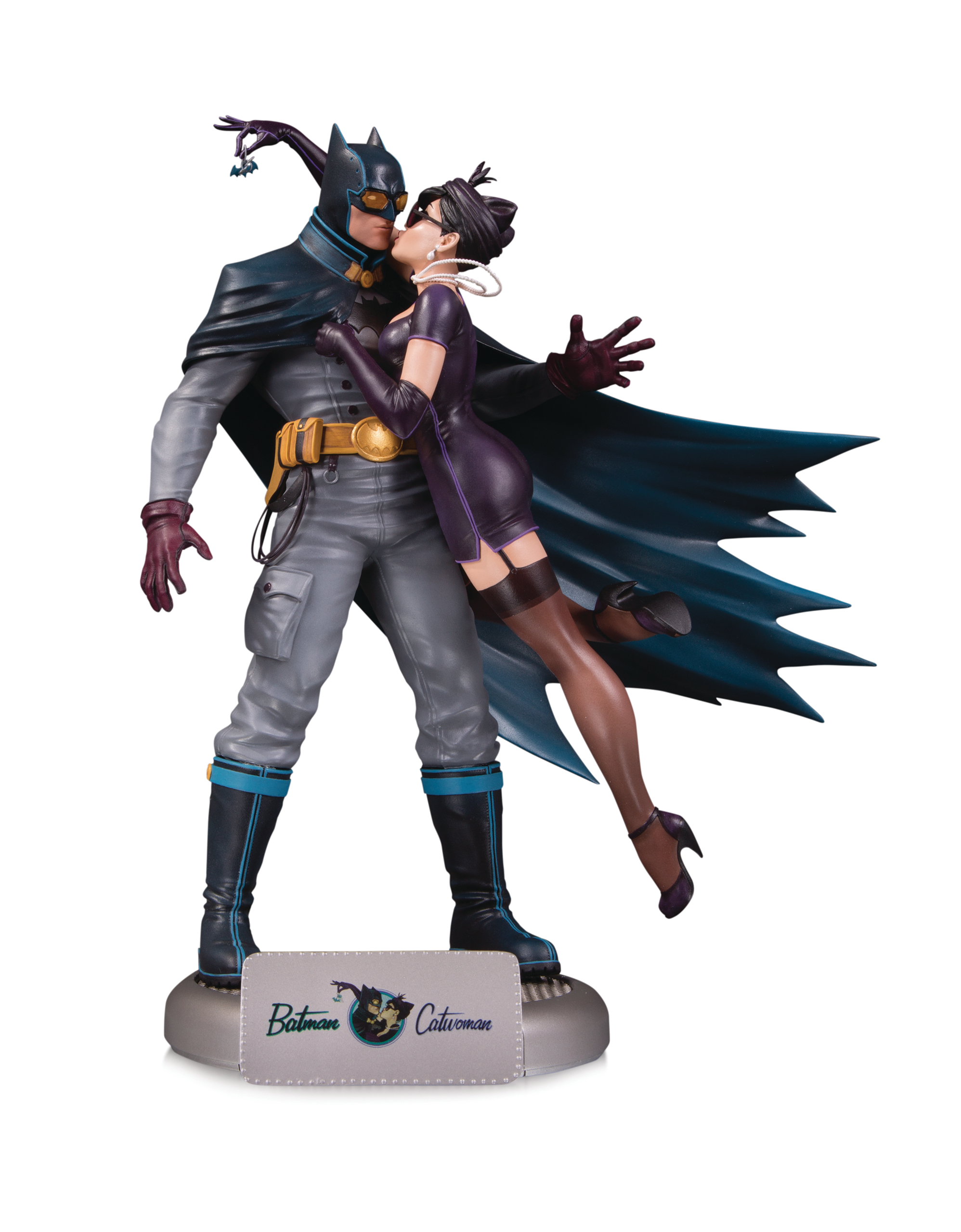 DC COMICS BOMBSHELLS BATMAN & CATWOMAN STATUE (MAY180613, $250.00)
This DC BOMBSHELLS statue presents a 1940s spin on a comic book romance that has spanned generations. Inspired by the art of internationally renowned designer and illustrator Ant Lucia and sculpted by Jack Mathews, this statue may look like Catwoman's going in for a kiss, but a closer look at her hands shows her sights set on the Batmobile! This statue measures approximately 11" tall and is limited to 5,000 pieces. Inspired by vintage pinup art, the DC BOMBSHELLS statue line features DC superheroes during World War II and launched the DC Comics series of the same name.
DC CORE BATGIRL PVC STATUE (MAY180615, $50.00)
DC COLLECTIBLES gets you to the core of some of DC's most beloved (and sometimes most feared) characters of all time with this BATGIRL DC CORE statue.
DC CORE is a line of 9" premium PVC statues that feature dynamic poses atop integrated character-specific bases and give fans a way to proudly display their favorite DC characters at home, at work, or wherever they want to showcase their fandom.
DC COVER GIRLS CATWOMAN BY JOELLE JONES STATUE (MAY180610, $125.00)
Selina Kyle comes to life in this DC COMICS COVER GIRLS statue by Eisner Award-nominated artist Joëlle Jones! This gorgeous DC COMICS COVER GIRLS CATWOMAN by Joëlle Jones statue measures approximately 9" tall and is a limited edition of 5,000 pieces. DC COVER GIRLS statues feature new renditions of the amazing female characters of the DC Universe in the styles of some of DC's most popular artists.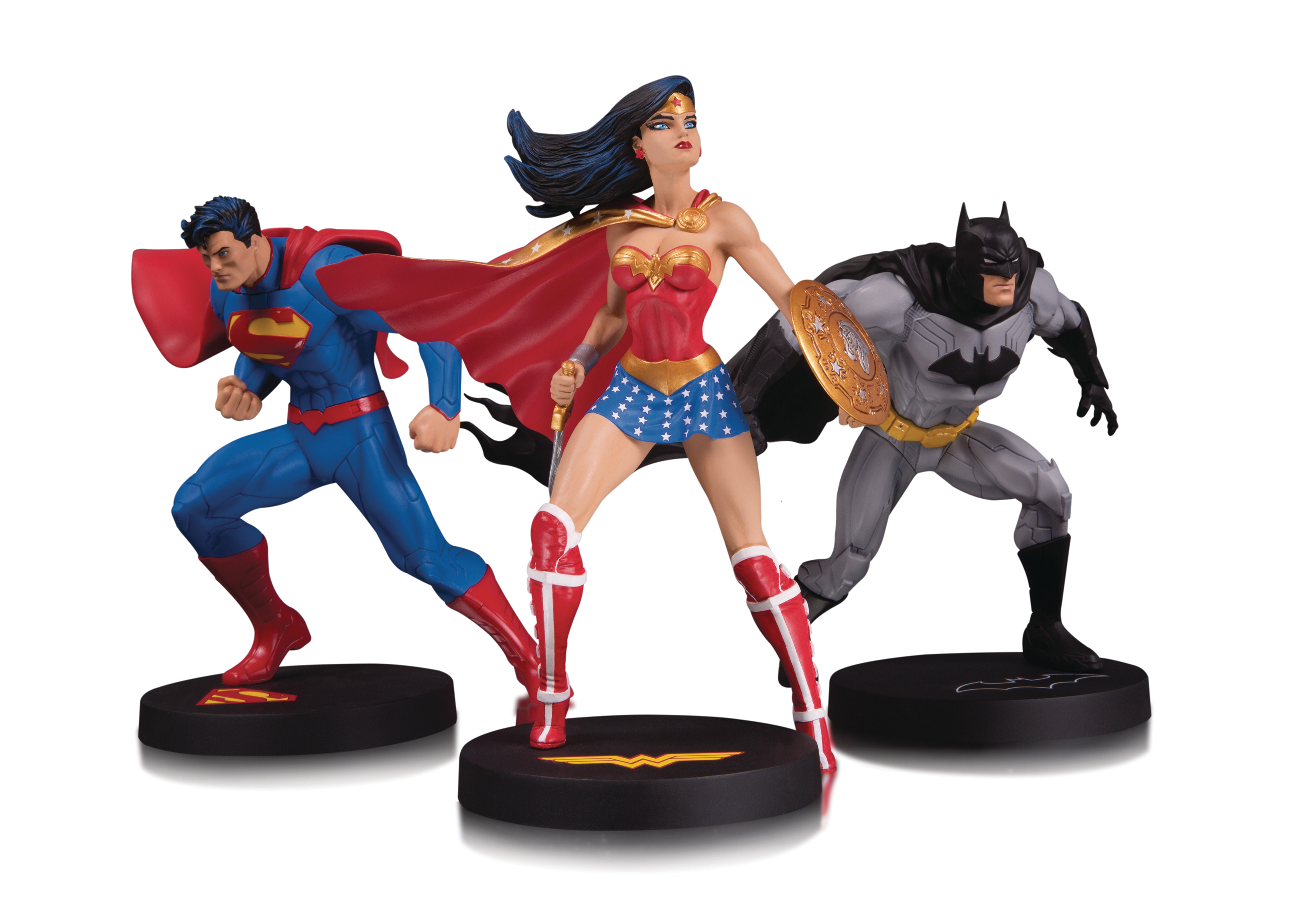 DC DESIGNER SER JIM LEE COLLECTOR 3 PACK STATUE SET (MAY180601, $175.00)
DC's Trinity is shown prepped for battle in this beautifully detailed 3-pack statue set from iconic DC artist Jim Lee. Part of the DC DESIGNER SERIES, Superman, Batman and Wonder Woman all stand with one foot on their bases sporting their respective iconic symbols. Each statue measures approximately 7" and is limited to 5,000 pieces.
DC DESIGNER SERIES statues are based on art from the comics industry's top creators and re-create their vision in vivid 3-D detail.
DOOMSDAY CLOCK COMEDIAN MARIONETTE AF 2 PACK (MAY180612, $50.00)
DC COLLECTIBLES brings to life the characters featured in the smash-hit comic book series DOOMSDAY CLOCK by GEOFF JOHNS and GARY FRANK. This 2-pack action-figure pairing of THE COMEDIAN and MARIONETTE depicts the worlds of the DC Universe and WATCHMEN colliding for the first time! These figures are in a 6.75" scale and are loaded with very dynamic articulation points.
HARLEY QUINN RED WHITE & BLACK STATUE BY MICHAEL TURNER (
MAY180608, $80.00)
DC Collectibles continues to celebrate MICHAEL TURNER's incredible art by bringing to life his HARLEY QUINN: REBIRTH #1 variant cover depiction of the queen of a criminal empire, in the popular HARLEY QUINN RED WHITE & BLACK statue series.
Rendered in her classic outfit, this 7" poly-resin statue is limited to just 5,000 pieces and includes the trademark HARLEY QUINN: RED, WHITE & BLACK symbol base.
TEEN TITANS RAVEN MULTI PART STATUE (MAY180611, $80.00)
RAVEN is known as a member of the TEEN TITANS and now serves as one of seven multi-part statues that, when combined, re-create the iconic NEW TEEN TITANS #1 cover by comics legend GEORGE PÉREZ.
This 6" poly-resin statue sculpted by JOE MENNA is limited to 5,000 pieces and is suited to be displayed alone as an expression of your favorite character or combined with the interlocking statues of ROBIN, STARFIRE, BEAST BOY, CYBORG, KID FLASH and WONDER GIRL to tell the story of this epic young superhero team.
DC DESIGNER SERIES SUPERMAN BY JIM LEE STATUE (MAY180600, $150.00)
Legendary artist Jim Lee's iconic take on the Man of Steel has been immortalized as a statue in the DC DESIGNER SERIES. Measuring approximately 12" tall and sculpted by Djordje Djokovic, Superman glides through the air, fists clenched, ready for anything.
BATMAN BLACK & WHITE THE BATMAN WHO LAUGHS STATUE (MAY180609, $80.00)
Ripped from the pages of DARK NIGHTS: METAL comes the Batman Who Laughs, a striking version of the Caped Crusader who makes nightmares shudder. Sculpted by Jonathan Matthews from the face-melting design by Greg Capullo, this statue is limited to 5,000 pieces. The BATMAN BLACK & WHITE line brings to life interpretations of the World's Greatest Detective and select Gotham City characters from the comics industry's brightest stars.
DC CORE WONDER WOMAN PVC STATUE (MAY180614, $50.00)
Wonder Woman, Amazon royalty and the protector of Earth, comes to life in this stunning statue from the DC CORE line, sculpted by Dave Cortes. Wonder Woman stands battle-ready as her indestructible bracelets deflect an onslaught of bullets. The statue captures Diana's majesty and courage in the face of attack, wearing her warrior outfit including her signature tiara and double-W insignia.