Diamond Select Toys May PREVIEWS Roundup
May 06, 2018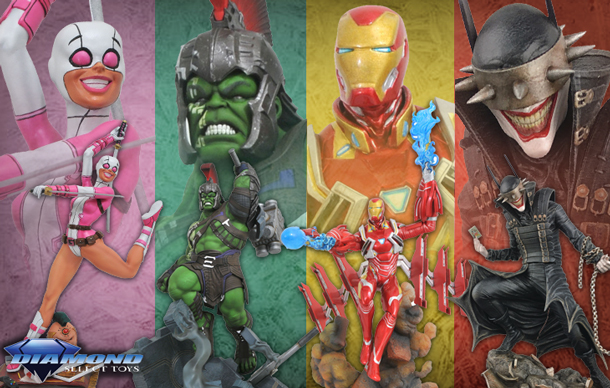 Diamond Select Toys is offering tons of new releases in the May PREVIEWS catalog!
From new statues to Minimates and Vinimates, take a look below at everything Diamond Select Toys has available to pre-order.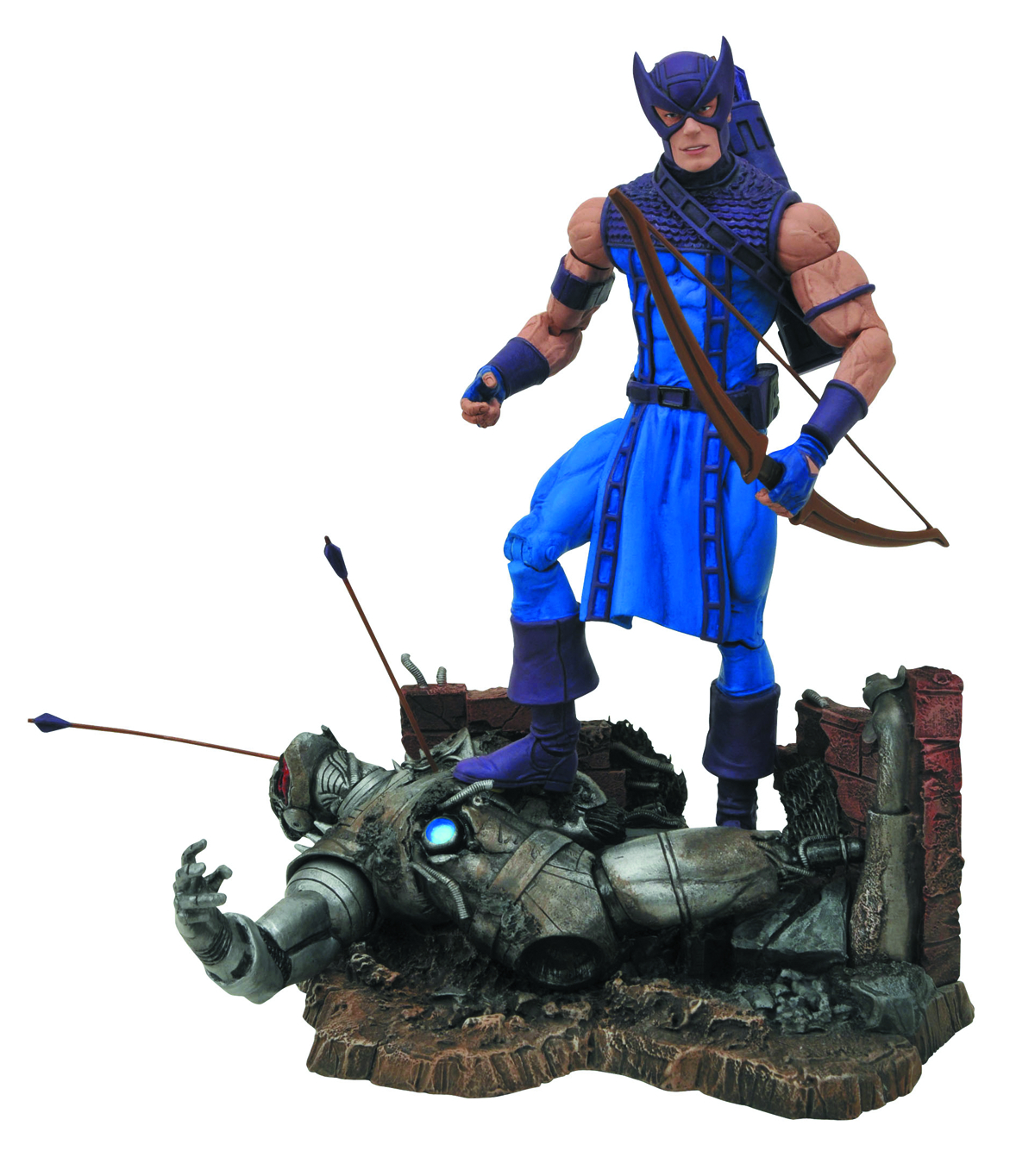 MARVEL SELECT CLASSIC HAWKEYE AF (OCT131851, $24.99)
Sculpted by Jean St. Jean! The eagle-eyed Avenger Avenger has returned to the Marvel Select line in his classic incarnation, as a fully articulated 7-inch action figure with 16 points of articulation! This comic-based Hawkeye figure includes his bow, multiple arrows (including one with the Wasp perched on it) and a detailed display base featuring the fallen form of Ultron. All are packed in the famous Marvel Select display packaging.
The epic line of resin busts based on the classic Batman TV Series continues, with the show's single most important character - Alfred! The sole keeper of Batman and Robin's secret identities, Alfred kept house at Wayne Manor and assisted Master Bruce and Master Dick whenever they needed him. This 6-inch bust comes armed with a feather duster, and sits atop a pedestal base inspired by the show's opening credits. Limited to 3,000 pieces, it comes packaged with a certificate of authenticity in a full-color box. Hand-sculpted by Jean St. Jean!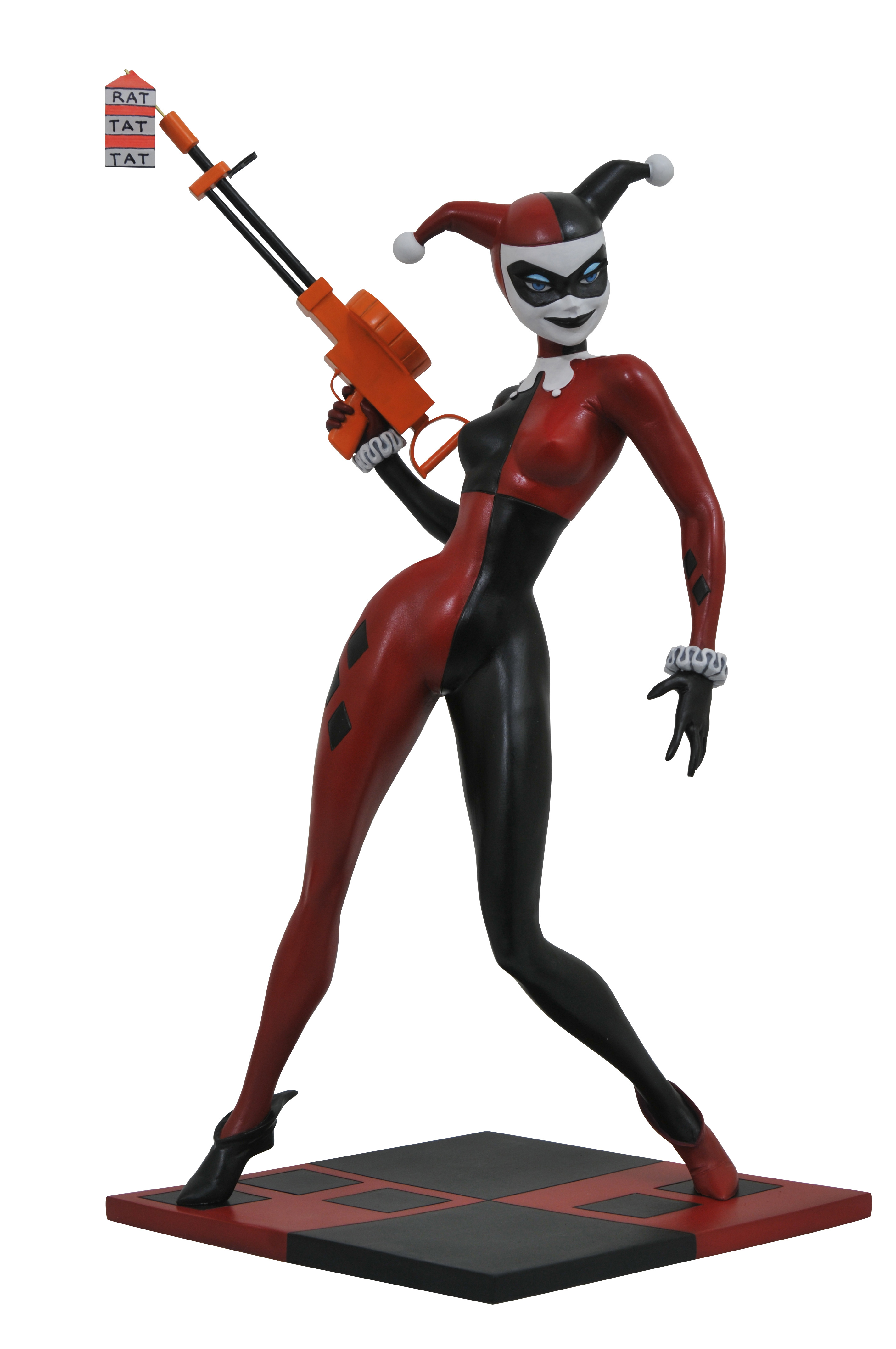 DC PREMIER BATMAN TAS HARLEY QUINN STATUE (MAY182302, $150.00)
There's nothing like the classics! As many costume changes as Harley Quinn goes through, we always come back to the harlequin suit she wore when she debuted on Batman: The Animated Series. Measuring approximately 12 inches tall, this all-new sculpture captures her classic costume in the animated style, in a limited edition of 3,000 pieces. Each comes with a certificate of authenticity in a full-color, hand-numbered box. Hand-sculpted by Clayburn Moore!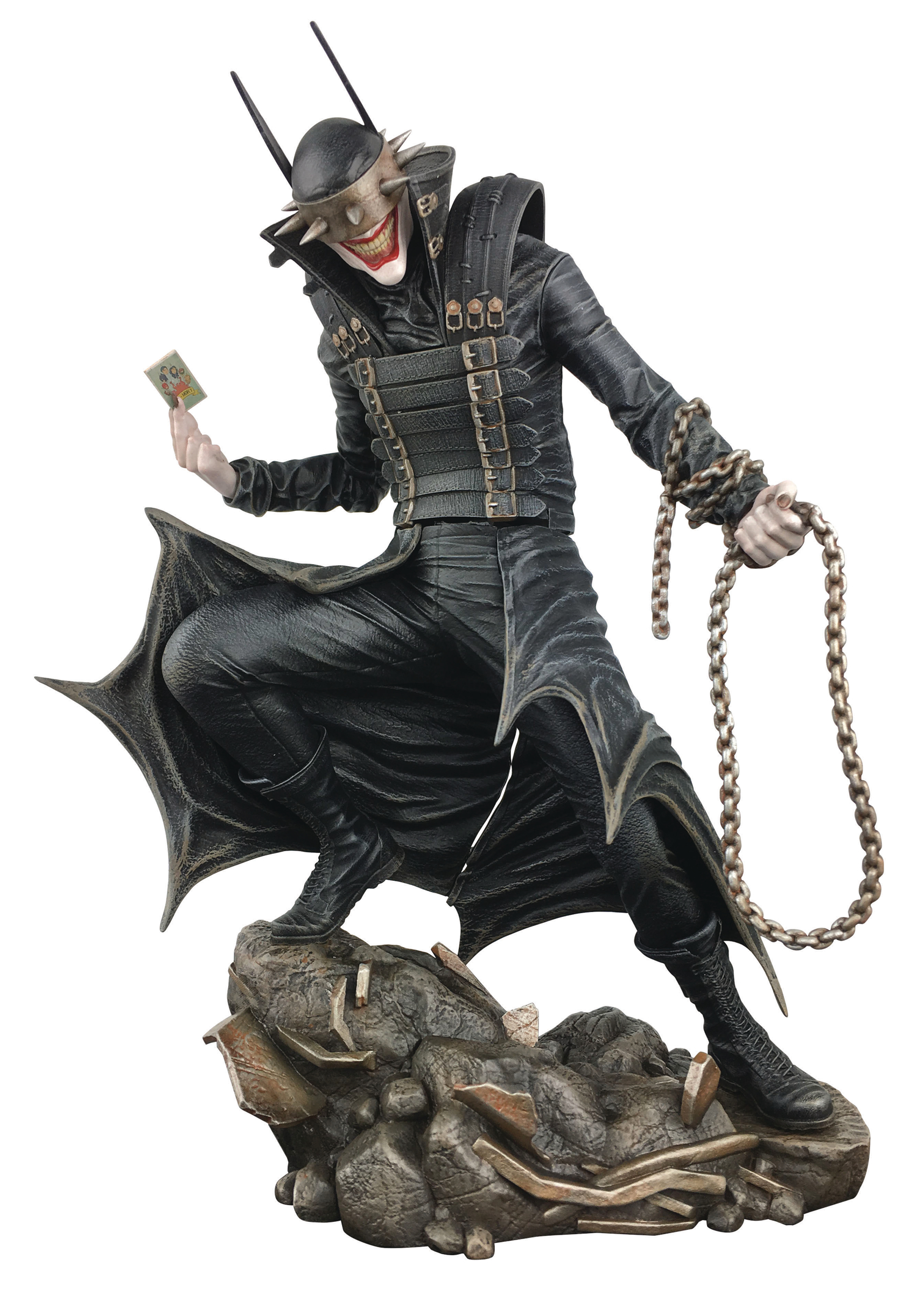 DC GALLERY BATMAN COMIC WHO LAUGHS PVC STATUE (MAY182303, $45.00)
A Batman who laughs is a Batman who wins! From the pages of Dark Nights: Metal comes the Batman Who Laughs, the leader of the Dark Knights, a team of evil Batmen from across the multiverse. This fully Jokerized Batman stands about 9 inches tall, and features a detailed sculpt with exacting painted details. The high-grade plastic statue comes packaged in a full-color window box.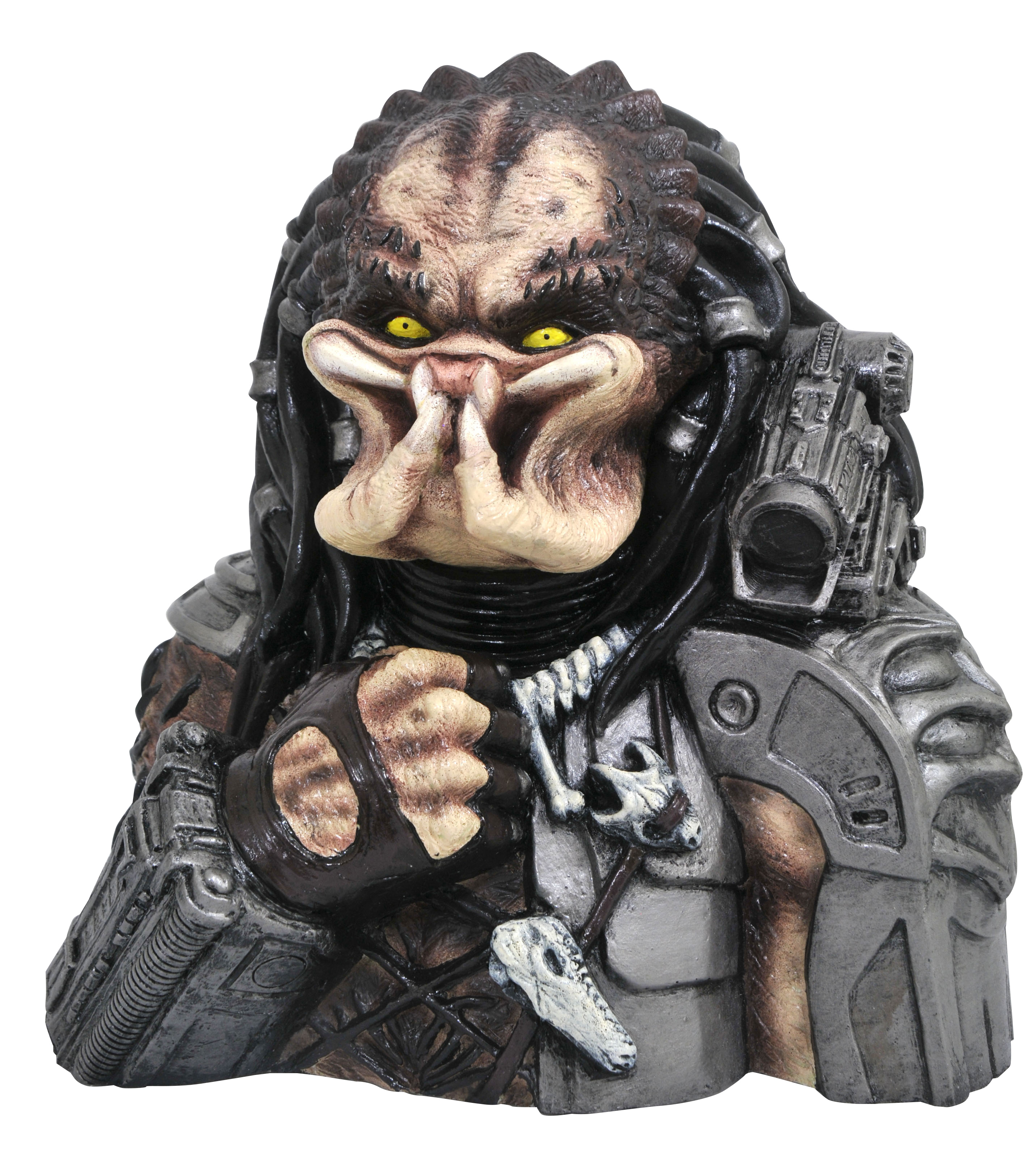 The jungle savagery of the Predator franchise meets the animal hunger of the kitchen with this new Predator ceramic cookie jar. Depicting the Yautja's classic appearance in the original 1987 film, this roughly 12" cookie jar has a removable head for snack (or spine) storage. The perfect companion to Diamond Select Toys' ceramic Alien Xenomorph Cookie Jar, or to display on its onw! Sculpted by Eli Livingston.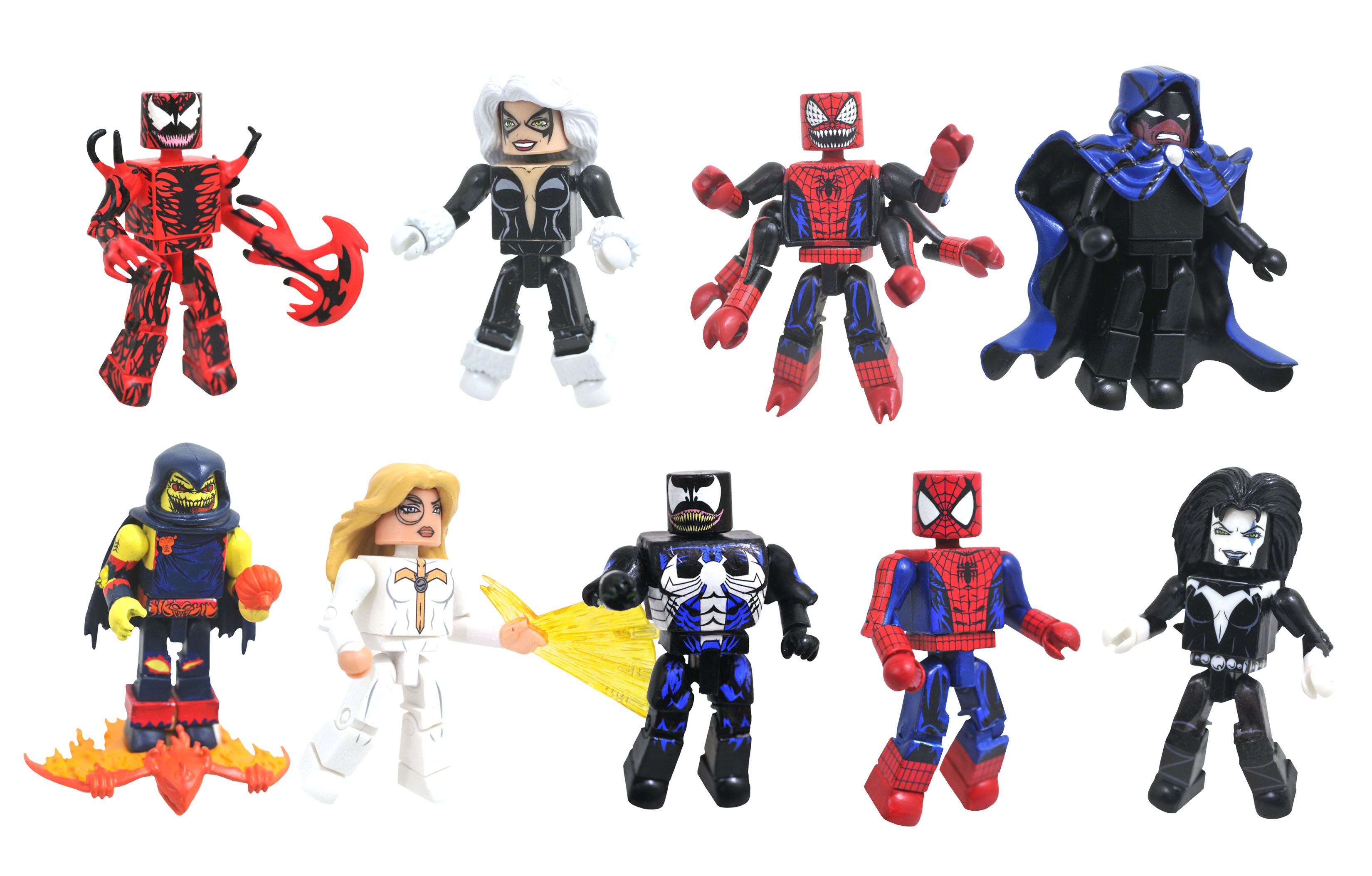 MARVEL MINIMATES SERIES 76 ASST (MAY182308, $9.99)
Let the carnage commence! Celebrating its 15th year, the Marvel Minimates line has dedicated its 76th assortment to the epic Spider-Man crossover, Maximum Carnage! Four specialty-exclusive 2-packs make up the assortment - Spider-Man with Black Cat, Venom with Doppelganger, Carnage with Demogoblin and Cloak with Dagger - and if you collect all four you get the pieces to build Shriek! Each 2-inch Minimates mini-figure features 14 points of articulation and fully interchangeable parts. Designed by Barry Bradfield.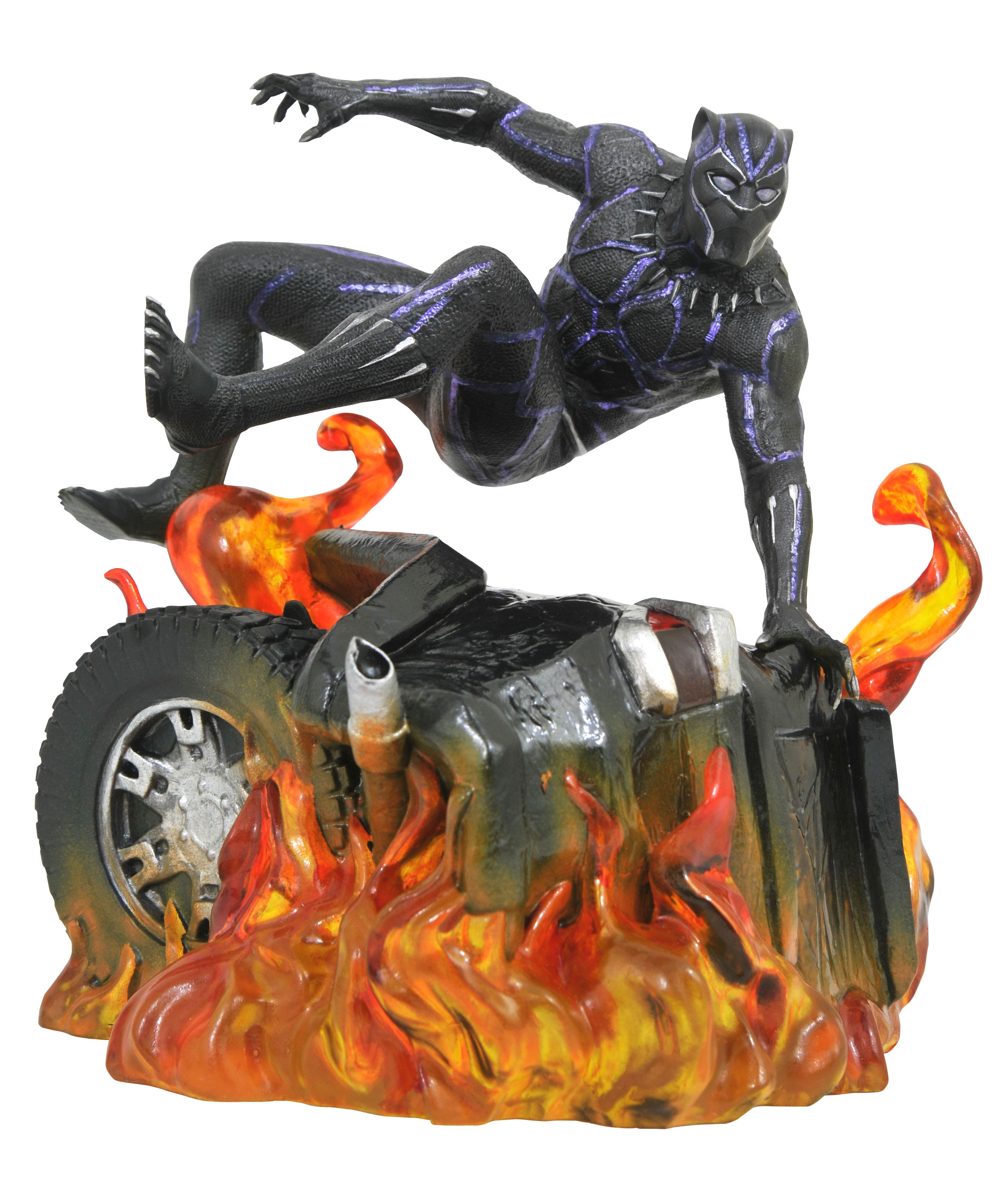 MARVEL GALLERY BLACK PANTHER MOVIE V2 PVC STATUE (MAY182305, $45.00)
How hot is your Gallery? The Black Panther braves the flames to become the newest PVC Diorama in the Marvel Gallery line! Vaulting over the flaming wreckage of a car chase gone bad, T'Challa is sculpted in a 9-inch scale and cast in opaque and translucent plastic for a realistic flame effect. Featuring detailed sculpting and paint details, the diorama comes in a full-color window box.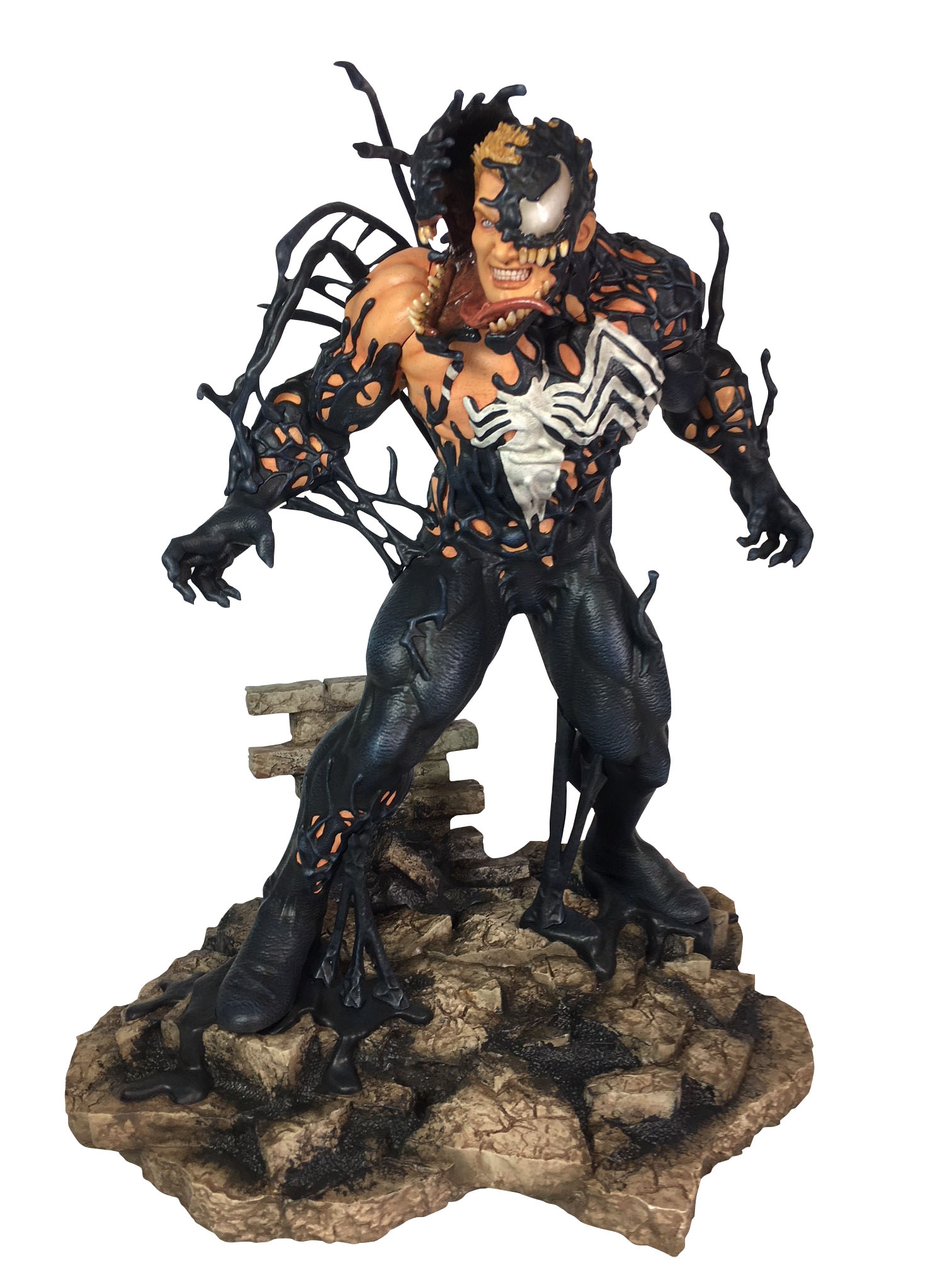 MARVEL GALLERY VENOM COMIC PVC STATUE (MAY182304, $45.00)
Can you smell what the Brock is cooking? Peter Parker-hating Eddie Brock reunites with his partner in hate, the alien symbiote, to become Venom once more in the latest Marvel Gallery PVC Diorama! Measuring approximately 9 inches tall, this sculpture depicts Venom mid-merge, with Brock visible under the symbiote, and is made of a high-grade plastic with detailed sculpting and paint applications. Diorama comes packaged in a full-color window box.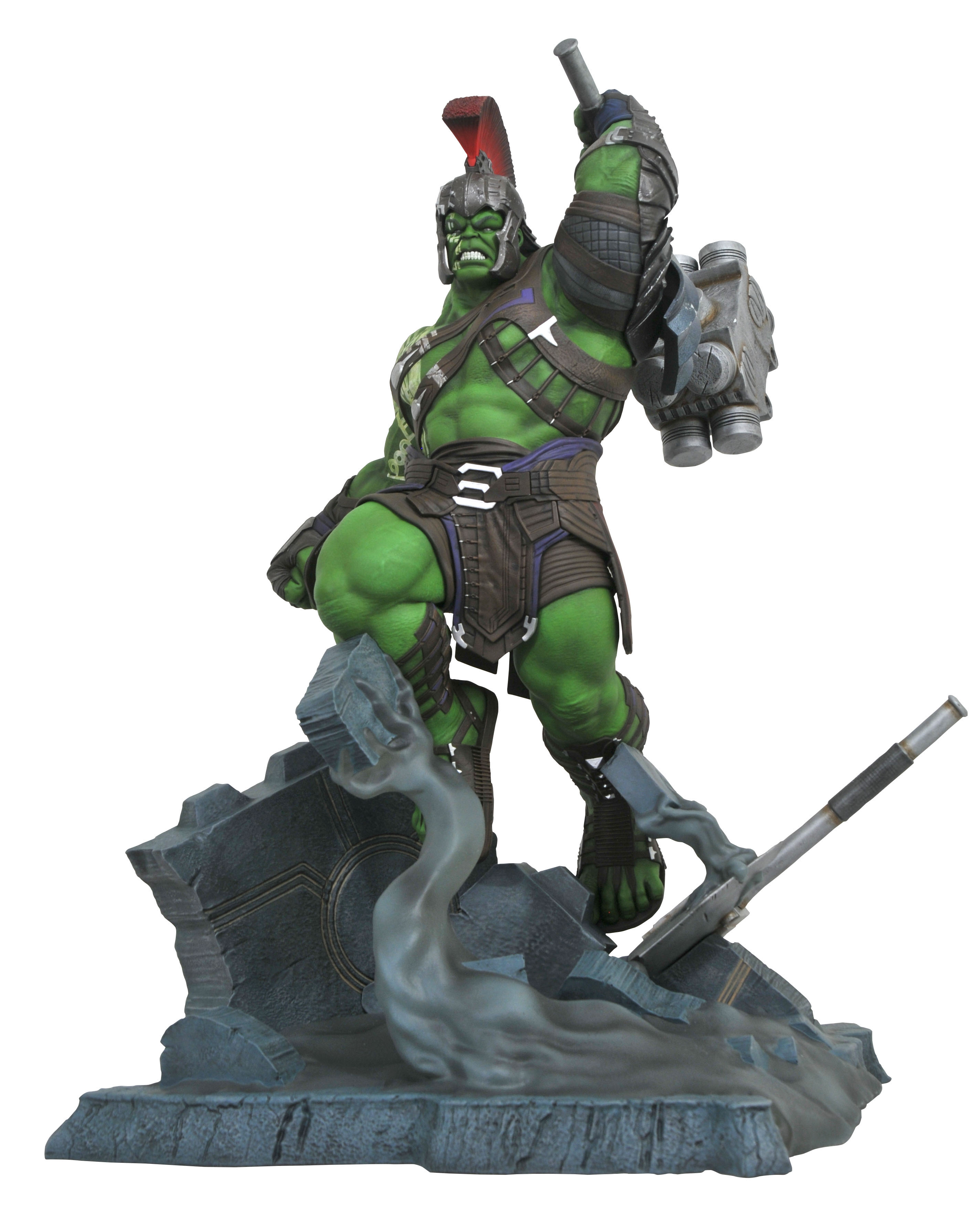 MARVEL MILESTONES THOR RAGNAROK GLADIATOR HULK STATUE (MAY182309, $299.99)
This is the big one! Clocking in at approximately 24 inches, this Milestones statue of the Hulk as he appeared in Thor: Ragnarok is one of the biggest DST has ever made! Limited to an edition of only 1,000, this resin statue can be displayed on its own or join with the upcoming Gladiator Thor statue to form a scene from the movie! Each statue comes packaged with a certificate of authenticity in a full-color, hand-numbered box.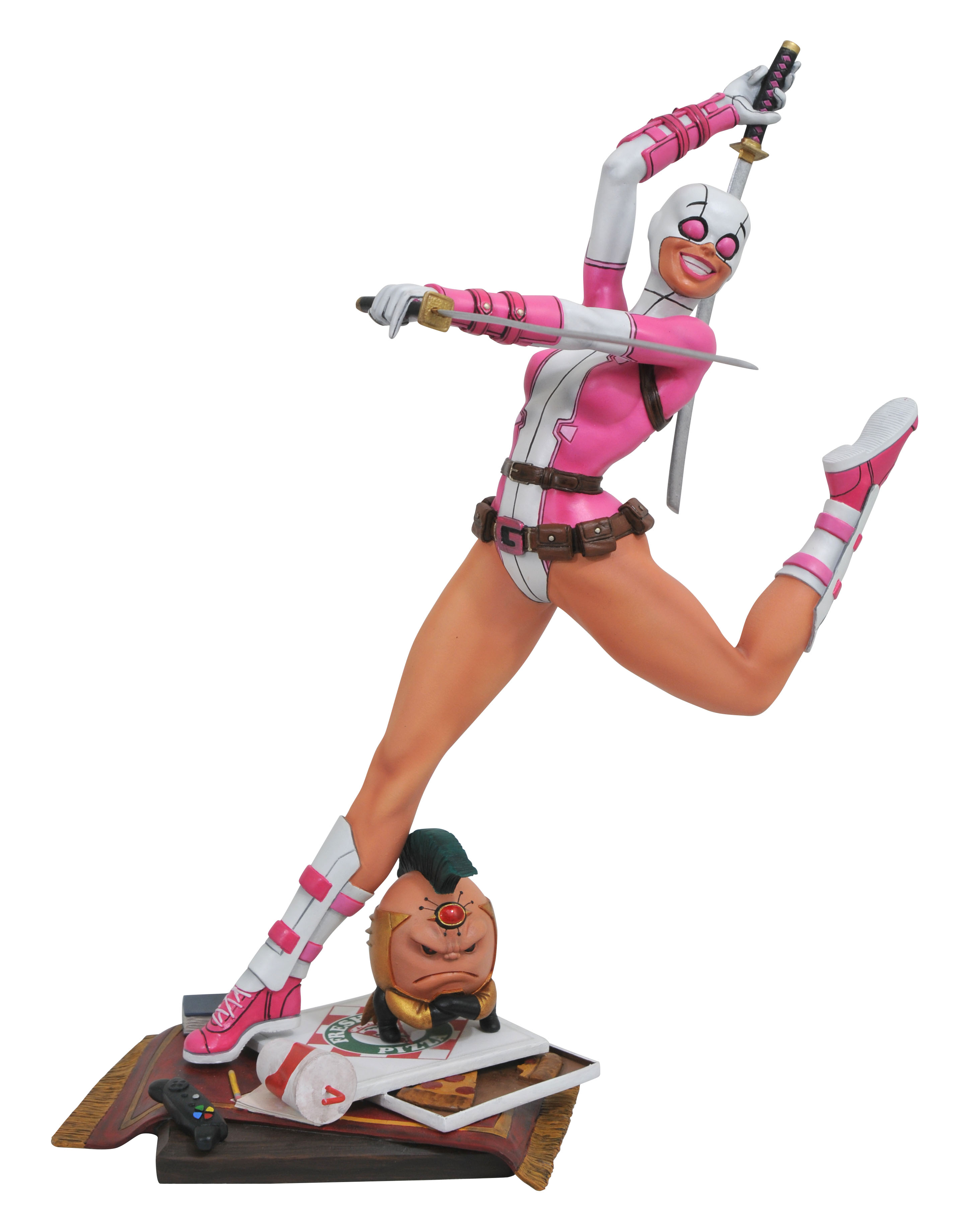 MARVEL PREMIER GWENPOOL STATUE (MAY182306, $150.00)
The Merc with a Smirk leaps into the Marvel Premier Collection with this dynamic sculpture! The death artist formerly known as Gwen Poole wields twin katanas as she lands a jetée amid pizza boxes and tiny MODOKs in this limited edition 12-inch-scale statue. With only 3,000 pieces made, the statue comes packaged with a certificate of authenticity in a full color box. Hand-sculpted by Clayburn Moore!
NBX SELECT AF SERIES 6 ASST (MAY182293, $24.99)
Christmas is coming, and the gifts are grotesque! The hit NBX action figure line from DST continues with a sixth assortment, featuring characters and accessories only available on the specialty market! Three different multi-packs make up the series, including Sally with the Mummy Boy and Hanging Tree, the Clown with the Undersea Gal and her tank, and the Harlequin with the Devil and another piece of the gift-making table - combine it with the pieces from Series 5 to form a larger diorama! Each set comes packaged in display-ready Select packaging with side-panel artwork. Sculpted by Cortes Studio.
NBX CAULDRON SALLY DLX COFFIN DOLL (MAY182295, $75.99), NBX PODIUM JACK DLX COFFIN DOLL (MAY182294, $74.99)
The Coffin Dolls line just got super-sized! Just in time for the 25th anniversary, these two new releases of Jack and Sally from Tim Burton's
The Nightmare Before Christmas
feature new facial expressions and new accessories - a podium for Jack and a cauldron and spoon for Sally! Each 14" scale doll features a real cloth costume and multiple points of articulation, looking like it just stepped off the big screen! Each comes packaged in an oversized coffin-shaped window box.
NBX TOWN HALL FOUNTAIN DLX MINIMATES BOX SET (MAY182296, $24.99)
Hear ye, hear ye! The Nightmare Before Christmas Minimates line continues with this new, exclusive boxed set, featuring new versions of Jack Skellington, Sally, the Mayor, an exclusive Harlequin Demon figure, and an exclusive Town Square fountain diorama piece! Each 2-pinch Minimates mini-figure features up to 14 points of articulation and fully interchangeable parts. Set comes packaged in a full-color window box.
KINGDOM HEARTS HALLOWEEN TOWN SORA VINIMATE (MAY182298, $9.99), KINGDOM HEARTS HALLOWEEN TOWN DONALD VINIMATE (MAY182300, $9.99), KINGDOM HEARTS HALLOWEEN TOWN GOOFY VINIMATE (MAY182299, $9.99)
The adventure continues, as the stars of the Kingdom Hearts game series travel to Halloween Town! In the home of Jack Skellington, first seen in Tim Burton's The Nightmare Before Christmas, Sora, Goofy and Donald each don a fantastically nightmarish costume, and now each is a Vinimates vinyl figure! Sculpted in the block-figure style, each 4-inch vinyl figure has a ball-jointed neck for additional posing options. Each comes packaged in a full-color window box.