8 Sci-Fi Stories To Rocket You Into The Future
Apr 13, 2018
by Troy-Jeffrey Allen
In 1926, a struggling inventor by the name of Hugo Gernsback created what many consider to be the world's first science fiction periodical. It was called Amazing Stories and it would serve as an entry point for legendary writers such as Isaac Asimov, Arthur C. Clarke, and Ray Bradbury.
Gernsback's believed that a science fiction story must "be an exposition of a scientific theme and it must be also a story."
And that's exactly what we have here: An array of stories with science themes at their heart. These tales feature old favorites, bold new journeys, and amazing stories – all under the dome of our beloved sci-fi genre.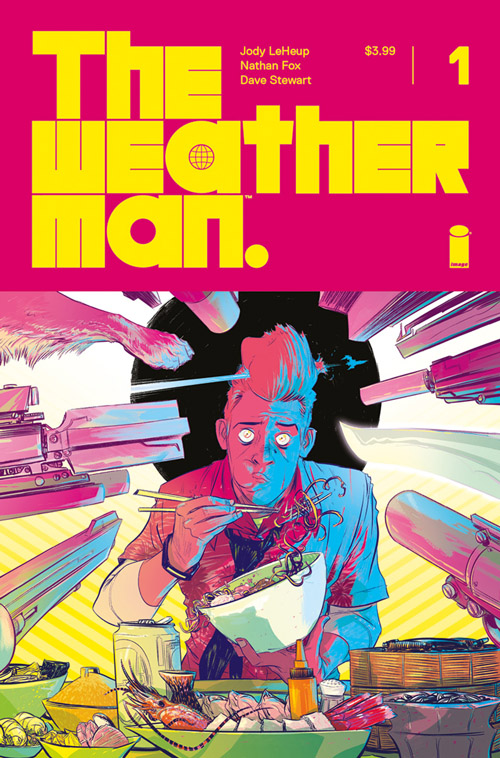 The Weatherman
Announced at Image Expo early this year, The Weatherman (APR180464) comes to us courtesy of writer Jody LeHeup (Shirtless Bear-Fighter, one of our must-reads from 2017) and artist Nathan Fox (DMZ, Invincible Iron Man). "The Weather Man" of this story happens to be Nathan Bright, a meteorologist on Mars who may have caused the eradication of Earth's entire population.
Yeeeeah…if we'd done something so dastardly, we might want to hide on Mars too.
Gantz
Not for the faint of heart, Gantz has been called everything from "addictive" to "sadistic". Intrigued yet? Good, because Gantz is being recollected in an Omnibus format (APR180031) courtesy of Dark Horse Comics.
Get on the ground floor of writer-artist Hiroya Oku's totally screwed up sci-fi/horror story about a pair of teenagers -- Kei and Masaru – tragically killed in a freak subway accident. But, if they're dead, why is it that the two find themselves waking up in an apartment with a giant black orb named "Gantz?" Gantz doesn't speak, but it does provide the two with bizarre alien-blasting weapons and a cryptic message: "Your lives have ended and you now belong to Gantz."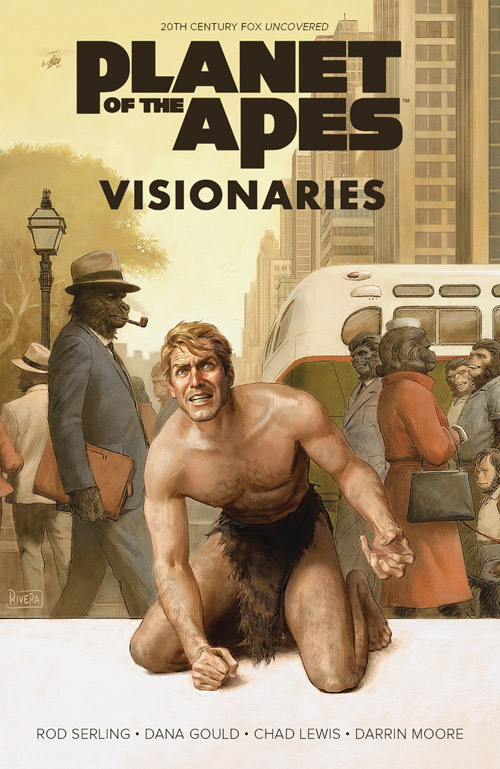 Planet of the Apes: Visionaries
Science fiction luminary Rod Serling is known for his ground-breaking Twilight Zone TV show, but did you also know he was originally on tap to make 1968's Planet of the Apes film? Well, thanks to Boom! Studios, Serling's original screenplay for Apes has been visualized and put to print thanks to this Visionaries hardcover (APR181091).
This is a fascinating look at what could have been for one of pop culture's most beloved sci-fi tales – an artifact no fan of Planet of the Apes should be without.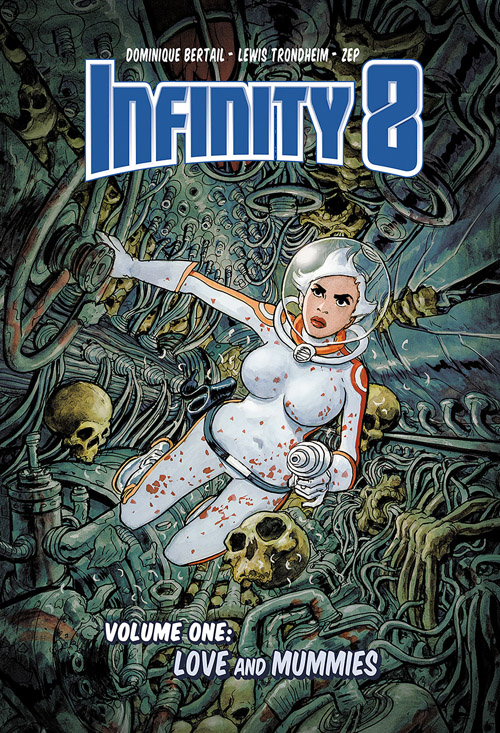 Infinity 8: Loved and Mummies
Unravel a tongue in cheek, mind and time-bending sci-fi conspiracy and witness a daring rescue to protect the far-out alien passengers aboard Infinity 8!
For fans of titles like Heavy Metal, Infinity 8 (APR181637) brings us eight different stories across three self-contained chapters. It's the story of a downed space cruiser trapped between galaxies. As the ship's team ventures out to salvage the cruiser, they will be consumed by the parallel timelines surrounding it…and so will you!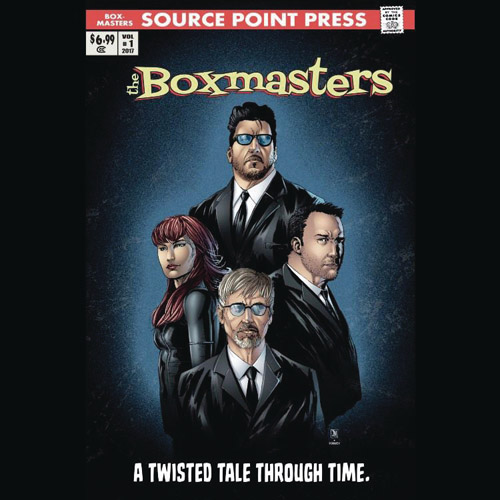 Boxmasters: A Twisted Tale Through Time
Rock 'N' Roll will save your soul…unless it never existed! That's the plot behind Boxmasters (APR181747), a new graphic novel inspired by actor-musician Billy Bob Thorton's real life rockabilly band...The Boxmasters.
In A Twisted Tale Through Time, the band are on the run, attempting to thwart an evil time-traveler from destroying the history of rock.
Goodbye, Chuck Berry. Goodbye, Mick Jagger. Goodbye, Aerosmith. Hello, cruel world…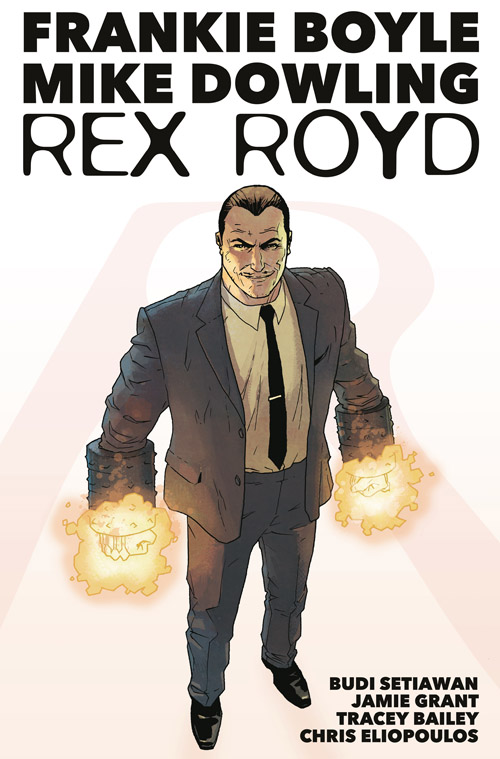 Rex Royd: The Complete Collection
Six years after its unceremonious cancellation, comedian Frank Boyle's Rex Royd gets a proper conclusion with this "Complete Collection" (APR181777) from Titan Comics.
Who is Rex Royd? Well, he's a super-scientist, adventurer, and businessman. Rex harkens back to the classic sci-fi heroes of the pulp genre, but his exploits are utterly absurd. Expect ultra-violent throwdowns with lizardmen, methumans, totally bent realities, and…well, God.
How does Rex fair against such insane opposition? Smugly.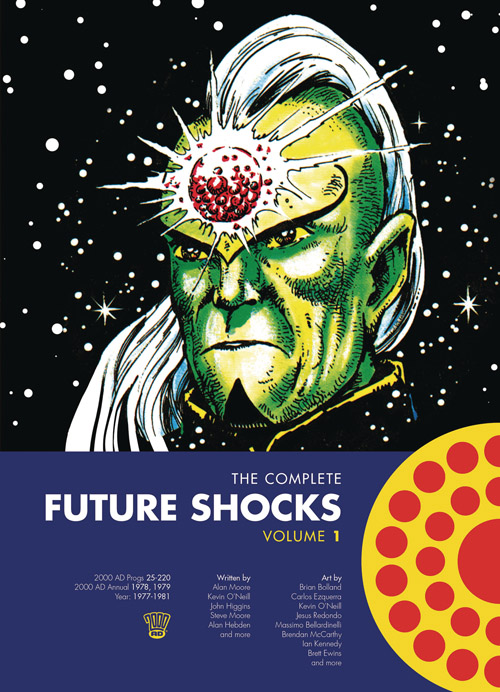 The Complete Future Shocks (Vol. 1)
Similar to Amazing Stories*, 2000 AD's Future Shocks (APR181719) has been the publication that helped launch many careers. With this new collection of the anthology series, the previous works of creators such as Alan Moore (V for Vendetta), Brian Bolland (Batman: Killing Joke), Al Ewing (The Ultimates), the late Steve Dillon (Preacher), and so many others has been plucked from the archives and reprinted for a new generation to enjoy.
Get a piece of comic book history and witness the seminal works of -- undeniably – the UK's top talents.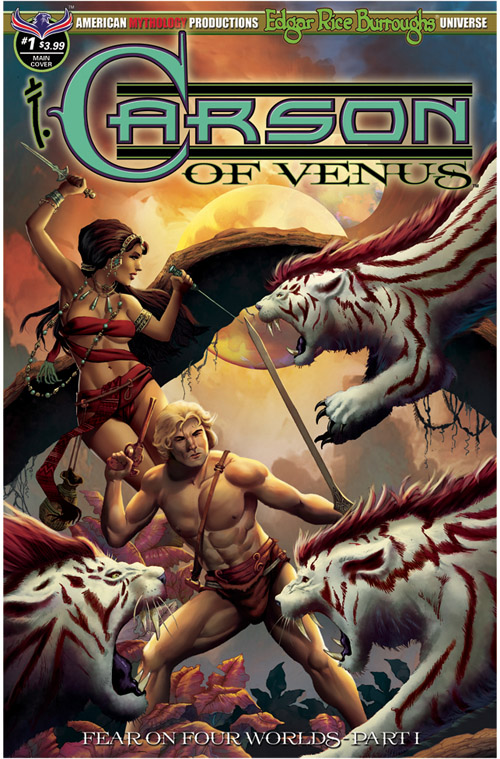 Carson of Venus
As any fan of sci-fi will tell you, Edgar Rice Burroughs' creations are integral to the foundation of science fiction. Particularly, his "Barsoom" series of novels starring John Carter and Deja Thoris, the Princess of Mars. Burroughs also gave us Tarzan and The Land That Time Forgot (among others). Now, ERB's list of creations meet in Carson of Venus (APR181254), a heroic assemblage of some of the writer's greatest creations.
And that's just a smattering of what is available for sci-fi fans through your local comic shop right now. Looking for me? Then head on over to PREVIEWSworld.com/catalog. There, a whole plethora of genres are available for you, all available to pre-order today.
*You skipped my intro, didn't you? Shame shame.
****
Troy-Jeffrey Allen is the consumer marketing editor for PREVIEWSworld.com and the DCD family of sites. His comics work includes BAMN, Fight of the Century, and the Harvey Award-nominated District Comics.