Collector's Corner: Interview with Sculptor Rocco Tartamella
Apr 02, 2018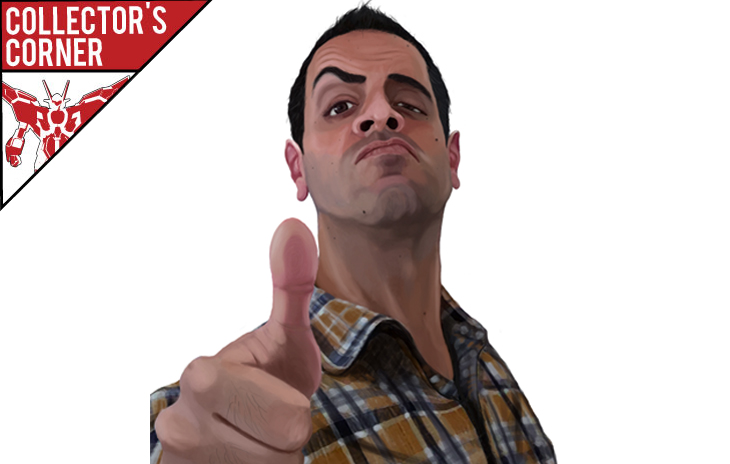 PREVIEWSworld ToyChest proudly introduces Collector's Corner! Here, we'll highlight anyone and everyone with a love of toys and collectibles. Whether it's a hardcore collector with no room on their display case or a veteran sculptor who makes a living in the industry, we'll talk to anyone who lives and breathes toys!
This week, we talked to Rocco Tartamella! Rocco is a sculptor who has worked on many projects with Diamond Select Toys, including their latest 1/2 scale Deadpool bust (APR182170) as well as many of their Avengers: Infinity War statues.
Rocco talked to us about what it takes to bring a toy from his brain to your display case! Be sure to follow him on Instagram to get a behind-the-scenes look at his projects.
---
WHAT WAS YOUR DESIGN PROCESS LIKE?
The design process can sometimes be a challenge, in that there are often many variables to consider with size, engineering and overall aesthetic to consider. In this case, I was provided a sketch by designer Joe Allard, with the instructions to use the sketch for gesturing and to just go for it. It's great to hear that when starting a project, so I put a lot of detail into the sculpt. It was a really fun piece to work on.
WHAT WERE SOME CHALLENGES YOU HAD TO OVERCOME WHEN SCULPTING THE BUST?
Well, it's always a bit of a challenge when starting a new series of sculptures, and this was the first in a line of 1/2 scale busts for DST. It was important to know the overall dimensions the end product would be in order to rightly determine the level of detail and texture to put into the sculpt, as well as to establish a look and feel for the line.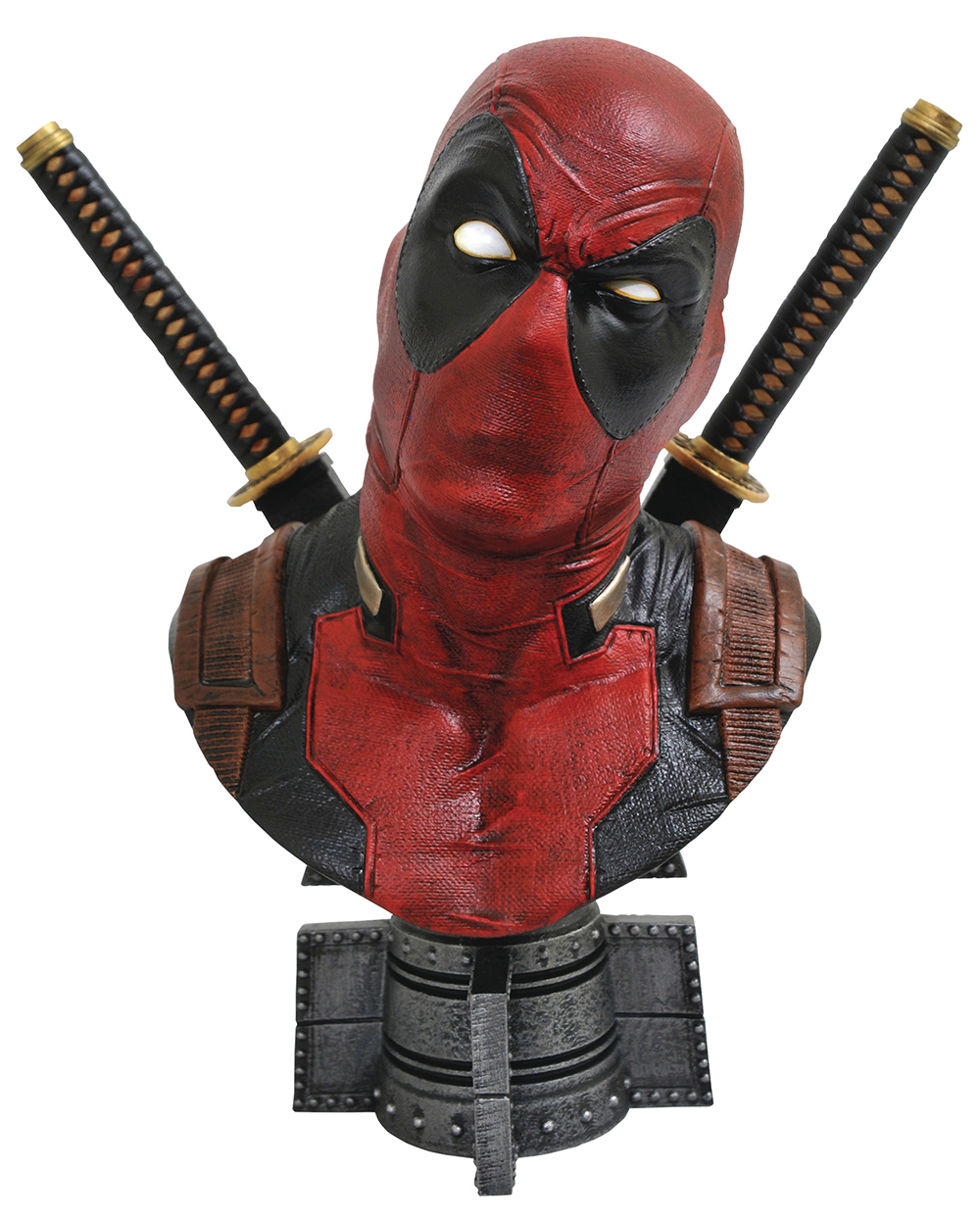 IS IT MORE OR LESS DIFFICULT TO SCULPT A BUST IN ½ SCALE?
Well, I would say that each project presents its own set of difficulties. For instance, the Marvel Gallery Avengers: Infinity War dioramas were more intense than the busts. The details of each character's outfit needed to match perfectly to the on-screen designs, the bases had to be screen-accurate with very little reference available, as most of the reference was confidential prior to release of the movie.
The Thor Gallery PVC proved complex to engineer, but it was all worth the while after seeing the painted prototype. With the Thor and Rocket statue, the detailing was especially intense. Rocket was a fun character to sculpt, though keeping him in proportion with his weapon, as well as his placement on the base, was something I had to constantly keep in mind. In the end, it looks to be a very powerful piece. I also sculpted the Black Widow in her Infinity War appearance, which hadn't been sculpted before, so it was cool to be one of the first to bring her into PVC in that look. The Black Panther's outfits are intensely detailed – there are a lot of subtleties that may not be realized at first glance, but needed to be accurately depicted, as did his highly detailed bases. And of course, Captain America, with his heroic stance, is striking a classic looking "Captain" pose, and was great to work on.
All of these require sharp attention to detail: the likenesses, the outfits head to toe, the accessories from weapons right down to the texture on a character's boots, and of course the bases which depict a powerful scene straight from the movie.
As detail-intensive as the Infinity War line was to sculpt, working on the busts has its own set of criteria important to keep at the forefront. Often, I've found that it's the little things that make all the difference, and it's not an exception in sculpting. I need to remember that those little things will be seen better in ½-scale size, like the details I sculpted in the hilt of the sword, handles and guard. Those details that may be difficult to see or overlooked in a smaller scale would stand out in 1/2 scale.
Because there's more artistic freedom with the busts, they naturally tend to move along to approvals more quickly than some of the pieces that require on-screen accuracy. When all is said and done, though each project presents its own variables and set of challenges, it's a pleasure to be a part of this, the craftsmanship and the opportunity to work with the team at DST. I sincerely hope that comes through in the finished product. I look forward to being able to share more of the things I'm working on in the future.
WHAT EMOTIONS DID YOU TRY TO CONVEY WITH DEADPOOL?
I really liked the sketch design by Joe Allard, the expression was spot on in capturing that classic Deadpool attitude that this character is known for. I wanted that gesturing to be reflected in the bust. That said, it's a bust, so I couldn't use body language or hand gesturing to create that attitude, it needed to be solely encapsulated in Deadpool's facial expression. Furthermore, that expression needed to be conveyed and transcend through his mask. Once I was able to get the basic features of Deadpool's likeness, I kept pushing his features little by little until they matched the character's persona. It's those subtle details that really push the piece, the raised brow, the tension on the facial muscles, the tilting of the head; I really just want the character's distinctive personality to come through in the finished piece.
WAS THERE ANY CERTAIN MOVIE SCENE OR COMIC BOOK ISSUE YOU BASED THE BUST OFF?
No, not in particular. Because he is so expressive in the comics and movies, I just really tried to capture that sort of playful humorousness. The bust needed to be fun and portray all of these qualities, but without a body, if that makes sense.
WHAT IS IT LIKE TO SCULPT A CHARACTER LIKE DEADPOOL, A CHARACTER WHO IS KNOWN TO BE MORE COMEDIC THAN OTHER CHARACTERS?
It's definitely more freeing to sculpt off-beat characters, you can do almost anything with them without it being "not character-like". You know what I'm saying? I would love to sculpt a full figure piece of Deadpool. I had a lot of fun working on this character. Who knows, maybe a Gallery piece could be fun.
WHAT MAKES THIS BUST UNIQUE?
I think this is the first time Diamond Select Toys has offered 1/2 scale busts, so it's a real pleasure and a privilege to have been asked to sculpt the first one. It's really exciting to see DST moving in this direction. From the details on the swords, the expressiveness of the character, the texture and stitching of the mask, right down to the intricate base and the 1/2 scale sizing really make this bust something I hope collectors will enjoy.
WHAT WAS YOUR FAVORITE PART OF THIS SCULPTING PROCESS?
I'd have to say one of my favorite parts about this project was blocking out and establishing the foundation of the sculpt. It was great seeing the gesturing and all the elements coming together. It's really rewarding, because you can see what that finished product will look like in your head, but then seeing it in a three-dimensional prototype is just really cool. After getting the basics down, it's just icing to start dropping in those details. All of that said, I think the very best part is getting the thumbs-up on approvals from DST and Marvel, knowing they like the piece you spent countless hours sculpting. It's such a blessing hearing positive feedback from collectors; I'm really so appreciative of the support from everyone, Thanks!
---
Are you a toy collector with a story to tell? Want to show off your collection?
Shoot us an email at toychest@previewsworld.com