Suit Up: Doubling Down on Deadpool
Mar 11, 2018
Yes, the movie went straight to his head. Now he's a superstar. Full of fun, fury, fame, and false promises. Because he's just kidding. Maybe. After all, he is the Merc with the Mouth. Now see how Deadpool's doubling down in the March PREVIEWS catalog!
Despicable Deadpool #300
Behold! The face of a man with no friends! Has he not bathed? Do the flames around his chest suggest a deoderant failure? Are his bunions on fire? What, you say, could make our favorite Merc With A Mouth look so glum on the cover of Despicable Deadpool #300 (MAR180832)? Well, it turns out in this issue written by Gerry Duggan that every bad decision, every betrayal, and every fart joke has come back to haunt Deadpool. Hah! Karma collides with the cocky commando, and now there's hell to pay! Featuring art by Mike Hawthorne and others, this #300 issue shows how the clock has run out on Deadpool, as Captain America leads the biggest heroes of the Marvel Universe to take him down! Look for this landmark issue in the March edition of Marvel PREVIEWS!
You Are Deadpool #1

Ever heard of the movie Being John Malkovich? It's this freaky indie movie where a guy walks into a closet and the next thing he knows he's inside the head of actor John Malkovich. It's a cult classic like David Lynch's Eraserhead. The new five-issue mini-series that kicks off with You Are Deadpool #1 (MAR180844) by writer Al Ewing looks to be in the same fishbowl. Imagine you're given the opportunity to embark on a role-playing adventure that's also a weekly series in which you play the part of Deadpool. You decide what choices Deadpool makes as he makes his way through 1960s-1980s Marvel history, where the wise-crackin' gun-totin' assassin can interact with everyone from the Hulk to Man-Thing! Imagine the possibilities to concoct alternate continuity! Imagine the pain of bad endings! It's sink or swim with this unique comic series that you'll find in the March issue of Marvel PREVIEWS!
Marvel Gallery Deadpool Taco Truck PVC Diorama

When most people try to impress a guest over lunch they choose a restaurant with impeccable reviews. Or they'll make sure that the wine list and bar are stocked with their client's favorite poison. We judge people by their palette, after all. One who partakes of Baked Alaska, caviar, and/or the Market catch of the day can be regarded as a person with distinguishing taste, marked credentials, and a reputation that's unquestioned. Just as clothes matter, so does your taste in vittles. So that means a guy in a red suit posed atop a destroyed taco truck base, sporting bunny slippers and wielding twin finger guns with the safeties off has a long way to go before he's invited to a state dinner. In fact, judging by his taco diet, you probably wouldn't want to be downwind from him either. The 10" tall Marvel Gallery Deadpool Taco Truck PVC Diorama (MAR182429) pretty much serves as a reminder that Deadpool might be a great shot, but he's not the third wheel you'd want to bring along when you're out to impress high socieity. Their loss, right? Find this diorama in the Diamond Select Toys section of March's PREVIEWS!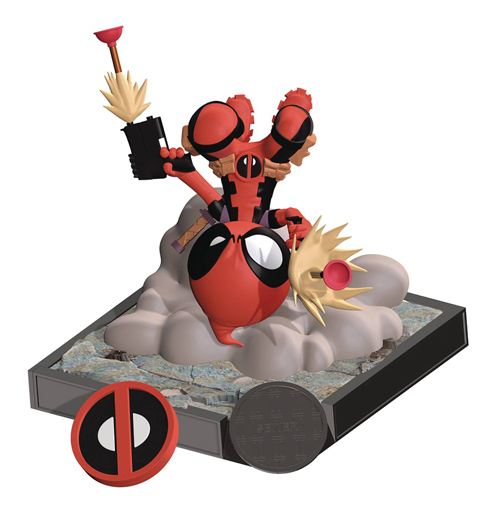 Deadpool Compact Finders Keepers Vinyl Keychain Figure

How to show guns are fun lesson #386: show that they're for display, and not for rent. Sometimes it's best to let the firearms be handled by a guy who knows how to use them. And there's no doubt that the Merc With A Mouth is the guy you want in charge of your firepower. Who else can do somersaults, flips, kicks, and rolls all while accurately firing projectiles of pain at his opponents, and nine times out of ten hitting his target right between the eyes? The Deadpool Compact Finders Keeprs Vinyl Keychain Figure (DEC178167) is a portable reminder that shooting suction cups should be left to the expert — like Deadpool. Detailed, with exceptional attention to likeness and paint, this Skottie Young-inspired Deadpool figure not only is the perfect place to park you keys at the end of the day, but it'll serve as a reminder that you're in tight with the guy whose job it is to hit the bullseye, and look cute while he's doing it. Find it in the Collectibles & Novelties section of the March PREVIEWS!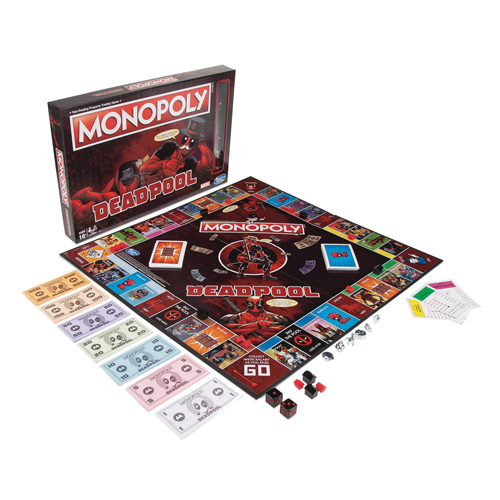 Deadpool Monopoly

Do not pass go...and do not pass the assassin in the red jump suit if you're employed by the mob. He lives in an apartment, and needs to make rent just like everyone else. He'll justify putting an end to your employment, and do it with a smile. But here's an option: you could buy the property around him, including the hovel where he lives, and evict his butt while he's still cleaning his pistols! It's possible if you play Deadpool Monopoly (JUL178753). Truth is, most people will be preoccupied with this game in their ability to build their own team of Mercs for Money as they purchase the contracts of the world's best mercenaries. Who might the hired guns be, you ask? Well, some are Deadpool's allies, some are Deadpools from alternate universes, and one is just Deadpool in a maid outfit. Hours of fun, for sure. But you are too smart to be distracted! Hijack the game! Want to get rid of the blight that permeates the city? That blight being Deadpool? Show how you and the power of fake money can be used to foreclose on the guy who's nothing without his guns! Just...don't say that to his face. He's...good with knives, too. Find Deadpool Monopoly in the Games section of the March PREVIEWS comic shop catalog!