Women in Comics Month: Interview with Crystal Frazier
Mar 06, 2018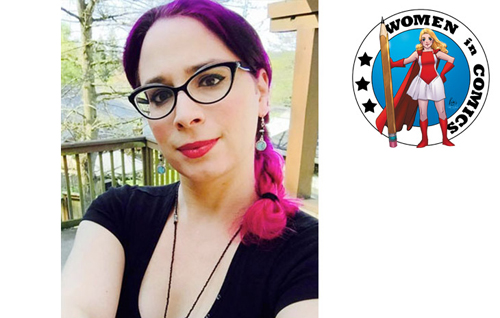 In honor of Women in Comics Month this March, PREVIEWSworld talks with Crystal Frazier!
*************

PREVIEWSworld: Who is your current comics employer?
Crystal Frazier: Dynamite Entertainment.
PREVIEWSworld: What is your primary job title? In a quick phrase or two, could you define your job's key responsibility?
Crystal Frazier: I'm a writer. My job is to be witty, and to occasionally win arguments against myself. Sometimes my job is to make myself cry.
PREVIEWSworld: Could you please explain how your work helps make comics a reality? (Connect the dots for us. Where are you in the flow of getting a book into reader hands?)
Crystal Frazier: I handle a lot of the plotting of the book—asking the artist to draw specific scenes—and write the dialogue between characters, which is really just the beginning of the process. I also write the solicitation sales text for the book you'll see on websites, ads, and catalogues.
PREVIEWSworld: What's the part of your job you enjoy the most?
Crystal Frazier: At a certain point in the writing process, the characters start to develop their own voice and just sort of run away with the plot for me, and they can be a little hard to keep up with or too stubborn to stay on track, but it's feels like you're in touch with something special. Special and stubborn.
PREVIEWSworld: What comic titles have you worked on?
Crystal Frazier: I work on the Pathfinder comics from Dynamite Entertainment.
PREVIEWSworld: While there are loads of professionals in the comics industry, there are only so many folks who get to do what you do! How did you get started? How did you learn all the skills you needed for your position?
Crystal Frazier: I started in high school writing fan fiction and material for my tabletop roleplaying game group, and in college I started working on webcomics. After that I jumped into writing RPG material fulltime, and only recently has my career brought me back around to comic writing.
PREVIEWSworld: Talk to us about the heroic people in your comics life. Who do you admire? Who inspires you? Why?
Crystal Frazier: Mariko Tamaki, Noel Stevenson, and Gail Simone have all made me cry because of their beautiful and personal writing; I wanted to touch people the same way, but I was too afraid of failure that I wouldn't try. A few months ago I found Magdalene Visaggio's writing, and it's so lively and fast-paced and takes-no-fucks that it actually inspired me to stop being a coward and actually try. Don't tell her I said that,t hough. I want her to think I'm cool.
PREVIEWSworld: If you had one comics-related wish—no limits—what would it be?
Crystal Frazier: Fun story: The original Mirage Teenage Mutant Ninja Turtles comics both helped teach me to read AND taught me how to swear. I've had a soft spot for the heroes on a half-shell my whole life, and if I could write for TMNT, I could die happy.
PREVIEWSworld: Do you have an online presence we can link to and share with our readers?
Crystal Frazier: I'm on Twitter at AmazonChique.