Key Comics, Original Art Lead Hake's Latest Auction
Feb 19, 2018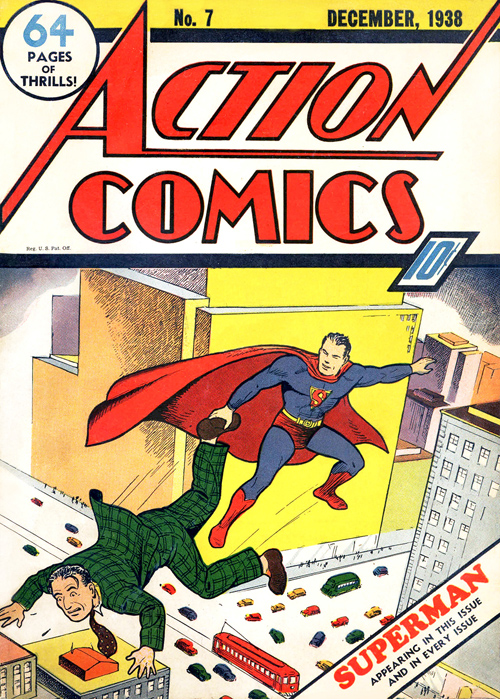 The upcoming auction at Hake's Americana & Collectibles promises to be another exciting event as thousands of items hit the auction block. Each of their auctions is filled with a vast array of historical and pop culture collectibles, offering a dynamic sale for collectors of multiple interests. Auction #223, which runs from February 20 through March 15, 2018, will continue that tradition while also raising the bar.
One particular area that is likely to receive abundant attention from collectors is the comic book and original art section. The comics section is packed with nearly 300 CGC-certified comic books from the Golden to Modern Ages with sought-after first appearances and keys.
The comic book section is led by a copy of Detective Comics #27 CGC 5.0, featuring the first appearance of Batman. Created by Bob Kane and Bill Finger, Batman was the combination of sleuth and superhero that has evolved into one of the most popular comic characters of all time. He's a complicated hero who has faced some of the best villains in the comics medium, appearing in thousands of comics, plus a plethora of adaptations on film and television.
Batman's complex, entertaining genesis has cemented Detective Comics #27 as one of the top tier first appearances sought by collectors. At present, there are only 32 copies of this issue in the CGC Census with the Universal Blue Label. This copy comes to the market from a recently discovered Golden Age comic collection of books that were purchased off the rack in the 1930s and 1940s.
"Golden Age comics include some of the most coveted issues for collectors, as it was during this period many of today's most enduring and popular characters first appeared. Due to Homefront efforts during World War II, many comic books were scrapped for the war effort, increasing the scarcity and value of these Golden Age gems," Hake's President Alex Winter said.
Golden to Modern Age comic book highlights in Hake's auction are Action Comics #7 CGC 4.0, #19 CGC 3.0, and #252 CGC 5.0 (first Supergirl), Adventure Comics #44 CGC 7.0, Batman #9 CGC 7.0 and #12 CGC 8.0 (first Mr. Freeze), Detective Comics #26 CGC 6.0 and #30 CGC 3.5, More Fun Comics #52 CGC 3.0 (first Spectre), and Captain America Comics #3 CGC 7.0 (Stan Lee's first published work for Timely).
Additional featured books are Avengers #1 CGC 4.5 (first Avengers) and #4 CGC 7.5 (first Silver Age Captain America), Fantastic Four #4 CGC 7.5 (first Silver Age Sub-Mariner), Journey Into Mystery #83 CGC 7.0 (first Thor), Master Comics #21 CGC 6.5, Our Gang Comics #1 CGC 9.4, Pep Comics #6 CGC 9.2 and #37 CGC 8.0, Shield-Wizard Comics #4 CGC 9.2, X-Men #1 CGC 4.0 (first X-Men and Magneto), and The Walking Dead #1 CGC 9.8 (Robert Kirkman Signature Series).
"The comic book section this auction is substantial. If we were only offering the Detective Comics #27, that would be impressive in and of itself. However, we filled this auction with many key books and highly sought-after issues so there is something for every serious comic book collector," Winter said. "And for our comic art collectors we made sure we have plenty of great pieces as well, from covers to interior pages, specialty pieces, lots of daily and Sunday strips, and more. Hake's launches its 51st year in grand style with Auction #223."
The original comic strip art section is filled with a variety of pieces from the 1920s through the 1980s. Featured titles are Barney Google and Snuffy Smith by Billy DeBeck, The Katzenjammer Kids by Harold Knerr and Doc Winner, Terry and the Pirates (including a 1939 strip featuring the Dragon Lady) by Milton Caniff, Li'l Abner by Al Capp, Pete the Tramp by Clarence D. Russell, and a number of pieces of Charles Schulz original art featuring his Peanuts characters for a 1970s Butternut Bread promotion.
Comic book art offerings depict many popular heroes and villains as they've appeared across the Golden to Modern Age of the medium. Highlights include Kurt Schaffenberger Whiz Comics page art featuring Captain Marvel, a rare Al Plastino cover recreation of Action Comics #146, Wayne Boring Action Comics #199 page art, Creig Flessel Adventure Comics #44 cover recreation depicting Golden Age Sandman, Sheldon Moldoff Flash Comics #19 cover recreation with Hawkman, Paul Reinman page art for an unpublished Golden Age Green Lantern comic, Irwin Hasen art for a proposed 1948 Green Lantern daily strip, and Fred Ray Tomahawk painting published as the cover to Alter Ego #19 magazine.
Additional highlights in the comic art section are Murphy Anderson Strange Adventures #156 page art, Ross Andru and Mike Esposito Metal Men #3 cover recreation by the original cover artists, Jim Lee Superman #211 page art, Daniele Serra Joker and Hellboy paintings by the Italian comic artist, Ron Wilson Daredevil #111 cover art, Jan Duursema Star Wars #92 page art (her debut issue as Star Wars artist), Greg Hildebrandt Death of X #4 variant cover original art (Uncanny X-Men #94 cover homage) and Wonder Woman original art, Joe Quesada The Punisher Vol. 2 #62 cover art, Mike Perkins The Punisher Vol. 8 #5 variant cover, and Mike Manley The Punisher: War Zone Vol. 1 #11 cover art.
Auction #223 will be open for bidding on Tuesday, February 20. Visit hakes.com to view item descriptions and bid on these and other lots in the sale.