The Horror! The Horror!: Jeepers Creepers, Horror Hound, & Aliens
Feb 10, 2018
Finally! An ongoing monthly article that makes you face the monsters in the closet. You can run, but you can't hide from our selected ghoulish items in PREVIEWS that will make you flee and scream bloody murder. Horror fiends: let the madness begin! This is the run-down on what ghastly items can be found in this month's PREVIEWS catalog, and if you can't take the chills, TOO BAD! This is where the children of the night gather, and howl at the moon without apology.
Aliens: Dust To Dust #1

It's said that in space no one can hear you scream. Which means that no on can hear you cry for help, either. So, basically, if you're unlucky enough to be out there in the void, you're odds for survival are null and void. Does that mean, then, that you just lay down for a dirt nap and say "game over"? Well, if you're twelve-year-old Maxon or his mom, you're not the type to quit that easy. Most people aren't familiar with your determination and grit. They're about to see it, though, if they pick up Aliens: Dust To Dust #1 (FEB180019) from Dark Horse Comics. This new series may be a re-examination of why we fear the Aliens, but it's also a reminder of how humanity doesn't give up that easily. Look for this kick-off to a new four-issue series from Gabriel Hardman in the Premier Comics section of the February PREVIEWS catalog!
Her Infernal Descent #1

How deep is a mother's love for her family? Did you ever ponder that idea? Yeah, Mom's the one who cleans up the spill in kitchen. She's the one that's in charge of the laundry baskets. She's the one who's the nurse in the house, and anything else you need her to be when you've got bumps or bruises. But did you ever wonder how well she can bruise others? Did you ever see Mom as a warrior? One who's in front, ready to run uphill against all odds in order to protect her family? Well, in Aftershock Comics' new series Her Infernal Descent #1 (FEB181023), you'll get to see a middle-aged mom descend the nine circles of hell to retrieve her forsaken family from an abyss populated with celebrity sinners, surreal landscapes, and absurd tasks. In this new comic series, you'll appreciate your mother in a whole new light. Look for it in the Comics and Graphic Novels section of the February PREVIEWS catalog!
Jeepers Creepers #1

Knowledge is power. But power is like a shotgun. And a shotgun can be your best friend or your worst enemy. In the case of Grad student Devin Toulson, the knowledge he now possesses puts him on a collision course with a being of great power. This being will become his worst enemy, and it just so happens that this being is everyone's enemy since people first colonized North America. True evil is like a shotgun blast: it's a wide spread of death that comes at you fast, and it's almost impossible to avoid. This evil that Devin tries to escape returns for a bloody feeding every 23 years, and its adept at consuming its prey. In Dynamite Entertainment's Jeepers Creepers #1 (FEB181358) from writer Marc Andrekyo and artist Kewber Baal, you and Devin will face death that crosses cultures, locations, and eras. Our advice is put your whole head in front of the shotgun...and pray it's over quick.
Horrorhound 2018 Spring Annual Special

Here's the problem with zombies. They bring out the worst in people. Everyone's edgy because they're afraid of when the next shuffling corpse will turn arond the corner, and reach out to bite them. Shoot first, ask questions later. So if you're on the wrong side of a blindspot...BAM! You see this kind of devolution in AMC's The Walking Dead, and in the Horrorhound 2018 Spring Annual Special (FEB182131) which looks into the history of The Walking Dead comics, as well as the television series to show you the similarities in mistrust and depressing landscapes. But this special issue also looks at zombie movies in general, and analyzes how the formula for fatal fleeting moments has done well for the horror genre, as its responsible for George A. Romero's classic Night of the Living Dead, and 50 years of the original zombie opus that's now the benchmark for how to do zombie stories with grit...and guts. Especially the guts. Look for Horrorhound 2018 Spring Annual Special in the Magazines section of the February PREVIEWS!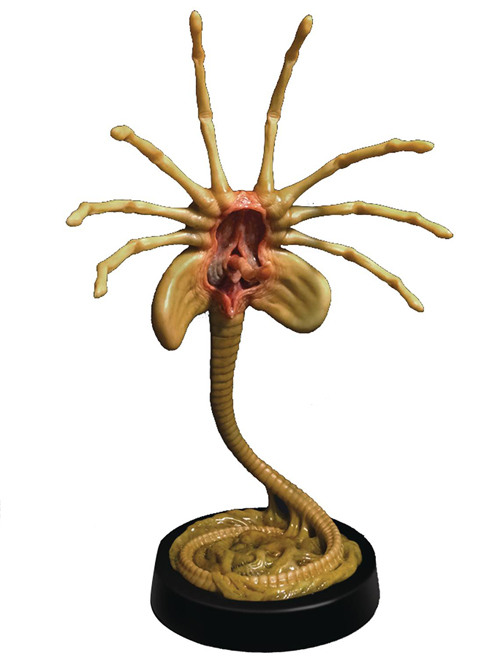 Aliens: Facehugger Life-Size Prop Replica

Kids: do not eat spicy foods after midnight. When you do, you're bound to have nightmare visions like H.R. Giger, and imagine a horrible parasitical alien creature that can reproduce by implanting an alien egg in your chest. This is not something to give to pre-schoolers at birthday parties. It's not something you give to your girlfriend. It's a 28" tall officially licensed life-size replica of the Facehugger from Aliens, and its bony "fingers" are outstretched, with the tube-like proboscis extended and ready for insertion! Want to know what heartburn looks like, well here it is, folks: the Aliens: Facehugger Life-Size Prop Replica (OCT178614)! And trust us when we say you don't want to feel this kind of heartburn ever! It's the last thing you'll feel! Look for this monster from Hollywood Collectibles in the Toys/Statues/Models section of the February PREVIEWS catalog!
Hope you liked this month's line-up of creepy crawly things. See you here next month for another installment of PREVIEWS' ongoing editorial, The Horror! The Horror!