#DCinDC2018: World Premiere Of Animated Batman: Gotham By Gaslight
Jan 15, 2018
by Allyn Gibson
Over five hundred comic book fans attended the world premiere of DC Entertainment and Warner Bros. Animation's next direct-to-video animated film, Batman: Gotham by Gaslight, at the Newseum on Pennsylvania Avenue NW in Washington, DC on Friday, January 12, 2018 as part of the DC in D.C. 2018 event.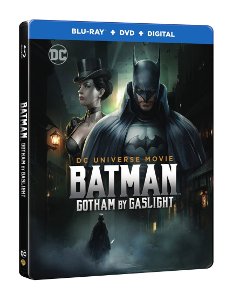 Inspired by DC Entertainment's 1989 graphic novel Gotham by Gaslight (DEC120332, $12.99) by Brian Augustyn, Mike Mignola, and P. Craig Russell, Batman: Gotham by Gaslight imagines Batman as a hero of the late-19th-century, a time of excess and squalor on the cusp of the Industrial Age. Against the backdrop of the Gotham City World's Fair, Batman battles Jack-the Ripper, the notorious serial killer who terrorized London's Whitechapel District in the autumn of 1888.
Tickets for the Batman: Gotham by Gaslight event were available for free. In addition to the premiere screening at the Newseum, DC Entertainment provided a cocktail reception for fans before the film, and the film itself was followed by a question and answer session with producer Bruce Timm, writer Jim Krieg, and actors Bruce Greenwood (Batman/Bruce wayne), Scott Patterson (Jim Gordon), and Yuri Lowenthal (Harvey Dent). Within the Newseum, costumes of the titular characters from The CW's televison series Supergirl and The Flash were on-display, and many fans took the opportunity to have their pictures taken with the costumes. Ribbon boards ran messages about historically important comic books published by DC Entertainment, from Golden Age titles such as Action Comics #1 (the first appearance of Superman) and Detective Comics #27 (the first appearance of Batman) to more recent comics such as Justice League #1 (the beginning of the New 52). While the Newseum itself was closed during the event, fans could visit a Newseum exhibition on Pulitzer Prize-winning photography as well.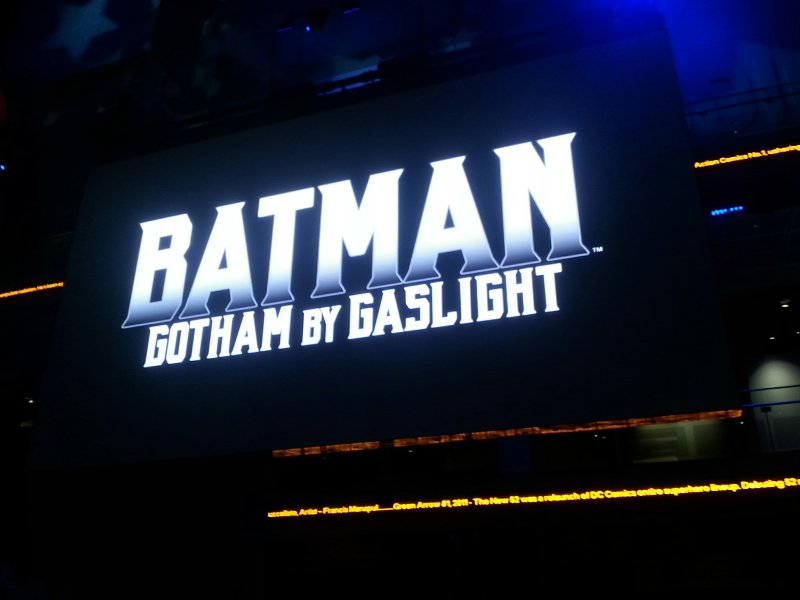 The screening took place in the Newseum's Walter and Leonore Annenberg Theater, and event staff provided the audience with free popcorn and candy. Following a brief introduction by the evening's emcee, Gary Mieraunu, the film was shown to a rapt and enthusiastic audience that numbered over 500.
An inventive reimagining of the Batman mythos, Batman: Gotham by Gaslight sees a number of characters, such as the Robins Dick Grayson, Jason Todd, and Tim Drake, as well as villains such as Pamela Isley and Solomon Grundy, cast in unexpected roles and utilized in surprising fashion. Producer Bruce Timm elaborated on this during the post-film Q&A session: "Early on Mike Carlin, who we work with at DC Comics, mentioned that one of the things that Gotham by Gaslight didn't do, because it was one of the first Elseworlds comics, which the later ones did, was to take the entire supporting cast of characters and find new roles for them in the story they were telling."
The film features a number of action set pieces, including a harrowing battle between Batman and the Ripper atop a dirigible, and the fight sequences are orchestrated well. The film boasts of sharp characterization and a compelling relationship between Bruce Wayne and Gotham City actress Selina Kyle. A scene between Bruce and Selina set in the Dionysus Club in which Bruce performs a feat of deductive reasoning worthy of Sherlock Holmes stands out as particularly memorable.
Following the screening, several members of the cast and crew came on-stage for a forty-minute question and answer session.
Onstage left to right: screenwriter Jim Krieg, producer Bruce Timm, actor Yuri Lowenthal (Harvey Dent), actor Scott Patterson (James Gordon), actor Bruce Greenwood (Bruce Wayne/Batman), emcee Gary Mieraunu
During the Q&A, Bruce Timm talked about the challenge of adapting the original graphic novel to film. "One of the big things was, as much as we love the original graphic novel, if you're going to do a murder mystery, you need to have more than one suspect, and in the comic there was really only one suspect. Literally, the minute this character shows up, you go, 'Oh, he's the guy.' By expanding the story, that was one of the things we discussed early on, filling out the cast with more and more suspects so that you're kept guessing throughout the story who it might be." Jim Krieg added, "We needed some red herrings." Timm also cited The Lodger, a 1944 Jack the Ripper film, and Erik Larson's historical novel The Devil in the White City about the Chicago World's Fair and the serial killer H.H. Holmes as influences on the film and its Gilded Age milieu.
Asked about how he approached his portrayal of Batman, Greenwood said, "Without realizing it, this one was quite different. What I'd forgotten until I saw it for the first time tonight, there's a lot of Bruce Wayne just being a guy with his heart out. and I thought you guys" – referring to Krieg and Timm — "did a great job humanizing him. Quite often that takes a back seat to the Batman." Timm added, "I don't know if it's intentional, but [Greenwood] plays a lot younger in this movie than we normally do. A lot of it is the visual but also where you placed your voice. He seems more optimistic, not as broody as we normally see in Batman, so that's an interesting take on this character. He's more human than we're used to, even when he's Batman." Krieg concurred: "He's really Bruce Wayne the entire movie pretending to be Batman, and he doesn't really become Batman until the very end."
Patterson described Gordon as "the coolest role I've ever played. I really enjoyed doing it. You guys were great in the booth, you gave me a lot of theatrical license to really energize the dialogue beyond what I'd be allowed to do on any kind of film set. It was a tremendous amount of fun."
On future animated films based on DC's Elseworlds stories, Timm said, "We have a couple that we're raring to go on if this sells really well. I'll just say that Red Son is at the top of our list." Added Krieg, "Everyone has their own, and Yuri [Lowenthal] came up to me and said, The Doom That Came to Gotham," to which Timm agreed. Superman: Red Son (JAN140353, $17.99) is Mark Millar and Dave Johnson's of a Superman raised in the Soviet Union during the height of the Cold War, and Batman: The Doom That Came to Gotham (SEP150288, $16.99) is Mike Mignola, Richard Pace, Troy Nixey, and Dennis Janke's graphic novel set in the 1920s that mixes Batman with the Lovecraftian mythos.
The original graphic novel and its sequel, Master of the Future, by Augustyn and artist Eduardo Barreto, are collected together in DC Entertainment's Batman: Gotham By Gaslight TP (DEC120332, $12.99), available now. Collectors will also be interested in a statue based on the graphic novel's cover art, Kotobukiya's Batman: Gotham By Gaslight ArtFX+ Statue (JAN182595, $119.99), available in comic shops in July.
Batman: Gotham by Gaslight TP
DC Entertainment
DEC120332, $12.99
Available Now
Batman: Gotham by Gaslight ArtFX+ Statue
Kotobukiya
JAN182595, $119.99
Available July 2018
DC in D.C. 2018 is a two-day celebration of comic books and pop culture icons in the heart of the nation's capital with signings from creators including Jim Lee and Geoff Johns, panels on comic books and culture, and world premiere events as well as a pop-up store outside the Newseum with graphic novels, t-shirts, and Funko POP! collectibles for sale.
Produced by Bruce Timm and Alan Burnett and written by Jim Krieg, Batman: Gotham by Gaslight features voice work by Bruce Greenwood (Bruce Wayne/Batman), Jennifer Carpenter (Selina Kyle), Scott Patterson (James Gordon), Anthony Head (Alfred Pennyworth), and Yuri Lowenthal (Harvey Dent). The R-Rated film will be available for digital download on January 23rd, followed by a physical release on DVD, Blu-Ray, and Ultra 4K on February 6th.
---
Pop Up Store on Pennsylvania Avenue NW

Pop Up Store Merchandise
Pop Up Store Display on Creating Comics
Fans waiting in line outside the Newseum
Pre-Screening Reception
Pulitzer Award-Winning Photography Exhibit
Supergirl and The Flash Costumes
Entering the Newseum's Auditorium
The audience
Introducing the film
Bruce Greenwood taking the stage for the Q&A