Kids Comics: Skylanders, Star Wars, & Avengers Vs. Thanos
Jan 13, 2018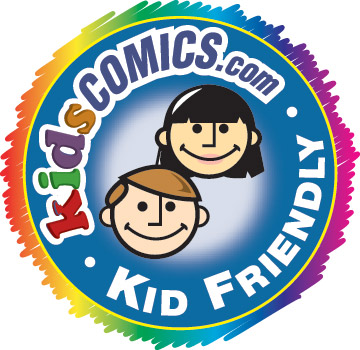 The PREVIEWS catalog is full of great comics for young readers, and our Kids Comics column is full of fun kid-friendly comics.
Every month we pick a few titles out of the PREVIEWS catalog that any comic reader will love, no matter their age. Whether these stories are for a young reader new to comics, or a great all-ages story perfect for you, these stories make a great addition to any bookshelf. This month Spyro and Rollerball skirmish in Skylander, artists get to show off their coloring chops on Star Wars, and fan-favorite heroes pick a fight with a mad god in Avengers Vs. Thanos! Look below to see the titles that will soon arrive at your local comic book shop along with many more great comics and toys, and be sure to pre-order your favorites!
---
Rocket Robinson & Pharoah's Fortune Volume 1 GN

Meet Ronald "Rocket" Robinson. He's what you might call an adventurer. A kid who probably wishes he could be Indiana Jones. Not that he would know who Indiana Jones is because this story takes place before World War II. Ronald, however, makes his home in 1933 Cairo, Egypt. This setting does bring to mind the adventures of Indiana Jones because it was in Cairo, Egypt that the first Raiders of the Lost Ark movie unfolded. Ronald is about to find he's going to have just as much trouble as Indy, because he's also surrounded by a buzzing hive of treasure-hunters, thrill-seekers, and possibly...murderers. With his companion monkey Screech by his side, Ronald "Rocket" Robinson will soon see if he's cut out for the life of an adventurer as he's about to stumble into an mystery more incredible than anything he's ever dreamt of. Look for Rocket Robinson & Pharoah's Fortune Volume 1 GN (JAN180136) from Dark Horse Comics in the January issue of PREVIEWS!
Skylanders: Spyro & Friends Fighting Back
Does the name Ron Marz ring a bell? It should. Ron has been writing comic books for decades. He knows how to keep your attention. He's written stories for everything from DC Vs. Marvel, to Green Lantern, to Silver Surfer. Now he gets to work with fellow comic writer David Rodriguez to bring you a story that fans of Skylanders will love! How do things go? Well, sparks fly, that's for sure. Spyro and Rollerball skirmish with a Drow battalion so someone is getting whiplash! But Spyro and Rollerball will barely have time to catch their breath because they also have to square off with a strange new team of armored enemies with incredible powers! As if things weren't already complicated because this book contains the conclusion of "Mirror, Mirror" Part 3, Spyro and Kaos also have to try to reverse their mind-swap! Look for Skylanders: Spyro & Friends Fighting Back (JAN180510) from IDW Publishing in the January PREVIEWS catalog!
My Little Pony Volume 2: Legends of Magic TP

If only life were simple. But it's not. It seems the more you learn, the more you learn about what you don't know! This can be especially frustrating when you're a pony. But if you read My Little Pony regularly, it seems like every issue you come that much closer to learning the whole truth. What? You haven't been able to go to your local comic shop because of the holidays? Halloween, Thanksgiving, and everything else just piled on top of you and you weren't able to get your My Little Pony fix? Not to worry. The My Little Pony Volume 2: Legends of Magic TP (JAN180525) collects issues #7-12 of the onging My Little Pony comic book! Look for it from IDW Publishing in the Premier Comics section of the January 2018 issue of the PREVIEWS comic shop catalog!
Color Your Own Star Wars Han Solo TP

The galaxy's greatest space smuggler, his first mate Chewbacca the Wookie, and his beloved piece-of-junk ship the Millennium Falcon are known throughout the galaxy. Some hate them. Some love them. But you can't get enough of them because they are the heroes that helped stop Darth Vader and bring down the Death Star! Well, we can't think of a better way to honor these Star Wars heroes than to color them so that you can use this artwork to display on your refrigerator or bedroom. In glorious black-and-white artwork by Marvel's finest, the Color Your Own Star Wars Han Solo TP (JAN181039) lets you color fantastic pictures with a good crayon, pen or colored pencil of your choice so that you can make awesome colored drawings of Han Solo and Chewie! You can find this book in the January issue of Marvel PREVIEWS!
Avengers Vs. Thanos Digest TP
Tell us you haven't seen Marvel's Avengers Assemble. Go ahead. Tell us! With all the drama surrounding Captain America and Iron Man not being able to see eye-to-eye, who can ignore that kind of tension? Avengers fighting among themselves? But that's how it goes. Much like families fight, the Avengers aren't any different, and that's what makes trying to face Thanos such a chore! Can they put aside their differences in time to come together for the final battle to stop Thanos from forming the Infinity Gauntlet? For the ultimate fan, the Avengers Vs. Thanos Digest TP (JAN181078) gives you screen-captured images from Season Two of Marvel's Avengers Assemble, and collects Marvel Universe Avengers Assemble Season Two #1 (A STORY), plus issues #2, #11-12 and #15-16. Look for it in the January issue of Marvel PREVIEWS!

Remember: look for the Kids Comics icon throughout the catalog and make sure to visit KidsComics.com to see the all-ages titles coming out this week!