Power Up With These New Video Game Collectibles
Nov 09, 2017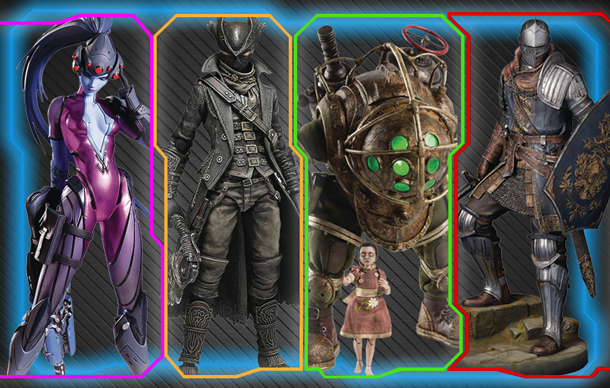 The November PREVIEWS is packed with new video game collectibles for fans of Overwatch, BioShock, Bloodborne, Dark Souls, and more! Don't miss out on these figures and statues!

Preorder your favorites below now at your local comic shop!
---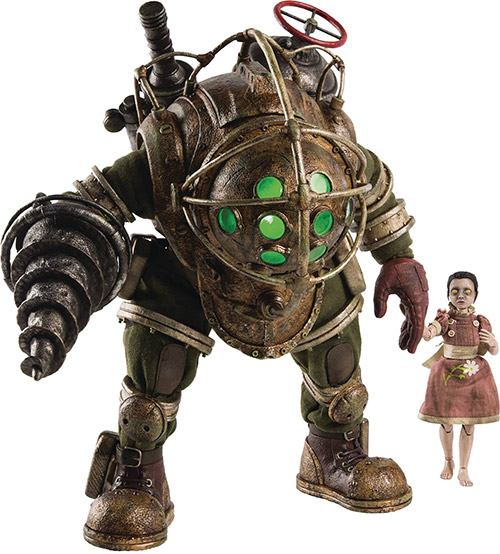 BIOSHOCK BIG DADDY & LITTLE SISTER 1/6 SCALE FIG
Item Code: NOV172962
SRP: $280.00
From the massively popular Bioshock video game is a fully posable, 12 1/2" figure of Big Daddy himself. This highly detailed figure from Three A features weathering effects to match perfectly his appearance in the game. His arms and legs are covered in a fabric material and the head lamps really light up with interchangeable colors of red, yellow, and green. Big Daddy would not be complete without his Little Sister companion. Little sister stands just over 5.50 inches tall and is dressed in a finely tailored fabric costume. She includes her harvesting tool and alternate hands.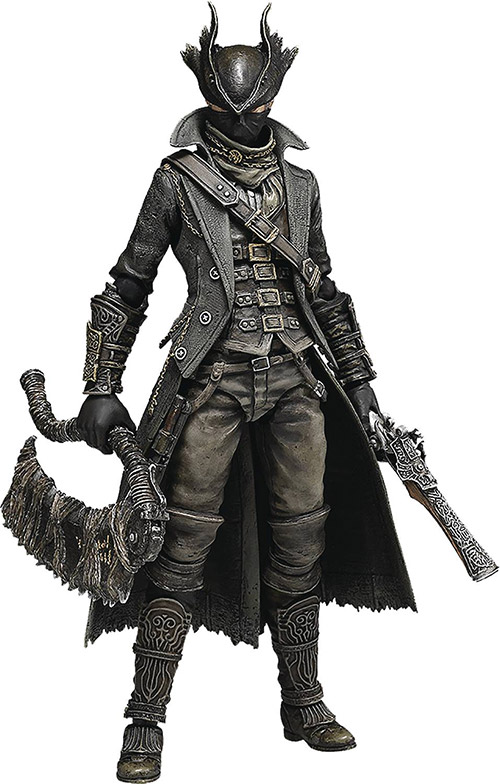 BLOODBORNE HUNTER FIGMA AF
Item Code: NOV172966
SRP: $115.99
MAX Factory delivers a figma of the Hunter from the PlayStation 4 action RPG Bloodborne! The smooth yet posable figma joints allow you to act out a variety of different scenes. A flexible plastic is used in specific areas, allowing proportions to be kept without compromising posability. Both the Saw Cleaver and Hunter Blunderbuss are included as weapons for him to wield. The Saw Cleaver can be transformed into the extended cleaver mode just like in the game. An articulated figma stand is included, which allows various poses to be taken.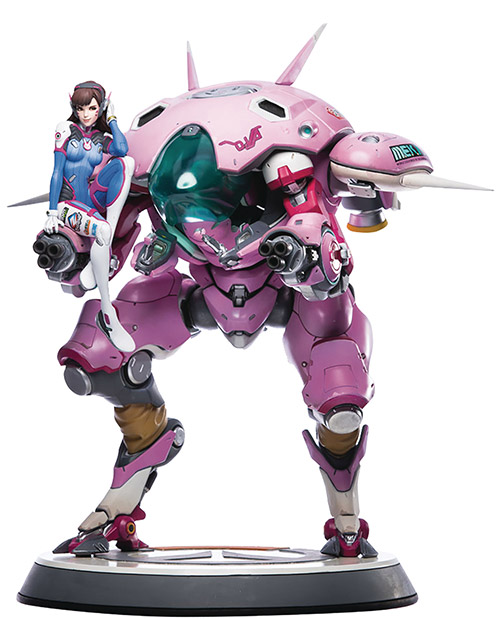 OVERWATCH D.VA 20IN STATUE
Item Code: NOV172617
SRP: $450.00
Blizzard has just unveiled its most ambitious Overwatch statue yet: D.Va and her armored MEKA unit. Hana Song, also known as D.Va, is perched on her mech's bubblegum pink fusion cannon for the 19-inch statue. The Blizzard collectible is hand-sculpted and hand-painted with serious attention to detail. Each of D.Va's sponsor stickers and mech adornments are modeled after her classic in-game skin.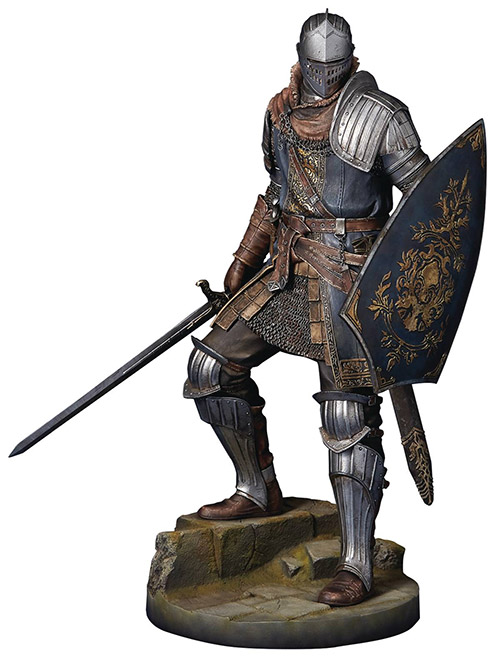 DARK SOULS KNIGHT OF ASTORA OSCAR 1/6 PVC FIG
Item Code: NOV172967
SRP: $299.99
From Gecco. Oscar is faithfully recreated as a statue from the memorable first series of Dark Souls. This is the first character the player meets in the Undead Asylum. The statue was thoroughly supervised by the design team of From Software. The heroic beauty created by the western armor and the elegant stitch work on the surcoat makes him a very classic elite knight. Astora's Straight Sword and Crest Shield weilded by Oscar are sharply sculpted digitally first; then the minute details are sculpted by hand. The chainmail of the prototype seen on the chest, arms and waist was woven and produced in the same way as real armor, just at a much smaller scale. From the splendid paint work, you can feel the tremendous battles Oscar has experienced.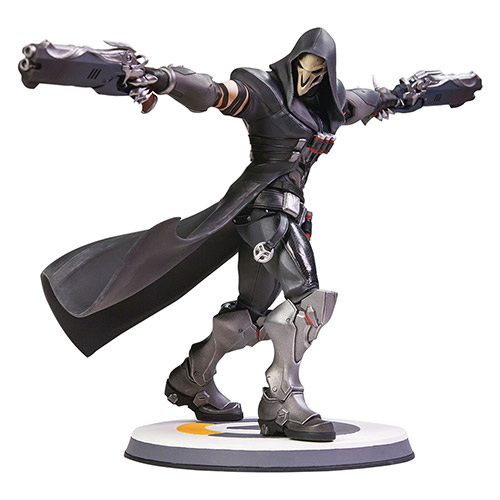 OVERWATCH REAPER 12IN STATUE
Item Code: NOV172620
SRP: $150.00
"Death walks among you." This ruthless mercenary cannot be reasoned with or even bound to the grave. Gaze upon the herald of the end. Behold the Reaper. Celebrate the newest, dynamic universe of Overwatch with this premium, polystone Reaper statue. No detail has been lost in recreating Reaper's Ultimate Death Blossom. Sculpted by Dominic Qwek, Reaper stands about 12" tall and comes with a dispay base.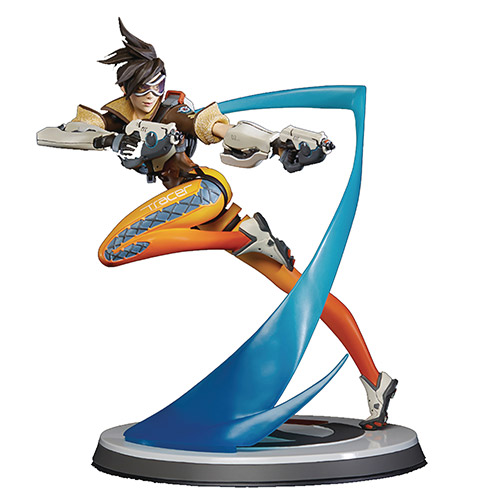 OVERWATCH TRACER 12IN STATUE
Item Code: NOV172618
SRP: $150.00
Celebrate the new, dynamic universe of Overwatch with this premium, polystone statue of Tracer! Sculpted by staff Senior Sculptor Brian Fay and painted by Senior Illustrator Laurel Austin, no detail has been lost in recreating Tracer's gravity (and time) defying action. Suspended mid stride, Tracer features prime, transparent energy effects and goggles, and is underlit by the illuminated Overwatch logo base!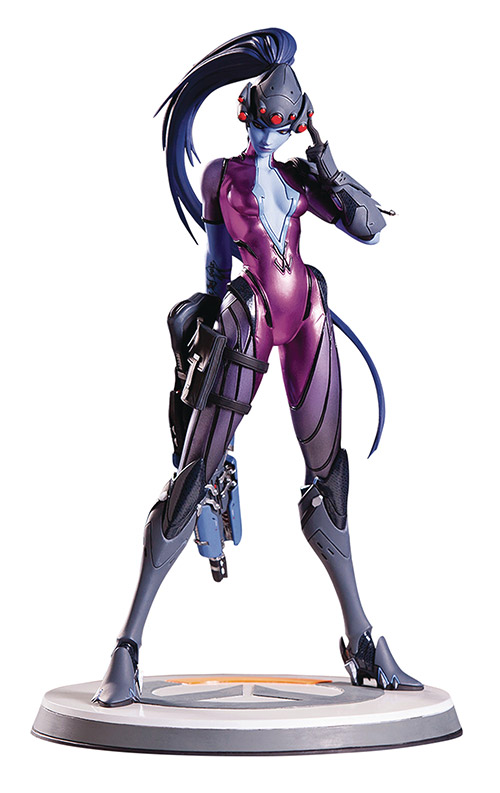 OVERWATCH WIDOWMAKER 12IN STATUE
Item Code: NOV172619
SRP: $150.00
When Widowmaker was younger, she feared spiders. But after coldly assassinating her husband, she realized the truth: at the moment of the kill, spiders are never more alive. Celebrate the new, dynamic universe of Overwatch with this premium, polystone Widowmaker statue. Hand sculpted by Dominic Qwekand and hand painted, Widowmaker stands about 13 1/2" tall and comes with a display base.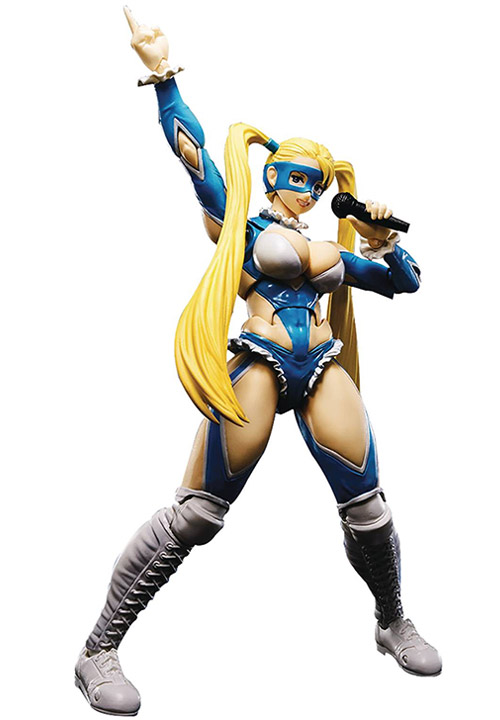 STREET FIGHTER RAINBOW MIKA S.H.FIGUARTS AF
Item Code: NOV172986
SRP: $60.00
From Tamashii Nations. Here comes a new challenger! The crowd-pleasing Rainbow Bomber, that superstar of the ring, Rainbow Mika, joins the S.H.Figurarts Street Fighter Series! In addition to numerous effect parts, she even comes with a microphone, perfect for a pro wrestler like her! Includes 2 optional expressions, 3 right and 4 left optional hands, the mic, "Wingless Airplane" effect, and backdrop (2 sheets). Mika stands approximately 5 3/4" tall.