Top 25 Toys: October 2017
Nov 13, 2017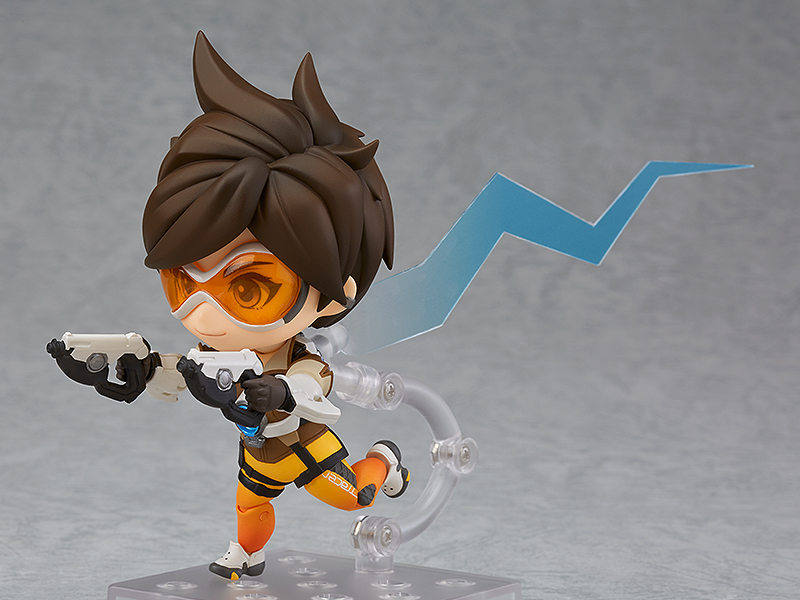 Good Smile's Overwatch: Tracer "Classic Skin" Nendoroid, a figure based on one of the most popular characters from Blizzard's Overwatch video game, was October's best-selling toy product.
DC Collectibles had six products in the top ten: the Batman Animated Series: Batcave Playset with Alfred Action Figure at #2; the DCTV The Flash: The Flash Season 3 Action Figure at #5; the Bat-Signal Prop, inspired by Christopher Nolan's Dark Knight trilogy, ranked #6; the Justice League Movie: Wonder Woman Statue ranked #7; the DC Icons: Batman Rebirth Action Figure ranked #9; and the Batman Black & White: Harley Quinn by Amanda Conner Statue ranked #10.
Diamond Select Toys also had two titles among the top the: the Marvel Select: Spider-Man Homecoming: Spider-Man Action Figure ranked #3 and the Marvel Select: Netflix Daredevil Action Figure ranked #4.
Finally, Funko's POP! Marvel Heroes: Emma Frost Diamond Form Vinyl Figure, a PREVIEWS Exclusive figure released in conjunction with Halloween Comic Fest, ranked #8.
TOP 25 TOYS
Based on Total Retail Dollar Sales of Products Invoiced in October 2017
DOLLAR
RANK
QTY
RANK
ITEM
CODE
DESCRIPTION
VENDOR
1
4
JAN178091
OVERWATCH TRACER NENDOROID CLASSIC SKIN VER
GOO
2
13
APR170463
BATMAN ANIMATED BATCAVE PLAYSET WITH ALFRED AF
DC
3
1
FEB172613
MARVEL SELECT SPIDER-MAN HOMECOMING MOVIE AF
DST
4
3
MAY172531
MARVEL SELECT NETFLIX DAREDEVIL AF
DST
5
5
AUG170365
DCTV THE FLASH 06 THE FLASH SEASON 3 AF
DC
6
48
MAY170373
BAT SIGNAL PROP
DC
7
28
APR170460
JUSTICE LEAGUE MOVIE WONDER WOMAN STATUE
DC
8
2
JUL170020
HCF 2017 POP MARVEL EMMA FROST DIAMOND FORM PX VINYL FIGURE
FUN
9
6
MAY170378
DC ICONS BATMAN REBIRTH AF
DC
10
14
APR170470
BATMAN BLACK & WHITE HARLEY QUINN STATUE BY AMANDA CONNER
DC
11
7
APR170464
DC DESIGNER SERIES BOMBSHELLS BATGIRL AF
DC
12
81
APR170472
BATMAN ANIMATED HARLEYS HOLIDAY STATUE
DC
13
68
APR170469
DC GALLERY JOKER & HARLEY QUINN BOOKENDS
DC
14
11
MAY172525
MARVEL GALLERY GOTG 2 GAMORA & ROCKET RACCOON PVC FIG
DST
15
29
MAY170370
JUSTICE LEAGUE MOVIE BATMAN STATUE
DC
16
8
MAY170379
DC ICONS SUPERMAN REBIRTH AF
DC
17
25
MAR178103
LEGEND ZELDA FIGURE BREATH OF WILD LINK
DAR
18
62
JAN178434
GODZILLA 12IN SER GODZILLA 1954 PX FIG TRAIN BITING VER
X P
19
27
APR170468
DC COVER GIRLS DEATH STATUE BY STANLEY LAU
DC
20
43
MAY170369
JUSTICE LEAGUE MOVIE CYBORG STATUE
DC
21
82
JUL178307
SW BLACK SERIES 6IN AF ASST 201704 (NET)
HAS
22
23
APR170471
BATMAN BLACK & WHITE BATMAN STATUE BY AMANDA CONNER
DC
23
51
APR170461
JUSTICE LEAGUE MOVIE THE FLASH STATUE
DC
24
53
APR170462
JUSTICE LEAGUE MOVIE AQUAMAN STATUE
DC
25
92
JUL178308
SW BLACK SERIES 6IN AF ASST 201705 (NET)
HAS
This information may not be reproduced in any format without the express permission of Diamond Comic Distributors.
How does Diamond calculate the charts? It all starts at the comic book shop.
Data for Diamond's sales charts — which includes the monthly market shares and all top product charts — are compiled by Diamond Comic Distributors from sales made to thousands of comic book specialty shops located in North America and around the world. Additional sales made to online merchants and other specialty stores may be included as well.
Unit and dollar market shares are calculated based upon orders for comic books, graphic novels, and magazines invoiced and shipped to Diamond customers during any given month, which comprises pre-orders, advance reorders, and reorders, minus any copies that are distributed free of cost.