Indie Edge: Songs of the Dead
Nov 04, 2017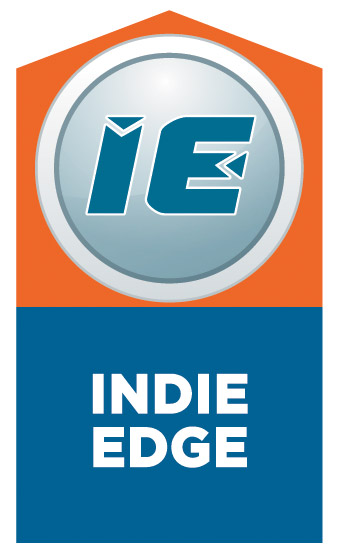 by Andrea Purcell

If you've ever browsed through a PREVIEWS catalog, you know how packed full each issue can be. It's so packed, that you might have overlooked a choice comic tucked away on one of its many pages. There are so many sections to look through each month, it can be almost impossible to search out all of the awesome comic books that you want to pre-order at your local comic shop. The Indie Edge column is made to help by taking a look at just some (and trust us, there's a lot) of the amazing small press, alternative, and indie titles currently available in this month's catalog!
The "indie" umbrella can be wide, and these comics cover a lot of different story types and styles, but you can find just about any comic you've ever wanted and maybe a few you never knew you needed. Take a look at the books highlighted below and if anything is begging to be read, wander over to your local comic shop to pre-order these comics and anything else from this month's PREVIEWS catalog!
There's so much to choose from in November's Indie Edge column! This month sing the songs of the dead in Vault Comics' new series, explore the ghost in the shell with Stained, re-learn your ABCs with Pulitzer Prize winning cartoonist Ann Telnaes, and more!
The November PREVIEWS catalog is full of amazing books that you might have overlooked. Dive into the small press side of comics with Indie Edge!
---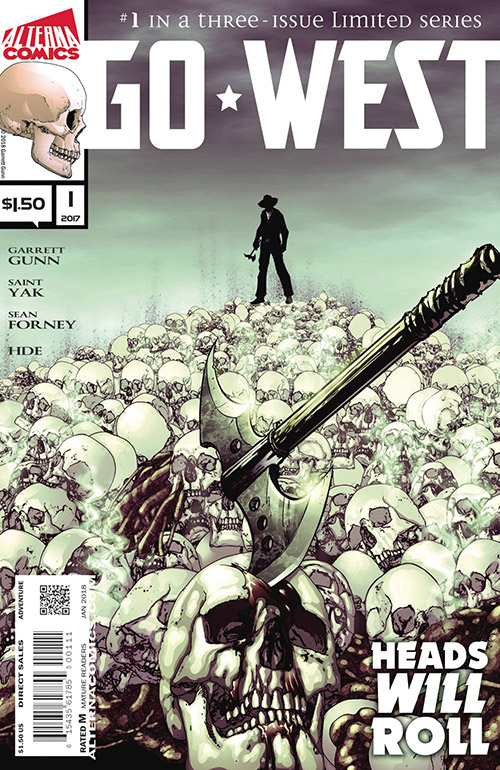 Go West #1

Heads will roll in Alterna Comics' new series from Garrett Gunn and Sean Forney, Go West #1 (NOV171158). Slade the Blade was once the deadliest gun in the New West, but he retired to a life of quiet simplicity with his family. When Slade witnesses his family brutally murdered his peace is broken and now he's out for revenge. As Slade makes his way through one of the grimmest, grittiest, and goriest tales of revenge the world has ever seen, will it be enough to quell the fire in his heart and quench his thirst for revenge?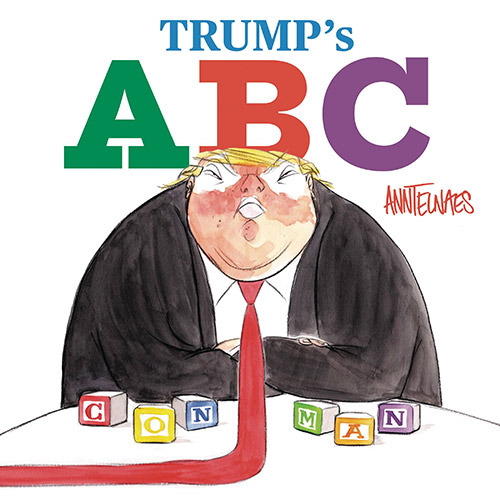 Trump's ABC

It's time to go back to school as Pulitzer Prize winning cartoonist Ann Telnaes teams up with Fantagraphics Books to create Trump's ABC (NOV171659) a not so kid friendly chronicle of Donald Trump's first six months in office. Laid out as a simple board book, Trump's ABC walks readers through the various issues Trump has had to deal with while in office like his public policies, personal defects, ethical dysfunction, and more. Showcasing the consequences of the Trump presidency on the lives of most American, you'll want to re-learn your ABCs with Ann Telnaes – maybe before 2020 sneaks up on American voters.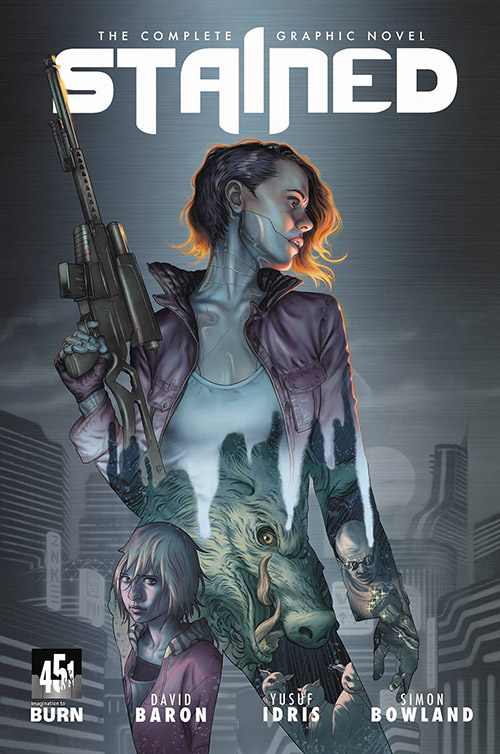 Stained

David Baron and Yusuf Idris' smash hit science fiction series from 451 Media Group is getting collected in Stained (NOV171693). Bringing together the first story arc the trade paperback explores the story of Emma London, a recovery artist and bounty hunter for hire. Emma is strong, near indomitable, and most mysterious of all – part machine. As Emma tries to take down a pair of international diamond smugglers she gets drawn into a larger web then she imagined. Emma's out of her depth as she fights to uncover something darker and more monstrous then she thought possible.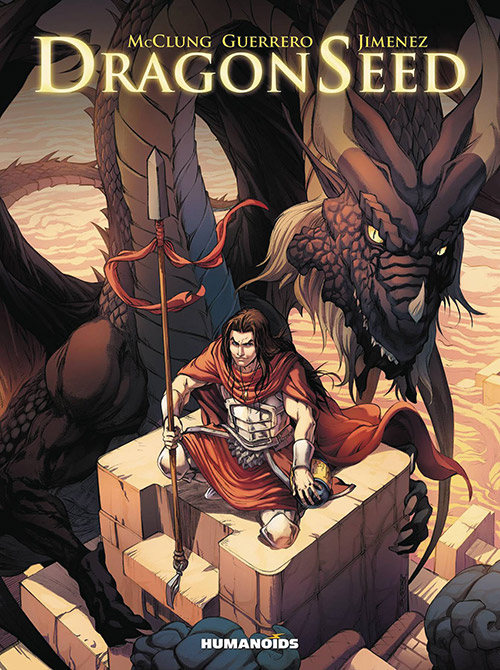 Dragonseed
Video games are coming to Humanoids in an unexpected way as Kurt McClung, the lead writer for Might & Magic, along with Jimenez and Mateo Guerrero, artist of Warlands, bring Dragonseed (NOV171716) to life in a deluxe hardcover. Half-man, half-dragon, Adam Spittleseed is on a quest to find the mythical "tear of the dragon" to preserve the kingdom's peace. As a half blood, Adam has only two moons to find the thief who took the teardrop from his Dragon father before the men and creatures of Krath trigger an all-out war.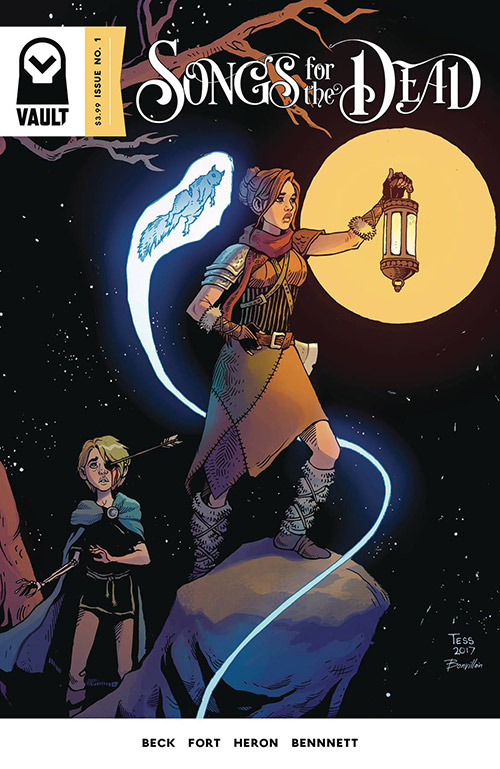 Songs of the Dead #1

Vault Comics is bringing a new series to life from Andrea Fort, Michael Christopher Heron, and Sam Beck – err, "back" to life in Songs of the Dead #1 (NOV172045). Following Bethany, a minstrel with a heart for adventure, this would-be hero is determined to find a missing boy from a nearby town with the help of her special skills. It turns out that Bethany is a necromancer, mostly of the woodland creatures that tag along on her quests. But when she gets captured by the evil Lord Rolland, Bethany will have to use her skills to help her new found, and unlikely, friend as they make their escape!
**********
Andrea Purcell is a Web Content Writer for PREVIEWSworld.com and a part-time assistant to busy comic creators. Her favorite past times are singing karaoke at comic conventions and memorizing obscure trivia about random pop culture.