Imagination Meets the Unimaginable In Eternity #2
Oct 10, 2017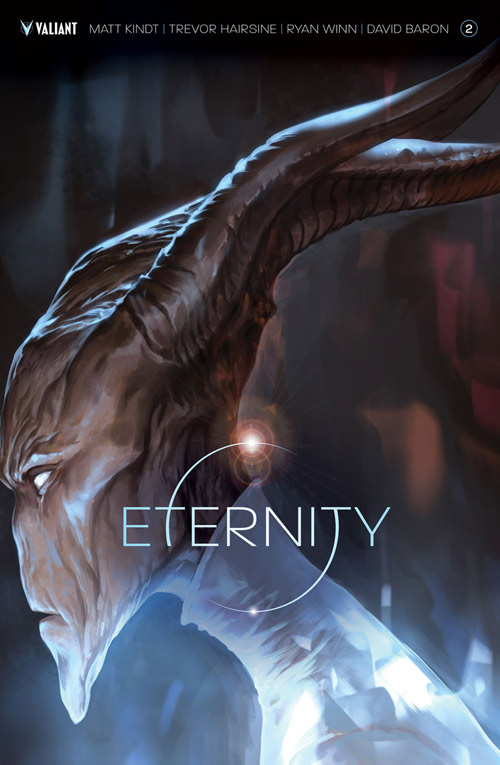 Valiant presentd this first lettered look inside ETERNITY #2 (of 4) – the next universe-spanning chapter of THE VISIONARY NEW SERIES from New York Times best-selling writer Matt Kindt (X-O MANOWAR, Mind MGMT) and blockbuster artist Trevor Hairsine (DIVINITY, X-Men: Deadly Genesis)! On November 29th, journey beyond the farthest boundaries of the Valiant Universe and into a realm like no other ever before encountered by humanity! Out of the pages of the best-selling DIVINITY saga, prepare to enter an infinite cosmos of mythic beings and celestial consciousnesses as a mind-shattering cosmic reckoning dawns anew… The age of ETERNITY is nigh!

Beyond the barriers of our reality… Outside the boundaries of human understanding… A universe of immensely powerful beings and advanced civilizations has evolved parallel to our own… But what links this strange plane of existence to ours, and what do its majestic inhabitants want with the child of Abram Adams – the denizen of Earth now called Divinity? To find out, Abram and his comrade, Myshka, must enter Eternity's infinite realm… and encounter the Unknown itself!
On November 29th, the staggering creative team of DIVINITY, DIVINITY II, and DIVINITY III: STALINVERSE – writer Matt Kindt, artist Trevor Hairsine, inker Ryan Winn, and colorist David Baron – reunites to orchestrate an transcendent new vision of gods, myths, and men that will expand the borders of the Valiant Universe once and for all time! Bear witness to humanity's first encounter with the improbable powers and unknowable intelligences that await just beyond the universal horizon, only in ETERNITY #2 – featuring covers by Jelena Kevic-Djurdjevic (FAITH), Tom Muller (DIVINITY), Matt Kindt (Dept. H) and David Lafuente (Ultimate Spider-Man)!
But first: The year's must-read cosmic odyssey begins on October 25th in ETERNITY #1 (of 4) – the FIRST ISSUE of A VISIONARY NEW SERIES coming from the minds of New York Times best-selling writer Matt Kindt (X-O MANOWAR, Mind MGMT) and blockbuster artist Trevor Hairsine (DIVINITY, X-Men: Deadly Genesis)! This fall, journey to a realm that defies all description to enter an eons-old universe of gods and heroes! The coming of the 21st century's next great modern myth begins right here, only in ETERNITY #1 (of 4) – featuring covers by Jelena Kevic-Djurdjevic (FAITH), Tom Muller (DIVINITY), Trevor Hairsine (Ultimate Six), Matt Kindt (Dept. H) and Felipe Massafera (Shaper)!

For more information, visit Valiant on Facebook, Twitter, Tumblr, Instagram, and ValiantEntertainment.com
ETERNITY #1 (of 4)
Written by MATT KINDT
Art by TREVOR HAIRSINE
Cover A by JELENA KEVIC-DJURDJEVIC (AUG172103)
Cover B by TOM MULLER (AUG172104)
Character Design Variant by MATT KINDT (AUG172106)
Wraparound Variant by FELIPE MASSAFERA (AUG172107)
Blank Cover Also Available (AUG172105)
$3.99 | 32 pgs. | T+ | VALIANT PRESTIGE | On Sale OCTOBER 25th (FOC – 10/2/17)
ETERNITY #2 (of 4)
Written by MATT KINDT
Art by TREVOR HAIRSINE
Cover A by JELENA KEVIC-DJURDJEVIC (SEP172030)
Cover B by TOM MULLER (SEP172031)
Character Design Variant by MATT KINDT (SEP172032)
Variant Cover by DAVID LAFUENTE (SEP172033)
$3.99 | 32 pgs. | T+ | PRESTIGE FORMAT | On Sale NOVEMBER 29th (FOC – 11/6/17)